SELECTED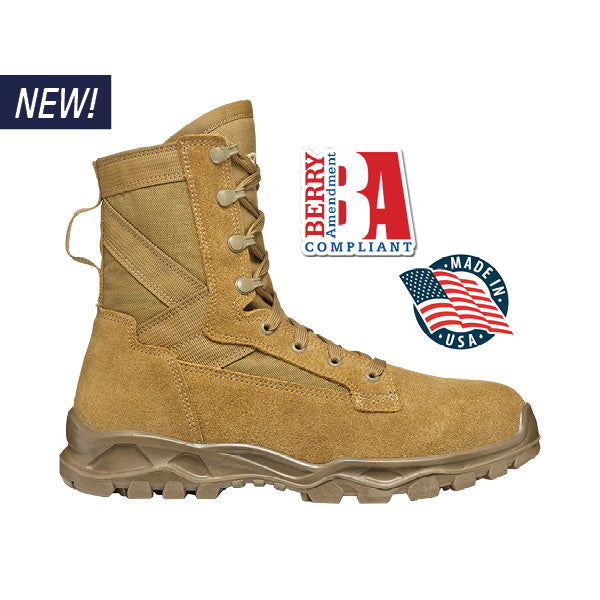 SELECTED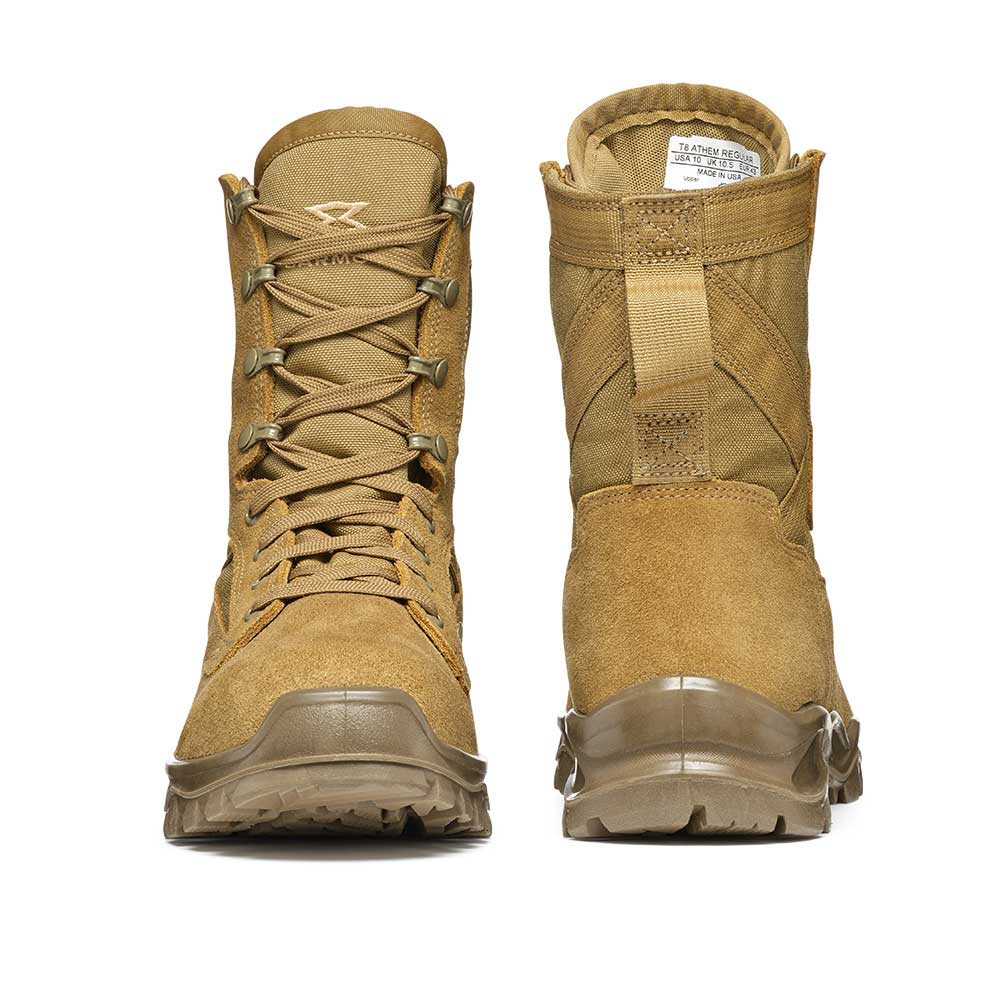 SELECTED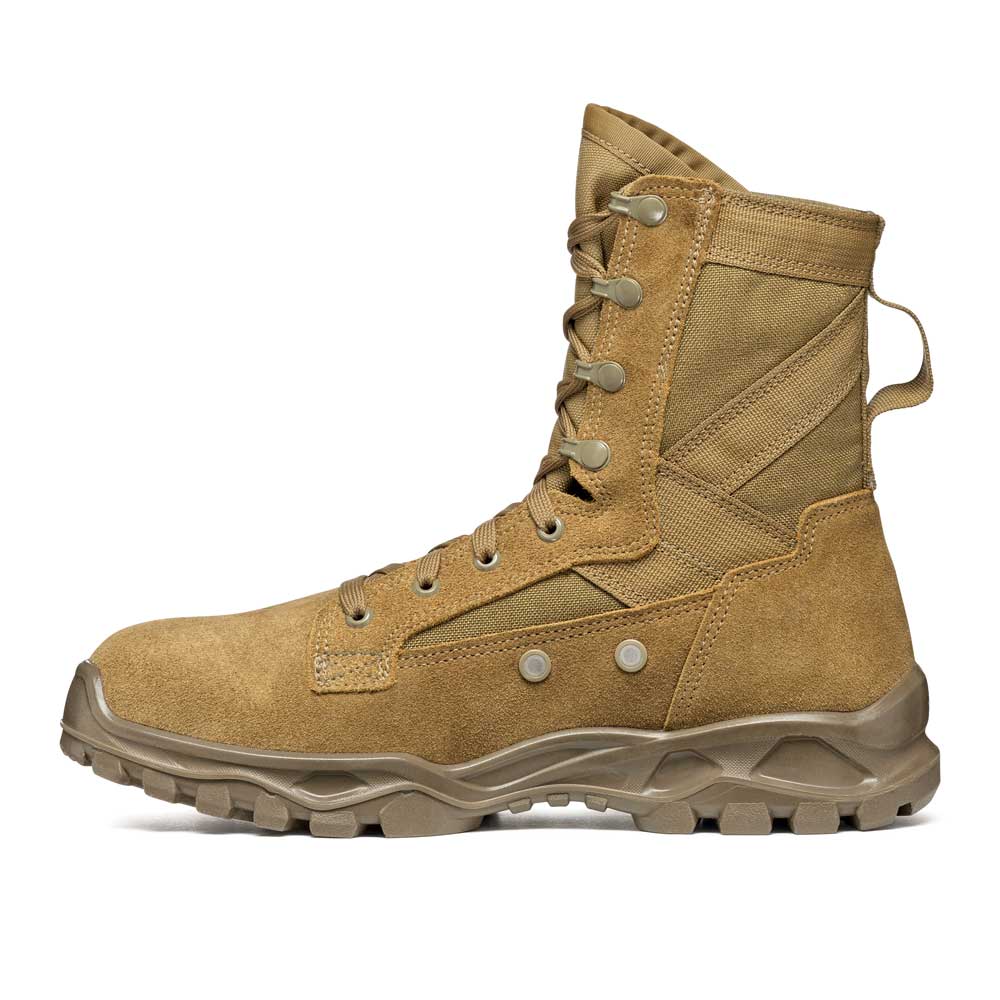 SELECTED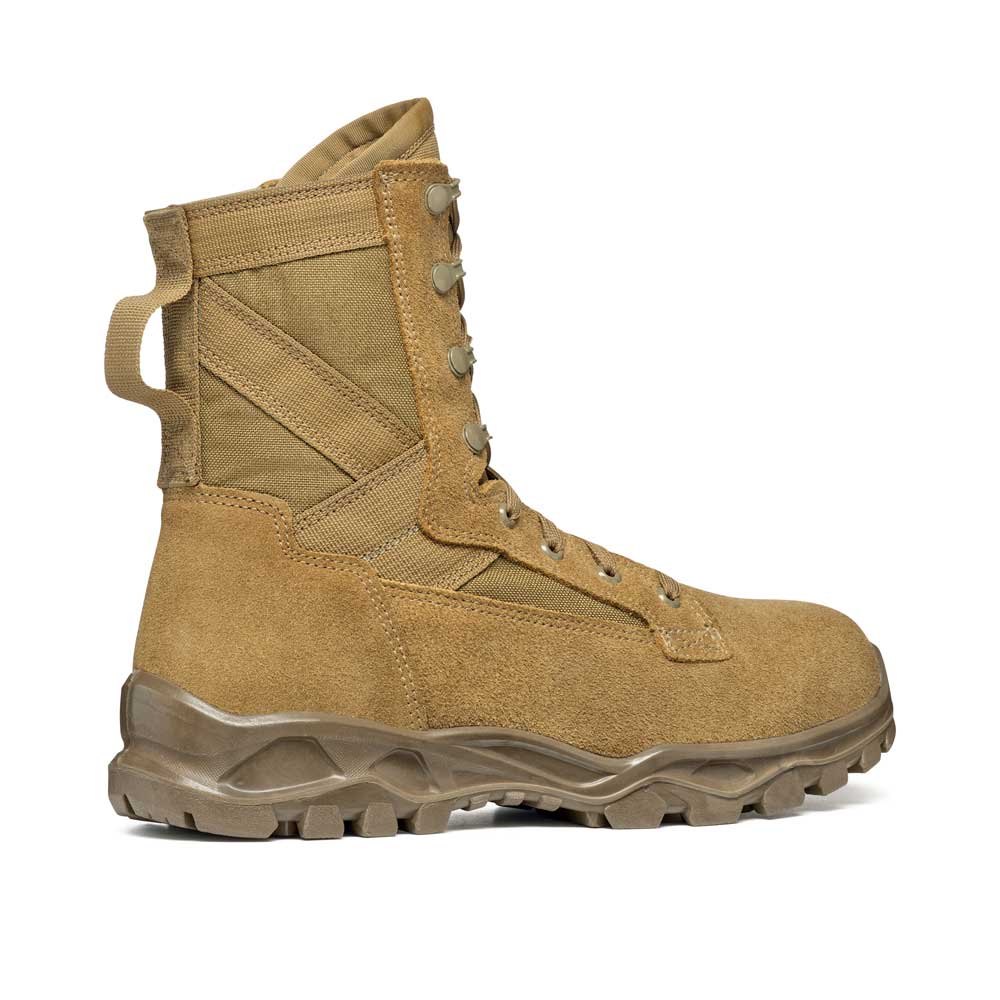 SELECTED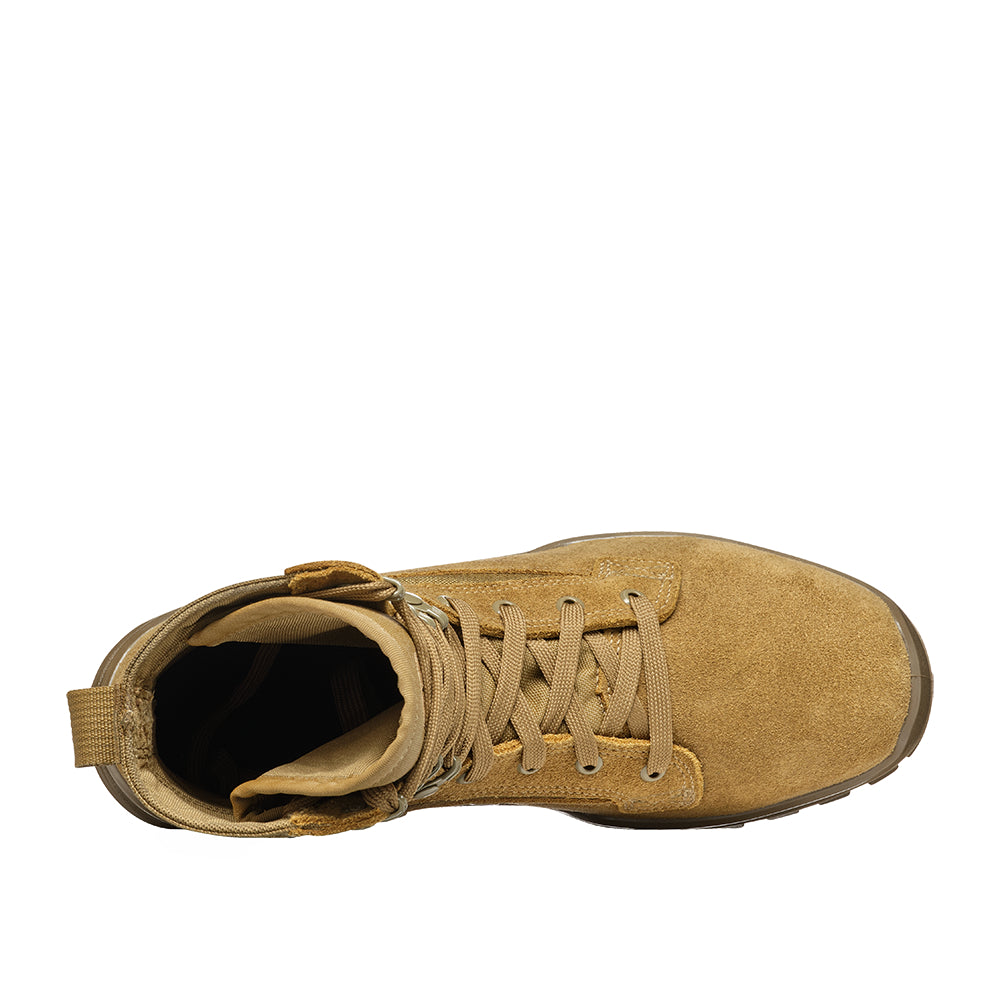 SELECTED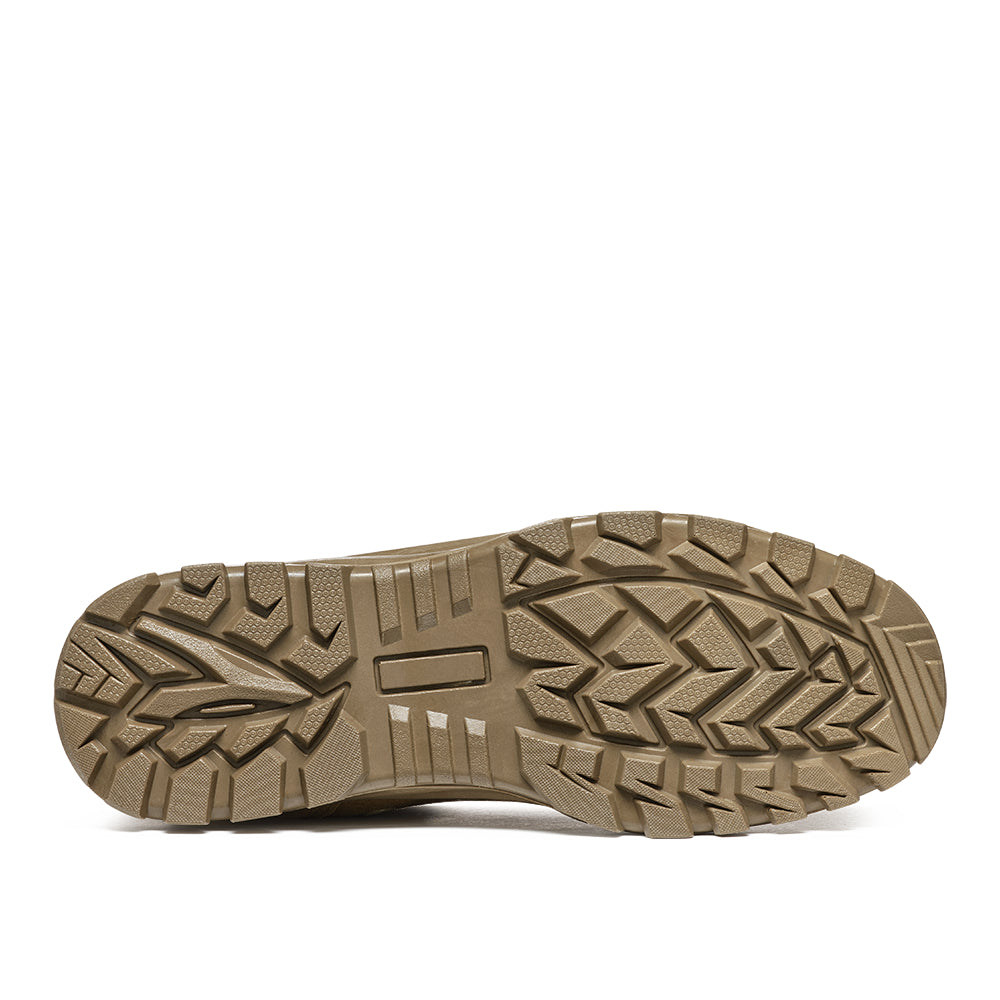 Garmont T8 Anthem
Traditional tactical boots proudly
made in USA
. Designed for intense operations and long duty days on dry ground and in warm weather. 
Specifically developed for US Army involved in daily tactical operations.​ Moving or standing for many hours they need lightweight compact boots to face sudden unforeseen events on arid soils with very high temperature. 

PRODUCT DETAILS
Berry Compliant

Non-Waterproof
1.8 mm suede leather upper with NYLON FABRIC
Ortholite®Ultra footbed: Cushioning and Breathability for long periods of use
Weight 520 gr. (Half pair size 9 US)
AR670-1 Compliant
Made in U.S.A.

Every pair of boots comes with a complimentary pair of Boot Campaign Boot Tags

With your purchase of this item, a portion of the sale supports the Boot Campaign mission
While we do offer shipping to APOs, international shipping is not available.
{"id":7954414371044,"title":"Garmont T8 Anthem","handle":"garmont-t8-anthem","description":"\u003cdiv itemprop=\"description\"\u003eTraditional tactical boots proudly\u003cspan\u003e \u003c\/span\u003e\u003cstrong\u003emade in USA\u003c\/strong\u003e. Designed for intense operations and long duty days on dry ground and in warm weather. \u003c\/div\u003e\n\u003cdiv itemprop=\"description\"\u003e\u003cbr\u003e\u003c\/div\u003e\n\u003cdiv itemprop=\"description\"\u003eSpecifically developed for US Army involved in daily tactical operations.​ Moving or standing for many hours they need lightweight compact boots to face sudden unforeseen events on arid soils with very high temperature. \u003cbr\u003e\n\u003c\/div\u003e\n\u003cdiv itemprop=\"description\"\u003e\u003cbr\u003e\u003c\/div\u003e\n\u003cp data-mce-fragment=\"1\"\u003e\u003cspan data-mce-fragment=\"1\" style=\"font-weight: 400;\" data-mce-style=\"font-weight: 400;\"\u003ePRODUCT DETAILS\u003c\/span\u003e\u003c\/p\u003e\n\u003cul data-mce-fragment=\"1\"\u003e\n\u003cli data-mce-fragment=\"1\" style=\"font-weight: 400;\" data-mce-style=\"font-weight: 400;\"\u003eBerry Compliant\u003cbr\u003e\n\u003c\/li\u003e\n\u003cli data-mce-fragment=\"1\" style=\"font-weight: 400;\" data-mce-style=\"font-weight: 400;\"\u003eNon-Waterproof\u003c\/li\u003e\n\u003cli data-mce-fragment=\"1\" style=\"font-weight: 400;\" data-mce-style=\"font-weight: 400;\"\u003e1.8 mm suede leather upper with NYLON FABRIC\u003c\/li\u003e\n\u003cli data-mce-fragment=\"1\" style=\"font-weight: 400;\" data-mce-style=\"font-weight: 400;\"\u003eOrtholite®Ultra footbed: Cushioning and Breathability for long periods of use\u003c\/li\u003e\n\u003cli data-mce-fragment=\"1\" style=\"font-weight: 400;\" data-mce-style=\"font-weight: 400;\"\u003eWeight 520 gr. (Half pair size 9 US)\u003c\/li\u003e\n\u003cli data-mce-fragment=\"1\" style=\"font-weight: 400;\" data-mce-style=\"font-weight: 400;\"\u003eAR670-1 Compliant\u003c\/li\u003e\n\u003cli data-mce-fragment=\"1\" style=\"font-weight: 400;\" data-mce-style=\"font-weight: 400;\"\u003eMade in U.S.A.\u003c\/li\u003e\n\u003cli data-mce-fragment=\"1\" style=\"font-weight: 400;\" data-mce-style=\"font-weight: 400;\"\u003e\n\u003cmeta charset=\"utf-8\"\u003e \u003cspan\u003eEvery pair of boots comes with a complimentary pair of Boot Campaign Boot Tags\u003c\/span\u003e\n\u003c\/li\u003e\n\u003cli data-mce-fragment=\"1\" style=\"font-weight: 400;\" data-mce-style=\"font-weight: 400;\"\u003e\u003cspan data-mce-fragment=\"1\" style=\"font-weight: 400;\" data-mce-style=\"font-weight: 400;\"\u003eWith your purchase of this item, a portion of the sale supports the Boot Campaign mission\u003c\/span\u003e\u003c\/li\u003e\n\u003c\/ul\u003e\n\u003cp data-mce-fragment=\"1\"\u003e\u003cb data-mce-fragment=\"1\"\u003eWhile we do offer shipping to APOs, international shipping is not available.\u003c\/b\u003e\u003c\/p\u003e","published_at":"2023-04-26T12:43:35-05:00","created_at":"2023-03-20T09:28:39-05:00","vendor":"Garmont","type":"Boots","tags":["American Made","Boots","Made in the USA","New","New Product","Staff Discount","USA Made"],"price":21500,"price_min":21500,"price_max":21500,"available":true,"price_varies":false,"compare_at_price":null,"compare_at_price_min":0,"compare_at_price_max":0,"compare_at_price_varies":false,"variants":[{"id":43853997179108,"title":"Regular (D) \/ 5 Men's \/ 6 Women's","option1":"Regular (D)","option2":"5 Men's \/ 6 Women's","option3":null,"sku":"002766_5","requires_shipping":true,"taxable":true,"featured_image":{"id":48924446818532,"product_id":7954414371044,"position":1,"created_at":"2023-03-23T14:59:14-05:00","updated_at":"2023-03-23T15:00:14-05:00","alt":null,"width":600,"height":600,"src":"\/\/shop.bootcampaign.org\/cdn\/shop\/products\/2023Boots_NEW3.jpg?v=1679601614","variant_ids":[43853997179108,43853997211876,43853997244644,43853997277412,43853997310180,43853997342948,43853997375716,43853997408484,43853997441252,43853997474020,43853997506788,43853997539556,43853997572324,43853997605092,43853997637860,43853997670628,43853997703396,43853997736164,43853997768932,43853997801700,43859604930788,43859604963556,43859604996324,43859605029092,43859605061860,43859605094628,43859605127396,43859605160164,43859605192932,43859605225700,43859605258468,43859605291236,43859605324004,43859605356772,43859605389540,43859605422308,43859605455076,43859605487844]},"available":true,"name":"Garmont T8 Anthem - Regular (D) \/ 5 Men's \/ 6 Women's","public_title":"Regular (D) \/ 5 Men's \/ 6 Women's","options":["Regular (D)","5 Men's \/ 6 Women's"],"price":21500,"weight":0,"compare_at_price":null,"inventory_quantity":11,"inventory_management":"shopify","inventory_policy":"deny","barcode":null,"featured_media":{"alt":null,"id":41520425730276,"position":1,"preview_image":{"aspect_ratio":1.0,"height":600,"width":600,"src":"\/\/shop.bootcampaign.org\/cdn\/shop\/products\/2023Boots_NEW3.jpg?v=1679601614"}},"requires_selling_plan":false,"selling_plan_allocations":[]},{"id":43853997211876,"title":"Regular (D) \/ 5.5 Men's \/ 6 Women's","option1":"Regular (D)","option2":"5.5 Men's \/ 6 Women's","option3":null,"sku":"002766_5.5","requires_shipping":true,"taxable":true,"featured_image":{"id":48924446818532,"product_id":7954414371044,"position":1,"created_at":"2023-03-23T14:59:14-05:00","updated_at":"2023-03-23T15:00:14-05:00","alt":null,"width":600,"height":600,"src":"\/\/shop.bootcampaign.org\/cdn\/shop\/products\/2023Boots_NEW3.jpg?v=1679601614","variant_ids":[43853997179108,43853997211876,43853997244644,43853997277412,43853997310180,43853997342948,43853997375716,43853997408484,43853997441252,43853997474020,43853997506788,43853997539556,43853997572324,43853997605092,43853997637860,43853997670628,43853997703396,43853997736164,43853997768932,43853997801700,43859604930788,43859604963556,43859604996324,43859605029092,43859605061860,43859605094628,43859605127396,43859605160164,43859605192932,43859605225700,43859605258468,43859605291236,43859605324004,43859605356772,43859605389540,43859605422308,43859605455076,43859605487844]},"available":true,"name":"Garmont T8 Anthem - Regular (D) \/ 5.5 Men's \/ 6 Women's","public_title":"Regular (D) \/ 5.5 Men's \/ 6 Women's","options":["Regular (D)","5.5 Men's \/ 6 Women's"],"price":21500,"weight":0,"compare_at_price":null,"inventory_quantity":10,"inventory_management":"shopify","inventory_policy":"deny","barcode":"","featured_media":{"alt":null,"id":41520425730276,"position":1,"preview_image":{"aspect_ratio":1.0,"height":600,"width":600,"src":"\/\/shop.bootcampaign.org\/cdn\/shop\/products\/2023Boots_NEW3.jpg?v=1679601614"}},"requires_selling_plan":false,"selling_plan_allocations":[]},{"id":43853997244644,"title":"Regular (D) \/ 6 Men's \/ 7 Women's","option1":"Regular (D)","option2":"6 Men's \/ 7 Women's","option3":null,"sku":"002766_6","requires_shipping":true,"taxable":true,"featured_image":{"id":48924446818532,"product_id":7954414371044,"position":1,"created_at":"2023-03-23T14:59:14-05:00","updated_at":"2023-03-23T15:00:14-05:00","alt":null,"width":600,"height":600,"src":"\/\/shop.bootcampaign.org\/cdn\/shop\/products\/2023Boots_NEW3.jpg?v=1679601614","variant_ids":[43853997179108,43853997211876,43853997244644,43853997277412,43853997310180,43853997342948,43853997375716,43853997408484,43853997441252,43853997474020,43853997506788,43853997539556,43853997572324,43853997605092,43853997637860,43853997670628,43853997703396,43853997736164,43853997768932,43853997801700,43859604930788,43859604963556,43859604996324,43859605029092,43859605061860,43859605094628,43859605127396,43859605160164,43859605192932,43859605225700,43859605258468,43859605291236,43859605324004,43859605356772,43859605389540,43859605422308,43859605455076,43859605487844]},"available":true,"name":"Garmont T8 Anthem - Regular (D) \/ 6 Men's \/ 7 Women's","public_title":"Regular (D) \/ 6 Men's \/ 7 Women's","options":["Regular (D)","6 Men's \/ 7 Women's"],"price":21500,"weight":0,"compare_at_price":null,"inventory_quantity":9,"inventory_management":"shopify","inventory_policy":"deny","barcode":"","featured_media":{"alt":null,"id":41520425730276,"position":1,"preview_image":{"aspect_ratio":1.0,"height":600,"width":600,"src":"\/\/shop.bootcampaign.org\/cdn\/shop\/products\/2023Boots_NEW3.jpg?v=1679601614"}},"requires_selling_plan":false,"selling_plan_allocations":[]},{"id":43853997277412,"title":"Regular (D) \/ 6.5 Men's \/ 7.5 Women's","option1":"Regular (D)","option2":"6.5 Men's \/ 7.5 Women's","option3":null,"sku":"002766_6.5","requires_shipping":true,"taxable":true,"featured_image":{"id":48924446818532,"product_id":7954414371044,"position":1,"created_at":"2023-03-23T14:59:14-05:00","updated_at":"2023-03-23T15:00:14-05:00","alt":null,"width":600,"height":600,"src":"\/\/shop.bootcampaign.org\/cdn\/shop\/products\/2023Boots_NEW3.jpg?v=1679601614","variant_ids":[43853997179108,43853997211876,43853997244644,43853997277412,43853997310180,43853997342948,43853997375716,43853997408484,43853997441252,43853997474020,43853997506788,43853997539556,43853997572324,43853997605092,43853997637860,43853997670628,43853997703396,43853997736164,43853997768932,43853997801700,43859604930788,43859604963556,43859604996324,43859605029092,43859605061860,43859605094628,43859605127396,43859605160164,43859605192932,43859605225700,43859605258468,43859605291236,43859605324004,43859605356772,43859605389540,43859605422308,43859605455076,43859605487844]},"available":true,"name":"Garmont T8 Anthem - Regular (D) \/ 6.5 Men's \/ 7.5 Women's","public_title":"Regular (D) \/ 6.5 Men's \/ 7.5 Women's","options":["Regular (D)","6.5 Men's \/ 7.5 Women's"],"price":21500,"weight":0,"compare_at_price":null,"inventory_quantity":10,"inventory_management":"shopify","inventory_policy":"deny","barcode":null,"featured_media":{"alt":null,"id":41520425730276,"position":1,"preview_image":{"aspect_ratio":1.0,"height":600,"width":600,"src":"\/\/shop.bootcampaign.org\/cdn\/shop\/products\/2023Boots_NEW3.jpg?v=1679601614"}},"requires_selling_plan":false,"selling_plan_allocations":[]},{"id":43853997310180,"title":"Regular (D) \/ 7 Men's \/ 8 Women's","option1":"Regular (D)","option2":"7 Men's \/ 8 Women's","option3":null,"sku":"002766_7","requires_shipping":true,"taxable":true,"featured_image":{"id":48924446818532,"product_id":7954414371044,"position":1,"created_at":"2023-03-23T14:59:14-05:00","updated_at":"2023-03-23T15:00:14-05:00","alt":null,"width":600,"height":600,"src":"\/\/shop.bootcampaign.org\/cdn\/shop\/products\/2023Boots_NEW3.jpg?v=1679601614","variant_ids":[43853997179108,43853997211876,43853997244644,43853997277412,43853997310180,43853997342948,43853997375716,43853997408484,43853997441252,43853997474020,43853997506788,43853997539556,43853997572324,43853997605092,43853997637860,43853997670628,43853997703396,43853997736164,43853997768932,43853997801700,43859604930788,43859604963556,43859604996324,43859605029092,43859605061860,43859605094628,43859605127396,43859605160164,43859605192932,43859605225700,43859605258468,43859605291236,43859605324004,43859605356772,43859605389540,43859605422308,43859605455076,43859605487844]},"available":true,"name":"Garmont T8 Anthem - Regular (D) \/ 7 Men's \/ 8 Women's","public_title":"Regular (D) \/ 7 Men's \/ 8 Women's","options":["Regular (D)","7 Men's \/ 8 Women's"],"price":21500,"weight":0,"compare_at_price":null,"inventory_quantity":2,"inventory_management":"shopify","inventory_policy":"deny","barcode":"8056586202927","featured_media":{"alt":null,"id":41520425730276,"position":1,"preview_image":{"aspect_ratio":1.0,"height":600,"width":600,"src":"\/\/shop.bootcampaign.org\/cdn\/shop\/products\/2023Boots_NEW3.jpg?v=1679601614"}},"requires_selling_plan":false,"selling_plan_allocations":[]},{"id":43853997342948,"title":"Regular (D) \/ 7.5 Men's \/ 8.5 Women's","option1":"Regular (D)","option2":"7.5 Men's \/ 8.5 Women's","option3":null,"sku":"002766_7.5","requires_shipping":true,"taxable":true,"featured_image":{"id":48924446818532,"product_id":7954414371044,"position":1,"created_at":"2023-03-23T14:59:14-05:00","updated_at":"2023-03-23T15:00:14-05:00","alt":null,"width":600,"height":600,"src":"\/\/shop.bootcampaign.org\/cdn\/shop\/products\/2023Boots_NEW3.jpg?v=1679601614","variant_ids":[43853997179108,43853997211876,43853997244644,43853997277412,43853997310180,43853997342948,43853997375716,43853997408484,43853997441252,43853997474020,43853997506788,43853997539556,43853997572324,43853997605092,43853997637860,43853997670628,43853997703396,43853997736164,43853997768932,43853997801700,43859604930788,43859604963556,43859604996324,43859605029092,43859605061860,43859605094628,43859605127396,43859605160164,43859605192932,43859605225700,43859605258468,43859605291236,43859605324004,43859605356772,43859605389540,43859605422308,43859605455076,43859605487844]},"available":true,"name":"Garmont T8 Anthem - Regular (D) \/ 7.5 Men's \/ 8.5 Women's","public_title":"Regular (D) \/ 7.5 Men's \/ 8.5 Women's","options":["Regular (D)","7.5 Men's \/ 8.5 Women's"],"price":21500,"weight":0,"compare_at_price":null,"inventory_quantity":5,"inventory_management":"shopify","inventory_policy":"deny","barcode":"8056586202934","featured_media":{"alt":null,"id":41520425730276,"position":1,"preview_image":{"aspect_ratio":1.0,"height":600,"width":600,"src":"\/\/shop.bootcampaign.org\/cdn\/shop\/products\/2023Boots_NEW3.jpg?v=1679601614"}},"requires_selling_plan":false,"selling_plan_allocations":[]},{"id":43853997375716,"title":"Regular (D) \/ 8 Men's \/ 9 Women's","option1":"Regular (D)","option2":"8 Men's \/ 9 Women's","option3":null,"sku":"002766_8","requires_shipping":true,"taxable":true,"featured_image":{"id":48924446818532,"product_id":7954414371044,"position":1,"created_at":"2023-03-23T14:59:14-05:00","updated_at":"2023-03-23T15:00:14-05:00","alt":null,"width":600,"height":600,"src":"\/\/shop.bootcampaign.org\/cdn\/shop\/products\/2023Boots_NEW3.jpg?v=1679601614","variant_ids":[43853997179108,43853997211876,43853997244644,43853997277412,43853997310180,43853997342948,43853997375716,43853997408484,43853997441252,43853997474020,43853997506788,43853997539556,43853997572324,43853997605092,43853997637860,43853997670628,43853997703396,43853997736164,43853997768932,43853997801700,43859604930788,43859604963556,43859604996324,43859605029092,43859605061860,43859605094628,43859605127396,43859605160164,43859605192932,43859605225700,43859605258468,43859605291236,43859605324004,43859605356772,43859605389540,43859605422308,43859605455076,43859605487844]},"available":true,"name":"Garmont T8 Anthem - Regular (D) \/ 8 Men's \/ 9 Women's","public_title":"Regular (D) \/ 8 Men's \/ 9 Women's","options":["Regular (D)","8 Men's \/ 9 Women's"],"price":21500,"weight":0,"compare_at_price":null,"inventory_quantity":10,"inventory_management":"shopify","inventory_policy":"deny","barcode":"8056586202941","featured_media":{"alt":null,"id":41520425730276,"position":1,"preview_image":{"aspect_ratio":1.0,"height":600,"width":600,"src":"\/\/shop.bootcampaign.org\/cdn\/shop\/products\/2023Boots_NEW3.jpg?v=1679601614"}},"requires_selling_plan":false,"selling_plan_allocations":[]},{"id":43853997408484,"title":"Regular (D) \/ 8.5 Men's \/ 9.5 Women's","option1":"Regular (D)","option2":"8.5 Men's \/ 9.5 Women's","option3":null,"sku":"002766_8.5","requires_shipping":true,"taxable":true,"featured_image":{"id":48924446818532,"product_id":7954414371044,"position":1,"created_at":"2023-03-23T14:59:14-05:00","updated_at":"2023-03-23T15:00:14-05:00","alt":null,"width":600,"height":600,"src":"\/\/shop.bootcampaign.org\/cdn\/shop\/products\/2023Boots_NEW3.jpg?v=1679601614","variant_ids":[43853997179108,43853997211876,43853997244644,43853997277412,43853997310180,43853997342948,43853997375716,43853997408484,43853997441252,43853997474020,43853997506788,43853997539556,43853997572324,43853997605092,43853997637860,43853997670628,43853997703396,43853997736164,43853997768932,43853997801700,43859604930788,43859604963556,43859604996324,43859605029092,43859605061860,43859605094628,43859605127396,43859605160164,43859605192932,43859605225700,43859605258468,43859605291236,43859605324004,43859605356772,43859605389540,43859605422308,43859605455076,43859605487844]},"available":true,"name":"Garmont T8 Anthem - Regular (D) \/ 8.5 Men's \/ 9.5 Women's","public_title":"Regular (D) \/ 8.5 Men's \/ 9.5 Women's","options":["Regular (D)","8.5 Men's \/ 9.5 Women's"],"price":21500,"weight":0,"compare_at_price":null,"inventory_quantity":10,"inventory_management":"shopify","inventory_policy":"deny","barcode":"8056586202958","featured_media":{"alt":null,"id":41520425730276,"position":1,"preview_image":{"aspect_ratio":1.0,"height":600,"width":600,"src":"\/\/shop.bootcampaign.org\/cdn\/shop\/products\/2023Boots_NEW3.jpg?v=1679601614"}},"requires_selling_plan":false,"selling_plan_allocations":[]},{"id":43853997441252,"title":"Regular (D) \/ 9 Men's \/ 10 Women's","option1":"Regular (D)","option2":"9 Men's \/ 10 Women's","option3":null,"sku":"002766_9","requires_shipping":true,"taxable":true,"featured_image":{"id":48924446818532,"product_id":7954414371044,"position":1,"created_at":"2023-03-23T14:59:14-05:00","updated_at":"2023-03-23T15:00:14-05:00","alt":null,"width":600,"height":600,"src":"\/\/shop.bootcampaign.org\/cdn\/shop\/products\/2023Boots_NEW3.jpg?v=1679601614","variant_ids":[43853997179108,43853997211876,43853997244644,43853997277412,43853997310180,43853997342948,43853997375716,43853997408484,43853997441252,43853997474020,43853997506788,43853997539556,43853997572324,43853997605092,43853997637860,43853997670628,43853997703396,43853997736164,43853997768932,43853997801700,43859604930788,43859604963556,43859604996324,43859605029092,43859605061860,43859605094628,43859605127396,43859605160164,43859605192932,43859605225700,43859605258468,43859605291236,43859605324004,43859605356772,43859605389540,43859605422308,43859605455076,43859605487844]},"available":true,"name":"Garmont T8 Anthem - Regular (D) \/ 9 Men's \/ 10 Women's","public_title":"Regular (D) \/ 9 Men's \/ 10 Women's","options":["Regular (D)","9 Men's \/ 10 Women's"],"price":21500,"weight":0,"compare_at_price":null,"inventory_quantity":9,"inventory_management":"shopify","inventory_policy":"deny","barcode":"8056586202965","featured_media":{"alt":null,"id":41520425730276,"position":1,"preview_image":{"aspect_ratio":1.0,"height":600,"width":600,"src":"\/\/shop.bootcampaign.org\/cdn\/shop\/products\/2023Boots_NEW3.jpg?v=1679601614"}},"requires_selling_plan":false,"selling_plan_allocations":[]},{"id":43853997474020,"title":"Regular (D) \/ 9.5 Men's \/ 10.5 Women's","option1":"Regular (D)","option2":"9.5 Men's \/ 10.5 Women's","option3":null,"sku":"002766_9.5","requires_shipping":true,"taxable":true,"featured_image":{"id":48924446818532,"product_id":7954414371044,"position":1,"created_at":"2023-03-23T14:59:14-05:00","updated_at":"2023-03-23T15:00:14-05:00","alt":null,"width":600,"height":600,"src":"\/\/shop.bootcampaign.org\/cdn\/shop\/products\/2023Boots_NEW3.jpg?v=1679601614","variant_ids":[43853997179108,43853997211876,43853997244644,43853997277412,43853997310180,43853997342948,43853997375716,43853997408484,43853997441252,43853997474020,43853997506788,43853997539556,43853997572324,43853997605092,43853997637860,43853997670628,43853997703396,43853997736164,43853997768932,43853997801700,43859604930788,43859604963556,43859604996324,43859605029092,43859605061860,43859605094628,43859605127396,43859605160164,43859605192932,43859605225700,43859605258468,43859605291236,43859605324004,43859605356772,43859605389540,43859605422308,43859605455076,43859605487844]},"available":true,"name":"Garmont T8 Anthem - Regular (D) \/ 9.5 Men's \/ 10.5 Women's","public_title":"Regular (D) \/ 9.5 Men's \/ 10.5 Women's","options":["Regular (D)","9.5 Men's \/ 10.5 Women's"],"price":21500,"weight":0,"compare_at_price":null,"inventory_quantity":9,"inventory_management":"shopify","inventory_policy":"deny","barcode":"8056586202972","featured_media":{"alt":null,"id":41520425730276,"position":1,"preview_image":{"aspect_ratio":1.0,"height":600,"width":600,"src":"\/\/shop.bootcampaign.org\/cdn\/shop\/products\/2023Boots_NEW3.jpg?v=1679601614"}},"requires_selling_plan":false,"selling_plan_allocations":[]},{"id":43859604930788,"title":"Regular (D) \/ 10 Men's \/ 11 Women's","option1":"Regular (D)","option2":"10 Men's \/ 11 Women's","option3":null,"sku":"002766_10","requires_shipping":true,"taxable":true,"featured_image":{"id":48924446818532,"product_id":7954414371044,"position":1,"created_at":"2023-03-23T14:59:14-05:00","updated_at":"2023-03-23T15:00:14-05:00","alt":null,"width":600,"height":600,"src":"\/\/shop.bootcampaign.org\/cdn\/shop\/products\/2023Boots_NEW3.jpg?v=1679601614","variant_ids":[43853997179108,43853997211876,43853997244644,43853997277412,43853997310180,43853997342948,43853997375716,43853997408484,43853997441252,43853997474020,43853997506788,43853997539556,43853997572324,43853997605092,43853997637860,43853997670628,43853997703396,43853997736164,43853997768932,43853997801700,43859604930788,43859604963556,43859604996324,43859605029092,43859605061860,43859605094628,43859605127396,43859605160164,43859605192932,43859605225700,43859605258468,43859605291236,43859605324004,43859605356772,43859605389540,43859605422308,43859605455076,43859605487844]},"available":true,"name":"Garmont T8 Anthem - Regular (D) \/ 10 Men's \/ 11 Women's","public_title":"Regular (D) \/ 10 Men's \/ 11 Women's","options":["Regular (D)","10 Men's \/ 11 Women's"],"price":21500,"weight":0,"compare_at_price":null,"inventory_quantity":10,"inventory_management":"shopify","inventory_policy":"deny","barcode":"8056586202989","featured_media":{"alt":null,"id":41520425730276,"position":1,"preview_image":{"aspect_ratio":1.0,"height":600,"width":600,"src":"\/\/shop.bootcampaign.org\/cdn\/shop\/products\/2023Boots_NEW3.jpg?v=1679601614"}},"requires_selling_plan":false,"selling_plan_allocations":[]},{"id":43859604963556,"title":"Regular (D) \/ 10.5 Men's \/ 11.5 Women's","option1":"Regular (D)","option2":"10.5 Men's \/ 11.5 Women's","option3":null,"sku":"002766_10.5","requires_shipping":true,"taxable":true,"featured_image":{"id":48924446818532,"product_id":7954414371044,"position":1,"created_at":"2023-03-23T14:59:14-05:00","updated_at":"2023-03-23T15:00:14-05:00","alt":null,"width":600,"height":600,"src":"\/\/shop.bootcampaign.org\/cdn\/shop\/products\/2023Boots_NEW3.jpg?v=1679601614","variant_ids":[43853997179108,43853997211876,43853997244644,43853997277412,43853997310180,43853997342948,43853997375716,43853997408484,43853997441252,43853997474020,43853997506788,43853997539556,43853997572324,43853997605092,43853997637860,43853997670628,43853997703396,43853997736164,43853997768932,43853997801700,43859604930788,43859604963556,43859604996324,43859605029092,43859605061860,43859605094628,43859605127396,43859605160164,43859605192932,43859605225700,43859605258468,43859605291236,43859605324004,43859605356772,43859605389540,43859605422308,43859605455076,43859605487844]},"available":true,"name":"Garmont T8 Anthem - Regular (D) \/ 10.5 Men's \/ 11.5 Women's","public_title":"Regular (D) \/ 10.5 Men's \/ 11.5 Women's","options":["Regular (D)","10.5 Men's \/ 11.5 Women's"],"price":21500,"weight":0,"compare_at_price":null,"inventory_quantity":10,"inventory_management":"shopify","inventory_policy":"deny","barcode":"8056586202996","featured_media":{"alt":null,"id":41520425730276,"position":1,"preview_image":{"aspect_ratio":1.0,"height":600,"width":600,"src":"\/\/shop.bootcampaign.org\/cdn\/shop\/products\/2023Boots_NEW3.jpg?v=1679601614"}},"requires_selling_plan":false,"selling_plan_allocations":[]},{"id":43859604996324,"title":"Regular (D) \/ 11 Men's \/ 12 Women's","option1":"Regular (D)","option2":"11 Men's \/ 12 Women's","option3":null,"sku":"002766_11","requires_shipping":true,"taxable":true,"featured_image":{"id":48924446818532,"product_id":7954414371044,"position":1,"created_at":"2023-03-23T14:59:14-05:00","updated_at":"2023-03-23T15:00:14-05:00","alt":null,"width":600,"height":600,"src":"\/\/shop.bootcampaign.org\/cdn\/shop\/products\/2023Boots_NEW3.jpg?v=1679601614","variant_ids":[43853997179108,43853997211876,43853997244644,43853997277412,43853997310180,43853997342948,43853997375716,43853997408484,43853997441252,43853997474020,43853997506788,43853997539556,43853997572324,43853997605092,43853997637860,43853997670628,43853997703396,43853997736164,43853997768932,43853997801700,43859604930788,43859604963556,43859604996324,43859605029092,43859605061860,43859605094628,43859605127396,43859605160164,43859605192932,43859605225700,43859605258468,43859605291236,43859605324004,43859605356772,43859605389540,43859605422308,43859605455076,43859605487844]},"available":true,"name":"Garmont T8 Anthem - Regular (D) \/ 11 Men's \/ 12 Women's","public_title":"Regular (D) \/ 11 Men's \/ 12 Women's","options":["Regular (D)","11 Men's \/ 12 Women's"],"price":21500,"weight":0,"compare_at_price":null,"inventory_quantity":10,"inventory_management":"shopify","inventory_policy":"deny","barcode":"8056586203009","featured_media":{"alt":null,"id":41520425730276,"position":1,"preview_image":{"aspect_ratio":1.0,"height":600,"width":600,"src":"\/\/shop.bootcampaign.org\/cdn\/shop\/products\/2023Boots_NEW3.jpg?v=1679601614"}},"requires_selling_plan":false,"selling_plan_allocations":[]},{"id":43859605029092,"title":"Regular (D) \/ 11.5 Men's \/ 12.5 Women's","option1":"Regular (D)","option2":"11.5 Men's \/ 12.5 Women's","option3":null,"sku":"002766_11.5","requires_shipping":true,"taxable":true,"featured_image":{"id":48924446818532,"product_id":7954414371044,"position":1,"created_at":"2023-03-23T14:59:14-05:00","updated_at":"2023-03-23T15:00:14-05:00","alt":null,"width":600,"height":600,"src":"\/\/shop.bootcampaign.org\/cdn\/shop\/products\/2023Boots_NEW3.jpg?v=1679601614","variant_ids":[43853997179108,43853997211876,43853997244644,43853997277412,43853997310180,43853997342948,43853997375716,43853997408484,43853997441252,43853997474020,43853997506788,43853997539556,43853997572324,43853997605092,43853997637860,43853997670628,43853997703396,43853997736164,43853997768932,43853997801700,43859604930788,43859604963556,43859604996324,43859605029092,43859605061860,43859605094628,43859605127396,43859605160164,43859605192932,43859605225700,43859605258468,43859605291236,43859605324004,43859605356772,43859605389540,43859605422308,43859605455076,43859605487844]},"available":true,"name":"Garmont T8 Anthem - Regular (D) \/ 11.5 Men's \/ 12.5 Women's","public_title":"Regular (D) \/ 11.5 Men's \/ 12.5 Women's","options":["Regular (D)","11.5 Men's \/ 12.5 Women's"],"price":21500,"weight":0,"compare_at_price":null,"inventory_quantity":10,"inventory_management":"shopify","inventory_policy":"deny","barcode":"8056586203016","featured_media":{"alt":null,"id":41520425730276,"position":1,"preview_image":{"aspect_ratio":1.0,"height":600,"width":600,"src":"\/\/shop.bootcampaign.org\/cdn\/shop\/products\/2023Boots_NEW3.jpg?v=1679601614"}},"requires_selling_plan":false,"selling_plan_allocations":[]},{"id":43859605061860,"title":"Regular (D) \/ 12 Men's \/ 13 Women's","option1":"Regular (D)","option2":"12 Men's \/ 13 Women's","option3":null,"sku":"002766_12","requires_shipping":true,"taxable":true,"featured_image":{"id":48924446818532,"product_id":7954414371044,"position":1,"created_at":"2023-03-23T14:59:14-05:00","updated_at":"2023-03-23T15:00:14-05:00","alt":null,"width":600,"height":600,"src":"\/\/shop.bootcampaign.org\/cdn\/shop\/products\/2023Boots_NEW3.jpg?v=1679601614","variant_ids":[43853997179108,43853997211876,43853997244644,43853997277412,43853997310180,43853997342948,43853997375716,43853997408484,43853997441252,43853997474020,43853997506788,43853997539556,43853997572324,43853997605092,43853997637860,43853997670628,43853997703396,43853997736164,43853997768932,43853997801700,43859604930788,43859604963556,43859604996324,43859605029092,43859605061860,43859605094628,43859605127396,43859605160164,43859605192932,43859605225700,43859605258468,43859605291236,43859605324004,43859605356772,43859605389540,43859605422308,43859605455076,43859605487844]},"available":true,"name":"Garmont T8 Anthem - Regular (D) \/ 12 Men's \/ 13 Women's","public_title":"Regular (D) \/ 12 Men's \/ 13 Women's","options":["Regular (D)","12 Men's \/ 13 Women's"],"price":21500,"weight":0,"compare_at_price":null,"inventory_quantity":10,"inventory_management":"shopify","inventory_policy":"deny","barcode":"8056586203023","featured_media":{"alt":null,"id":41520425730276,"position":1,"preview_image":{"aspect_ratio":1.0,"height":600,"width":600,"src":"\/\/shop.bootcampaign.org\/cdn\/shop\/products\/2023Boots_NEW3.jpg?v=1679601614"}},"requires_selling_plan":false,"selling_plan_allocations":[]},{"id":43859605094628,"title":"Regular (D) \/ 12.5 Men's \/ 13.5 Women's","option1":"Regular (D)","option2":"12.5 Men's \/ 13.5 Women's","option3":null,"sku":"002766_12.5","requires_shipping":true,"taxable":true,"featured_image":{"id":48924446818532,"product_id":7954414371044,"position":1,"created_at":"2023-03-23T14:59:14-05:00","updated_at":"2023-03-23T15:00:14-05:00","alt":null,"width":600,"height":600,"src":"\/\/shop.bootcampaign.org\/cdn\/shop\/products\/2023Boots_NEW3.jpg?v=1679601614","variant_ids":[43853997179108,43853997211876,43853997244644,43853997277412,43853997310180,43853997342948,43853997375716,43853997408484,43853997441252,43853997474020,43853997506788,43853997539556,43853997572324,43853997605092,43853997637860,43853997670628,43853997703396,43853997736164,43853997768932,43853997801700,43859604930788,43859604963556,43859604996324,43859605029092,43859605061860,43859605094628,43859605127396,43859605160164,43859605192932,43859605225700,43859605258468,43859605291236,43859605324004,43859605356772,43859605389540,43859605422308,43859605455076,43859605487844]},"available":true,"name":"Garmont T8 Anthem - Regular (D) \/ 12.5 Men's \/ 13.5 Women's","public_title":"Regular (D) \/ 12.5 Men's \/ 13.5 Women's","options":["Regular (D)","12.5 Men's \/ 13.5 Women's"],"price":21500,"weight":0,"compare_at_price":null,"inventory_quantity":10,"inventory_management":"shopify","inventory_policy":"deny","barcode":"8056586203030","featured_media":{"alt":null,"id":41520425730276,"position":1,"preview_image":{"aspect_ratio":1.0,"height":600,"width":600,"src":"\/\/shop.bootcampaign.org\/cdn\/shop\/products\/2023Boots_NEW3.jpg?v=1679601614"}},"requires_selling_plan":false,"selling_plan_allocations":[]},{"id":43859605127396,"title":"Regular (D) \/ 13 Men's \/ 14 Women's","option1":"Regular (D)","option2":"13 Men's \/ 14 Women's","option3":null,"sku":"002766_13","requires_shipping":true,"taxable":true,"featured_image":{"id":48924446818532,"product_id":7954414371044,"position":1,"created_at":"2023-03-23T14:59:14-05:00","updated_at":"2023-03-23T15:00:14-05:00","alt":null,"width":600,"height":600,"src":"\/\/shop.bootcampaign.org\/cdn\/shop\/products\/2023Boots_NEW3.jpg?v=1679601614","variant_ids":[43853997179108,43853997211876,43853997244644,43853997277412,43853997310180,43853997342948,43853997375716,43853997408484,43853997441252,43853997474020,43853997506788,43853997539556,43853997572324,43853997605092,43853997637860,43853997670628,43853997703396,43853997736164,43853997768932,43853997801700,43859604930788,43859604963556,43859604996324,43859605029092,43859605061860,43859605094628,43859605127396,43859605160164,43859605192932,43859605225700,43859605258468,43859605291236,43859605324004,43859605356772,43859605389540,43859605422308,43859605455076,43859605487844]},"available":true,"name":"Garmont T8 Anthem - Regular (D) \/ 13 Men's \/ 14 Women's","public_title":"Regular (D) \/ 13 Men's \/ 14 Women's","options":["Regular (D)","13 Men's \/ 14 Women's"],"price":21500,"weight":0,"compare_at_price":null,"inventory_quantity":9,"inventory_management":"shopify","inventory_policy":"deny","barcode":"8056586203047","featured_media":{"alt":null,"id":41520425730276,"position":1,"preview_image":{"aspect_ratio":1.0,"height":600,"width":600,"src":"\/\/shop.bootcampaign.org\/cdn\/shop\/products\/2023Boots_NEW3.jpg?v=1679601614"}},"requires_selling_plan":false,"selling_plan_allocations":[]},{"id":43859605160164,"title":"Regular (D) \/ 13.5 Men's \/ 14.5 Women's","option1":"Regular (D)","option2":"13.5 Men's \/ 14.5 Women's","option3":null,"sku":"002766_13.5","requires_shipping":true,"taxable":true,"featured_image":{"id":48924446818532,"product_id":7954414371044,"position":1,"created_at":"2023-03-23T14:59:14-05:00","updated_at":"2023-03-23T15:00:14-05:00","alt":null,"width":600,"height":600,"src":"\/\/shop.bootcampaign.org\/cdn\/shop\/products\/2023Boots_NEW3.jpg?v=1679601614","variant_ids":[43853997179108,43853997211876,43853997244644,43853997277412,43853997310180,43853997342948,43853997375716,43853997408484,43853997441252,43853997474020,43853997506788,43853997539556,43853997572324,43853997605092,43853997637860,43853997670628,43853997703396,43853997736164,43853997768932,43853997801700,43859604930788,43859604963556,43859604996324,43859605029092,43859605061860,43859605094628,43859605127396,43859605160164,43859605192932,43859605225700,43859605258468,43859605291236,43859605324004,43859605356772,43859605389540,43859605422308,43859605455076,43859605487844]},"available":true,"name":"Garmont T8 Anthem - Regular (D) \/ 13.5 Men's \/ 14.5 Women's","public_title":"Regular (D) \/ 13.5 Men's \/ 14.5 Women's","options":["Regular (D)","13.5 Men's \/ 14.5 Women's"],"price":21500,"weight":0,"compare_at_price":null,"inventory_quantity":10,"inventory_management":"shopify","inventory_policy":"deny","barcode":"8056586203054","featured_media":{"alt":null,"id":41520425730276,"position":1,"preview_image":{"aspect_ratio":1.0,"height":600,"width":600,"src":"\/\/shop.bootcampaign.org\/cdn\/shop\/products\/2023Boots_NEW3.jpg?v=1679601614"}},"requires_selling_plan":false,"selling_plan_allocations":[]},{"id":43859605192932,"title":"Regular (D) \/ 14 Men's \/ 15 Women's","option1":"Regular (D)","option2":"14 Men's \/ 15 Women's","option3":null,"sku":"002766_14","requires_shipping":true,"taxable":true,"featured_image":{"id":48924446818532,"product_id":7954414371044,"position":1,"created_at":"2023-03-23T14:59:14-05:00","updated_at":"2023-03-23T15:00:14-05:00","alt":null,"width":600,"height":600,"src":"\/\/shop.bootcampaign.org\/cdn\/shop\/products\/2023Boots_NEW3.jpg?v=1679601614","variant_ids":[43853997179108,43853997211876,43853997244644,43853997277412,43853997310180,43853997342948,43853997375716,43853997408484,43853997441252,43853997474020,43853997506788,43853997539556,43853997572324,43853997605092,43853997637860,43853997670628,43853997703396,43853997736164,43853997768932,43853997801700,43859604930788,43859604963556,43859604996324,43859605029092,43859605061860,43859605094628,43859605127396,43859605160164,43859605192932,43859605225700,43859605258468,43859605291236,43859605324004,43859605356772,43859605389540,43859605422308,43859605455076,43859605487844]},"available":true,"name":"Garmont T8 Anthem - Regular (D) \/ 14 Men's \/ 15 Women's","public_title":"Regular (D) \/ 14 Men's \/ 15 Women's","options":["Regular (D)","14 Men's \/ 15 Women's"],"price":21500,"weight":0,"compare_at_price":null,"inventory_quantity":2,"inventory_management":"shopify","inventory_policy":"deny","barcode":"8056586203061","featured_media":{"alt":null,"id":41520425730276,"position":1,"preview_image":{"aspect_ratio":1.0,"height":600,"width":600,"src":"\/\/shop.bootcampaign.org\/cdn\/shop\/products\/2023Boots_NEW3.jpg?v=1679601614"}},"requires_selling_plan":false,"selling_plan_allocations":[]},{"id":43853997506788,"title":"Wide (EEE) \/ 5 Men's \/ 6 Women's","option1":"Wide (EEE)","option2":"5 Men's \/ 6 Women's","option3":null,"sku":"002767_5W","requires_shipping":true,"taxable":true,"featured_image":{"id":48924446818532,"product_id":7954414371044,"position":1,"created_at":"2023-03-23T14:59:14-05:00","updated_at":"2023-03-23T15:00:14-05:00","alt":null,"width":600,"height":600,"src":"\/\/shop.bootcampaign.org\/cdn\/shop\/products\/2023Boots_NEW3.jpg?v=1679601614","variant_ids":[43853997179108,43853997211876,43853997244644,43853997277412,43853997310180,43853997342948,43853997375716,43853997408484,43853997441252,43853997474020,43853997506788,43853997539556,43853997572324,43853997605092,43853997637860,43853997670628,43853997703396,43853997736164,43853997768932,43853997801700,43859604930788,43859604963556,43859604996324,43859605029092,43859605061860,43859605094628,43859605127396,43859605160164,43859605192932,43859605225700,43859605258468,43859605291236,43859605324004,43859605356772,43859605389540,43859605422308,43859605455076,43859605487844]},"available":false,"name":"Garmont T8 Anthem - Wide (EEE) \/ 5 Men's \/ 6 Women's","public_title":"Wide (EEE) \/ 5 Men's \/ 6 Women's","options":["Wide (EEE)","5 Men's \/ 6 Women's"],"price":21500,"weight":0,"compare_at_price":null,"inventory_quantity":0,"inventory_management":"shopify","inventory_policy":"deny","barcode":null,"featured_media":{"alt":null,"id":41520425730276,"position":1,"preview_image":{"aspect_ratio":1.0,"height":600,"width":600,"src":"\/\/shop.bootcampaign.org\/cdn\/shop\/products\/2023Boots_NEW3.jpg?v=1679601614"}},"requires_selling_plan":false,"selling_plan_allocations":[]},{"id":43853997539556,"title":"Wide (EEE) \/ 5.5 Men's \/ 6 Women's","option1":"Wide (EEE)","option2":"5.5 Men's \/ 6 Women's","option3":null,"sku":"002767_5.5W","requires_shipping":true,"taxable":true,"featured_image":{"id":48924446818532,"product_id":7954414371044,"position":1,"created_at":"2023-03-23T14:59:14-05:00","updated_at":"2023-03-23T15:00:14-05:00","alt":null,"width":600,"height":600,"src":"\/\/shop.bootcampaign.org\/cdn\/shop\/products\/2023Boots_NEW3.jpg?v=1679601614","variant_ids":[43853997179108,43853997211876,43853997244644,43853997277412,43853997310180,43853997342948,43853997375716,43853997408484,43853997441252,43853997474020,43853997506788,43853997539556,43853997572324,43853997605092,43853997637860,43853997670628,43853997703396,43853997736164,43853997768932,43853997801700,43859604930788,43859604963556,43859604996324,43859605029092,43859605061860,43859605094628,43859605127396,43859605160164,43859605192932,43859605225700,43859605258468,43859605291236,43859605324004,43859605356772,43859605389540,43859605422308,43859605455076,43859605487844]},"available":false,"name":"Garmont T8 Anthem - Wide (EEE) \/ 5.5 Men's \/ 6 Women's","public_title":"Wide (EEE) \/ 5.5 Men's \/ 6 Women's","options":["Wide (EEE)","5.5 Men's \/ 6 Women's"],"price":21500,"weight":0,"compare_at_price":null,"inventory_quantity":0,"inventory_management":"shopify","inventory_policy":"deny","barcode":null,"featured_media":{"alt":null,"id":41520425730276,"position":1,"preview_image":{"aspect_ratio":1.0,"height":600,"width":600,"src":"\/\/shop.bootcampaign.org\/cdn\/shop\/products\/2023Boots_NEW3.jpg?v=1679601614"}},"requires_selling_plan":false,"selling_plan_allocations":[]},{"id":43853997572324,"title":"Wide (EEE) \/ 6 Men's \/ 7 Women's","option1":"Wide (EEE)","option2":"6 Men's \/ 7 Women's","option3":null,"sku":"002767_6W","requires_shipping":true,"taxable":true,"featured_image":{"id":48924446818532,"product_id":7954414371044,"position":1,"created_at":"2023-03-23T14:59:14-05:00","updated_at":"2023-03-23T15:00:14-05:00","alt":null,"width":600,"height":600,"src":"\/\/shop.bootcampaign.org\/cdn\/shop\/products\/2023Boots_NEW3.jpg?v=1679601614","variant_ids":[43853997179108,43853997211876,43853997244644,43853997277412,43853997310180,43853997342948,43853997375716,43853997408484,43853997441252,43853997474020,43853997506788,43853997539556,43853997572324,43853997605092,43853997637860,43853997670628,43853997703396,43853997736164,43853997768932,43853997801700,43859604930788,43859604963556,43859604996324,43859605029092,43859605061860,43859605094628,43859605127396,43859605160164,43859605192932,43859605225700,43859605258468,43859605291236,43859605324004,43859605356772,43859605389540,43859605422308,43859605455076,43859605487844]},"available":false,"name":"Garmont T8 Anthem - Wide (EEE) \/ 6 Men's \/ 7 Women's","public_title":"Wide (EEE) \/ 6 Men's \/ 7 Women's","options":["Wide (EEE)","6 Men's \/ 7 Women's"],"price":21500,"weight":0,"compare_at_price":null,"inventory_quantity":0,"inventory_management":"shopify","inventory_policy":"deny","barcode":"","featured_media":{"alt":null,"id":41520425730276,"position":1,"preview_image":{"aspect_ratio":1.0,"height":600,"width":600,"src":"\/\/shop.bootcampaign.org\/cdn\/shop\/products\/2023Boots_NEW3.jpg?v=1679601614"}},"requires_selling_plan":false,"selling_plan_allocations":[]},{"id":43853997605092,"title":"Wide (EEE) \/ 6.5 Men's \/ 7.5 Women's","option1":"Wide (EEE)","option2":"6.5 Men's \/ 7.5 Women's","option3":null,"sku":"002767_6.5W","requires_shipping":true,"taxable":true,"featured_image":{"id":48924446818532,"product_id":7954414371044,"position":1,"created_at":"2023-03-23T14:59:14-05:00","updated_at":"2023-03-23T15:00:14-05:00","alt":null,"width":600,"height":600,"src":"\/\/shop.bootcampaign.org\/cdn\/shop\/products\/2023Boots_NEW3.jpg?v=1679601614","variant_ids":[43853997179108,43853997211876,43853997244644,43853997277412,43853997310180,43853997342948,43853997375716,43853997408484,43853997441252,43853997474020,43853997506788,43853997539556,43853997572324,43853997605092,43853997637860,43853997670628,43853997703396,43853997736164,43853997768932,43853997801700,43859604930788,43859604963556,43859604996324,43859605029092,43859605061860,43859605094628,43859605127396,43859605160164,43859605192932,43859605225700,43859605258468,43859605291236,43859605324004,43859605356772,43859605389540,43859605422308,43859605455076,43859605487844]},"available":false,"name":"Garmont T8 Anthem - Wide (EEE) \/ 6.5 Men's \/ 7.5 Women's","public_title":"Wide (EEE) \/ 6.5 Men's \/ 7.5 Women's","options":["Wide (EEE)","6.5 Men's \/ 7.5 Women's"],"price":21500,"weight":0,"compare_at_price":null,"inventory_quantity":0,"inventory_management":"shopify","inventory_policy":"deny","barcode":null,"featured_media":{"alt":null,"id":41520425730276,"position":1,"preview_image":{"aspect_ratio":1.0,"height":600,"width":600,"src":"\/\/shop.bootcampaign.org\/cdn\/shop\/products\/2023Boots_NEW3.jpg?v=1679601614"}},"requires_selling_plan":false,"selling_plan_allocations":[]},{"id":43853997637860,"title":"Wide (EEE) \/ 7 Men's \/ 8 Women's","option1":"Wide (EEE)","option2":"7 Men's \/ 8 Women's","option3":null,"sku":"002767_7W","requires_shipping":true,"taxable":true,"featured_image":{"id":48924446818532,"product_id":7954414371044,"position":1,"created_at":"2023-03-23T14:59:14-05:00","updated_at":"2023-03-23T15:00:14-05:00","alt":null,"width":600,"height":600,"src":"\/\/shop.bootcampaign.org\/cdn\/shop\/products\/2023Boots_NEW3.jpg?v=1679601614","variant_ids":[43853997179108,43853997211876,43853997244644,43853997277412,43853997310180,43853997342948,43853997375716,43853997408484,43853997441252,43853997474020,43853997506788,43853997539556,43853997572324,43853997605092,43853997637860,43853997670628,43853997703396,43853997736164,43853997768932,43853997801700,43859604930788,43859604963556,43859604996324,43859605029092,43859605061860,43859605094628,43859605127396,43859605160164,43859605192932,43859605225700,43859605258468,43859605291236,43859605324004,43859605356772,43859605389540,43859605422308,43859605455076,43859605487844]},"available":false,"name":"Garmont T8 Anthem - Wide (EEE) \/ 7 Men's \/ 8 Women's","public_title":"Wide (EEE) \/ 7 Men's \/ 8 Women's","options":["Wide (EEE)","7 Men's \/ 8 Women's"],"price":21500,"weight":0,"compare_at_price":null,"inventory_quantity":0,"inventory_management":"shopify","inventory_policy":"deny","barcode":"8056586203153","featured_media":{"alt":null,"id":41520425730276,"position":1,"preview_image":{"aspect_ratio":1.0,"height":600,"width":600,"src":"\/\/shop.bootcampaign.org\/cdn\/shop\/products\/2023Boots_NEW3.jpg?v=1679601614"}},"requires_selling_plan":false,"selling_plan_allocations":[]},{"id":43853997670628,"title":"Wide (EEE) \/ 7.5 Men's \/ 8.5 Women's","option1":"Wide (EEE)","option2":"7.5 Men's \/ 8.5 Women's","option3":null,"sku":"002767_7.5W","requires_shipping":true,"taxable":true,"featured_image":{"id":48924446818532,"product_id":7954414371044,"position":1,"created_at":"2023-03-23T14:59:14-05:00","updated_at":"2023-03-23T15:00:14-05:00","alt":null,"width":600,"height":600,"src":"\/\/shop.bootcampaign.org\/cdn\/shop\/products\/2023Boots_NEW3.jpg?v=1679601614","variant_ids":[43853997179108,43853997211876,43853997244644,43853997277412,43853997310180,43853997342948,43853997375716,43853997408484,43853997441252,43853997474020,43853997506788,43853997539556,43853997572324,43853997605092,43853997637860,43853997670628,43853997703396,43853997736164,43853997768932,43853997801700,43859604930788,43859604963556,43859604996324,43859605029092,43859605061860,43859605094628,43859605127396,43859605160164,43859605192932,43859605225700,43859605258468,43859605291236,43859605324004,43859605356772,43859605389540,43859605422308,43859605455076,43859605487844]},"available":false,"name":"Garmont T8 Anthem - Wide (EEE) \/ 7.5 Men's \/ 8.5 Women's","public_title":"Wide (EEE) \/ 7.5 Men's \/ 8.5 Women's","options":["Wide (EEE)","7.5 Men's \/ 8.5 Women's"],"price":21500,"weight":0,"compare_at_price":null,"inventory_quantity":0,"inventory_management":"shopify","inventory_policy":"deny","barcode":"8056586203160","featured_media":{"alt":null,"id":41520425730276,"position":1,"preview_image":{"aspect_ratio":1.0,"height":600,"width":600,"src":"\/\/shop.bootcampaign.org\/cdn\/shop\/products\/2023Boots_NEW3.jpg?v=1679601614"}},"requires_selling_plan":false,"selling_plan_allocations":[]},{"id":43853997703396,"title":"Wide (EEE) \/ 8 Men's \/ 9 Women's","option1":"Wide (EEE)","option2":"8 Men's \/ 9 Women's","option3":null,"sku":"002767_8W","requires_shipping":true,"taxable":true,"featured_image":{"id":48924446818532,"product_id":7954414371044,"position":1,"created_at":"2023-03-23T14:59:14-05:00","updated_at":"2023-03-23T15:00:14-05:00","alt":null,"width":600,"height":600,"src":"\/\/shop.bootcampaign.org\/cdn\/shop\/products\/2023Boots_NEW3.jpg?v=1679601614","variant_ids":[43853997179108,43853997211876,43853997244644,43853997277412,43853997310180,43853997342948,43853997375716,43853997408484,43853997441252,43853997474020,43853997506788,43853997539556,43853997572324,43853997605092,43853997637860,43853997670628,43853997703396,43853997736164,43853997768932,43853997801700,43859604930788,43859604963556,43859604996324,43859605029092,43859605061860,43859605094628,43859605127396,43859605160164,43859605192932,43859605225700,43859605258468,43859605291236,43859605324004,43859605356772,43859605389540,43859605422308,43859605455076,43859605487844]},"available":false,"name":"Garmont T8 Anthem - Wide (EEE) \/ 8 Men's \/ 9 Women's","public_title":"Wide (EEE) \/ 8 Men's \/ 9 Women's","options":["Wide (EEE)","8 Men's \/ 9 Women's"],"price":21500,"weight":0,"compare_at_price":null,"inventory_quantity":0,"inventory_management":"shopify","inventory_policy":"deny","barcode":"8056586203177","featured_media":{"alt":null,"id":41520425730276,"position":1,"preview_image":{"aspect_ratio":1.0,"height":600,"width":600,"src":"\/\/shop.bootcampaign.org\/cdn\/shop\/products\/2023Boots_NEW3.jpg?v=1679601614"}},"requires_selling_plan":false,"selling_plan_allocations":[]},{"id":43853997736164,"title":"Wide (EEE) \/ 8.5 Men's \/ 9.5 Women's","option1":"Wide (EEE)","option2":"8.5 Men's \/ 9.5 Women's","option3":null,"sku":"002767_8.5W","requires_shipping":true,"taxable":true,"featured_image":{"id":48924446818532,"product_id":7954414371044,"position":1,"created_at":"2023-03-23T14:59:14-05:00","updated_at":"2023-03-23T15:00:14-05:00","alt":null,"width":600,"height":600,"src":"\/\/shop.bootcampaign.org\/cdn\/shop\/products\/2023Boots_NEW3.jpg?v=1679601614","variant_ids":[43853997179108,43853997211876,43853997244644,43853997277412,43853997310180,43853997342948,43853997375716,43853997408484,43853997441252,43853997474020,43853997506788,43853997539556,43853997572324,43853997605092,43853997637860,43853997670628,43853997703396,43853997736164,43853997768932,43853997801700,43859604930788,43859604963556,43859604996324,43859605029092,43859605061860,43859605094628,43859605127396,43859605160164,43859605192932,43859605225700,43859605258468,43859605291236,43859605324004,43859605356772,43859605389540,43859605422308,43859605455076,43859605487844]},"available":false,"name":"Garmont T8 Anthem - Wide (EEE) \/ 8.5 Men's \/ 9.5 Women's","public_title":"Wide (EEE) \/ 8.5 Men's \/ 9.5 Women's","options":["Wide (EEE)","8.5 Men's \/ 9.5 Women's"],"price":21500,"weight":0,"compare_at_price":null,"inventory_quantity":0,"inventory_management":"shopify","inventory_policy":"deny","barcode":"8056586203184","featured_media":{"alt":null,"id":41520425730276,"position":1,"preview_image":{"aspect_ratio":1.0,"height":600,"width":600,"src":"\/\/shop.bootcampaign.org\/cdn\/shop\/products\/2023Boots_NEW3.jpg?v=1679601614"}},"requires_selling_plan":false,"selling_plan_allocations":[]},{"id":43853997768932,"title":"Wide (EEE) \/ 9 Men's \/ 10 Women's","option1":"Wide (EEE)","option2":"9 Men's \/ 10 Women's","option3":null,"sku":"002767_9W","requires_shipping":true,"taxable":true,"featured_image":{"id":48924446818532,"product_id":7954414371044,"position":1,"created_at":"2023-03-23T14:59:14-05:00","updated_at":"2023-03-23T15:00:14-05:00","alt":null,"width":600,"height":600,"src":"\/\/shop.bootcampaign.org\/cdn\/shop\/products\/2023Boots_NEW3.jpg?v=1679601614","variant_ids":[43853997179108,43853997211876,43853997244644,43853997277412,43853997310180,43853997342948,43853997375716,43853997408484,43853997441252,43853997474020,43853997506788,43853997539556,43853997572324,43853997605092,43853997637860,43853997670628,43853997703396,43853997736164,43853997768932,43853997801700,43859604930788,43859604963556,43859604996324,43859605029092,43859605061860,43859605094628,43859605127396,43859605160164,43859605192932,43859605225700,43859605258468,43859605291236,43859605324004,43859605356772,43859605389540,43859605422308,43859605455076,43859605487844]},"available":false,"name":"Garmont T8 Anthem - Wide (EEE) \/ 9 Men's \/ 10 Women's","public_title":"Wide (EEE) \/ 9 Men's \/ 10 Women's","options":["Wide (EEE)","9 Men's \/ 10 Women's"],"price":21500,"weight":0,"compare_at_price":null,"inventory_quantity":0,"inventory_management":"shopify","inventory_policy":"deny","barcode":"8056586203191","featured_media":{"alt":null,"id":41520425730276,"position":1,"preview_image":{"aspect_ratio":1.0,"height":600,"width":600,"src":"\/\/shop.bootcampaign.org\/cdn\/shop\/products\/2023Boots_NEW3.jpg?v=1679601614"}},"requires_selling_plan":false,"selling_plan_allocations":[]},{"id":43853997801700,"title":"Wide (EEE) \/ 9.5 Men's \/ 10.5 Women's","option1":"Wide (EEE)","option2":"9.5 Men's \/ 10.5 Women's","option3":null,"sku":"002767_9.5W","requires_shipping":true,"taxable":true,"featured_image":{"id":48924446818532,"product_id":7954414371044,"position":1,"created_at":"2023-03-23T14:59:14-05:00","updated_at":"2023-03-23T15:00:14-05:00","alt":null,"width":600,"height":600,"src":"\/\/shop.bootcampaign.org\/cdn\/shop\/products\/2023Boots_NEW3.jpg?v=1679601614","variant_ids":[43853997179108,43853997211876,43853997244644,43853997277412,43853997310180,43853997342948,43853997375716,43853997408484,43853997441252,43853997474020,43853997506788,43853997539556,43853997572324,43853997605092,43853997637860,43853997670628,43853997703396,43853997736164,43853997768932,43853997801700,43859604930788,43859604963556,43859604996324,43859605029092,43859605061860,43859605094628,43859605127396,43859605160164,43859605192932,43859605225700,43859605258468,43859605291236,43859605324004,43859605356772,43859605389540,43859605422308,43859605455076,43859605487844]},"available":false,"name":"Garmont T8 Anthem - Wide (EEE) \/ 9.5 Men's \/ 10.5 Women's","public_title":"Wide (EEE) \/ 9.5 Men's \/ 10.5 Women's","options":["Wide (EEE)","9.5 Men's \/ 10.5 Women's"],"price":21500,"weight":0,"compare_at_price":null,"inventory_quantity":0,"inventory_management":"shopify","inventory_policy":"deny","barcode":"8056586203207","featured_media":{"alt":null,"id":41520425730276,"position":1,"preview_image":{"aspect_ratio":1.0,"height":600,"width":600,"src":"\/\/shop.bootcampaign.org\/cdn\/shop\/products\/2023Boots_NEW3.jpg?v=1679601614"}},"requires_selling_plan":false,"selling_plan_allocations":[]},{"id":43859605225700,"title":"Wide (EEE) \/ 10 Men's \/ 11 Women's","option1":"Wide (EEE)","option2":"10 Men's \/ 11 Women's","option3":null,"sku":"002767_10W","requires_shipping":true,"taxable":true,"featured_image":{"id":48924446818532,"product_id":7954414371044,"position":1,"created_at":"2023-03-23T14:59:14-05:00","updated_at":"2023-03-23T15:00:14-05:00","alt":null,"width":600,"height":600,"src":"\/\/shop.bootcampaign.org\/cdn\/shop\/products\/2023Boots_NEW3.jpg?v=1679601614","variant_ids":[43853997179108,43853997211876,43853997244644,43853997277412,43853997310180,43853997342948,43853997375716,43853997408484,43853997441252,43853997474020,43853997506788,43853997539556,43853997572324,43853997605092,43853997637860,43853997670628,43853997703396,43853997736164,43853997768932,43853997801700,43859604930788,43859604963556,43859604996324,43859605029092,43859605061860,43859605094628,43859605127396,43859605160164,43859605192932,43859605225700,43859605258468,43859605291236,43859605324004,43859605356772,43859605389540,43859605422308,43859605455076,43859605487844]},"available":false,"name":"Garmont T8 Anthem - Wide (EEE) \/ 10 Men's \/ 11 Women's","public_title":"Wide (EEE) \/ 10 Men's \/ 11 Women's","options":["Wide (EEE)","10 Men's \/ 11 Women's"],"price":21500,"weight":0,"compare_at_price":null,"inventory_quantity":0,"inventory_management":"shopify","inventory_policy":"deny","barcode":"8056586203214","featured_media":{"alt":null,"id":41520425730276,"position":1,"preview_image":{"aspect_ratio":1.0,"height":600,"width":600,"src":"\/\/shop.bootcampaign.org\/cdn\/shop\/products\/2023Boots_NEW3.jpg?v=1679601614"}},"requires_selling_plan":false,"selling_plan_allocations":[]},{"id":43859605258468,"title":"Wide (EEE) \/ 10.5 Men's \/ 11.5 Women's","option1":"Wide (EEE)","option2":"10.5 Men's \/ 11.5 Women's","option3":null,"sku":"002767_10.5W","requires_shipping":true,"taxable":true,"featured_image":{"id":48924446818532,"product_id":7954414371044,"position":1,"created_at":"2023-03-23T14:59:14-05:00","updated_at":"2023-03-23T15:00:14-05:00","alt":null,"width":600,"height":600,"src":"\/\/shop.bootcampaign.org\/cdn\/shop\/products\/2023Boots_NEW3.jpg?v=1679601614","variant_ids":[43853997179108,43853997211876,43853997244644,43853997277412,43853997310180,43853997342948,43853997375716,43853997408484,43853997441252,43853997474020,43853997506788,43853997539556,43853997572324,43853997605092,43853997637860,43853997670628,43853997703396,43853997736164,43853997768932,43853997801700,43859604930788,43859604963556,43859604996324,43859605029092,43859605061860,43859605094628,43859605127396,43859605160164,43859605192932,43859605225700,43859605258468,43859605291236,43859605324004,43859605356772,43859605389540,43859605422308,43859605455076,43859605487844]},"available":false,"name":"Garmont T8 Anthem - Wide (EEE) \/ 10.5 Men's \/ 11.5 Women's","public_title":"Wide (EEE) \/ 10.5 Men's \/ 11.5 Women's","options":["Wide (EEE)","10.5 Men's \/ 11.5 Women's"],"price":21500,"weight":0,"compare_at_price":null,"inventory_quantity":0,"inventory_management":"shopify","inventory_policy":"deny","barcode":"8056586203221","featured_media":{"alt":null,"id":41520425730276,"position":1,"preview_image":{"aspect_ratio":1.0,"height":600,"width":600,"src":"\/\/shop.bootcampaign.org\/cdn\/shop\/products\/2023Boots_NEW3.jpg?v=1679601614"}},"requires_selling_plan":false,"selling_plan_allocations":[]},{"id":43859605291236,"title":"Wide (EEE) \/ 11 Men's \/ 12 Women's","option1":"Wide (EEE)","option2":"11 Men's \/ 12 Women's","option3":null,"sku":"002767_11W","requires_shipping":true,"taxable":true,"featured_image":{"id":48924446818532,"product_id":7954414371044,"position":1,"created_at":"2023-03-23T14:59:14-05:00","updated_at":"2023-03-23T15:00:14-05:00","alt":null,"width":600,"height":600,"src":"\/\/shop.bootcampaign.org\/cdn\/shop\/products\/2023Boots_NEW3.jpg?v=1679601614","variant_ids":[43853997179108,43853997211876,43853997244644,43853997277412,43853997310180,43853997342948,43853997375716,43853997408484,43853997441252,43853997474020,43853997506788,43853997539556,43853997572324,43853997605092,43853997637860,43853997670628,43853997703396,43853997736164,43853997768932,43853997801700,43859604930788,43859604963556,43859604996324,43859605029092,43859605061860,43859605094628,43859605127396,43859605160164,43859605192932,43859605225700,43859605258468,43859605291236,43859605324004,43859605356772,43859605389540,43859605422308,43859605455076,43859605487844]},"available":false,"name":"Garmont T8 Anthem - Wide (EEE) \/ 11 Men's \/ 12 Women's","public_title":"Wide (EEE) \/ 11 Men's \/ 12 Women's","options":["Wide (EEE)","11 Men's \/ 12 Women's"],"price":21500,"weight":0,"compare_at_price":null,"inventory_quantity":0,"inventory_management":"shopify","inventory_policy":"deny","barcode":"8056586203238","featured_media":{"alt":null,"id":41520425730276,"position":1,"preview_image":{"aspect_ratio":1.0,"height":600,"width":600,"src":"\/\/shop.bootcampaign.org\/cdn\/shop\/products\/2023Boots_NEW3.jpg?v=1679601614"}},"requires_selling_plan":false,"selling_plan_allocations":[]},{"id":43859605324004,"title":"Wide (EEE) \/ 11.5 Men's \/ 12.5 Women's","option1":"Wide (EEE)","option2":"11.5 Men's \/ 12.5 Women's","option3":null,"sku":"002767_11.5W","requires_shipping":true,"taxable":true,"featured_image":{"id":48924446818532,"product_id":7954414371044,"position":1,"created_at":"2023-03-23T14:59:14-05:00","updated_at":"2023-03-23T15:00:14-05:00","alt":null,"width":600,"height":600,"src":"\/\/shop.bootcampaign.org\/cdn\/shop\/products\/2023Boots_NEW3.jpg?v=1679601614","variant_ids":[43853997179108,43853997211876,43853997244644,43853997277412,43853997310180,43853997342948,43853997375716,43853997408484,43853997441252,43853997474020,43853997506788,43853997539556,43853997572324,43853997605092,43853997637860,43853997670628,43853997703396,43853997736164,43853997768932,43853997801700,43859604930788,43859604963556,43859604996324,43859605029092,43859605061860,43859605094628,43859605127396,43859605160164,43859605192932,43859605225700,43859605258468,43859605291236,43859605324004,43859605356772,43859605389540,43859605422308,43859605455076,43859605487844]},"available":false,"name":"Garmont T8 Anthem - Wide (EEE) \/ 11.5 Men's \/ 12.5 Women's","public_title":"Wide (EEE) \/ 11.5 Men's \/ 12.5 Women's","options":["Wide (EEE)","11.5 Men's \/ 12.5 Women's"],"price":21500,"weight":0,"compare_at_price":null,"inventory_quantity":0,"inventory_management":"shopify","inventory_policy":"deny","barcode":"8056586203245","featured_media":{"alt":null,"id":41520425730276,"position":1,"preview_image":{"aspect_ratio":1.0,"height":600,"width":600,"src":"\/\/shop.bootcampaign.org\/cdn\/shop\/products\/2023Boots_NEW3.jpg?v=1679601614"}},"requires_selling_plan":false,"selling_plan_allocations":[]},{"id":43859605356772,"title":"Wide (EEE) \/ 12 Men's \/ 13 Women's","option1":"Wide (EEE)","option2":"12 Men's \/ 13 Women's","option3":null,"sku":"002767_12W","requires_shipping":true,"taxable":true,"featured_image":{"id":48924446818532,"product_id":7954414371044,"position":1,"created_at":"2023-03-23T14:59:14-05:00","updated_at":"2023-03-23T15:00:14-05:00","alt":null,"width":600,"height":600,"src":"\/\/shop.bootcampaign.org\/cdn\/shop\/products\/2023Boots_NEW3.jpg?v=1679601614","variant_ids":[43853997179108,43853997211876,43853997244644,43853997277412,43853997310180,43853997342948,43853997375716,43853997408484,43853997441252,43853997474020,43853997506788,43853997539556,43853997572324,43853997605092,43853997637860,43853997670628,43853997703396,43853997736164,43853997768932,43853997801700,43859604930788,43859604963556,43859604996324,43859605029092,43859605061860,43859605094628,43859605127396,43859605160164,43859605192932,43859605225700,43859605258468,43859605291236,43859605324004,43859605356772,43859605389540,43859605422308,43859605455076,43859605487844]},"available":false,"name":"Garmont T8 Anthem - Wide (EEE) \/ 12 Men's \/ 13 Women's","public_title":"Wide (EEE) \/ 12 Men's \/ 13 Women's","options":["Wide (EEE)","12 Men's \/ 13 Women's"],"price":21500,"weight":0,"compare_at_price":null,"inventory_quantity":0,"inventory_management":"shopify","inventory_policy":"deny","barcode":"8056586203252","featured_media":{"alt":null,"id":41520425730276,"position":1,"preview_image":{"aspect_ratio":1.0,"height":600,"width":600,"src":"\/\/shop.bootcampaign.org\/cdn\/shop\/products\/2023Boots_NEW3.jpg?v=1679601614"}},"requires_selling_plan":false,"selling_plan_allocations":[]},{"id":43859605389540,"title":"Wide (EEE) \/ 12.5 Men's \/ 13.5 Women's","option1":"Wide (EEE)","option2":"12.5 Men's \/ 13.5 Women's","option3":null,"sku":"002767_12.5W","requires_shipping":true,"taxable":true,"featured_image":{"id":48924446818532,"product_id":7954414371044,"position":1,"created_at":"2023-03-23T14:59:14-05:00","updated_at":"2023-03-23T15:00:14-05:00","alt":null,"width":600,"height":600,"src":"\/\/shop.bootcampaign.org\/cdn\/shop\/products\/2023Boots_NEW3.jpg?v=1679601614","variant_ids":[43853997179108,43853997211876,43853997244644,43853997277412,43853997310180,43853997342948,43853997375716,43853997408484,43853997441252,43853997474020,43853997506788,43853997539556,43853997572324,43853997605092,43853997637860,43853997670628,43853997703396,43853997736164,43853997768932,43853997801700,43859604930788,43859604963556,43859604996324,43859605029092,43859605061860,43859605094628,43859605127396,43859605160164,43859605192932,43859605225700,43859605258468,43859605291236,43859605324004,43859605356772,43859605389540,43859605422308,43859605455076,43859605487844]},"available":false,"name":"Garmont T8 Anthem - Wide (EEE) \/ 12.5 Men's \/ 13.5 Women's","public_title":"Wide (EEE) \/ 12.5 Men's \/ 13.5 Women's","options":["Wide (EEE)","12.5 Men's \/ 13.5 Women's"],"price":21500,"weight":0,"compare_at_price":null,"inventory_quantity":0,"inventory_management":"shopify","inventory_policy":"deny","barcode":"8056586203269","featured_media":{"alt":null,"id":41520425730276,"position":1,"preview_image":{"aspect_ratio":1.0,"height":600,"width":600,"src":"\/\/shop.bootcampaign.org\/cdn\/shop\/products\/2023Boots_NEW3.jpg?v=1679601614"}},"requires_selling_plan":false,"selling_plan_allocations":[]},{"id":43859605422308,"title":"Wide (EEE) \/ 13 Men's \/ 14 Women's","option1":"Wide (EEE)","option2":"13 Men's \/ 14 Women's","option3":null,"sku":"002767_13W","requires_shipping":true,"taxable":true,"featured_image":{"id":48924446818532,"product_id":7954414371044,"position":1,"created_at":"2023-03-23T14:59:14-05:00","updated_at":"2023-03-23T15:00:14-05:00","alt":null,"width":600,"height":600,"src":"\/\/shop.bootcampaign.org\/cdn\/shop\/products\/2023Boots_NEW3.jpg?v=1679601614","variant_ids":[43853997179108,43853997211876,43853997244644,43853997277412,43853997310180,43853997342948,43853997375716,43853997408484,43853997441252,43853997474020,43853997506788,43853997539556,43853997572324,43853997605092,43853997637860,43853997670628,43853997703396,43853997736164,43853997768932,43853997801700,43859604930788,43859604963556,43859604996324,43859605029092,43859605061860,43859605094628,43859605127396,43859605160164,43859605192932,43859605225700,43859605258468,43859605291236,43859605324004,43859605356772,43859605389540,43859605422308,43859605455076,43859605487844]},"available":false,"name":"Garmont T8 Anthem - Wide (EEE) \/ 13 Men's \/ 14 Women's","public_title":"Wide (EEE) \/ 13 Men's \/ 14 Women's","options":["Wide (EEE)","13 Men's \/ 14 Women's"],"price":21500,"weight":0,"compare_at_price":null,"inventory_quantity":0,"inventory_management":"shopify","inventory_policy":"deny","barcode":"8056586203276","featured_media":{"alt":null,"id":41520425730276,"position":1,"preview_image":{"aspect_ratio":1.0,"height":600,"width":600,"src":"\/\/shop.bootcampaign.org\/cdn\/shop\/products\/2023Boots_NEW3.jpg?v=1679601614"}},"requires_selling_plan":false,"selling_plan_allocations":[]},{"id":43859605455076,"title":"Wide (EEE) \/ 13.5 Men's \/ 14.5 Women's","option1":"Wide (EEE)","option2":"13.5 Men's \/ 14.5 Women's","option3":null,"sku":"002767_13.5W","requires_shipping":true,"taxable":true,"featured_image":{"id":48924446818532,"product_id":7954414371044,"position":1,"created_at":"2023-03-23T14:59:14-05:00","updated_at":"2023-03-23T15:00:14-05:00","alt":null,"width":600,"height":600,"src":"\/\/shop.bootcampaign.org\/cdn\/shop\/products\/2023Boots_NEW3.jpg?v=1679601614","variant_ids":[43853997179108,43853997211876,43853997244644,43853997277412,43853997310180,43853997342948,43853997375716,43853997408484,43853997441252,43853997474020,43853997506788,43853997539556,43853997572324,43853997605092,43853997637860,43853997670628,43853997703396,43853997736164,43853997768932,43853997801700,43859604930788,43859604963556,43859604996324,43859605029092,43859605061860,43859605094628,43859605127396,43859605160164,43859605192932,43859605225700,43859605258468,43859605291236,43859605324004,43859605356772,43859605389540,43859605422308,43859605455076,43859605487844]},"available":false,"name":"Garmont T8 Anthem - Wide (EEE) \/ 13.5 Men's \/ 14.5 Women's","public_title":"Wide (EEE) \/ 13.5 Men's \/ 14.5 Women's","options":["Wide (EEE)","13.5 Men's \/ 14.5 Women's"],"price":21500,"weight":0,"compare_at_price":null,"inventory_quantity":0,"inventory_management":"shopify","inventory_policy":"deny","barcode":"8056586203283","featured_media":{"alt":null,"id":41520425730276,"position":1,"preview_image":{"aspect_ratio":1.0,"height":600,"width":600,"src":"\/\/shop.bootcampaign.org\/cdn\/shop\/products\/2023Boots_NEW3.jpg?v=1679601614"}},"requires_selling_plan":false,"selling_plan_allocations":[]},{"id":43859605487844,"title":"Wide (EEE) \/ 14 Men's \/ 15 Women's","option1":"Wide (EEE)","option2":"14 Men's \/ 15 Women's","option3":null,"sku":"002767_14W","requires_shipping":true,"taxable":true,"featured_image":{"id":48924446818532,"product_id":7954414371044,"position":1,"created_at":"2023-03-23T14:59:14-05:00","updated_at":"2023-03-23T15:00:14-05:00","alt":null,"width":600,"height":600,"src":"\/\/shop.bootcampaign.org\/cdn\/shop\/products\/2023Boots_NEW3.jpg?v=1679601614","variant_ids":[43853997179108,43853997211876,43853997244644,43853997277412,43853997310180,43853997342948,43853997375716,43853997408484,43853997441252,43853997474020,43853997506788,43853997539556,43853997572324,43853997605092,43853997637860,43853997670628,43853997703396,43853997736164,43853997768932,43853997801700,43859604930788,43859604963556,43859604996324,43859605029092,43859605061860,43859605094628,43859605127396,43859605160164,43859605192932,43859605225700,43859605258468,43859605291236,43859605324004,43859605356772,43859605389540,43859605422308,43859605455076,43859605487844]},"available":false,"name":"Garmont T8 Anthem - Wide (EEE) \/ 14 Men's \/ 15 Women's","public_title":"Wide (EEE) \/ 14 Men's \/ 15 Women's","options":["Wide (EEE)","14 Men's \/ 15 Women's"],"price":21500,"weight":0,"compare_at_price":null,"inventory_quantity":0,"inventory_management":"shopify","inventory_policy":"deny","barcode":"8056586203290","featured_media":{"alt":null,"id":41520425730276,"position":1,"preview_image":{"aspect_ratio":1.0,"height":600,"width":600,"src":"\/\/shop.bootcampaign.org\/cdn\/shop\/products\/2023Boots_NEW3.jpg?v=1679601614"}},"requires_selling_plan":false,"selling_plan_allocations":[]}],"images":["\/\/shop.bootcampaign.org\/cdn\/shop\/products\/2023Boots_NEW3.jpg?v=1679601614","\/\/shop.bootcampaign.org\/cdn\/shop\/products\/63eceb5100f220bfa8b70fa4.jpg?v=1679601614","\/\/shop.bootcampaign.org\/cdn\/shop\/products\/63eceb4dbe7ea0f58c0bb877.jpg?v=1679601614","\/\/shop.bootcampaign.org\/cdn\/shop\/products\/63eceb49be7ea0458f0bb878.jpg?v=1679601614","\/\/shop.bootcampaign.org\/cdn\/shop\/products\/63f6325100f2203af9891d8d.jpg?v=1679601614","\/\/shop.bootcampaign.org\/cdn\/shop\/products\/63f63259be7ea05a05df73b0.jpg?v=1679601614"],"featured_image":"\/\/shop.bootcampaign.org\/cdn\/shop\/products\/2023Boots_NEW3.jpg?v=1679601614","options":["Width","Size"],"media":[{"alt":null,"id":41520425730276,"position":1,"preview_image":{"aspect_ratio":1.0,"height":600,"width":600,"src":"\/\/shop.bootcampaign.org\/cdn\/shop\/products\/2023Boots_NEW3.jpg?v=1679601614"},"aspect_ratio":1.0,"height":600,"media_type":"image","src":"\/\/shop.bootcampaign.org\/cdn\/shop\/products\/2023Boots_NEW3.jpg?v=1679601614","width":600},{"alt":null,"id":41520426516708,"position":2,"preview_image":{"aspect_ratio":1.0,"height":1000,"width":1000,"src":"\/\/shop.bootcampaign.org\/cdn\/shop\/products\/63eceb5100f220bfa8b70fa4.jpg?v=1679601614"},"aspect_ratio":1.0,"height":1000,"media_type":"image","src":"\/\/shop.bootcampaign.org\/cdn\/shop\/products\/63eceb5100f220bfa8b70fa4.jpg?v=1679601614","width":1000},{"alt":null,"id":41520426549476,"position":3,"preview_image":{"aspect_ratio":1.0,"height":1000,"width":1000,"src":"\/\/shop.bootcampaign.org\/cdn\/shop\/products\/63eceb4dbe7ea0f58c0bb877.jpg?v=1679601614"},"aspect_ratio":1.0,"height":1000,"media_type":"image","src":"\/\/shop.bootcampaign.org\/cdn\/shop\/products\/63eceb4dbe7ea0f58c0bb877.jpg?v=1679601614","width":1000},{"alt":null,"id":41520426582244,"position":4,"preview_image":{"aspect_ratio":1.0,"height":1000,"width":1000,"src":"\/\/shop.bootcampaign.org\/cdn\/shop\/products\/63eceb49be7ea0458f0bb878.jpg?v=1679601614"},"aspect_ratio":1.0,"height":1000,"media_type":"image","src":"\/\/shop.bootcampaign.org\/cdn\/shop\/products\/63eceb49be7ea0458f0bb878.jpg?v=1679601614","width":1000},{"alt":null,"id":41520426483940,"position":5,"preview_image":{"aspect_ratio":1.0,"height":1000,"width":1000,"src":"\/\/shop.bootcampaign.org\/cdn\/shop\/products\/63f6325100f2203af9891d8d.jpg?v=1679601614"},"aspect_ratio":1.0,"height":1000,"media_type":"image","src":"\/\/shop.bootcampaign.org\/cdn\/shop\/products\/63f6325100f2203af9891d8d.jpg?v=1679601614","width":1000},{"alt":null,"id":41520426451172,"position":6,"preview_image":{"aspect_ratio":1.0,"height":1000,"width":1000,"src":"\/\/shop.bootcampaign.org\/cdn\/shop\/products\/63f63259be7ea05a05df73b0.jpg?v=1679601614"},"aspect_ratio":1.0,"height":1000,"media_type":"image","src":"\/\/shop.bootcampaign.org\/cdn\/shop\/products\/63f63259be7ea05a05df73b0.jpg?v=1679601614","width":1000}],"requires_selling_plan":false,"selling_plan_groups":[],"content":"\u003cdiv itemprop=\"description\"\u003eTraditional tactical boots proudly\u003cspan\u003e \u003c\/span\u003e\u003cstrong\u003emade in USA\u003c\/strong\u003e. Designed for intense operations and long duty days on dry ground and in warm weather. \u003c\/div\u003e\n\u003cdiv itemprop=\"description\"\u003e\u003cbr\u003e\u003c\/div\u003e\n\u003cdiv itemprop=\"description\"\u003eSpecifically developed for US Army involved in daily tactical operations.​ Moving or standing for many hours they need lightweight compact boots to face sudden unforeseen events on arid soils with very high temperature. \u003cbr\u003e\n\u003c\/div\u003e\n\u003cdiv itemprop=\"description\"\u003e\u003cbr\u003e\u003c\/div\u003e\n\u003cp data-mce-fragment=\"1\"\u003e\u003cspan data-mce-fragment=\"1\" style=\"font-weight: 400;\" data-mce-style=\"font-weight: 400;\"\u003ePRODUCT DETAILS\u003c\/span\u003e\u003c\/p\u003e\n\u003cul data-mce-fragment=\"1\"\u003e\n\u003cli data-mce-fragment=\"1\" style=\"font-weight: 400;\" data-mce-style=\"font-weight: 400;\"\u003eBerry Compliant\u003cbr\u003e\n\u003c\/li\u003e\n\u003cli data-mce-fragment=\"1\" style=\"font-weight: 400;\" data-mce-style=\"font-weight: 400;\"\u003eNon-Waterproof\u003c\/li\u003e\n\u003cli data-mce-fragment=\"1\" style=\"font-weight: 400;\" data-mce-style=\"font-weight: 400;\"\u003e1.8 mm suede leather upper with NYLON FABRIC\u003c\/li\u003e\n\u003cli data-mce-fragment=\"1\" style=\"font-weight: 400;\" data-mce-style=\"font-weight: 400;\"\u003eOrtholite®Ultra footbed: Cushioning and Breathability for long periods of use\u003c\/li\u003e\n\u003cli data-mce-fragment=\"1\" style=\"font-weight: 400;\" data-mce-style=\"font-weight: 400;\"\u003eWeight 520 gr. (Half pair size 9 US)\u003c\/li\u003e\n\u003cli data-mce-fragment=\"1\" style=\"font-weight: 400;\" data-mce-style=\"font-weight: 400;\"\u003eAR670-1 Compliant\u003c\/li\u003e\n\u003cli data-mce-fragment=\"1\" style=\"font-weight: 400;\" data-mce-style=\"font-weight: 400;\"\u003eMade in U.S.A.\u003c\/li\u003e\n\u003cli data-mce-fragment=\"1\" style=\"font-weight: 400;\" data-mce-style=\"font-weight: 400;\"\u003e\n\u003cmeta charset=\"utf-8\"\u003e \u003cspan\u003eEvery pair of boots comes with a complimentary pair of Boot Campaign Boot Tags\u003c\/span\u003e\n\u003c\/li\u003e\n\u003cli data-mce-fragment=\"1\" style=\"font-weight: 400;\" data-mce-style=\"font-weight: 400;\"\u003e\u003cspan data-mce-fragment=\"1\" style=\"font-weight: 400;\" data-mce-style=\"font-weight: 400;\"\u003eWith your purchase of this item, a portion of the sale supports the Boot Campaign mission\u003c\/span\u003e\u003c\/li\u003e\n\u003c\/ul\u003e\n\u003cp data-mce-fragment=\"1\"\u003e\u003cb data-mce-fragment=\"1\"\u003eWhile we do offer shipping to APOs, international shipping is not available.\u003c\/b\u003e\u003c\/p\u003e"}