SELECTED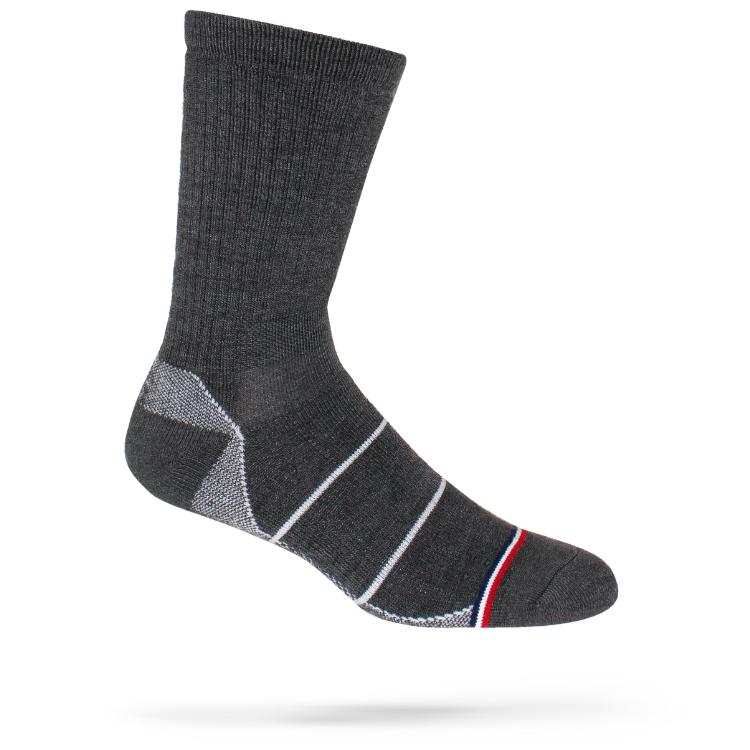 SELECTED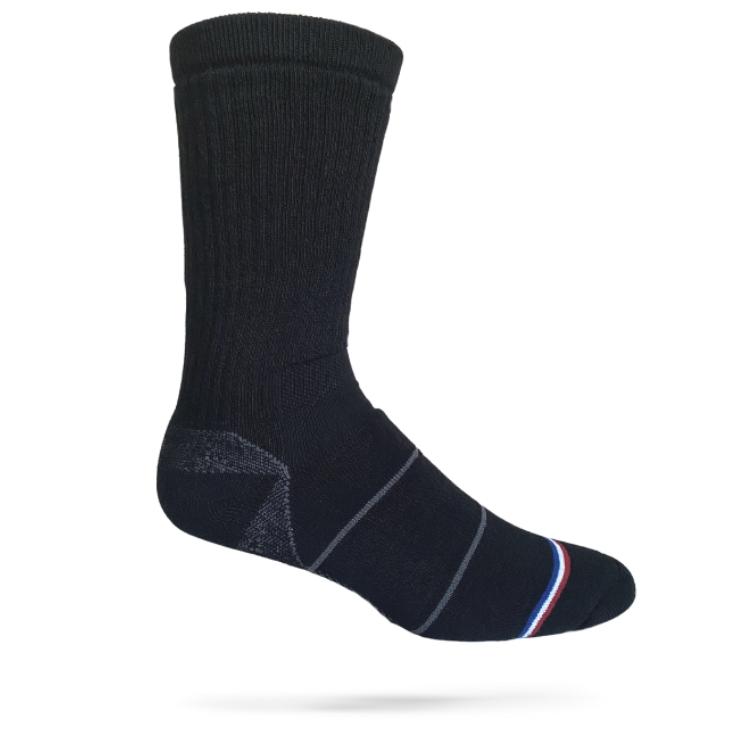 "Wild Bill" Adventure Sock
For every pair of Soledier Socks purchased, Soledier Socks sends a pair to active duty troops. Same quality. No substitution.
1 pair donated in your name with each pair purchased

100% Made in America
Smooth toe seam
Cushioned sole
Antimicrobial
Breathable
Reinforced heel & toe
Mesh ventilation
Compression arch
Comfort Top
Merino Wool/Acrylic/Nylon/Spandex Blend
Do you hear that?  It's adventure calling and we have it's answer.  Meet the "Wild Bill" Adventure  sock!
We started by using a Merino wool that is the strongest and softest on the market!  Our Adventure socks wick moisture away from your feet while fighting odor causing bacteria to help keep your socks & shoes smelling fresh no matter how many miles you put on them!  A reinforced smooth toe seam helps make your descent from the mountains even more enjoyable.  "Wild Bill" is rounded off with arch compression and a mesh panel for the perfect temperature and fit.
Start your adventure today.  "Wild Bill" would love to join!
{"id":6991405252761,"title":"\"Wild Bill\" Adventure Sock","handle":"wild-bill-adventure-sock","description":"\u003cdiv\u003eFor every pair of Soledier Socks purchased, Soledier Socks sends a pair to active duty troops. Same quality. No substitution.\u003c\/div\u003e\n\u003cul\u003e\n\u003cli\u003e1 pair donated in your name with each pair purchased\u003cbr\u003e\n\u003c\/li\u003e\n\u003cli\u003e100% Made in America\u003c\/li\u003e\n\u003cli\u003eSmooth toe seam\u003c\/li\u003e\n\u003cli\u003eCushioned sole\u003c\/li\u003e\n\u003cli\u003eAntimicrobial\u003c\/li\u003e\n\u003cli\u003eBreathable\u003c\/li\u003e\n\u003cli\u003eReinforced heel \u0026amp; toe\u003c\/li\u003e\n\u003cli\u003eMesh ventilation\u003c\/li\u003e\n\u003cli\u003eCompression arch\u003c\/li\u003e\n\u003cli\u003eComfort Top\u003c\/li\u003e\n\u003cli\u003eMerino Wool\/Acrylic\/Nylon\/Spandex Blend\u003c\/li\u003e\n\u003c\/ul\u003e\n\u003cp\u003eDo you hear that?  It's adventure calling and we have it's answer.  Meet the "Wild Bill" Adventure  sock!\u003c\/p\u003e\n\u003cp\u003eWe started by using a Merino wool that is the strongest and softest on the market!  Our Adventure socks wick moisture away from your feet while fighting odor causing bacteria to help keep your socks \u0026amp; shoes smelling fresh no matter how many miles you put on them!  A reinforced smooth toe seam helps make your descent from the mountains even more enjoyable.  "Wild Bill" is rounded off with arch compression and a mesh panel for the perfect temperature and fit.\u003c\/p\u003e\n\u003cp\u003eStart your adventure today.  "Wild Bill" would love to join!\u003c\/p\u003e","published_at":"2021-08-17T10:08:51-05:00","created_at":"2021-08-17T09:59:28-05:00","vendor":"Soledier Socks LLC","type":"Accessories","tags":["_tab1_sizing-chart","American Made","Made in the USA","mothership","outdoor","socks","Soledier Socks LLC","Staff Discount","USA Made"],"price":2000,"price_min":2000,"price_max":2000,"available":true,"price_varies":false,"compare_at_price":null,"compare_at_price_min":0,"compare_at_price_max":0,"compare_at_price_varies":false,"variants":[{"id":40843798315161,"title":"Grey \/ Medium","option1":"Grey","option2":"Medium","option3":null,"sku":"SS1004M-GY1","requires_shipping":true,"taxable":true,"featured_image":{"id":31594645880985,"product_id":6991405252761,"position":1,"created_at":"2021-08-17T09:59:34-05:00","updated_at":"2021-08-17T09:59:34-05:00","alt":null,"width":750,"height":750,"src":"\/\/shop.bootcampaign.org\/cdn\/shop\/products\/6158609_The_Hester_-White_5.jpg?v=1629212374","variant_ids":[40843798315161,40843798347929,40843798380697]},"available":true,"name":"\"Wild Bill\" Adventure Sock - Grey \/ Medium","public_title":"Grey \/ Medium","options":["Grey","Medium"],"price":2000,"weight":65,"compare_at_price":null,"inventory_quantity":28,"inventory_management":"soledier-socks-mothership","inventory_policy":"deny","barcode":"","featured_media":{"alt":null,"id":23902221271193,"position":1,"preview_image":{"aspect_ratio":1.0,"height":750,"width":750,"src":"\/\/shop.bootcampaign.org\/cdn\/shop\/products\/6158609_The_Hester_-White_5.jpg?v=1629212374"}},"requires_selling_plan":false,"selling_plan_allocations":[]},{"id":40843798347929,"title":"Grey \/ Large","option1":"Grey","option2":"Large","option3":null,"sku":"SS1004L-GY1","requires_shipping":true,"taxable":true,"featured_image":{"id":31594645880985,"product_id":6991405252761,"position":1,"created_at":"2021-08-17T09:59:34-05:00","updated_at":"2021-08-17T09:59:34-05:00","alt":null,"width":750,"height":750,"src":"\/\/shop.bootcampaign.org\/cdn\/shop\/products\/6158609_The_Hester_-White_5.jpg?v=1629212374","variant_ids":[40843798315161,40843798347929,40843798380697]},"available":true,"name":"\"Wild Bill\" Adventure Sock - Grey \/ Large","public_title":"Grey \/ Large","options":["Grey","Large"],"price":2000,"weight":85,"compare_at_price":null,"inventory_quantity":49,"inventory_management":"soledier-socks-mothership","inventory_policy":"deny","barcode":"","featured_media":{"alt":null,"id":23902221271193,"position":1,"preview_image":{"aspect_ratio":1.0,"height":750,"width":750,"src":"\/\/shop.bootcampaign.org\/cdn\/shop\/products\/6158609_The_Hester_-White_5.jpg?v=1629212374"}},"requires_selling_plan":false,"selling_plan_allocations":[]},{"id":40843798380697,"title":"Grey \/ Extra Large","option1":"Grey","option2":"Extra Large","option3":null,"sku":"SS1004XL-GY1","requires_shipping":true,"taxable":true,"featured_image":{"id":31594645880985,"product_id":6991405252761,"position":1,"created_at":"2021-08-17T09:59:34-05:00","updated_at":"2021-08-17T09:59:34-05:00","alt":null,"width":750,"height":750,"src":"\/\/shop.bootcampaign.org\/cdn\/shop\/products\/6158609_The_Hester_-White_5.jpg?v=1629212374","variant_ids":[40843798315161,40843798347929,40843798380697]},"available":false,"name":"\"Wild Bill\" Adventure Sock - Grey \/ Extra Large","public_title":"Grey \/ Extra Large","options":["Grey","Extra Large"],"price":2000,"weight":113,"compare_at_price":null,"inventory_quantity":0,"inventory_management":"soledier-socks-mothership","inventory_policy":"deny","barcode":"","featured_media":{"alt":null,"id":23902221271193,"position":1,"preview_image":{"aspect_ratio":1.0,"height":750,"width":750,"src":"\/\/shop.bootcampaign.org\/cdn\/shop\/products\/6158609_The_Hester_-White_5.jpg?v=1629212374"}},"requires_selling_plan":false,"selling_plan_allocations":[]},{"id":44264475918564,"title":"Olive \/ Medium","option1":"Olive","option2":"Medium","option3":null,"sku":"SS1004M-GR1","requires_shipping":true,"taxable":false,"featured_image":null,"available":true,"name":"\"Wild Bill\" Adventure Sock - Olive \/ Medium","public_title":"Olive \/ Medium","options":["Olive","Medium"],"price":2000,"weight":0,"compare_at_price":null,"inventory_quantity":39,"inventory_management":"soledier-socks-mothership","inventory_policy":"deny","barcode":"","requires_selling_plan":false,"selling_plan_allocations":[]},{"id":44264475951332,"title":"Olive \/ Large","option1":"Olive","option2":"Large","option3":null,"sku":"SS1004L-GR1","requires_shipping":true,"taxable":false,"featured_image":null,"available":true,"name":"\"Wild Bill\" Adventure Sock - Olive \/ Large","public_title":"Olive \/ Large","options":["Olive","Large"],"price":2000,"weight":0,"compare_at_price":null,"inventory_quantity":76,"inventory_management":"soledier-socks-mothership","inventory_policy":"deny","barcode":"","requires_selling_plan":false,"selling_plan_allocations":[]},{"id":44311460151524,"title":"Olive \/ Extra Large","option1":"Olive","option2":"Extra Large","option3":null,"sku":"SS1004XL-GR1","requires_shipping":true,"taxable":false,"featured_image":null,"available":false,"name":"\"Wild Bill\" Adventure Sock - Olive \/ Extra Large","public_title":"Olive \/ Extra Large","options":["Olive","Extra Large"],"price":2000,"weight":0,"compare_at_price":null,"inventory_quantity":0,"inventory_management":"soledier-socks-mothership","inventory_policy":"deny","barcode":"","requires_selling_plan":false,"selling_plan_allocations":[]},{"id":40843798413465,"title":"Black \/ Medium","option1":"Black","option2":"Medium","option3":null,"sku":"SS1004XL-GR1","requires_shipping":true,"taxable":false,"featured_image":{"id":31594646241433,"product_id":6991405252761,"position":2,"created_at":"2021-08-17T09:59:36-05:00","updated_at":"2021-08-17T09:59:36-05:00","alt":null,"width":750,"height":750,"src":"\/\/shop.bootcampaign.org\/cdn\/shop\/products\/6158611_Black_Wool_-_Site.jpg?v=1629212376","variant_ids":[40843798413465,40843798446233,40843798479001]},"available":true,"name":"\"Wild Bill\" Adventure Sock - Black \/ Medium","public_title":"Black \/ Medium","options":["Black","Medium"],"price":2000,"weight":0,"compare_at_price":null,"inventory_quantity":28,"inventory_management":"soledier-socks-mothership","inventory_policy":"deny","barcode":"","featured_media":{"alt":null,"id":23902221533337,"position":2,"preview_image":{"aspect_ratio":1.0,"height":750,"width":750,"src":"\/\/shop.bootcampaign.org\/cdn\/shop\/products\/6158611_Black_Wool_-_Site.jpg?v=1629212376"}},"requires_selling_plan":false,"selling_plan_allocations":[]},{"id":40843798446233,"title":"Black \/ Large","option1":"Black","option2":"Large","option3":null,"sku":"SS1004L-BK1","requires_shipping":true,"taxable":true,"featured_image":{"id":31594646241433,"product_id":6991405252761,"position":2,"created_at":"2021-08-17T09:59:36-05:00","updated_at":"2021-08-17T09:59:36-05:00","alt":null,"width":750,"height":750,"src":"\/\/shop.bootcampaign.org\/cdn\/shop\/products\/6158611_Black_Wool_-_Site.jpg?v=1629212376","variant_ids":[40843798413465,40843798446233,40843798479001]},"available":true,"name":"\"Wild Bill\" Adventure Sock - Black \/ Large","public_title":"Black \/ Large","options":["Black","Large"],"price":2000,"weight":85,"compare_at_price":null,"inventory_quantity":14,"inventory_management":"soledier-socks-mothership","inventory_policy":"deny","barcode":"","featured_media":{"alt":null,"id":23902221533337,"position":2,"preview_image":{"aspect_ratio":1.0,"height":750,"width":750,"src":"\/\/shop.bootcampaign.org\/cdn\/shop\/products\/6158611_Black_Wool_-_Site.jpg?v=1629212376"}},"requires_selling_plan":false,"selling_plan_allocations":[]},{"id":40843798479001,"title":"Black \/ Extra Large","option1":"Black","option2":"Extra Large","option3":null,"sku":"SS1004XL-BK1","requires_shipping":true,"taxable":true,"featured_image":{"id":31594646241433,"product_id":6991405252761,"position":2,"created_at":"2021-08-17T09:59:36-05:00","updated_at":"2021-08-17T09:59:36-05:00","alt":null,"width":750,"height":750,"src":"\/\/shop.bootcampaign.org\/cdn\/shop\/products\/6158611_Black_Wool_-_Site.jpg?v=1629212376","variant_ids":[40843798413465,40843798446233,40843798479001]},"available":true,"name":"\"Wild Bill\" Adventure Sock - Black \/ Extra Large","public_title":"Black \/ Extra Large","options":["Black","Extra Large"],"price":2000,"weight":113,"compare_at_price":null,"inventory_quantity":5,"inventory_management":"soledier-socks-mothership","inventory_policy":"deny","barcode":"","featured_media":{"alt":null,"id":23902221533337,"position":2,"preview_image":{"aspect_ratio":1.0,"height":750,"width":750,"src":"\/\/shop.bootcampaign.org\/cdn\/shop\/products\/6158611_Black_Wool_-_Site.jpg?v=1629212376"}},"requires_selling_plan":false,"selling_plan_allocations":[]},{"id":42667907252452,"title":"Tan \/ Medium","option1":"Tan","option2":"Medium","option3":null,"sku":"SS1004M-TN1","requires_shipping":true,"taxable":true,"featured_image":null,"available":true,"name":"\"Wild Bill\" Adventure Sock - Tan \/ Medium","public_title":"Tan \/ Medium","options":["Tan","Medium"],"price":2000,"weight":65,"compare_at_price":null,"inventory_quantity":80,"inventory_management":"soledier-socks-mothership","inventory_policy":"deny","barcode":"","requires_selling_plan":false,"selling_plan_allocations":[]},{"id":42667907285220,"title":"Tan \/ Large","option1":"Tan","option2":"Large","option3":null,"sku":"SS1004L-TN1","requires_shipping":true,"taxable":true,"featured_image":null,"available":false,"name":"\"Wild Bill\" Adventure Sock - Tan \/ Large","public_title":"Tan \/ Large","options":["Tan","Large"],"price":2000,"weight":85,"compare_at_price":null,"inventory_quantity":0,"inventory_management":"soledier-socks-mothership","inventory_policy":"deny","barcode":"","requires_selling_plan":false,"selling_plan_allocations":[]},{"id":42667907317988,"title":"Tan \/ Extra Large","option1":"Tan","option2":"Extra Large","option3":null,"sku":"SS1004XL-TN1","requires_shipping":true,"taxable":true,"featured_image":null,"available":true,"name":"\"Wild Bill\" Adventure Sock - Tan \/ Extra Large","public_title":"Tan \/ Extra Large","options":["Tan","Extra Large"],"price":2000,"weight":113,"compare_at_price":null,"inventory_quantity":13,"inventory_management":"soledier-socks-mothership","inventory_policy":"deny","barcode":"","requires_selling_plan":false,"selling_plan_allocations":[]}],"images":["\/\/shop.bootcampaign.org\/cdn\/shop\/products\/6158609_The_Hester_-White_5.jpg?v=1629212374","\/\/shop.bootcampaign.org\/cdn\/shop\/products\/6158611_Black_Wool_-_Site.jpg?v=1629212376"],"featured_image":"\/\/shop.bootcampaign.org\/cdn\/shop\/products\/6158609_The_Hester_-White_5.jpg?v=1629212374","options":["Color","Size"],"media":[{"alt":null,"id":23902221271193,"position":1,"preview_image":{"aspect_ratio":1.0,"height":750,"width":750,"src":"\/\/shop.bootcampaign.org\/cdn\/shop\/products\/6158609_The_Hester_-White_5.jpg?v=1629212374"},"aspect_ratio":1.0,"height":750,"media_type":"image","src":"\/\/shop.bootcampaign.org\/cdn\/shop\/products\/6158609_The_Hester_-White_5.jpg?v=1629212374","width":750},{"alt":null,"id":23902221533337,"position":2,"preview_image":{"aspect_ratio":1.0,"height":750,"width":750,"src":"\/\/shop.bootcampaign.org\/cdn\/shop\/products\/6158611_Black_Wool_-_Site.jpg?v=1629212376"},"aspect_ratio":1.0,"height":750,"media_type":"image","src":"\/\/shop.bootcampaign.org\/cdn\/shop\/products\/6158611_Black_Wool_-_Site.jpg?v=1629212376","width":750}],"requires_selling_plan":false,"selling_plan_groups":[],"content":"\u003cdiv\u003eFor every pair of Soledier Socks purchased, Soledier Socks sends a pair to active duty troops. Same quality. No substitution.\u003c\/div\u003e\n\u003cul\u003e\n\u003cli\u003e1 pair donated in your name with each pair purchased\u003cbr\u003e\n\u003c\/li\u003e\n\u003cli\u003e100% Made in America\u003c\/li\u003e\n\u003cli\u003eSmooth toe seam\u003c\/li\u003e\n\u003cli\u003eCushioned sole\u003c\/li\u003e\n\u003cli\u003eAntimicrobial\u003c\/li\u003e\n\u003cli\u003eBreathable\u003c\/li\u003e\n\u003cli\u003eReinforced heel \u0026amp; toe\u003c\/li\u003e\n\u003cli\u003eMesh ventilation\u003c\/li\u003e\n\u003cli\u003eCompression arch\u003c\/li\u003e\n\u003cli\u003eComfort Top\u003c\/li\u003e\n\u003cli\u003eMerino Wool\/Acrylic\/Nylon\/Spandex Blend\u003c\/li\u003e\n\u003c\/ul\u003e\n\u003cp\u003eDo you hear that?  It's adventure calling and we have it's answer.  Meet the "Wild Bill" Adventure  sock!\u003c\/p\u003e\n\u003cp\u003eWe started by using a Merino wool that is the strongest and softest on the market!  Our Adventure socks wick moisture away from your feet while fighting odor causing bacteria to help keep your socks \u0026amp; shoes smelling fresh no matter how many miles you put on them!  A reinforced smooth toe seam helps make your descent from the mountains even more enjoyable.  "Wild Bill" is rounded off with arch compression and a mesh panel for the perfect temperature and fit.\u003c\/p\u003e\n\u003cp\u003eStart your adventure today.  "Wild Bill" would love to join!\u003c\/p\u003e"}