SELECTED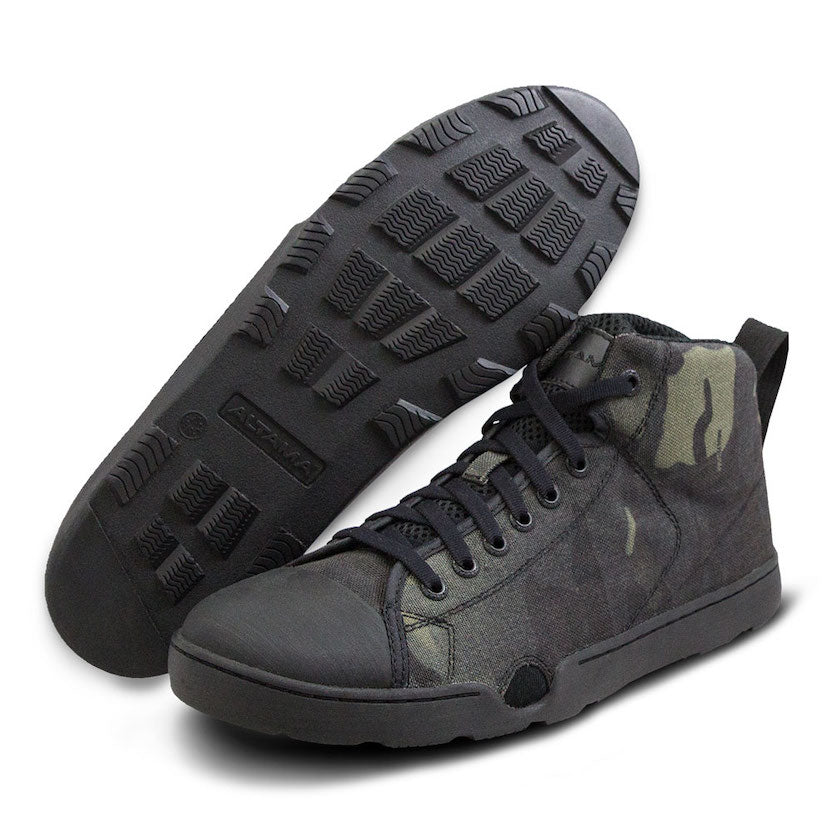 SELECTED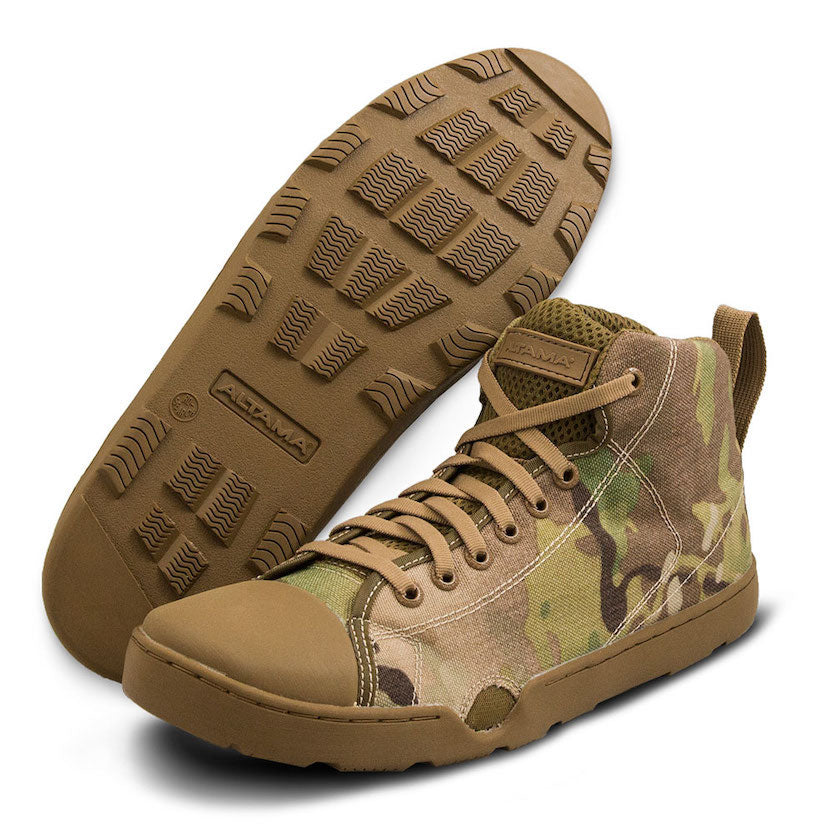 ALTAMA MARITIME MID - PATTERN
Designed for special ops. Worn by the elite. Our Altama Maritime Boot is made for all tactical water operations. With a fin friendly fit, this boot will fit just about any dive fin.
Our boot partner is experiencing extended shipping delays. Please expect this boot to take a few weeks to ship out. 
While we do offer shipping to APOs, international shipping is not available.
PRODUCT DETAILS
With your purchase of this item, a percentage of the sale supports the Boot

Campaign mission.

Every pair of boots comes with a complimentary pair of Boot Campaign Boot Tags

Waterproof
{"id":4639100043354,"title":"ALTAMA MARITIME MID - PATTERN","handle":"altama-maritime-mid","description":"\u003cp\u003e\u003cspan style=\"font-weight: 400;\"\u003eDesigned for special ops. Worn by the elite. Our Altama Maritime Boot is made for all tactical water operations. With a fin friendly fit, this boot will fit just about any dive fin.\u003c\/span\u003e\u003c\/p\u003e\n\u003cp\u003e\u003cspan\u003e\u003cstrong\u003e\u003cb data-stringify-type=\"bold\" data-mce-fragment=\"1\"\u003e\u003cspan style=\"color: #ff2a00;\"\u003eOur boot partner is experiencing extended shipping delays. Please expect this boot to take a few weeks to ship out.\u003c\/span\u003e \u003c\/b\u003e\u003c\/strong\u003e\u003c\/span\u003e\u003c\/p\u003e\n\u003cp\u003e\u003cb\u003eWhile we do offer shipping to APOs, international shipping is not available.\u003c\/b\u003e\u003c\/p\u003e\n\u003cp\u003e\u003cspan style=\"font-weight: 400;\"\u003ePRODUCT DETAILS\u003c\/span\u003e\u003c\/p\u003e\n\u003cul\u003e\n\u003cli style=\"font-weight: 400;\"\u003e\n\u003cspan style=\"font-weight: 400;\"\u003eWith your purchase of this item, a percentage of the sale supports the Boot \u003c\/span\u003e\u003cspan style=\"font-weight: 400;\"\u003eCampaign mission.\u003c\/span\u003e\n\u003c\/li\u003e\n\u003cli style=\"font-weight: 400;\"\u003e\u003cspan style=\"font-weight: 400;\"\u003eEvery pair of boots comes with a complimentary pair of Boot Campaign Boot Tags\u003c\/span\u003e\u003c\/li\u003e\n\u003cli style=\"font-weight: 400;\"\u003e\u003cspan style=\"font-weight: 400;\"\u003eWaterproof\u003c\/span\u003e\u003c\/li\u003e\n\u003cli style=\"font-weight: 400;\"\u003e\u003ca href=\"https:\/\/bootcampaign.org\/wp-content\/uploads\/2020\/04\/Altama-Maritime-Assault-Mid-Product-Description.pdf\"\u003e\u003cspan style=\"font-weight: 400;\"\u003eMore Details\u003c\/span\u003e\u003c\/a\u003e\u003c\/li\u003e\n\u003c\/ul\u003e","published_at":"2023-04-04T14:09:53-05:00","created_at":"2020-04-15T14:21:08-05:00","vendor":"ALTAMA","type":"Boots","tags":["Boots","Men","Staff Discount","Women"],"price":12999,"price_min":12999,"price_max":12999,"available":true,"price_varies":false,"compare_at_price":null,"compare_at_price_min":0,"compare_at_price_max":0,"compare_at_price_varies":false,"variants":[{"id":32115063357530,"title":"MultiCam® \/ Regular (D) \/ 5 Men's \/ 6.5 Women's","option1":"MultiCam®","option2":"Regular (D)","option3":"5 Men's \/ 6.5 Women's","sku":"333000GSA","requires_shipping":true,"taxable":true,"featured_image":{"id":15036958638170,"product_id":4639100043354,"position":2,"created_at":"2020-04-15T14:21:21-05:00","updated_at":"2020-04-15T20:24:30-05:00","alt":null,"width":833,"height":833,"src":"\/\/shop.bootcampaign.org\/cdn\/shop\/products\/333000_1.jpg?v=1587000270","variant_ids":[32115063357530]},"available":true,"name":"ALTAMA MARITIME MID - PATTERN - MultiCam® \/ Regular (D) \/ 5 Men's \/ 6.5 Women's","public_title":"MultiCam® \/ Regular (D) \/ 5 Men's \/ 6.5 Women's","options":["MultiCam®","Regular (D)","5 Men's \/ 6.5 Women's"],"price":12999,"weight":0,"compare_at_price":null,"inventory_quantity":10,"inventory_management":"shopify","inventory_policy":"deny","barcode":"","featured_media":{"alt":null,"id":7192148672602,"position":2,"preview_image":{"aspect_ratio":1.0,"height":833,"width":833,"src":"\/\/shop.bootcampaign.org\/cdn\/shop\/products\/333000_1.jpg?v=1587000270"}},"requires_selling_plan":false,"selling_plan_allocations":[]},{"id":43877230870756,"title":"MultiCam® \/ Regular (D) \/ 5.5 Men's \/ 7 Women's","option1":"MultiCam®","option2":"Regular (D)","option3":"5.5 Men's \/ 7 Women's","sku":"333000GSA","requires_shipping":true,"taxable":true,"featured_image":null,"available":true,"name":"ALTAMA MARITIME MID - PATTERN - MultiCam® \/ Regular (D) \/ 5.5 Men's \/ 7 Women's","public_title":"MultiCam® \/ Regular (D) \/ 5.5 Men's \/ 7 Women's","options":["MultiCam®","Regular (D)","5.5 Men's \/ 7 Women's"],"price":12999,"weight":0,"compare_at_price":null,"inventory_quantity":10,"inventory_management":"shopify","inventory_policy":"deny","barcode":"","requires_selling_plan":false,"selling_plan_allocations":[]},{"id":43877230903524,"title":"MultiCam® \/ Regular (D) \/ 6 Men's \/ 7.5 Women's","option1":"MultiCam®","option2":"Regular (D)","option3":"6 Men's \/ 7.5 Women's","sku":"333000GSA","requires_shipping":true,"taxable":true,"featured_image":null,"available":true,"name":"ALTAMA MARITIME MID - PATTERN - MultiCam® \/ Regular (D) \/ 6 Men's \/ 7.5 Women's","public_title":"MultiCam® \/ Regular (D) \/ 6 Men's \/ 7.5 Women's","options":["MultiCam®","Regular (D)","6 Men's \/ 7.5 Women's"],"price":12999,"weight":0,"compare_at_price":null,"inventory_quantity":10,"inventory_management":"shopify","inventory_policy":"deny","barcode":"","requires_selling_plan":false,"selling_plan_allocations":[]},{"id":43877230936292,"title":"MultiCam® \/ Regular (D) \/ 6.5 Men's \/ 8 Women's","option1":"MultiCam®","option2":"Regular (D)","option3":"6.5 Men's \/ 8 Women's","sku":"333000GSA","requires_shipping":true,"taxable":true,"featured_image":null,"available":true,"name":"ALTAMA MARITIME MID - PATTERN - MultiCam® \/ Regular (D) \/ 6.5 Men's \/ 8 Women's","public_title":"MultiCam® \/ Regular (D) \/ 6.5 Men's \/ 8 Women's","options":["MultiCam®","Regular (D)","6.5 Men's \/ 8 Women's"],"price":12999,"weight":0,"compare_at_price":null,"inventory_quantity":10,"inventory_management":"shopify","inventory_policy":"deny","barcode":"","requires_selling_plan":false,"selling_plan_allocations":[]},{"id":43877230969060,"title":"MultiCam® \/ Regular (D) \/ 7 Men's \/ 8.5 Women's","option1":"MultiCam®","option2":"Regular (D)","option3":"7 Men's \/ 8.5 Women's","sku":"333000GSA","requires_shipping":true,"taxable":true,"featured_image":null,"available":true,"name":"ALTAMA MARITIME MID - PATTERN - MultiCam® \/ Regular (D) \/ 7 Men's \/ 8.5 Women's","public_title":"MultiCam® \/ Regular (D) \/ 7 Men's \/ 8.5 Women's","options":["MultiCam®","Regular (D)","7 Men's \/ 8.5 Women's"],"price":12999,"weight":0,"compare_at_price":null,"inventory_quantity":8,"inventory_management":"shopify","inventory_policy":"deny","barcode":"","requires_selling_plan":false,"selling_plan_allocations":[]},{"id":43877231001828,"title":"MultiCam® \/ Regular (D) \/ 7.5 Men's \/ 9 Women's","option1":"MultiCam®","option2":"Regular (D)","option3":"7.5 Men's \/ 9 Women's","sku":"333000GSA","requires_shipping":true,"taxable":true,"featured_image":null,"available":true,"name":"ALTAMA MARITIME MID - PATTERN - MultiCam® \/ Regular (D) \/ 7.5 Men's \/ 9 Women's","public_title":"MultiCam® \/ Regular (D) \/ 7.5 Men's \/ 9 Women's","options":["MultiCam®","Regular (D)","7.5 Men's \/ 9 Women's"],"price":12999,"weight":0,"compare_at_price":null,"inventory_quantity":10,"inventory_management":"shopify","inventory_policy":"deny","barcode":"","requires_selling_plan":false,"selling_plan_allocations":[]},{"id":43877231034596,"title":"MultiCam® \/ Regular (D) \/ 8 Men's \/ 9.5 Women's","option1":"MultiCam®","option2":"Regular (D)","option3":"8 Men's \/ 9.5 Women's","sku":"333000GSA","requires_shipping":true,"taxable":true,"featured_image":null,"available":true,"name":"ALTAMA MARITIME MID - PATTERN - MultiCam® \/ Regular (D) \/ 8 Men's \/ 9.5 Women's","public_title":"MultiCam® \/ Regular (D) \/ 8 Men's \/ 9.5 Women's","options":["MultiCam®","Regular (D)","8 Men's \/ 9.5 Women's"],"price":12999,"weight":0,"compare_at_price":null,"inventory_quantity":10,"inventory_management":"shopify","inventory_policy":"deny","barcode":"","requires_selling_plan":false,"selling_plan_allocations":[]},{"id":43877231067364,"title":"MultiCam® \/ Regular (D) \/ 8.5 Men's \/ 10 Women's","option1":"MultiCam®","option2":"Regular (D)","option3":"8.5 Men's \/ 10 Women's","sku":"333000GSA","requires_shipping":true,"taxable":true,"featured_image":null,"available":true,"name":"ALTAMA MARITIME MID - PATTERN - MultiCam® \/ Regular (D) \/ 8.5 Men's \/ 10 Women's","public_title":"MultiCam® \/ Regular (D) \/ 8.5 Men's \/ 10 Women's","options":["MultiCam®","Regular (D)","8.5 Men's \/ 10 Women's"],"price":12999,"weight":0,"compare_at_price":null,"inventory_quantity":10,"inventory_management":"shopify","inventory_policy":"deny","barcode":"","requires_selling_plan":false,"selling_plan_allocations":[]},{"id":43877231100132,"title":"MultiCam® \/ Regular (D) \/ 9 Men's \/ 10.5 Women's","option1":"MultiCam®","option2":"Regular (D)","option3":"9 Men's \/ 10.5 Women's","sku":"333000GSA","requires_shipping":true,"taxable":true,"featured_image":null,"available":true,"name":"ALTAMA MARITIME MID - PATTERN - MultiCam® \/ Regular (D) \/ 9 Men's \/ 10.5 Women's","public_title":"MultiCam® \/ Regular (D) \/ 9 Men's \/ 10.5 Women's","options":["MultiCam®","Regular (D)","9 Men's \/ 10.5 Women's"],"price":12999,"weight":0,"compare_at_price":null,"inventory_quantity":10,"inventory_management":"shopify","inventory_policy":"deny","barcode":"","requires_selling_plan":false,"selling_plan_allocations":[]},{"id":43877231132900,"title":"MultiCam® \/ Regular (D) \/ 9.5 Men's \/ 11 Women's","option1":"MultiCam®","option2":"Regular (D)","option3":"9.5 Men's \/ 11 Women's","sku":"333000GSA","requires_shipping":true,"taxable":true,"featured_image":null,"available":true,"name":"ALTAMA MARITIME MID - PATTERN - MultiCam® \/ Regular (D) \/ 9.5 Men's \/ 11 Women's","public_title":"MultiCam® \/ Regular (D) \/ 9.5 Men's \/ 11 Women's","options":["MultiCam®","Regular (D)","9.5 Men's \/ 11 Women's"],"price":12999,"weight":0,"compare_at_price":null,"inventory_quantity":10,"inventory_management":"shopify","inventory_policy":"deny","barcode":"","requires_selling_plan":false,"selling_plan_allocations":[]},{"id":43877231165668,"title":"MultiCam® \/ Regular (D) \/ 10 Men's \/ 11.5 Women's","option1":"MultiCam®","option2":"Regular (D)","option3":"10 Men's \/ 11.5 Women's","sku":"333000GSA","requires_shipping":true,"taxable":true,"featured_image":null,"available":true,"name":"ALTAMA MARITIME MID - PATTERN - MultiCam® \/ Regular (D) \/ 10 Men's \/ 11.5 Women's","public_title":"MultiCam® \/ Regular (D) \/ 10 Men's \/ 11.5 Women's","options":["MultiCam®","Regular (D)","10 Men's \/ 11.5 Women's"],"price":12999,"weight":0,"compare_at_price":null,"inventory_quantity":10,"inventory_management":"shopify","inventory_policy":"deny","barcode":"","requires_selling_plan":false,"selling_plan_allocations":[]},{"id":43877231198436,"title":"MultiCam® \/ Regular (D) \/ 10.5 Men's \/ 12 Women's","option1":"MultiCam®","option2":"Regular (D)","option3":"10.5 Men's \/ 12 Women's","sku":"333000GSA","requires_shipping":true,"taxable":true,"featured_image":null,"available":true,"name":"ALTAMA MARITIME MID - PATTERN - MultiCam® \/ Regular (D) \/ 10.5 Men's \/ 12 Women's","public_title":"MultiCam® \/ Regular (D) \/ 10.5 Men's \/ 12 Women's","options":["MultiCam®","Regular (D)","10.5 Men's \/ 12 Women's"],"price":12999,"weight":0,"compare_at_price":null,"inventory_quantity":9,"inventory_management":"shopify","inventory_policy":"deny","barcode":"","requires_selling_plan":false,"selling_plan_allocations":[]},{"id":43877231231204,"title":"MultiCam® \/ Regular (D) \/ 11 Men's \/ 12.5 Women's","option1":"MultiCam®","option2":"Regular (D)","option3":"11 Men's \/ 12.5 Women's","sku":"333000GSA","requires_shipping":true,"taxable":true,"featured_image":null,"available":true,"name":"ALTAMA MARITIME MID - PATTERN - MultiCam® \/ Regular (D) \/ 11 Men's \/ 12.5 Women's","public_title":"MultiCam® \/ Regular (D) \/ 11 Men's \/ 12.5 Women's","options":["MultiCam®","Regular (D)","11 Men's \/ 12.5 Women's"],"price":12999,"weight":0,"compare_at_price":null,"inventory_quantity":8,"inventory_management":"shopify","inventory_policy":"deny","barcode":"","requires_selling_plan":false,"selling_plan_allocations":[]},{"id":43877231263972,"title":"MultiCam® \/ Regular (D) \/ 11.5 Men's \/ 13 Women's","option1":"MultiCam®","option2":"Regular (D)","option3":"11.5 Men's \/ 13 Women's","sku":"333000GSA","requires_shipping":true,"taxable":true,"featured_image":null,"available":true,"name":"ALTAMA MARITIME MID - PATTERN - MultiCam® \/ Regular (D) \/ 11.5 Men's \/ 13 Women's","public_title":"MultiCam® \/ Regular (D) \/ 11.5 Men's \/ 13 Women's","options":["MultiCam®","Regular (D)","11.5 Men's \/ 13 Women's"],"price":12999,"weight":0,"compare_at_price":null,"inventory_quantity":10,"inventory_management":"shopify","inventory_policy":"deny","barcode":"","requires_selling_plan":false,"selling_plan_allocations":[]},{"id":43877231296740,"title":"MultiCam® \/ Regular (D) \/ 12 Men's \/ 13.5 Women's","option1":"MultiCam®","option2":"Regular (D)","option3":"12 Men's \/ 13.5 Women's","sku":"333000GSA","requires_shipping":true,"taxable":true,"featured_image":null,"available":true,"name":"ALTAMA MARITIME MID - PATTERN - MultiCam® \/ Regular (D) \/ 12 Men's \/ 13.5 Women's","public_title":"MultiCam® \/ Regular (D) \/ 12 Men's \/ 13.5 Women's","options":["MultiCam®","Regular (D)","12 Men's \/ 13.5 Women's"],"price":12999,"weight":0,"compare_at_price":null,"inventory_quantity":10,"inventory_management":"shopify","inventory_policy":"deny","barcode":"","requires_selling_plan":false,"selling_plan_allocations":[]},{"id":43877231329508,"title":"MultiCam® \/ Regular (D) \/ 13 Men's \/ 14.5 Women's","option1":"MultiCam®","option2":"Regular (D)","option3":"13 Men's \/ 14.5 Women's","sku":"333000GSA","requires_shipping":true,"taxable":true,"featured_image":null,"available":true,"name":"ALTAMA MARITIME MID - PATTERN - MultiCam® \/ Regular (D) \/ 13 Men's \/ 14.5 Women's","public_title":"MultiCam® \/ Regular (D) \/ 13 Men's \/ 14.5 Women's","options":["MultiCam®","Regular (D)","13 Men's \/ 14.5 Women's"],"price":12999,"weight":0,"compare_at_price":null,"inventory_quantity":10,"inventory_management":"shopify","inventory_policy":"deny","barcode":"","requires_selling_plan":false,"selling_plan_allocations":[]},{"id":43877231362276,"title":"MultiCam® \/ Regular (D) \/ 14 Men's \/ 15.5 Women's","option1":"MultiCam®","option2":"Regular (D)","option3":"14 Men's \/ 15.5 Women's","sku":"333000GSA","requires_shipping":true,"taxable":true,"featured_image":null,"available":true,"name":"ALTAMA MARITIME MID - PATTERN - MultiCam® \/ Regular (D) \/ 14 Men's \/ 15.5 Women's","public_title":"MultiCam® \/ Regular (D) \/ 14 Men's \/ 15.5 Women's","options":["MultiCam®","Regular (D)","14 Men's \/ 15.5 Women's"],"price":12999,"weight":0,"compare_at_price":null,"inventory_quantity":10,"inventory_management":"shopify","inventory_policy":"deny","barcode":"","requires_selling_plan":false,"selling_plan_allocations":[]},{"id":43877231395044,"title":"MultiCam® \/ Regular (D) \/ 15 Men's \/ 16.5 Women's","option1":"MultiCam®","option2":"Regular (D)","option3":"15 Men's \/ 16.5 Women's","sku":"333000GSA","requires_shipping":true,"taxable":true,"featured_image":null,"available":true,"name":"ALTAMA MARITIME MID - PATTERN - MultiCam® \/ Regular (D) \/ 15 Men's \/ 16.5 Women's","public_title":"MultiCam® \/ Regular (D) \/ 15 Men's \/ 16.5 Women's","options":["MultiCam®","Regular (D)","15 Men's \/ 16.5 Women's"],"price":12999,"weight":0,"compare_at_price":null,"inventory_quantity":10,"inventory_management":"shopify","inventory_policy":"deny","barcode":"","requires_selling_plan":false,"selling_plan_allocations":[]},{"id":43877231427812,"title":"MultiCam® \/ Wide (EEE) \/ 5 Men's \/ 6.5 Women's","option1":"MultiCam®","option2":"Wide (EEE)","option3":"5 Men's \/ 6.5 Women's","sku":"333000GSA","requires_shipping":true,"taxable":true,"featured_image":null,"available":true,"name":"ALTAMA MARITIME MID - PATTERN - MultiCam® \/ Wide (EEE) \/ 5 Men's \/ 6.5 Women's","public_title":"MultiCam® \/ Wide (EEE) \/ 5 Men's \/ 6.5 Women's","options":["MultiCam®","Wide (EEE)","5 Men's \/ 6.5 Women's"],"price":12999,"weight":0,"compare_at_price":null,"inventory_quantity":10,"inventory_management":"shopify","inventory_policy":"deny","barcode":"","requires_selling_plan":false,"selling_plan_allocations":[]},{"id":43877231460580,"title":"MultiCam® \/ Wide (EEE) \/ 5.5 Men's \/ 7 Women's","option1":"MultiCam®","option2":"Wide (EEE)","option3":"5.5 Men's \/ 7 Women's","sku":"333000GSA","requires_shipping":true,"taxable":true,"featured_image":null,"available":true,"name":"ALTAMA MARITIME MID - PATTERN - MultiCam® \/ Wide (EEE) \/ 5.5 Men's \/ 7 Women's","public_title":"MultiCam® \/ Wide (EEE) \/ 5.5 Men's \/ 7 Women's","options":["MultiCam®","Wide (EEE)","5.5 Men's \/ 7 Women's"],"price":12999,"weight":0,"compare_at_price":null,"inventory_quantity":10,"inventory_management":"shopify","inventory_policy":"deny","barcode":"","requires_selling_plan":false,"selling_plan_allocations":[]},{"id":43877231493348,"title":"MultiCam® \/ Wide (EEE) \/ 6 Men's \/ 7.5 Women's","option1":"MultiCam®","option2":"Wide (EEE)","option3":"6 Men's \/ 7.5 Women's","sku":"333000GSA","requires_shipping":true,"taxable":true,"featured_image":null,"available":true,"name":"ALTAMA MARITIME MID - PATTERN - MultiCam® \/ Wide (EEE) \/ 6 Men's \/ 7.5 Women's","public_title":"MultiCam® \/ Wide (EEE) \/ 6 Men's \/ 7.5 Women's","options":["MultiCam®","Wide (EEE)","6 Men's \/ 7.5 Women's"],"price":12999,"weight":0,"compare_at_price":null,"inventory_quantity":10,"inventory_management":"shopify","inventory_policy":"deny","barcode":"","requires_selling_plan":false,"selling_plan_allocations":[]},{"id":43877231526116,"title":"MultiCam® \/ Wide (EEE) \/ 6.5 Men's \/ 8 Women's","option1":"MultiCam®","option2":"Wide (EEE)","option3":"6.5 Men's \/ 8 Women's","sku":"333000GSA","requires_shipping":true,"taxable":true,"featured_image":null,"available":true,"name":"ALTAMA MARITIME MID - PATTERN - MultiCam® \/ Wide (EEE) \/ 6.5 Men's \/ 8 Women's","public_title":"MultiCam® \/ Wide (EEE) \/ 6.5 Men's \/ 8 Women's","options":["MultiCam®","Wide (EEE)","6.5 Men's \/ 8 Women's"],"price":12999,"weight":0,"compare_at_price":null,"inventory_quantity":10,"inventory_management":"shopify","inventory_policy":"deny","barcode":"","requires_selling_plan":false,"selling_plan_allocations":[]},{"id":43877231558884,"title":"MultiCam® \/ Wide (EEE) \/ 7 Men's \/ 8.5 Women's","option1":"MultiCam®","option2":"Wide (EEE)","option3":"7 Men's \/ 8.5 Women's","sku":"333000GSA","requires_shipping":true,"taxable":true,"featured_image":null,"available":true,"name":"ALTAMA MARITIME MID - PATTERN - MultiCam® \/ Wide (EEE) \/ 7 Men's \/ 8.5 Women's","public_title":"MultiCam® \/ Wide (EEE) \/ 7 Men's \/ 8.5 Women's","options":["MultiCam®","Wide (EEE)","7 Men's \/ 8.5 Women's"],"price":12999,"weight":0,"compare_at_price":null,"inventory_quantity":10,"inventory_management":"shopify","inventory_policy":"deny","barcode":"","requires_selling_plan":false,"selling_plan_allocations":[]},{"id":43877231591652,"title":"MultiCam® \/ Wide (EEE) \/ 7.5 Men's \/ 9 Women's","option1":"MultiCam®","option2":"Wide (EEE)","option3":"7.5 Men's \/ 9 Women's","sku":"333000GSA","requires_shipping":true,"taxable":true,"featured_image":null,"available":true,"name":"ALTAMA MARITIME MID - PATTERN - MultiCam® \/ Wide (EEE) \/ 7.5 Men's \/ 9 Women's","public_title":"MultiCam® \/ Wide (EEE) \/ 7.5 Men's \/ 9 Women's","options":["MultiCam®","Wide (EEE)","7.5 Men's \/ 9 Women's"],"price":12999,"weight":0,"compare_at_price":null,"inventory_quantity":10,"inventory_management":"shopify","inventory_policy":"deny","barcode":"","requires_selling_plan":false,"selling_plan_allocations":[]},{"id":43877231624420,"title":"MultiCam® \/ Wide (EEE) \/ 8 Men's \/ 9.5 Women's","option1":"MultiCam®","option2":"Wide (EEE)","option3":"8 Men's \/ 9.5 Women's","sku":"333000GSA","requires_shipping":true,"taxable":true,"featured_image":null,"available":true,"name":"ALTAMA MARITIME MID - PATTERN - MultiCam® \/ Wide (EEE) \/ 8 Men's \/ 9.5 Women's","public_title":"MultiCam® \/ Wide (EEE) \/ 8 Men's \/ 9.5 Women's","options":["MultiCam®","Wide (EEE)","8 Men's \/ 9.5 Women's"],"price":12999,"weight":0,"compare_at_price":null,"inventory_quantity":10,"inventory_management":"shopify","inventory_policy":"deny","barcode":"","requires_selling_plan":false,"selling_plan_allocations":[]},{"id":43877231657188,"title":"MultiCam® \/ Wide (EEE) \/ 8.5 Men's \/ 10 Women's","option1":"MultiCam®","option2":"Wide (EEE)","option3":"8.5 Men's \/ 10 Women's","sku":"333000GSA","requires_shipping":true,"taxable":true,"featured_image":null,"available":true,"name":"ALTAMA MARITIME MID - PATTERN - MultiCam® \/ Wide (EEE) \/ 8.5 Men's \/ 10 Women's","public_title":"MultiCam® \/ Wide (EEE) \/ 8.5 Men's \/ 10 Women's","options":["MultiCam®","Wide (EEE)","8.5 Men's \/ 10 Women's"],"price":12999,"weight":0,"compare_at_price":null,"inventory_quantity":10,"inventory_management":"shopify","inventory_policy":"deny","barcode":"","requires_selling_plan":false,"selling_plan_allocations":[]},{"id":43877231689956,"title":"MultiCam® \/ Wide (EEE) \/ 9 Men's \/ 10.5 Women's","option1":"MultiCam®","option2":"Wide (EEE)","option3":"9 Men's \/ 10.5 Women's","sku":"333000GSA","requires_shipping":true,"taxable":true,"featured_image":null,"available":true,"name":"ALTAMA MARITIME MID - PATTERN - MultiCam® \/ Wide (EEE) \/ 9 Men's \/ 10.5 Women's","public_title":"MultiCam® \/ Wide (EEE) \/ 9 Men's \/ 10.5 Women's","options":["MultiCam®","Wide (EEE)","9 Men's \/ 10.5 Women's"],"price":12999,"weight":0,"compare_at_price":null,"inventory_quantity":10,"inventory_management":"shopify","inventory_policy":"deny","barcode":"","requires_selling_plan":false,"selling_plan_allocations":[]},{"id":43877231722724,"title":"MultiCam® \/ Wide (EEE) \/ 9.5 Men's \/ 11 Women's","option1":"MultiCam®","option2":"Wide (EEE)","option3":"9.5 Men's \/ 11 Women's","sku":"333000GSA","requires_shipping":true,"taxable":true,"featured_image":null,"available":true,"name":"ALTAMA MARITIME MID - PATTERN - MultiCam® \/ Wide (EEE) \/ 9.5 Men's \/ 11 Women's","public_title":"MultiCam® \/ Wide (EEE) \/ 9.5 Men's \/ 11 Women's","options":["MultiCam®","Wide (EEE)","9.5 Men's \/ 11 Women's"],"price":12999,"weight":0,"compare_at_price":null,"inventory_quantity":10,"inventory_management":"shopify","inventory_policy":"deny","barcode":"","requires_selling_plan":false,"selling_plan_allocations":[]},{"id":43877231755492,"title":"MultiCam® \/ Wide (EEE) \/ 10 Men's \/ 11.5 Women's","option1":"MultiCam®","option2":"Wide (EEE)","option3":"10 Men's \/ 11.5 Women's","sku":"333000GSA","requires_shipping":true,"taxable":true,"featured_image":null,"available":true,"name":"ALTAMA MARITIME MID - PATTERN - MultiCam® \/ Wide (EEE) \/ 10 Men's \/ 11.5 Women's","public_title":"MultiCam® \/ Wide (EEE) \/ 10 Men's \/ 11.5 Women's","options":["MultiCam®","Wide (EEE)","10 Men's \/ 11.5 Women's"],"price":12999,"weight":0,"compare_at_price":null,"inventory_quantity":10,"inventory_management":"shopify","inventory_policy":"deny","barcode":"","requires_selling_plan":false,"selling_plan_allocations":[]},{"id":43877231788260,"title":"MultiCam® \/ Wide (EEE) \/ 10.5 Men's \/ 12 Women's","option1":"MultiCam®","option2":"Wide (EEE)","option3":"10.5 Men's \/ 12 Women's","sku":"333000GSA","requires_shipping":true,"taxable":true,"featured_image":null,"available":true,"name":"ALTAMA MARITIME MID - PATTERN - MultiCam® \/ Wide (EEE) \/ 10.5 Men's \/ 12 Women's","public_title":"MultiCam® \/ Wide (EEE) \/ 10.5 Men's \/ 12 Women's","options":["MultiCam®","Wide (EEE)","10.5 Men's \/ 12 Women's"],"price":12999,"weight":0,"compare_at_price":null,"inventory_quantity":10,"inventory_management":"shopify","inventory_policy":"deny","barcode":"","requires_selling_plan":false,"selling_plan_allocations":[]},{"id":43877231821028,"title":"MultiCam® \/ Wide (EEE) \/ 11 Men's \/ 12.5 Women's","option1":"MultiCam®","option2":"Wide (EEE)","option3":"11 Men's \/ 12.5 Women's","sku":"333000GSA","requires_shipping":true,"taxable":true,"featured_image":null,"available":true,"name":"ALTAMA MARITIME MID - PATTERN - MultiCam® \/ Wide (EEE) \/ 11 Men's \/ 12.5 Women's","public_title":"MultiCam® \/ Wide (EEE) \/ 11 Men's \/ 12.5 Women's","options":["MultiCam®","Wide (EEE)","11 Men's \/ 12.5 Women's"],"price":12999,"weight":0,"compare_at_price":null,"inventory_quantity":10,"inventory_management":"shopify","inventory_policy":"deny","barcode":"","requires_selling_plan":false,"selling_plan_allocations":[]},{"id":43877231853796,"title":"MultiCam® \/ Wide (EEE) \/ 11.5 Men's \/ 13 Women's","option1":"MultiCam®","option2":"Wide (EEE)","option3":"11.5 Men's \/ 13 Women's","sku":"333000GSA","requires_shipping":true,"taxable":true,"featured_image":null,"available":true,"name":"ALTAMA MARITIME MID - PATTERN - MultiCam® \/ Wide (EEE) \/ 11.5 Men's \/ 13 Women's","public_title":"MultiCam® \/ Wide (EEE) \/ 11.5 Men's \/ 13 Women's","options":["MultiCam®","Wide (EEE)","11.5 Men's \/ 13 Women's"],"price":12999,"weight":0,"compare_at_price":null,"inventory_quantity":10,"inventory_management":"shopify","inventory_policy":"deny","barcode":"","requires_selling_plan":false,"selling_plan_allocations":[]},{"id":43877231886564,"title":"MultiCam® \/ Wide (EEE) \/ 12 Men's \/ 13.5 Women's","option1":"MultiCam®","option2":"Wide (EEE)","option3":"12 Men's \/ 13.5 Women's","sku":"333000GSA","requires_shipping":true,"taxable":true,"featured_image":null,"available":true,"name":"ALTAMA MARITIME MID - PATTERN - MultiCam® \/ Wide (EEE) \/ 12 Men's \/ 13.5 Women's","public_title":"MultiCam® \/ Wide (EEE) \/ 12 Men's \/ 13.5 Women's","options":["MultiCam®","Wide (EEE)","12 Men's \/ 13.5 Women's"],"price":12999,"weight":0,"compare_at_price":null,"inventory_quantity":10,"inventory_management":"shopify","inventory_policy":"deny","barcode":"","requires_selling_plan":false,"selling_plan_allocations":[]},{"id":43877231919332,"title":"MultiCam® \/ Wide (EEE) \/ 13 Men's \/ 14.5 Women's","option1":"MultiCam®","option2":"Wide (EEE)","option3":"13 Men's \/ 14.5 Women's","sku":"333000GSA","requires_shipping":true,"taxable":true,"featured_image":null,"available":true,"name":"ALTAMA MARITIME MID - PATTERN - MultiCam® \/ Wide (EEE) \/ 13 Men's \/ 14.5 Women's","public_title":"MultiCam® \/ Wide (EEE) \/ 13 Men's \/ 14.5 Women's","options":["MultiCam®","Wide (EEE)","13 Men's \/ 14.5 Women's"],"price":12999,"weight":0,"compare_at_price":null,"inventory_quantity":10,"inventory_management":"shopify","inventory_policy":"deny","barcode":"","requires_selling_plan":false,"selling_plan_allocations":[]},{"id":43877231952100,"title":"MultiCam® \/ Wide (EEE) \/ 14 Men's \/ 15.5 Women's","option1":"MultiCam®","option2":"Wide (EEE)","option3":"14 Men's \/ 15.5 Women's","sku":"333000GSA","requires_shipping":true,"taxable":true,"featured_image":null,"available":true,"name":"ALTAMA MARITIME MID - PATTERN - MultiCam® \/ Wide (EEE) \/ 14 Men's \/ 15.5 Women's","public_title":"MultiCam® \/ Wide (EEE) \/ 14 Men's \/ 15.5 Women's","options":["MultiCam®","Wide (EEE)","14 Men's \/ 15.5 Women's"],"price":12999,"weight":0,"compare_at_price":null,"inventory_quantity":10,"inventory_management":"shopify","inventory_policy":"deny","barcode":"","requires_selling_plan":false,"selling_plan_allocations":[]},{"id":43877231984868,"title":"MultiCam® \/ Wide (EEE) \/ 15 Men's \/ 16.5 Women's","option1":"MultiCam®","option2":"Wide (EEE)","option3":"15 Men's \/ 16.5 Women's","sku":"333000GSA","requires_shipping":true,"taxable":true,"featured_image":null,"available":true,"name":"ALTAMA MARITIME MID - PATTERN - MultiCam® \/ Wide (EEE) \/ 15 Men's \/ 16.5 Women's","public_title":"MultiCam® \/ Wide (EEE) \/ 15 Men's \/ 16.5 Women's","options":["MultiCam®","Wide (EEE)","15 Men's \/ 16.5 Women's"],"price":12999,"weight":0,"compare_at_price":null,"inventory_quantity":10,"inventory_management":"shopify","inventory_policy":"deny","barcode":"","requires_selling_plan":false,"selling_plan_allocations":[]},{"id":32115063390298,"title":"MultiCam(R) Black \/ Regular (D) \/ 5 Men's \/ 6.5 Women's","option1":"MultiCam(R) Black","option2":"Regular (D)","option3":"5 Men's \/ 6.5 Women's","sku":"333051GSA","requires_shipping":true,"taxable":true,"featured_image":{"id":15036958081114,"product_id":4639100043354,"position":1,"created_at":"2020-04-15T14:21:19-05:00","updated_at":"2020-04-15T20:24:30-05:00","alt":null,"width":833,"height":833,"src":"\/\/shop.bootcampaign.org\/cdn\/shop\/products\/333051_1.jpg?v=1587000270","variant_ids":[32115063390298]},"available":true,"name":"ALTAMA MARITIME MID - PATTERN - MultiCam(R) Black \/ Regular (D) \/ 5 Men's \/ 6.5 Women's","public_title":"MultiCam(R) Black \/ Regular (D) \/ 5 Men's \/ 6.5 Women's","options":["MultiCam(R) Black","Regular (D)","5 Men's \/ 6.5 Women's"],"price":12999,"weight":0,"compare_at_price":null,"inventory_quantity":10,"inventory_management":"shopify","inventory_policy":"deny","barcode":"","featured_media":{"alt":null,"id":7192148705370,"position":1,"preview_image":{"aspect_ratio":1.0,"height":833,"width":833,"src":"\/\/shop.bootcampaign.org\/cdn\/shop\/products\/333051_1.jpg?v=1587000270"}},"requires_selling_plan":false,"selling_plan_allocations":[]},{"id":43877232017636,"title":"MultiCam(R) Black \/ Regular (D) \/ 5.5 Men's \/ 7 Women's","option1":"MultiCam(R) Black","option2":"Regular (D)","option3":"5.5 Men's \/ 7 Women's","sku":"333051GSA","requires_shipping":true,"taxable":true,"featured_image":null,"available":true,"name":"ALTAMA MARITIME MID - PATTERN - MultiCam(R) Black \/ Regular (D) \/ 5.5 Men's \/ 7 Women's","public_title":"MultiCam(R) Black \/ Regular (D) \/ 5.5 Men's \/ 7 Women's","options":["MultiCam(R) Black","Regular (D)","5.5 Men's \/ 7 Women's"],"price":12999,"weight":0,"compare_at_price":null,"inventory_quantity":10,"inventory_management":"shopify","inventory_policy":"deny","barcode":"","requires_selling_plan":false,"selling_plan_allocations":[]},{"id":43877232050404,"title":"MultiCam(R) Black \/ Regular (D) \/ 6 Men's \/ 7.5 Women's","option1":"MultiCam(R) Black","option2":"Regular (D)","option3":"6 Men's \/ 7.5 Women's","sku":"333051GSA","requires_shipping":true,"taxable":true,"featured_image":null,"available":true,"name":"ALTAMA MARITIME MID - PATTERN - MultiCam(R) Black \/ Regular (D) \/ 6 Men's \/ 7.5 Women's","public_title":"MultiCam(R) Black \/ Regular (D) \/ 6 Men's \/ 7.5 Women's","options":["MultiCam(R) Black","Regular (D)","6 Men's \/ 7.5 Women's"],"price":12999,"weight":0,"compare_at_price":null,"inventory_quantity":10,"inventory_management":"shopify","inventory_policy":"deny","barcode":"","requires_selling_plan":false,"selling_plan_allocations":[]},{"id":43877232083172,"title":"MultiCam(R) Black \/ Regular (D) \/ 6.5 Men's \/ 8 Women's","option1":"MultiCam(R) Black","option2":"Regular (D)","option3":"6.5 Men's \/ 8 Women's","sku":"333051GSA","requires_shipping":true,"taxable":true,"featured_image":null,"available":true,"name":"ALTAMA MARITIME MID - PATTERN - MultiCam(R) Black \/ Regular (D) \/ 6.5 Men's \/ 8 Women's","public_title":"MultiCam(R) Black \/ Regular (D) \/ 6.5 Men's \/ 8 Women's","options":["MultiCam(R) Black","Regular (D)","6.5 Men's \/ 8 Women's"],"price":12999,"weight":0,"compare_at_price":null,"inventory_quantity":10,"inventory_management":"shopify","inventory_policy":"deny","barcode":"","requires_selling_plan":false,"selling_plan_allocations":[]},{"id":43877232115940,"title":"MultiCam(R) Black \/ Regular (D) \/ 7 Men's \/ 8.5 Women's","option1":"MultiCam(R) Black","option2":"Regular (D)","option3":"7 Men's \/ 8.5 Women's","sku":"333051GSA","requires_shipping":true,"taxable":true,"featured_image":null,"available":true,"name":"ALTAMA MARITIME MID - PATTERN - MultiCam(R) Black \/ Regular (D) \/ 7 Men's \/ 8.5 Women's","public_title":"MultiCam(R) Black \/ Regular (D) \/ 7 Men's \/ 8.5 Women's","options":["MultiCam(R) Black","Regular (D)","7 Men's \/ 8.5 Women's"],"price":12999,"weight":0,"compare_at_price":null,"inventory_quantity":10,"inventory_management":"shopify","inventory_policy":"deny","barcode":"","requires_selling_plan":false,"selling_plan_allocations":[]},{"id":43877232148708,"title":"MultiCam(R) Black \/ Regular (D) \/ 7.5 Men's \/ 9 Women's","option1":"MultiCam(R) Black","option2":"Regular (D)","option3":"7.5 Men's \/ 9 Women's","sku":"333051GSA","requires_shipping":true,"taxable":true,"featured_image":null,"available":true,"name":"ALTAMA MARITIME MID - PATTERN - MultiCam(R) Black \/ Regular (D) \/ 7.5 Men's \/ 9 Women's","public_title":"MultiCam(R) Black \/ Regular (D) \/ 7.5 Men's \/ 9 Women's","options":["MultiCam(R) Black","Regular (D)","7.5 Men's \/ 9 Women's"],"price":12999,"weight":0,"compare_at_price":null,"inventory_quantity":10,"inventory_management":"shopify","inventory_policy":"deny","barcode":"","requires_selling_plan":false,"selling_plan_allocations":[]},{"id":43877232181476,"title":"MultiCam(R) Black \/ Regular (D) \/ 8 Men's \/ 9.5 Women's","option1":"MultiCam(R) Black","option2":"Regular (D)","option3":"8 Men's \/ 9.5 Women's","sku":"333051GSA","requires_shipping":true,"taxable":true,"featured_image":null,"available":true,"name":"ALTAMA MARITIME MID - PATTERN - MultiCam(R) Black \/ Regular (D) \/ 8 Men's \/ 9.5 Women's","public_title":"MultiCam(R) Black \/ Regular (D) \/ 8 Men's \/ 9.5 Women's","options":["MultiCam(R) Black","Regular (D)","8 Men's \/ 9.5 Women's"],"price":12999,"weight":0,"compare_at_price":null,"inventory_quantity":10,"inventory_management":"shopify","inventory_policy":"deny","barcode":"","requires_selling_plan":false,"selling_plan_allocations":[]},{"id":43877232214244,"title":"MultiCam(R) Black \/ Regular (D) \/ 8.5 Men's \/ 10 Women's","option1":"MultiCam(R) Black","option2":"Regular (D)","option3":"8.5 Men's \/ 10 Women's","sku":"333051GSA","requires_shipping":true,"taxable":true,"featured_image":null,"available":true,"name":"ALTAMA MARITIME MID - PATTERN - MultiCam(R) Black \/ Regular (D) \/ 8.5 Men's \/ 10 Women's","public_title":"MultiCam(R) Black \/ Regular (D) \/ 8.5 Men's \/ 10 Women's","options":["MultiCam(R) Black","Regular (D)","8.5 Men's \/ 10 Women's"],"price":12999,"weight":0,"compare_at_price":null,"inventory_quantity":10,"inventory_management":"shopify","inventory_policy":"deny","barcode":"","requires_selling_plan":false,"selling_plan_allocations":[]},{"id":43877232247012,"title":"MultiCam(R) Black \/ Regular (D) \/ 9 Men's \/ 10.5 Women's","option1":"MultiCam(R) Black","option2":"Regular (D)","option3":"9 Men's \/ 10.5 Women's","sku":"333051GSA","requires_shipping":true,"taxable":true,"featured_image":null,"available":true,"name":"ALTAMA MARITIME MID - PATTERN - MultiCam(R) Black \/ Regular (D) \/ 9 Men's \/ 10.5 Women's","public_title":"MultiCam(R) Black \/ Regular (D) \/ 9 Men's \/ 10.5 Women's","options":["MultiCam(R) Black","Regular (D)","9 Men's \/ 10.5 Women's"],"price":12999,"weight":0,"compare_at_price":null,"inventory_quantity":9,"inventory_management":"shopify","inventory_policy":"deny","barcode":"","requires_selling_plan":false,"selling_plan_allocations":[]},{"id":43877232279780,"title":"MultiCam(R) Black \/ Regular (D) \/ 9.5 Men's \/ 11 Women's","option1":"MultiCam(R) Black","option2":"Regular (D)","option3":"9.5 Men's \/ 11 Women's","sku":"333051GSA","requires_shipping":true,"taxable":true,"featured_image":null,"available":true,"name":"ALTAMA MARITIME MID - PATTERN - MultiCam(R) Black \/ Regular (D) \/ 9.5 Men's \/ 11 Women's","public_title":"MultiCam(R) Black \/ Regular (D) \/ 9.5 Men's \/ 11 Women's","options":["MultiCam(R) Black","Regular (D)","9.5 Men's \/ 11 Women's"],"price":12999,"weight":0,"compare_at_price":null,"inventory_quantity":10,"inventory_management":"shopify","inventory_policy":"deny","barcode":"","requires_selling_plan":false,"selling_plan_allocations":[]},{"id":43877232312548,"title":"MultiCam(R) Black \/ Regular (D) \/ 10 Men's \/ 11.5 Women's","option1":"MultiCam(R) Black","option2":"Regular (D)","option3":"10 Men's \/ 11.5 Women's","sku":"333051GSA","requires_shipping":true,"taxable":true,"featured_image":null,"available":true,"name":"ALTAMA MARITIME MID - PATTERN - MultiCam(R) Black \/ Regular (D) \/ 10 Men's \/ 11.5 Women's","public_title":"MultiCam(R) Black \/ Regular (D) \/ 10 Men's \/ 11.5 Women's","options":["MultiCam(R) Black","Regular (D)","10 Men's \/ 11.5 Women's"],"price":12999,"weight":0,"compare_at_price":null,"inventory_quantity":10,"inventory_management":"shopify","inventory_policy":"deny","barcode":"","requires_selling_plan":false,"selling_plan_allocations":[]},{"id":43877232345316,"title":"MultiCam(R) Black \/ Regular (D) \/ 10.5 Men's \/ 12 Women's","option1":"MultiCam(R) Black","option2":"Regular (D)","option3":"10.5 Men's \/ 12 Women's","sku":"333051GSA","requires_shipping":true,"taxable":true,"featured_image":null,"available":true,"name":"ALTAMA MARITIME MID - PATTERN - MultiCam(R) Black \/ Regular (D) \/ 10.5 Men's \/ 12 Women's","public_title":"MultiCam(R) Black \/ Regular (D) \/ 10.5 Men's \/ 12 Women's","options":["MultiCam(R) Black","Regular (D)","10.5 Men's \/ 12 Women's"],"price":12999,"weight":0,"compare_at_price":null,"inventory_quantity":9,"inventory_management":"shopify","inventory_policy":"deny","barcode":"","requires_selling_plan":false,"selling_plan_allocations":[]},{"id":43877232378084,"title":"MultiCam(R) Black \/ Regular (D) \/ 11 Men's \/ 12.5 Women's","option1":"MultiCam(R) Black","option2":"Regular (D)","option3":"11 Men's \/ 12.5 Women's","sku":"333051GSA","requires_shipping":true,"taxable":true,"featured_image":null,"available":true,"name":"ALTAMA MARITIME MID - PATTERN - MultiCam(R) Black \/ Regular (D) \/ 11 Men's \/ 12.5 Women's","public_title":"MultiCam(R) Black \/ Regular (D) \/ 11 Men's \/ 12.5 Women's","options":["MultiCam(R) Black","Regular (D)","11 Men's \/ 12.5 Women's"],"price":12999,"weight":0,"compare_at_price":null,"inventory_quantity":10,"inventory_management":"shopify","inventory_policy":"deny","barcode":"","requires_selling_plan":false,"selling_plan_allocations":[]},{"id":43877232410852,"title":"MultiCam(R) Black \/ Regular (D) \/ 11.5 Men's \/ 13 Women's","option1":"MultiCam(R) Black","option2":"Regular (D)","option3":"11.5 Men's \/ 13 Women's","sku":"333051GSA","requires_shipping":true,"taxable":true,"featured_image":null,"available":true,"name":"ALTAMA MARITIME MID - PATTERN - MultiCam(R) Black \/ Regular (D) \/ 11.5 Men's \/ 13 Women's","public_title":"MultiCam(R) Black \/ Regular (D) \/ 11.5 Men's \/ 13 Women's","options":["MultiCam(R) Black","Regular (D)","11.5 Men's \/ 13 Women's"],"price":12999,"weight":0,"compare_at_price":null,"inventory_quantity":10,"inventory_management":"shopify","inventory_policy":"deny","barcode":"","requires_selling_plan":false,"selling_plan_allocations":[]},{"id":43877232443620,"title":"MultiCam(R) Black \/ Regular (D) \/ 12 Men's \/ 13.5 Women's","option1":"MultiCam(R) Black","option2":"Regular (D)","option3":"12 Men's \/ 13.5 Women's","sku":"333051GSA","requires_shipping":true,"taxable":true,"featured_image":null,"available":true,"name":"ALTAMA MARITIME MID - PATTERN - MultiCam(R) Black \/ Regular (D) \/ 12 Men's \/ 13.5 Women's","public_title":"MultiCam(R) Black \/ Regular (D) \/ 12 Men's \/ 13.5 Women's","options":["MultiCam(R) Black","Regular (D)","12 Men's \/ 13.5 Women's"],"price":12999,"weight":0,"compare_at_price":null,"inventory_quantity":10,"inventory_management":"shopify","inventory_policy":"deny","barcode":"","requires_selling_plan":false,"selling_plan_allocations":[]},{"id":43877232476388,"title":"MultiCam(R) Black \/ Regular (D) \/ 13 Men's \/ 14.5 Women's","option1":"MultiCam(R) Black","option2":"Regular (D)","option3":"13 Men's \/ 14.5 Women's","sku":"333051GSA","requires_shipping":true,"taxable":true,"featured_image":null,"available":true,"name":"ALTAMA MARITIME MID - PATTERN - MultiCam(R) Black \/ Regular (D) \/ 13 Men's \/ 14.5 Women's","public_title":"MultiCam(R) Black \/ Regular (D) \/ 13 Men's \/ 14.5 Women's","options":["MultiCam(R) Black","Regular (D)","13 Men's \/ 14.5 Women's"],"price":12999,"weight":0,"compare_at_price":null,"inventory_quantity":10,"inventory_management":"shopify","inventory_policy":"deny","barcode":"","requires_selling_plan":false,"selling_plan_allocations":[]},{"id":43877232509156,"title":"MultiCam(R) Black \/ Regular (D) \/ 14 Men's \/ 15.5 Women's","option1":"MultiCam(R) Black","option2":"Regular (D)","option3":"14 Men's \/ 15.5 Women's","sku":"333051GSA","requires_shipping":true,"taxable":true,"featured_image":null,"available":true,"name":"ALTAMA MARITIME MID - PATTERN - MultiCam(R) Black \/ Regular (D) \/ 14 Men's \/ 15.5 Women's","public_title":"MultiCam(R) Black \/ Regular (D) \/ 14 Men's \/ 15.5 Women's","options":["MultiCam(R) Black","Regular (D)","14 Men's \/ 15.5 Women's"],"price":12999,"weight":0,"compare_at_price":null,"inventory_quantity":10,"inventory_management":"shopify","inventory_policy":"deny","barcode":"","requires_selling_plan":false,"selling_plan_allocations":[]},{"id":43877232541924,"title":"MultiCam(R) Black \/ Regular (D) \/ 15 Men's \/ 16.5 Women's","option1":"MultiCam(R) Black","option2":"Regular (D)","option3":"15 Men's \/ 16.5 Women's","sku":"333051GSA","requires_shipping":true,"taxable":true,"featured_image":null,"available":true,"name":"ALTAMA MARITIME MID - PATTERN - MultiCam(R) Black \/ Regular (D) \/ 15 Men's \/ 16.5 Women's","public_title":"MultiCam(R) Black \/ Regular (D) \/ 15 Men's \/ 16.5 Women's","options":["MultiCam(R) Black","Regular (D)","15 Men's \/ 16.5 Women's"],"price":12999,"weight":0,"compare_at_price":null,"inventory_quantity":10,"inventory_management":"shopify","inventory_policy":"deny","barcode":"","requires_selling_plan":false,"selling_plan_allocations":[]},{"id":43877232574692,"title":"MultiCam(R) Black \/ Wide (EEE) \/ 5 Men's \/ 6.5 Women's","option1":"MultiCam(R) Black","option2":"Wide (EEE)","option3":"5 Men's \/ 6.5 Women's","sku":"333051GSA","requires_shipping":true,"taxable":true,"featured_image":null,"available":true,"name":"ALTAMA MARITIME MID - PATTERN - MultiCam(R) Black \/ Wide (EEE) \/ 5 Men's \/ 6.5 Women's","public_title":"MultiCam(R) Black \/ Wide (EEE) \/ 5 Men's \/ 6.5 Women's","options":["MultiCam(R) Black","Wide (EEE)","5 Men's \/ 6.5 Women's"],"price":12999,"weight":0,"compare_at_price":null,"inventory_quantity":10,"inventory_management":"shopify","inventory_policy":"deny","barcode":"","requires_selling_plan":false,"selling_plan_allocations":[]},{"id":43877232607460,"title":"MultiCam(R) Black \/ Wide (EEE) \/ 5.5 Men's \/ 7 Women's","option1":"MultiCam(R) Black","option2":"Wide (EEE)","option3":"5.5 Men's \/ 7 Women's","sku":"333051GSA","requires_shipping":true,"taxable":true,"featured_image":null,"available":true,"name":"ALTAMA MARITIME MID - PATTERN - MultiCam(R) Black \/ Wide (EEE) \/ 5.5 Men's \/ 7 Women's","public_title":"MultiCam(R) Black \/ Wide (EEE) \/ 5.5 Men's \/ 7 Women's","options":["MultiCam(R) Black","Wide (EEE)","5.5 Men's \/ 7 Women's"],"price":12999,"weight":0,"compare_at_price":null,"inventory_quantity":10,"inventory_management":"shopify","inventory_policy":"deny","barcode":"","requires_selling_plan":false,"selling_plan_allocations":[]},{"id":43877232640228,"title":"MultiCam(R) Black \/ Wide (EEE) \/ 6 Men's \/ 7.5 Women's","option1":"MultiCam(R) Black","option2":"Wide (EEE)","option3":"6 Men's \/ 7.5 Women's","sku":"333051GSA","requires_shipping":true,"taxable":true,"featured_image":null,"available":true,"name":"ALTAMA MARITIME MID - PATTERN - MultiCam(R) Black \/ Wide (EEE) \/ 6 Men's \/ 7.5 Women's","public_title":"MultiCam(R) Black \/ Wide (EEE) \/ 6 Men's \/ 7.5 Women's","options":["MultiCam(R) Black","Wide (EEE)","6 Men's \/ 7.5 Women's"],"price":12999,"weight":0,"compare_at_price":null,"inventory_quantity":10,"inventory_management":"shopify","inventory_policy":"deny","barcode":"","requires_selling_plan":false,"selling_plan_allocations":[]},{"id":43877232672996,"title":"MultiCam(R) Black \/ Wide (EEE) \/ 6.5 Men's \/ 8 Women's","option1":"MultiCam(R) Black","option2":"Wide (EEE)","option3":"6.5 Men's \/ 8 Women's","sku":"333051GSA","requires_shipping":true,"taxable":true,"featured_image":null,"available":true,"name":"ALTAMA MARITIME MID - PATTERN - MultiCam(R) Black \/ Wide (EEE) \/ 6.5 Men's \/ 8 Women's","public_title":"MultiCam(R) Black \/ Wide (EEE) \/ 6.5 Men's \/ 8 Women's","options":["MultiCam(R) Black","Wide (EEE)","6.5 Men's \/ 8 Women's"],"price":12999,"weight":0,"compare_at_price":null,"inventory_quantity":10,"inventory_management":"shopify","inventory_policy":"deny","barcode":"","requires_selling_plan":false,"selling_plan_allocations":[]},{"id":43877232705764,"title":"MultiCam(R) Black \/ Wide (EEE) \/ 7 Men's \/ 8.5 Women's","option1":"MultiCam(R) Black","option2":"Wide (EEE)","option3":"7 Men's \/ 8.5 Women's","sku":"333051GSA","requires_shipping":true,"taxable":true,"featured_image":null,"available":true,"name":"ALTAMA MARITIME MID - PATTERN - MultiCam(R) Black \/ Wide (EEE) \/ 7 Men's \/ 8.5 Women's","public_title":"MultiCam(R) Black \/ Wide (EEE) \/ 7 Men's \/ 8.5 Women's","options":["MultiCam(R) Black","Wide (EEE)","7 Men's \/ 8.5 Women's"],"price":12999,"weight":0,"compare_at_price":null,"inventory_quantity":9,"inventory_management":"shopify","inventory_policy":"deny","barcode":"","requires_selling_plan":false,"selling_plan_allocations":[]},{"id":43877232738532,"title":"MultiCam(R) Black \/ Wide (EEE) \/ 7.5 Men's \/ 9 Women's","option1":"MultiCam(R) Black","option2":"Wide (EEE)","option3":"7.5 Men's \/ 9 Women's","sku":"333051GSA","requires_shipping":true,"taxable":true,"featured_image":null,"available":true,"name":"ALTAMA MARITIME MID - PATTERN - MultiCam(R) Black \/ Wide (EEE) \/ 7.5 Men's \/ 9 Women's","public_title":"MultiCam(R) Black \/ Wide (EEE) \/ 7.5 Men's \/ 9 Women's","options":["MultiCam(R) Black","Wide (EEE)","7.5 Men's \/ 9 Women's"],"price":12999,"weight":0,"compare_at_price":null,"inventory_quantity":10,"inventory_management":"shopify","inventory_policy":"deny","barcode":"","requires_selling_plan":false,"selling_plan_allocations":[]},{"id":43877232771300,"title":"MultiCam(R) Black \/ Wide (EEE) \/ 8 Men's \/ 9.5 Women's","option1":"MultiCam(R) Black","option2":"Wide (EEE)","option3":"8 Men's \/ 9.5 Women's","sku":"333051GSA","requires_shipping":true,"taxable":true,"featured_image":null,"available":true,"name":"ALTAMA MARITIME MID - PATTERN - MultiCam(R) Black \/ Wide (EEE) \/ 8 Men's \/ 9.5 Women's","public_title":"MultiCam(R) Black \/ Wide (EEE) \/ 8 Men's \/ 9.5 Women's","options":["MultiCam(R) Black","Wide (EEE)","8 Men's \/ 9.5 Women's"],"price":12999,"weight":0,"compare_at_price":null,"inventory_quantity":10,"inventory_management":"shopify","inventory_policy":"deny","barcode":"","requires_selling_plan":false,"selling_plan_allocations":[]},{"id":43877232804068,"title":"MultiCam(R) Black \/ Wide (EEE) \/ 8.5 Men's \/ 10 Women's","option1":"MultiCam(R) Black","option2":"Wide (EEE)","option3":"8.5 Men's \/ 10 Women's","sku":"333051GSA","requires_shipping":true,"taxable":true,"featured_image":null,"available":true,"name":"ALTAMA MARITIME MID - PATTERN - MultiCam(R) Black \/ Wide (EEE) \/ 8.5 Men's \/ 10 Women's","public_title":"MultiCam(R) Black \/ Wide (EEE) \/ 8.5 Men's \/ 10 Women's","options":["MultiCam(R) Black","Wide (EEE)","8.5 Men's \/ 10 Women's"],"price":12999,"weight":0,"compare_at_price":null,"inventory_quantity":10,"inventory_management":"shopify","inventory_policy":"deny","barcode":"","requires_selling_plan":false,"selling_plan_allocations":[]},{"id":43877232836836,"title":"MultiCam(R) Black \/ Wide (EEE) \/ 9 Men's \/ 10.5 Women's","option1":"MultiCam(R) Black","option2":"Wide (EEE)","option3":"9 Men's \/ 10.5 Women's","sku":"333051GSA","requires_shipping":true,"taxable":true,"featured_image":null,"available":true,"name":"ALTAMA MARITIME MID - PATTERN - MultiCam(R) Black \/ Wide (EEE) \/ 9 Men's \/ 10.5 Women's","public_title":"MultiCam(R) Black \/ Wide (EEE) \/ 9 Men's \/ 10.5 Women's","options":["MultiCam(R) Black","Wide (EEE)","9 Men's \/ 10.5 Women's"],"price":12999,"weight":0,"compare_at_price":null,"inventory_quantity":10,"inventory_management":"shopify","inventory_policy":"deny","barcode":"","requires_selling_plan":false,"selling_plan_allocations":[]},{"id":43877232869604,"title":"MultiCam(R) Black \/ Wide (EEE) \/ 9.5 Men's \/ 11 Women's","option1":"MultiCam(R) Black","option2":"Wide (EEE)","option3":"9.5 Men's \/ 11 Women's","sku":"333051GSA","requires_shipping":true,"taxable":true,"featured_image":null,"available":true,"name":"ALTAMA MARITIME MID - PATTERN - MultiCam(R) Black \/ Wide (EEE) \/ 9.5 Men's \/ 11 Women's","public_title":"MultiCam(R) Black \/ Wide (EEE) \/ 9.5 Men's \/ 11 Women's","options":["MultiCam(R) Black","Wide (EEE)","9.5 Men's \/ 11 Women's"],"price":12999,"weight":0,"compare_at_price":null,"inventory_quantity":10,"inventory_management":"shopify","inventory_policy":"deny","barcode":"","requires_selling_plan":false,"selling_plan_allocations":[]},{"id":43877232902372,"title":"MultiCam(R) Black \/ Wide (EEE) \/ 10 Men's \/ 11.5 Women's","option1":"MultiCam(R) Black","option2":"Wide (EEE)","option3":"10 Men's \/ 11.5 Women's","sku":"333051GSA","requires_shipping":true,"taxable":true,"featured_image":null,"available":true,"name":"ALTAMA MARITIME MID - PATTERN - MultiCam(R) Black \/ Wide (EEE) \/ 10 Men's \/ 11.5 Women's","public_title":"MultiCam(R) Black \/ Wide (EEE) \/ 10 Men's \/ 11.5 Women's","options":["MultiCam(R) Black","Wide (EEE)","10 Men's \/ 11.5 Women's"],"price":12999,"weight":0,"compare_at_price":null,"inventory_quantity":10,"inventory_management":"shopify","inventory_policy":"deny","barcode":"","requires_selling_plan":false,"selling_plan_allocations":[]},{"id":43877232935140,"title":"MultiCam(R) Black \/ Wide (EEE) \/ 10.5 Men's \/ 12 Women's","option1":"MultiCam(R) Black","option2":"Wide (EEE)","option3":"10.5 Men's \/ 12 Women's","sku":"333051GSA","requires_shipping":true,"taxable":true,"featured_image":null,"available":true,"name":"ALTAMA MARITIME MID - PATTERN - MultiCam(R) Black \/ Wide (EEE) \/ 10.5 Men's \/ 12 Women's","public_title":"MultiCam(R) Black \/ Wide (EEE) \/ 10.5 Men's \/ 12 Women's","options":["MultiCam(R) Black","Wide (EEE)","10.5 Men's \/ 12 Women's"],"price":12999,"weight":0,"compare_at_price":null,"inventory_quantity":10,"inventory_management":"shopify","inventory_policy":"deny","barcode":"","requires_selling_plan":false,"selling_plan_allocations":[]},{"id":43877232967908,"title":"MultiCam(R) Black \/ Wide (EEE) \/ 11 Men's \/ 12.5 Women's","option1":"MultiCam(R) Black","option2":"Wide (EEE)","option3":"11 Men's \/ 12.5 Women's","sku":"333051GSA","requires_shipping":true,"taxable":true,"featured_image":null,"available":true,"name":"ALTAMA MARITIME MID - PATTERN - MultiCam(R) Black \/ Wide (EEE) \/ 11 Men's \/ 12.5 Women's","public_title":"MultiCam(R) Black \/ Wide (EEE) \/ 11 Men's \/ 12.5 Women's","options":["MultiCam(R) Black","Wide (EEE)","11 Men's \/ 12.5 Women's"],"price":12999,"weight":0,"compare_at_price":null,"inventory_quantity":10,"inventory_management":"shopify","inventory_policy":"deny","barcode":"","requires_selling_plan":false,"selling_plan_allocations":[]},{"id":43877233000676,"title":"MultiCam(R) Black \/ Wide (EEE) \/ 11.5 Men's \/ 13 Women's","option1":"MultiCam(R) Black","option2":"Wide (EEE)","option3":"11.5 Men's \/ 13 Women's","sku":"333051GSA","requires_shipping":true,"taxable":true,"featured_image":null,"available":true,"name":"ALTAMA MARITIME MID - PATTERN - MultiCam(R) Black \/ Wide (EEE) \/ 11.5 Men's \/ 13 Women's","public_title":"MultiCam(R) Black \/ Wide (EEE) \/ 11.5 Men's \/ 13 Women's","options":["MultiCam(R) Black","Wide (EEE)","11.5 Men's \/ 13 Women's"],"price":12999,"weight":0,"compare_at_price":null,"inventory_quantity":10,"inventory_management":"shopify","inventory_policy":"deny","barcode":"","requires_selling_plan":false,"selling_plan_allocations":[]},{"id":43877233033444,"title":"MultiCam(R) Black \/ Wide (EEE) \/ 12 Men's \/ 13.5 Women's","option1":"MultiCam(R) Black","option2":"Wide (EEE)","option3":"12 Men's \/ 13.5 Women's","sku":"333051GSA","requires_shipping":true,"taxable":true,"featured_image":null,"available":true,"name":"ALTAMA MARITIME MID - PATTERN - MultiCam(R) Black \/ Wide (EEE) \/ 12 Men's \/ 13.5 Women's","public_title":"MultiCam(R) Black \/ Wide (EEE) \/ 12 Men's \/ 13.5 Women's","options":["MultiCam(R) Black","Wide (EEE)","12 Men's \/ 13.5 Women's"],"price":12999,"weight":0,"compare_at_price":null,"inventory_quantity":10,"inventory_management":"shopify","inventory_policy":"deny","barcode":"","requires_selling_plan":false,"selling_plan_allocations":[]},{"id":43877233066212,"title":"MultiCam(R) Black \/ Wide (EEE) \/ 13 Men's \/ 14.5 Women's","option1":"MultiCam(R) Black","option2":"Wide (EEE)","option3":"13 Men's \/ 14.5 Women's","sku":"333051GSA","requires_shipping":true,"taxable":true,"featured_image":null,"available":true,"name":"ALTAMA MARITIME MID - PATTERN - MultiCam(R) Black \/ Wide (EEE) \/ 13 Men's \/ 14.5 Women's","public_title":"MultiCam(R) Black \/ Wide (EEE) \/ 13 Men's \/ 14.5 Women's","options":["MultiCam(R) Black","Wide (EEE)","13 Men's \/ 14.5 Women's"],"price":12999,"weight":0,"compare_at_price":null,"inventory_quantity":9,"inventory_management":"shopify","inventory_policy":"deny","barcode":"","requires_selling_plan":false,"selling_plan_allocations":[]},{"id":43877233098980,"title":"MultiCam(R) Black \/ Wide (EEE) \/ 14 Men's \/ 15.5 Women's","option1":"MultiCam(R) Black","option2":"Wide (EEE)","option3":"14 Men's \/ 15.5 Women's","sku":"333051GSA","requires_shipping":true,"taxable":true,"featured_image":null,"available":true,"name":"ALTAMA MARITIME MID - PATTERN - MultiCam(R) Black \/ Wide (EEE) \/ 14 Men's \/ 15.5 Women's","public_title":"MultiCam(R) Black \/ Wide (EEE) \/ 14 Men's \/ 15.5 Women's","options":["MultiCam(R) Black","Wide (EEE)","14 Men's \/ 15.5 Women's"],"price":12999,"weight":0,"compare_at_price":null,"inventory_quantity":10,"inventory_management":"shopify","inventory_policy":"deny","barcode":"","requires_selling_plan":false,"selling_plan_allocations":[]},{"id":43877233131748,"title":"MultiCam(R) Black \/ Wide (EEE) \/ 15 Men's \/ 16.5 Women's","option1":"MultiCam(R) Black","option2":"Wide (EEE)","option3":"15 Men's \/ 16.5 Women's","sku":"333051GSA","requires_shipping":true,"taxable":true,"featured_image":null,"available":true,"name":"ALTAMA MARITIME MID - PATTERN - MultiCam(R) Black \/ Wide (EEE) \/ 15 Men's \/ 16.5 Women's","public_title":"MultiCam(R) Black \/ Wide (EEE) \/ 15 Men's \/ 16.5 Women's","options":["MultiCam(R) Black","Wide (EEE)","15 Men's \/ 16.5 Women's"],"price":12999,"weight":0,"compare_at_price":null,"inventory_quantity":10,"inventory_management":"shopify","inventory_policy":"deny","barcode":"","requires_selling_plan":false,"selling_plan_allocations":[]}],"images":["\/\/shop.bootcampaign.org\/cdn\/shop\/products\/333051_1.jpg?v=1587000270","\/\/shop.bootcampaign.org\/cdn\/shop\/products\/333000_1.jpg?v=1587000270"],"featured_image":"\/\/shop.bootcampaign.org\/cdn\/shop\/products\/333051_1.jpg?v=1587000270","options":["Color","Width","Size"],"media":[{"alt":null,"id":7192148705370,"position":1,"preview_image":{"aspect_ratio":1.0,"height":833,"width":833,"src":"\/\/shop.bootcampaign.org\/cdn\/shop\/products\/333051_1.jpg?v=1587000270"},"aspect_ratio":1.0,"height":833,"media_type":"image","src":"\/\/shop.bootcampaign.org\/cdn\/shop\/products\/333051_1.jpg?v=1587000270","width":833},{"alt":null,"id":7192148672602,"position":2,"preview_image":{"aspect_ratio":1.0,"height":833,"width":833,"src":"\/\/shop.bootcampaign.org\/cdn\/shop\/products\/333000_1.jpg?v=1587000270"},"aspect_ratio":1.0,"height":833,"media_type":"image","src":"\/\/shop.bootcampaign.org\/cdn\/shop\/products\/333000_1.jpg?v=1587000270","width":833}],"requires_selling_plan":false,"selling_plan_groups":[],"content":"\u003cp\u003e\u003cspan style=\"font-weight: 400;\"\u003eDesigned for special ops. Worn by the elite. Our Altama Maritime Boot is made for all tactical water operations. With a fin friendly fit, this boot will fit just about any dive fin.\u003c\/span\u003e\u003c\/p\u003e\n\u003cp\u003e\u003cspan\u003e\u003cstrong\u003e\u003cb data-stringify-type=\"bold\" data-mce-fragment=\"1\"\u003e\u003cspan style=\"color: #ff2a00;\"\u003eOur boot partner is experiencing extended shipping delays. Please expect this boot to take a few weeks to ship out.\u003c\/span\u003e \u003c\/b\u003e\u003c\/strong\u003e\u003c\/span\u003e\u003c\/p\u003e\n\u003cp\u003e\u003cb\u003eWhile we do offer shipping to APOs, international shipping is not available.\u003c\/b\u003e\u003c\/p\u003e\n\u003cp\u003e\u003cspan style=\"font-weight: 400;\"\u003ePRODUCT DETAILS\u003c\/span\u003e\u003c\/p\u003e\n\u003cul\u003e\n\u003cli style=\"font-weight: 400;\"\u003e\n\u003cspan style=\"font-weight: 400;\"\u003eWith your purchase of this item, a percentage of the sale supports the Boot \u003c\/span\u003e\u003cspan style=\"font-weight: 400;\"\u003eCampaign mission.\u003c\/span\u003e\n\u003c\/li\u003e\n\u003cli style=\"font-weight: 400;\"\u003e\u003cspan style=\"font-weight: 400;\"\u003eEvery pair of boots comes with a complimentary pair of Boot Campaign Boot Tags\u003c\/span\u003e\u003c\/li\u003e\n\u003cli style=\"font-weight: 400;\"\u003e\u003cspan style=\"font-weight: 400;\"\u003eWaterproof\u003c\/span\u003e\u003c\/li\u003e\n\u003cli style=\"font-weight: 400;\"\u003e\u003ca href=\"https:\/\/bootcampaign.org\/wp-content\/uploads\/2020\/04\/Altama-Maritime-Assault-Mid-Product-Description.pdf\"\u003e\u003cspan style=\"font-weight: 400;\"\u003eMore Details\u003c\/span\u003e\u003c\/a\u003e\u003c\/li\u003e\n\u003c\/ul\u003e"}