SELECTED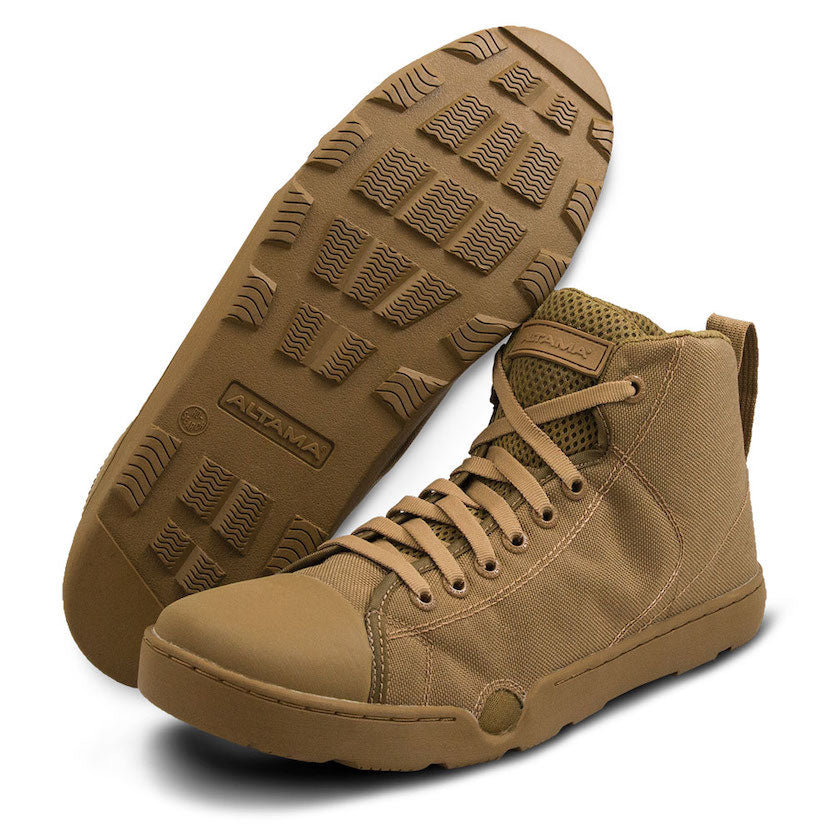 SELECTED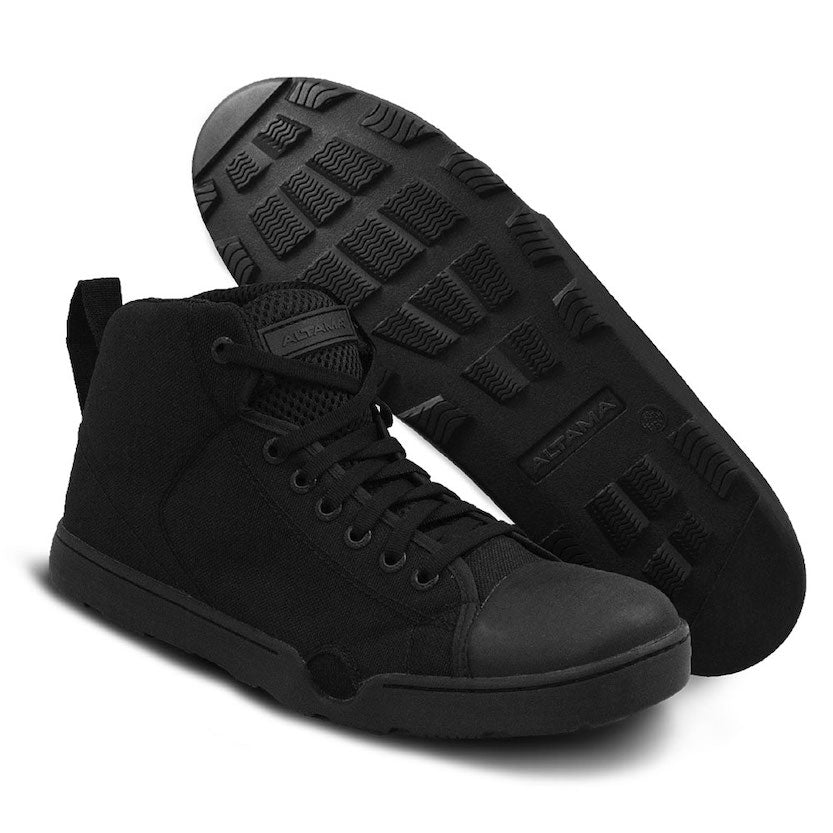 SELECTED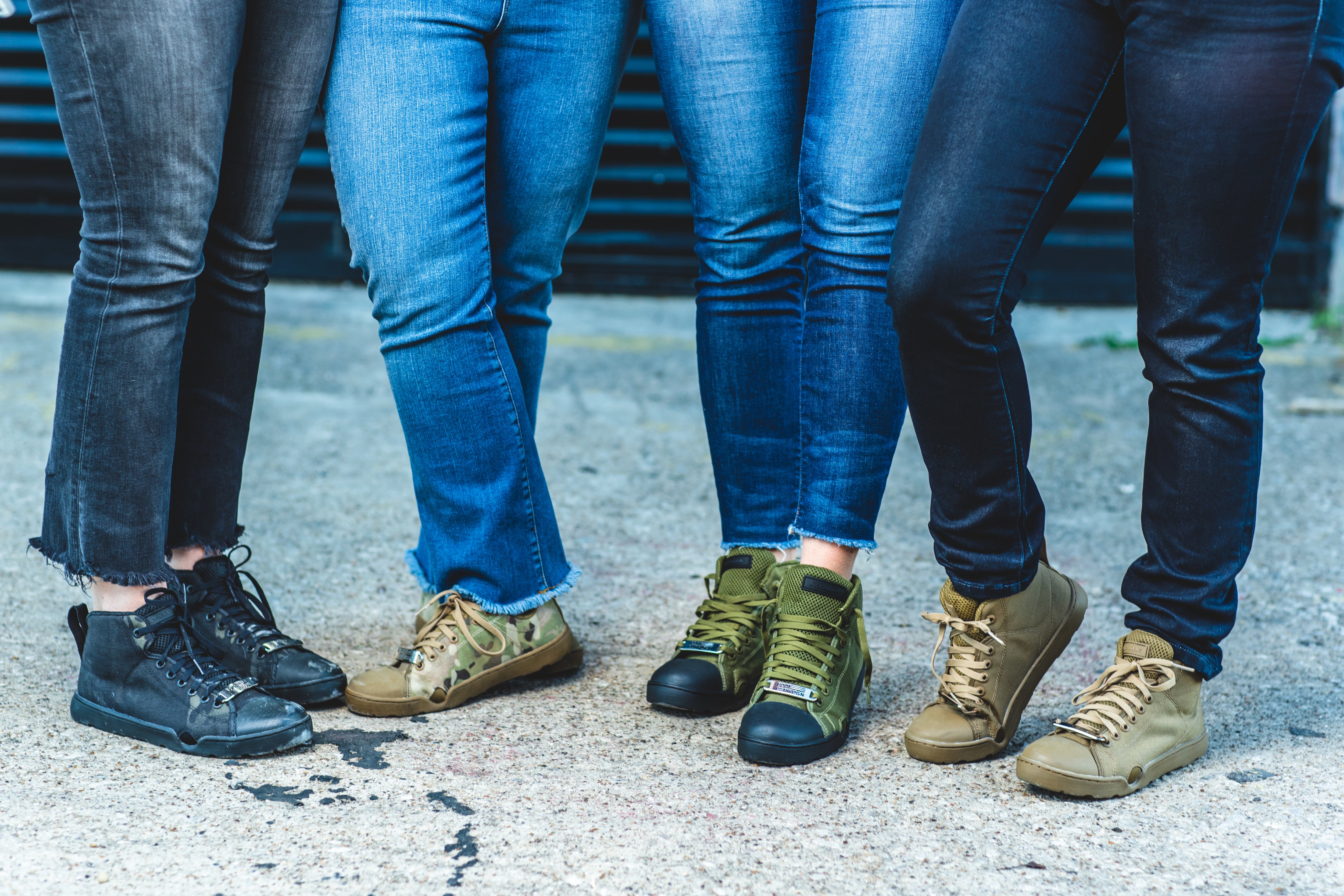 SELECTED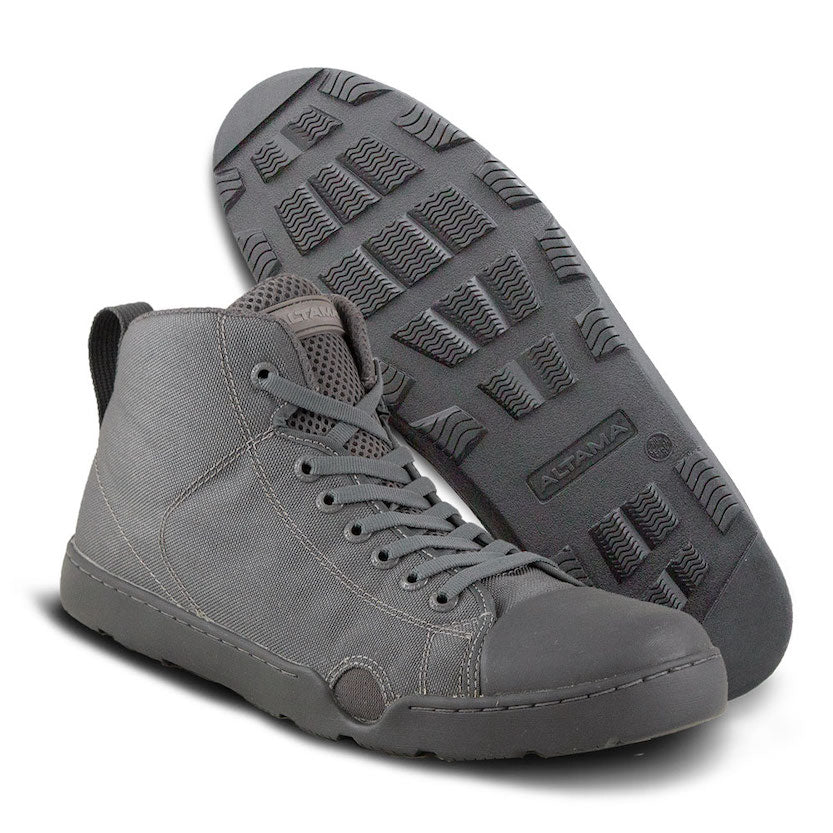 SELECTED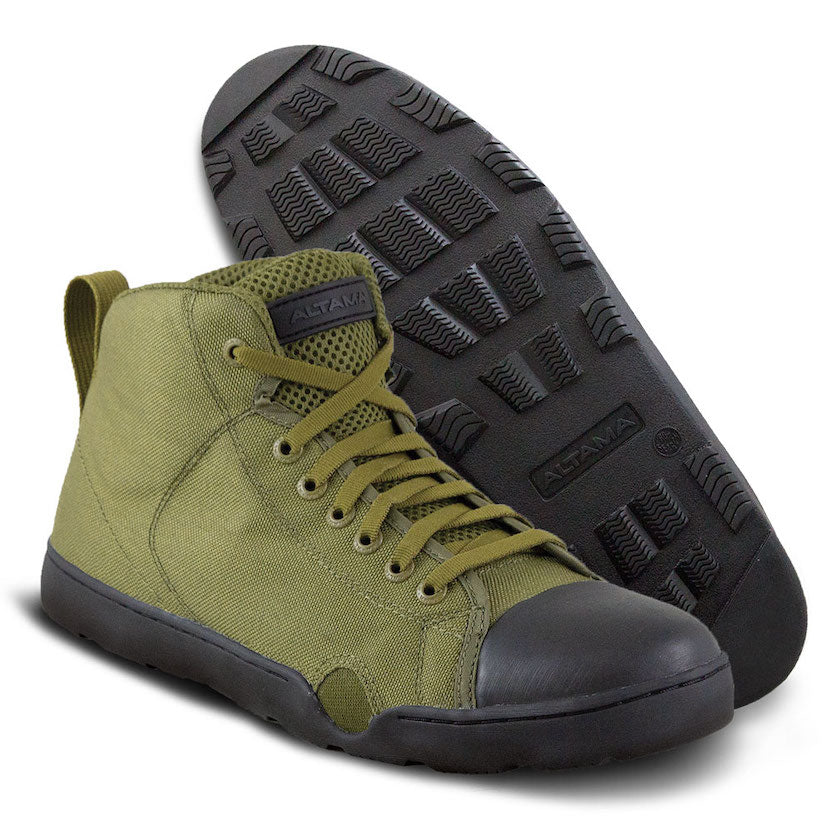 Altama Maritime Assault Mid (Solid)
Our Altama Maritime Assault Boot is made for all tactical water operations. With a fin friendly fit, this boot will fit just about any dive fin used by Militaries worldwide.
Our boot partner is experiencing extended shipping delays. Please expect this boot to take a few weeks to ship out. 

While we do offer shipping to APOs, international shipping is not available.
PRODUCT DETAILS:



Sizing Info: Men's sizes are listed. Women, we recommend ordering 1.5 size smaller than your normal shoe size. 

With your purchase of this item, a percentage of the sale supports the Boot

Campaign mission.

Every pair of boots comes with a complimentary pair of Boot Campaign Boot Tags
{"id":4637083598938,"title":"Altama Maritime Assault Mid (Solid)","handle":"altama-maritime-mid-solid","description":"\u003cdiv class=\"product-pop-description-container info-block\"\u003e\n\u003cdiv class=\"product-pop-info-body\"\u003e\n\u003cdiv\u003e\n\u003cp\u003eOur Altama Maritime Assault Boot is made for all tactical water operations. With a fin friendly fit, this boot will fit just about any dive fin used by Militaries worldwide.\u003c\/p\u003e\n\u003c\/div\u003e\n\u003c\/div\u003e\n\u003c\/div\u003e\n\u003cp\u003e\u003cstrong style=\"color: #ff2a00; font-family: -apple-system, BlinkMacSystemFont, 'San Francisco', 'Segoe UI', Roboto, 'Helvetica Neue', sans-serif; font-size: 0.875rem;\"\u003e\u003cb data-stringify-type=\"bold\" data-mce-fragment=\"1\"\u003eOur boot partner is experiencing extended shipping delays. Please expect this boot to take a few weeks to ship out. \u003c\/b\u003e\u003c\/strong\u003e\u003cbr\u003e\u003c\/p\u003e\n\u003cp\u003e\u003cb\u003eWhile we do offer shipping to APOs, international shipping is not available.\u003c\/b\u003e\u003c\/p\u003e\n\u003ch5\u003e\n\u003cspan style=\"font-size: 1.4em;\"\u003e \u003cspan style=\"font-family: -apple-system, BlinkMacSystemFont, 'San Francisco', 'Segoe UI', Roboto, 'Helvetica Neue', sans-serif;\"\u003ePRODUCT DETAILS:\u003c\/span\u003e\u003c\/span\u003e\u003cbr\u003e\n\u003c\/h5\u003e\n\u003cul\u003e\n\u003cli style=\"font-weight: 400;\"\u003e\u003cspan style=\"font-weight: 400;\"\u003eSizing Info: Men's sizes are listed. Women, we recommend ordering 1.5 size smaller than your normal shoe size. \u003c\/span\u003e\u003c\/li\u003e\n\u003cli style=\"font-weight: 400;\"\u003e\n\u003cspan style=\"font-weight: 400;\"\u003eWith your purchase of this item, a percentage of the sale supports the Boot \u003c\/span\u003e\u003cspan style=\"font-weight: 400;\"\u003eCampaign mission.\u003c\/span\u003e\n\u003c\/li\u003e\n\u003cli style=\"font-weight: 400;\"\u003e\u003cspan style=\"font-weight: 400;\"\u003eEvery pair of boots comes with a complimentary pair of Boot Campaign Boot Tags\u003c\/span\u003e\u003c\/li\u003e\n\u003cli style=\"font-weight: 400;\"\u003e\u003cspan style=\"font-weight: 400;\"\u003e\u003ca href=\"https:\/\/bootcampaign.org\/wp-content\/uploads\/2020\/04\/Altama-Maritime-Assault-Mid-Product-Description.pdf\"\u003eMore Details\u003c\/a\u003e\u003c\/span\u003e\u003c\/li\u003e\n\u003c\/ul\u003e","published_at":"2020-04-15T19:23:35-05:00","created_at":"2020-04-14T16:37:18-05:00","vendor":"ALTAMA","type":"Boots","tags":["Boots","Men","Staff Discount","Women"],"price":10999,"price_min":10999,"price_max":10999,"available":true,"price_varies":false,"compare_at_price":null,"compare_at_price_min":0,"compare_at_price_max":0,"compare_at_price_varies":false,"variants":[{"id":32109771849818,"title":"5 \/ Coyote","option1":"5","option2":"Coyote","option3":null,"sku":"333003-5","requires_shipping":true,"taxable":true,"featured_image":{"id":15027568935002,"product_id":4637083598938,"position":1,"created_at":"2020-04-14T16:37:41-05:00","updated_at":"2020-04-15T09:54:04-05:00","alt":null,"width":833,"height":833,"src":"\/\/shop.bootcampaign.org\/cdn\/shop\/products\/333003_1.jpg?v=1586962444","variant_ids":[32109771849818,32109771980890,32109772111962,32109772243034,32109772374106,32109772505178,32109772636250,32109772767322,32109772898394,32109773029466,32109773160538,32109773291610,32109773422682,32109773553754,32109773684826,32109773914202,32109774143578,32109774274650,32109774405722,32109774536794,32109774667866,32109774798938,32109774930010,32109775061082,32109775192154,43766832759012]},"available":true,"name":"Altama Maritime Assault Mid (Solid) - 5 \/ Coyote","public_title":"5 \/ Coyote","options":["5","Coyote"],"price":10999,"weight":0,"compare_at_price":null,"inventory_quantity":13,"inventory_management":"shopify","inventory_policy":"deny","barcode":"","featured_media":{"alt":null,"id":7182753497178,"position":1,"preview_image":{"aspect_ratio":1.0,"height":833,"width":833,"src":"\/\/shop.bootcampaign.org\/cdn\/shop\/products\/333003_1.jpg?v=1586962444"}},"requires_selling_plan":false,"selling_plan_allocations":[]},{"id":32109771882586,"title":"5 \/ Black","option1":"5","option2":"Black","option3":null,"sku":"333001-5","requires_shipping":true,"taxable":true,"featured_image":{"id":15027568902234,"product_id":4637083598938,"position":2,"created_at":"2020-04-14T16:37:41-05:00","updated_at":"2020-04-15T09:54:04-05:00","alt":null,"width":833,"height":833,"src":"\/\/shop.bootcampaign.org\/cdn\/shop\/products\/333001_1.jpg?v=1586962444","variant_ids":[32109771882586,32109772013658,32109772144730,32109772275802,32109772406874,32109772537946,32109772669018,32109772800090,32109772931162,32109773062234,32109773193306,32109773324378,32109773455450,32109773586522,32109773717594,32109773979738,32109774176346,32109774307418,32109774438490,32109774569562,32109774700634,32109774831706,32109774962778,32109775093850,32109775224922]},"available":true,"name":"Altama Maritime Assault Mid (Solid) - 5 \/ Black","public_title":"5 \/ Black","options":["5","Black"],"price":10999,"weight":0,"compare_at_price":null,"inventory_quantity":43,"inventory_management":"shopify","inventory_policy":"deny","barcode":"","featured_media":{"alt":null,"id":7182753431642,"position":2,"preview_image":{"aspect_ratio":1.0,"height":833,"width":833,"src":"\/\/shop.bootcampaign.org\/cdn\/shop\/products\/333001_1.jpg?v=1586962444"}},"requires_selling_plan":false,"selling_plan_allocations":[]},{"id":32109771915354,"title":"5 \/ Olive Drab","option1":"5","option2":"Olive Drab","option3":null,"sku":"333006-5","requires_shipping":true,"taxable":true,"featured_image":{"id":15027568967770,"product_id":4637083598938,"position":5,"created_at":"2020-04-14T16:37:42-05:00","updated_at":"2020-04-14T16:37:44-05:00","alt":null,"width":833,"height":833,"src":"\/\/shop.bootcampaign.org\/cdn\/shop\/products\/333006_1.jpg?v=1586900264","variant_ids":[32109771915354,32109772046426,32109772177498,32109772308570,32109772439642,32109772570714,32109772701786,32109772832858,32109772963930,32109773095002,32109773226074,32109773357146,32109773488218,32109773619290,32109773750362,32109774045274,32109774209114,32109774340186,32109774471258,32109774602330,32109774733402,32109774864474,32109774995546,32109775126618,32109775257690]},"available":false,"name":"Altama Maritime Assault Mid (Solid) - 5 \/ Olive Drab","public_title":"5 \/ Olive Drab","options":["5","Olive Drab"],"price":10999,"weight":0,"compare_at_price":null,"inventory_quantity":0,"inventory_management":"shopify","inventory_policy":"deny","barcode":"","featured_media":{"alt":null,"id":7182753562714,"position":5,"preview_image":{"aspect_ratio":1.0,"height":833,"width":833,"src":"\/\/shop.bootcampaign.org\/cdn\/shop\/products\/333006_1.jpg?v=1586900264"}},"requires_selling_plan":false,"selling_plan_allocations":[]},{"id":32109771948122,"title":"5 \/ Wolf Grey","option1":"5","option2":"Wolf Grey","option3":null,"sku":"333007-5","requires_shipping":true,"taxable":true,"featured_image":{"id":15027569033306,"product_id":4637083598938,"position":4,"created_at":"2020-04-14T16:37:42-05:00","updated_at":"2020-04-14T16:37:44-05:00","alt":null,"width":833,"height":833,"src":"\/\/shop.bootcampaign.org\/cdn\/shop\/products\/333007_1.jpg?v=1586900264","variant_ids":[32109771948122,32109772079194,32109772210266,32109772341338,32109772472410,32109772603482,32109772734554,32109772865626,32109772996698,32109773127770,32109773258842,32109773389914,32109773520986,32109773652058,32109773815898,32109774110810,32109774241882,32109774372954,32109774504026,32109774635098,32109774766170,32109774897242,32109775028314,32109775290458]},"available":false,"name":"Altama Maritime Assault Mid (Solid) - 5 \/ Wolf Grey","public_title":"5 \/ Wolf Grey","options":["5","Wolf Grey"],"price":10999,"weight":0,"compare_at_price":null,"inventory_quantity":0,"inventory_management":"shopify","inventory_policy":"deny","barcode":"","featured_media":{"alt":null,"id":7182753529946,"position":4,"preview_image":{"aspect_ratio":1.0,"height":833,"width":833,"src":"\/\/shop.bootcampaign.org\/cdn\/shop\/products\/333007_1.jpg?v=1586900264"}},"requires_selling_plan":false,"selling_plan_allocations":[]},{"id":32109771980890,"title":"5.5 \/ Coyote","option1":"5.5","option2":"Coyote","option3":null,"sku":"333003-5.5","requires_shipping":true,"taxable":true,"featured_image":{"id":15027568935002,"product_id":4637083598938,"position":1,"created_at":"2020-04-14T16:37:41-05:00","updated_at":"2020-04-15T09:54:04-05:00","alt":null,"width":833,"height":833,"src":"\/\/shop.bootcampaign.org\/cdn\/shop\/products\/333003_1.jpg?v=1586962444","variant_ids":[32109771849818,32109771980890,32109772111962,32109772243034,32109772374106,32109772505178,32109772636250,32109772767322,32109772898394,32109773029466,32109773160538,32109773291610,32109773422682,32109773553754,32109773684826,32109773914202,32109774143578,32109774274650,32109774405722,32109774536794,32109774667866,32109774798938,32109774930010,32109775061082,32109775192154,43766832759012]},"available":true,"name":"Altama Maritime Assault Mid (Solid) - 5.5 \/ Coyote","public_title":"5.5 \/ Coyote","options":["5.5","Coyote"],"price":10999,"weight":0,"compare_at_price":null,"inventory_quantity":1,"inventory_management":"shopify","inventory_policy":"deny","barcode":"","featured_media":{"alt":null,"id":7182753497178,"position":1,"preview_image":{"aspect_ratio":1.0,"height":833,"width":833,"src":"\/\/shop.bootcampaign.org\/cdn\/shop\/products\/333003_1.jpg?v=1586962444"}},"requires_selling_plan":false,"selling_plan_allocations":[]},{"id":32109772013658,"title":"5.5 \/ Black","option1":"5.5","option2":"Black","option3":null,"sku":"333001-5.5","requires_shipping":true,"taxable":true,"featured_image":{"id":15027568902234,"product_id":4637083598938,"position":2,"created_at":"2020-04-14T16:37:41-05:00","updated_at":"2020-04-15T09:54:04-05:00","alt":null,"width":833,"height":833,"src":"\/\/shop.bootcampaign.org\/cdn\/shop\/products\/333001_1.jpg?v=1586962444","variant_ids":[32109771882586,32109772013658,32109772144730,32109772275802,32109772406874,32109772537946,32109772669018,32109772800090,32109772931162,32109773062234,32109773193306,32109773324378,32109773455450,32109773586522,32109773717594,32109773979738,32109774176346,32109774307418,32109774438490,32109774569562,32109774700634,32109774831706,32109774962778,32109775093850,32109775224922]},"available":false,"name":"Altama Maritime Assault Mid (Solid) - 5.5 \/ Black","public_title":"5.5 \/ Black","options":["5.5","Black"],"price":10999,"weight":0,"compare_at_price":null,"inventory_quantity":0,"inventory_management":"shopify","inventory_policy":"deny","barcode":"","featured_media":{"alt":null,"id":7182753431642,"position":2,"preview_image":{"aspect_ratio":1.0,"height":833,"width":833,"src":"\/\/shop.bootcampaign.org\/cdn\/shop\/products\/333001_1.jpg?v=1586962444"}},"requires_selling_plan":false,"selling_plan_allocations":[]},{"id":32109772046426,"title":"5.5 \/ Olive Drab","option1":"5.5","option2":"Olive Drab","option3":null,"sku":"333006-5.5","requires_shipping":true,"taxable":true,"featured_image":{"id":15027568967770,"product_id":4637083598938,"position":5,"created_at":"2020-04-14T16:37:42-05:00","updated_at":"2020-04-14T16:37:44-05:00","alt":null,"width":833,"height":833,"src":"\/\/shop.bootcampaign.org\/cdn\/shop\/products\/333006_1.jpg?v=1586900264","variant_ids":[32109771915354,32109772046426,32109772177498,32109772308570,32109772439642,32109772570714,32109772701786,32109772832858,32109772963930,32109773095002,32109773226074,32109773357146,32109773488218,32109773619290,32109773750362,32109774045274,32109774209114,32109774340186,32109774471258,32109774602330,32109774733402,32109774864474,32109774995546,32109775126618,32109775257690]},"available":true,"name":"Altama Maritime Assault Mid (Solid) - 5.5 \/ Olive Drab","public_title":"5.5 \/ Olive Drab","options":["5.5","Olive Drab"],"price":10999,"weight":0,"compare_at_price":null,"inventory_quantity":5,"inventory_management":"shopify","inventory_policy":"deny","barcode":"","featured_media":{"alt":null,"id":7182753562714,"position":5,"preview_image":{"aspect_ratio":1.0,"height":833,"width":833,"src":"\/\/shop.bootcampaign.org\/cdn\/shop\/products\/333006_1.jpg?v=1586900264"}},"requires_selling_plan":false,"selling_plan_allocations":[]},{"id":32109772079194,"title":"5.5 \/ Wolf Grey","option1":"5.5","option2":"Wolf Grey","option3":null,"sku":"333007-5.5","requires_shipping":true,"taxable":true,"featured_image":{"id":15027569033306,"product_id":4637083598938,"position":4,"created_at":"2020-04-14T16:37:42-05:00","updated_at":"2020-04-14T16:37:44-05:00","alt":null,"width":833,"height":833,"src":"\/\/shop.bootcampaign.org\/cdn\/shop\/products\/333007_1.jpg?v=1586900264","variant_ids":[32109771948122,32109772079194,32109772210266,32109772341338,32109772472410,32109772603482,32109772734554,32109772865626,32109772996698,32109773127770,32109773258842,32109773389914,32109773520986,32109773652058,32109773815898,32109774110810,32109774241882,32109774372954,32109774504026,32109774635098,32109774766170,32109774897242,32109775028314,32109775290458]},"available":true,"name":"Altama Maritime Assault Mid (Solid) - 5.5 \/ Wolf Grey","public_title":"5.5 \/ Wolf Grey","options":["5.5","Wolf Grey"],"price":10999,"weight":0,"compare_at_price":null,"inventory_quantity":2,"inventory_management":"shopify","inventory_policy":"deny","barcode":"","featured_media":{"alt":null,"id":7182753529946,"position":4,"preview_image":{"aspect_ratio":1.0,"height":833,"width":833,"src":"\/\/shop.bootcampaign.org\/cdn\/shop\/products\/333007_1.jpg?v=1586900264"}},"requires_selling_plan":false,"selling_plan_allocations":[]},{"id":32109772111962,"title":"6 \/ Coyote","option1":"6","option2":"Coyote","option3":null,"sku":"333003-6","requires_shipping":true,"taxable":true,"featured_image":{"id":15027568935002,"product_id":4637083598938,"position":1,"created_at":"2020-04-14T16:37:41-05:00","updated_at":"2020-04-15T09:54:04-05:00","alt":null,"width":833,"height":833,"src":"\/\/shop.bootcampaign.org\/cdn\/shop\/products\/333003_1.jpg?v=1586962444","variant_ids":[32109771849818,32109771980890,32109772111962,32109772243034,32109772374106,32109772505178,32109772636250,32109772767322,32109772898394,32109773029466,32109773160538,32109773291610,32109773422682,32109773553754,32109773684826,32109773914202,32109774143578,32109774274650,32109774405722,32109774536794,32109774667866,32109774798938,32109774930010,32109775061082,32109775192154,43766832759012]},"available":true,"name":"Altama Maritime Assault Mid (Solid) - 6 \/ Coyote","public_title":"6 \/ Coyote","options":["6","Coyote"],"price":10999,"weight":0,"compare_at_price":null,"inventory_quantity":26,"inventory_management":"shopify","inventory_policy":"deny","barcode":"","featured_media":{"alt":null,"id":7182753497178,"position":1,"preview_image":{"aspect_ratio":1.0,"height":833,"width":833,"src":"\/\/shop.bootcampaign.org\/cdn\/shop\/products\/333003_1.jpg?v=1586962444"}},"requires_selling_plan":false,"selling_plan_allocations":[]},{"id":32109772144730,"title":"6 \/ Black","option1":"6","option2":"Black","option3":null,"sku":"333001-6","requires_shipping":true,"taxable":true,"featured_image":{"id":15027568902234,"product_id":4637083598938,"position":2,"created_at":"2020-04-14T16:37:41-05:00","updated_at":"2020-04-15T09:54:04-05:00","alt":null,"width":833,"height":833,"src":"\/\/shop.bootcampaign.org\/cdn\/shop\/products\/333001_1.jpg?v=1586962444","variant_ids":[32109771882586,32109772013658,32109772144730,32109772275802,32109772406874,32109772537946,32109772669018,32109772800090,32109772931162,32109773062234,32109773193306,32109773324378,32109773455450,32109773586522,32109773717594,32109773979738,32109774176346,32109774307418,32109774438490,32109774569562,32109774700634,32109774831706,32109774962778,32109775093850,32109775224922]},"available":true,"name":"Altama Maritime Assault Mid (Solid) - 6 \/ Black","public_title":"6 \/ Black","options":["6","Black"],"price":10999,"weight":0,"compare_at_price":null,"inventory_quantity":44,"inventory_management":"shopify","inventory_policy":"deny","barcode":"","featured_media":{"alt":null,"id":7182753431642,"position":2,"preview_image":{"aspect_ratio":1.0,"height":833,"width":833,"src":"\/\/shop.bootcampaign.org\/cdn\/shop\/products\/333001_1.jpg?v=1586962444"}},"requires_selling_plan":false,"selling_plan_allocations":[]},{"id":32109772177498,"title":"6 \/ Olive Drab","option1":"6","option2":"Olive Drab","option3":null,"sku":"333006-6","requires_shipping":true,"taxable":true,"featured_image":{"id":15027568967770,"product_id":4637083598938,"position":5,"created_at":"2020-04-14T16:37:42-05:00","updated_at":"2020-04-14T16:37:44-05:00","alt":null,"width":833,"height":833,"src":"\/\/shop.bootcampaign.org\/cdn\/shop\/products\/333006_1.jpg?v=1586900264","variant_ids":[32109771915354,32109772046426,32109772177498,32109772308570,32109772439642,32109772570714,32109772701786,32109772832858,32109772963930,32109773095002,32109773226074,32109773357146,32109773488218,32109773619290,32109773750362,32109774045274,32109774209114,32109774340186,32109774471258,32109774602330,32109774733402,32109774864474,32109774995546,32109775126618,32109775257690]},"available":false,"name":"Altama Maritime Assault Mid (Solid) - 6 \/ Olive Drab","public_title":"6 \/ Olive Drab","options":["6","Olive Drab"],"price":10999,"weight":0,"compare_at_price":null,"inventory_quantity":0,"inventory_management":"shopify","inventory_policy":"deny","barcode":"","featured_media":{"alt":null,"id":7182753562714,"position":5,"preview_image":{"aspect_ratio":1.0,"height":833,"width":833,"src":"\/\/shop.bootcampaign.org\/cdn\/shop\/products\/333006_1.jpg?v=1586900264"}},"requires_selling_plan":false,"selling_plan_allocations":[]},{"id":32109772210266,"title":"6 \/ Wolf Grey","option1":"6","option2":"Wolf Grey","option3":null,"sku":"333007-6","requires_shipping":true,"taxable":true,"featured_image":{"id":15027569033306,"product_id":4637083598938,"position":4,"created_at":"2020-04-14T16:37:42-05:00","updated_at":"2020-04-14T16:37:44-05:00","alt":null,"width":833,"height":833,"src":"\/\/shop.bootcampaign.org\/cdn\/shop\/products\/333007_1.jpg?v=1586900264","variant_ids":[32109771948122,32109772079194,32109772210266,32109772341338,32109772472410,32109772603482,32109772734554,32109772865626,32109772996698,32109773127770,32109773258842,32109773389914,32109773520986,32109773652058,32109773815898,32109774110810,32109774241882,32109774372954,32109774504026,32109774635098,32109774766170,32109774897242,32109775028314,32109775290458]},"available":false,"name":"Altama Maritime Assault Mid (Solid) - 6 \/ Wolf Grey","public_title":"6 \/ Wolf Grey","options":["6","Wolf Grey"],"price":10999,"weight":0,"compare_at_price":null,"inventory_quantity":0,"inventory_management":"shopify","inventory_policy":"deny","barcode":"","featured_media":{"alt":null,"id":7182753529946,"position":4,"preview_image":{"aspect_ratio":1.0,"height":833,"width":833,"src":"\/\/shop.bootcampaign.org\/cdn\/shop\/products\/333007_1.jpg?v=1586900264"}},"requires_selling_plan":false,"selling_plan_allocations":[]},{"id":32109772243034,"title":"6.5 \/ Coyote","option1":"6.5","option2":"Coyote","option3":null,"sku":"333003-6.5","requires_shipping":true,"taxable":true,"featured_image":{"id":15027568935002,"product_id":4637083598938,"position":1,"created_at":"2020-04-14T16:37:41-05:00","updated_at":"2020-04-15T09:54:04-05:00","alt":null,"width":833,"height":833,"src":"\/\/shop.bootcampaign.org\/cdn\/shop\/products\/333003_1.jpg?v=1586962444","variant_ids":[32109771849818,32109771980890,32109772111962,32109772243034,32109772374106,32109772505178,32109772636250,32109772767322,32109772898394,32109773029466,32109773160538,32109773291610,32109773422682,32109773553754,32109773684826,32109773914202,32109774143578,32109774274650,32109774405722,32109774536794,32109774667866,32109774798938,32109774930010,32109775061082,32109775192154,43766832759012]},"available":true,"name":"Altama Maritime Assault Mid (Solid) - 6.5 \/ Coyote","public_title":"6.5 \/ Coyote","options":["6.5","Coyote"],"price":10999,"weight":0,"compare_at_price":null,"inventory_quantity":5,"inventory_management":"shopify","inventory_policy":"deny","barcode":"","featured_media":{"alt":null,"id":7182753497178,"position":1,"preview_image":{"aspect_ratio":1.0,"height":833,"width":833,"src":"\/\/shop.bootcampaign.org\/cdn\/shop\/products\/333003_1.jpg?v=1586962444"}},"requires_selling_plan":false,"selling_plan_allocations":[]},{"id":32109772275802,"title":"6.5 \/ Black","option1":"6.5","option2":"Black","option3":null,"sku":"333001-6.5","requires_shipping":true,"taxable":true,"featured_image":{"id":15027568902234,"product_id":4637083598938,"position":2,"created_at":"2020-04-14T16:37:41-05:00","updated_at":"2020-04-15T09:54:04-05:00","alt":null,"width":833,"height":833,"src":"\/\/shop.bootcampaign.org\/cdn\/shop\/products\/333001_1.jpg?v=1586962444","variant_ids":[32109771882586,32109772013658,32109772144730,32109772275802,32109772406874,32109772537946,32109772669018,32109772800090,32109772931162,32109773062234,32109773193306,32109773324378,32109773455450,32109773586522,32109773717594,32109773979738,32109774176346,32109774307418,32109774438490,32109774569562,32109774700634,32109774831706,32109774962778,32109775093850,32109775224922]},"available":false,"name":"Altama Maritime Assault Mid (Solid) - 6.5 \/ Black","public_title":"6.5 \/ Black","options":["6.5","Black"],"price":10999,"weight":0,"compare_at_price":null,"inventory_quantity":0,"inventory_management":"shopify","inventory_policy":"deny","barcode":"","featured_media":{"alt":null,"id":7182753431642,"position":2,"preview_image":{"aspect_ratio":1.0,"height":833,"width":833,"src":"\/\/shop.bootcampaign.org\/cdn\/shop\/products\/333001_1.jpg?v=1586962444"}},"requires_selling_plan":false,"selling_plan_allocations":[]},{"id":32109772308570,"title":"6.5 \/ Olive Drab","option1":"6.5","option2":"Olive Drab","option3":null,"sku":"333006-6.5","requires_shipping":true,"taxable":true,"featured_image":{"id":15027568967770,"product_id":4637083598938,"position":5,"created_at":"2020-04-14T16:37:42-05:00","updated_at":"2020-04-14T16:37:44-05:00","alt":null,"width":833,"height":833,"src":"\/\/shop.bootcampaign.org\/cdn\/shop\/products\/333006_1.jpg?v=1586900264","variant_ids":[32109771915354,32109772046426,32109772177498,32109772308570,32109772439642,32109772570714,32109772701786,32109772832858,32109772963930,32109773095002,32109773226074,32109773357146,32109773488218,32109773619290,32109773750362,32109774045274,32109774209114,32109774340186,32109774471258,32109774602330,32109774733402,32109774864474,32109774995546,32109775126618,32109775257690]},"available":true,"name":"Altama Maritime Assault Mid (Solid) - 6.5 \/ Olive Drab","public_title":"6.5 \/ Olive Drab","options":["6.5","Olive Drab"],"price":10999,"weight":0,"compare_at_price":null,"inventory_quantity":4,"inventory_management":"shopify","inventory_policy":"deny","barcode":"","featured_media":{"alt":null,"id":7182753562714,"position":5,"preview_image":{"aspect_ratio":1.0,"height":833,"width":833,"src":"\/\/shop.bootcampaign.org\/cdn\/shop\/products\/333006_1.jpg?v=1586900264"}},"requires_selling_plan":false,"selling_plan_allocations":[]},{"id":32109772341338,"title":"6.5 \/ Wolf Grey","option1":"6.5","option2":"Wolf Grey","option3":null,"sku":"333007-6.5","requires_shipping":true,"taxable":true,"featured_image":{"id":15027569033306,"product_id":4637083598938,"position":4,"created_at":"2020-04-14T16:37:42-05:00","updated_at":"2020-04-14T16:37:44-05:00","alt":null,"width":833,"height":833,"src":"\/\/shop.bootcampaign.org\/cdn\/shop\/products\/333007_1.jpg?v=1586900264","variant_ids":[32109771948122,32109772079194,32109772210266,32109772341338,32109772472410,32109772603482,32109772734554,32109772865626,32109772996698,32109773127770,32109773258842,32109773389914,32109773520986,32109773652058,32109773815898,32109774110810,32109774241882,32109774372954,32109774504026,32109774635098,32109774766170,32109774897242,32109775028314,32109775290458]},"available":true,"name":"Altama Maritime Assault Mid (Solid) - 6.5 \/ Wolf Grey","public_title":"6.5 \/ Wolf Grey","options":["6.5","Wolf Grey"],"price":10999,"weight":0,"compare_at_price":null,"inventory_quantity":1,"inventory_management":"shopify","inventory_policy":"deny","barcode":"","featured_media":{"alt":null,"id":7182753529946,"position":4,"preview_image":{"aspect_ratio":1.0,"height":833,"width":833,"src":"\/\/shop.bootcampaign.org\/cdn\/shop\/products\/333007_1.jpg?v=1586900264"}},"requires_selling_plan":false,"selling_plan_allocations":[]},{"id":32109772374106,"title":"7 \/ Coyote","option1":"7","option2":"Coyote","option3":null,"sku":"333003-7","requires_shipping":true,"taxable":true,"featured_image":{"id":15027568935002,"product_id":4637083598938,"position":1,"created_at":"2020-04-14T16:37:41-05:00","updated_at":"2020-04-15T09:54:04-05:00","alt":null,"width":833,"height":833,"src":"\/\/shop.bootcampaign.org\/cdn\/shop\/products\/333003_1.jpg?v=1586962444","variant_ids":[32109771849818,32109771980890,32109772111962,32109772243034,32109772374106,32109772505178,32109772636250,32109772767322,32109772898394,32109773029466,32109773160538,32109773291610,32109773422682,32109773553754,32109773684826,32109773914202,32109774143578,32109774274650,32109774405722,32109774536794,32109774667866,32109774798938,32109774930010,32109775061082,32109775192154,43766832759012]},"available":true,"name":"Altama Maritime Assault Mid (Solid) - 7 \/ Coyote","public_title":"7 \/ Coyote","options":["7","Coyote"],"price":10999,"weight":0,"compare_at_price":null,"inventory_quantity":22,"inventory_management":"shopify","inventory_policy":"deny","barcode":"","featured_media":{"alt":null,"id":7182753497178,"position":1,"preview_image":{"aspect_ratio":1.0,"height":833,"width":833,"src":"\/\/shop.bootcampaign.org\/cdn\/shop\/products\/333003_1.jpg?v=1586962444"}},"requires_selling_plan":false,"selling_plan_allocations":[]},{"id":32109772406874,"title":"7 \/ Black","option1":"7","option2":"Black","option3":null,"sku":"333001-7","requires_shipping":true,"taxable":true,"featured_image":{"id":15027568902234,"product_id":4637083598938,"position":2,"created_at":"2020-04-14T16:37:41-05:00","updated_at":"2020-04-15T09:54:04-05:00","alt":null,"width":833,"height":833,"src":"\/\/shop.bootcampaign.org\/cdn\/shop\/products\/333001_1.jpg?v=1586962444","variant_ids":[32109771882586,32109772013658,32109772144730,32109772275802,32109772406874,32109772537946,32109772669018,32109772800090,32109772931162,32109773062234,32109773193306,32109773324378,32109773455450,32109773586522,32109773717594,32109773979738,32109774176346,32109774307418,32109774438490,32109774569562,32109774700634,32109774831706,32109774962778,32109775093850,32109775224922]},"available":true,"name":"Altama Maritime Assault Mid (Solid) - 7 \/ Black","public_title":"7 \/ Black","options":["7","Black"],"price":10999,"weight":0,"compare_at_price":null,"inventory_quantity":174,"inventory_management":"shopify","inventory_policy":"deny","barcode":"","featured_media":{"alt":null,"id":7182753431642,"position":2,"preview_image":{"aspect_ratio":1.0,"height":833,"width":833,"src":"\/\/shop.bootcampaign.org\/cdn\/shop\/products\/333001_1.jpg?v=1586962444"}},"requires_selling_plan":false,"selling_plan_allocations":[]},{"id":32109772439642,"title":"7 \/ Olive Drab","option1":"7","option2":"Olive Drab","option3":null,"sku":"333006-7","requires_shipping":true,"taxable":true,"featured_image":{"id":15027568967770,"product_id":4637083598938,"position":5,"created_at":"2020-04-14T16:37:42-05:00","updated_at":"2020-04-14T16:37:44-05:00","alt":null,"width":833,"height":833,"src":"\/\/shop.bootcampaign.org\/cdn\/shop\/products\/333006_1.jpg?v=1586900264","variant_ids":[32109771915354,32109772046426,32109772177498,32109772308570,32109772439642,32109772570714,32109772701786,32109772832858,32109772963930,32109773095002,32109773226074,32109773357146,32109773488218,32109773619290,32109773750362,32109774045274,32109774209114,32109774340186,32109774471258,32109774602330,32109774733402,32109774864474,32109774995546,32109775126618,32109775257690]},"available":true,"name":"Altama Maritime Assault Mid (Solid) - 7 \/ Olive Drab","public_title":"7 \/ Olive Drab","options":["7","Olive Drab"],"price":10999,"weight":0,"compare_at_price":null,"inventory_quantity":2,"inventory_management":"shopify","inventory_policy":"deny","barcode":"","featured_media":{"alt":null,"id":7182753562714,"position":5,"preview_image":{"aspect_ratio":1.0,"height":833,"width":833,"src":"\/\/shop.bootcampaign.org\/cdn\/shop\/products\/333006_1.jpg?v=1586900264"}},"requires_selling_plan":false,"selling_plan_allocations":[]},{"id":32109772472410,"title":"7 \/ Wolf Grey","option1":"7","option2":"Wolf Grey","option3":null,"sku":"333007-7","requires_shipping":true,"taxable":true,"featured_image":{"id":15027569033306,"product_id":4637083598938,"position":4,"created_at":"2020-04-14T16:37:42-05:00","updated_at":"2020-04-14T16:37:44-05:00","alt":null,"width":833,"height":833,"src":"\/\/shop.bootcampaign.org\/cdn\/shop\/products\/333007_1.jpg?v=1586900264","variant_ids":[32109771948122,32109772079194,32109772210266,32109772341338,32109772472410,32109772603482,32109772734554,32109772865626,32109772996698,32109773127770,32109773258842,32109773389914,32109773520986,32109773652058,32109773815898,32109774110810,32109774241882,32109774372954,32109774504026,32109774635098,32109774766170,32109774897242,32109775028314,32109775290458]},"available":true,"name":"Altama Maritime Assault Mid (Solid) - 7 \/ Wolf Grey","public_title":"7 \/ Wolf Grey","options":["7","Wolf Grey"],"price":10999,"weight":0,"compare_at_price":null,"inventory_quantity":17,"inventory_management":"shopify","inventory_policy":"deny","barcode":"","featured_media":{"alt":null,"id":7182753529946,"position":4,"preview_image":{"aspect_ratio":1.0,"height":833,"width":833,"src":"\/\/shop.bootcampaign.org\/cdn\/shop\/products\/333007_1.jpg?v=1586900264"}},"requires_selling_plan":false,"selling_plan_allocations":[]},{"id":32109772505178,"title":"7.5 \/ Coyote","option1":"7.5","option2":"Coyote","option3":null,"sku":"333003-7.5","requires_shipping":true,"taxable":true,"featured_image":{"id":15027568935002,"product_id":4637083598938,"position":1,"created_at":"2020-04-14T16:37:41-05:00","updated_at":"2020-04-15T09:54:04-05:00","alt":null,"width":833,"height":833,"src":"\/\/shop.bootcampaign.org\/cdn\/shop\/products\/333003_1.jpg?v=1586962444","variant_ids":[32109771849818,32109771980890,32109772111962,32109772243034,32109772374106,32109772505178,32109772636250,32109772767322,32109772898394,32109773029466,32109773160538,32109773291610,32109773422682,32109773553754,32109773684826,32109773914202,32109774143578,32109774274650,32109774405722,32109774536794,32109774667866,32109774798938,32109774930010,32109775061082,32109775192154,43766832759012]},"available":true,"name":"Altama Maritime Assault Mid (Solid) - 7.5 \/ Coyote","public_title":"7.5 \/ Coyote","options":["7.5","Coyote"],"price":10999,"weight":0,"compare_at_price":null,"inventory_quantity":9,"inventory_management":"shopify","inventory_policy":"deny","barcode":"","featured_media":{"alt":null,"id":7182753497178,"position":1,"preview_image":{"aspect_ratio":1.0,"height":833,"width":833,"src":"\/\/shop.bootcampaign.org\/cdn\/shop\/products\/333003_1.jpg?v=1586962444"}},"requires_selling_plan":false,"selling_plan_allocations":[]},{"id":32109772537946,"title":"7.5 \/ Black","option1":"7.5","option2":"Black","option3":null,"sku":"333001-7.5","requires_shipping":true,"taxable":true,"featured_image":{"id":15027568902234,"product_id":4637083598938,"position":2,"created_at":"2020-04-14T16:37:41-05:00","updated_at":"2020-04-15T09:54:04-05:00","alt":null,"width":833,"height":833,"src":"\/\/shop.bootcampaign.org\/cdn\/shop\/products\/333001_1.jpg?v=1586962444","variant_ids":[32109771882586,32109772013658,32109772144730,32109772275802,32109772406874,32109772537946,32109772669018,32109772800090,32109772931162,32109773062234,32109773193306,32109773324378,32109773455450,32109773586522,32109773717594,32109773979738,32109774176346,32109774307418,32109774438490,32109774569562,32109774700634,32109774831706,32109774962778,32109775093850,32109775224922]},"available":true,"name":"Altama Maritime Assault Mid (Solid) - 7.5 \/ Black","public_title":"7.5 \/ Black","options":["7.5","Black"],"price":10999,"weight":0,"compare_at_price":null,"inventory_quantity":9,"inventory_management":"shopify","inventory_policy":"deny","barcode":"","featured_media":{"alt":null,"id":7182753431642,"position":2,"preview_image":{"aspect_ratio":1.0,"height":833,"width":833,"src":"\/\/shop.bootcampaign.org\/cdn\/shop\/products\/333001_1.jpg?v=1586962444"}},"requires_selling_plan":false,"selling_plan_allocations":[]},{"id":32109772570714,"title":"7.5 \/ Olive Drab","option1":"7.5","option2":"Olive Drab","option3":null,"sku":"333006-7.5","requires_shipping":true,"taxable":true,"featured_image":{"id":15027568967770,"product_id":4637083598938,"position":5,"created_at":"2020-04-14T16:37:42-05:00","updated_at":"2020-04-14T16:37:44-05:00","alt":null,"width":833,"height":833,"src":"\/\/shop.bootcampaign.org\/cdn\/shop\/products\/333006_1.jpg?v=1586900264","variant_ids":[32109771915354,32109772046426,32109772177498,32109772308570,32109772439642,32109772570714,32109772701786,32109772832858,32109772963930,32109773095002,32109773226074,32109773357146,32109773488218,32109773619290,32109773750362,32109774045274,32109774209114,32109774340186,32109774471258,32109774602330,32109774733402,32109774864474,32109774995546,32109775126618,32109775257690]},"available":true,"name":"Altama Maritime Assault Mid (Solid) - 7.5 \/ Olive Drab","public_title":"7.5 \/ Olive Drab","options":["7.5","Olive Drab"],"price":10999,"weight":0,"compare_at_price":null,"inventory_quantity":1,"inventory_management":"shopify","inventory_policy":"deny","barcode":"","featured_media":{"alt":null,"id":7182753562714,"position":5,"preview_image":{"aspect_ratio":1.0,"height":833,"width":833,"src":"\/\/shop.bootcampaign.org\/cdn\/shop\/products\/333006_1.jpg?v=1586900264"}},"requires_selling_plan":false,"selling_plan_allocations":[]},{"id":32109772603482,"title":"7.5 \/ Wolf Grey","option1":"7.5","option2":"Wolf Grey","option3":null,"sku":"333007-7.5","requires_shipping":true,"taxable":true,"featured_image":{"id":15027569033306,"product_id":4637083598938,"position":4,"created_at":"2020-04-14T16:37:42-05:00","updated_at":"2020-04-14T16:37:44-05:00","alt":null,"width":833,"height":833,"src":"\/\/shop.bootcampaign.org\/cdn\/shop\/products\/333007_1.jpg?v=1586900264","variant_ids":[32109771948122,32109772079194,32109772210266,32109772341338,32109772472410,32109772603482,32109772734554,32109772865626,32109772996698,32109773127770,32109773258842,32109773389914,32109773520986,32109773652058,32109773815898,32109774110810,32109774241882,32109774372954,32109774504026,32109774635098,32109774766170,32109774897242,32109775028314,32109775290458]},"available":true,"name":"Altama Maritime Assault Mid (Solid) - 7.5 \/ Wolf Grey","public_title":"7.5 \/ Wolf Grey","options":["7.5","Wolf Grey"],"price":10999,"weight":0,"compare_at_price":null,"inventory_quantity":3,"inventory_management":"shopify","inventory_policy":"deny","barcode":"","featured_media":{"alt":null,"id":7182753529946,"position":4,"preview_image":{"aspect_ratio":1.0,"height":833,"width":833,"src":"\/\/shop.bootcampaign.org\/cdn\/shop\/products\/333007_1.jpg?v=1586900264"}},"requires_selling_plan":false,"selling_plan_allocations":[]},{"id":32109772636250,"title":"8 \/ Coyote","option1":"8","option2":"Coyote","option3":null,"sku":"333003-8","requires_shipping":true,"taxable":true,"featured_image":{"id":15027568935002,"product_id":4637083598938,"position":1,"created_at":"2020-04-14T16:37:41-05:00","updated_at":"2020-04-15T09:54:04-05:00","alt":null,"width":833,"height":833,"src":"\/\/shop.bootcampaign.org\/cdn\/shop\/products\/333003_1.jpg?v=1586962444","variant_ids":[32109771849818,32109771980890,32109772111962,32109772243034,32109772374106,32109772505178,32109772636250,32109772767322,32109772898394,32109773029466,32109773160538,32109773291610,32109773422682,32109773553754,32109773684826,32109773914202,32109774143578,32109774274650,32109774405722,32109774536794,32109774667866,32109774798938,32109774930010,32109775061082,32109775192154,43766832759012]},"available":true,"name":"Altama Maritime Assault Mid (Solid) - 8 \/ Coyote","public_title":"8 \/ Coyote","options":["8","Coyote"],"price":10999,"weight":0,"compare_at_price":null,"inventory_quantity":105,"inventory_management":"shopify","inventory_policy":"deny","barcode":"","featured_media":{"alt":null,"id":7182753497178,"position":1,"preview_image":{"aspect_ratio":1.0,"height":833,"width":833,"src":"\/\/shop.bootcampaign.org\/cdn\/shop\/products\/333003_1.jpg?v=1586962444"}},"requires_selling_plan":false,"selling_plan_allocations":[]},{"id":32109772669018,"title":"8 \/ Black","option1":"8","option2":"Black","option3":null,"sku":"333001-8","requires_shipping":true,"taxable":true,"featured_image":{"id":15027568902234,"product_id":4637083598938,"position":2,"created_at":"2020-04-14T16:37:41-05:00","updated_at":"2020-04-15T09:54:04-05:00","alt":null,"width":833,"height":833,"src":"\/\/shop.bootcampaign.org\/cdn\/shop\/products\/333001_1.jpg?v=1586962444","variant_ids":[32109771882586,32109772013658,32109772144730,32109772275802,32109772406874,32109772537946,32109772669018,32109772800090,32109772931162,32109773062234,32109773193306,32109773324378,32109773455450,32109773586522,32109773717594,32109773979738,32109774176346,32109774307418,32109774438490,32109774569562,32109774700634,32109774831706,32109774962778,32109775093850,32109775224922]},"available":true,"name":"Altama Maritime Assault Mid (Solid) - 8 \/ Black","public_title":"8 \/ Black","options":["8","Black"],"price":10999,"weight":0,"compare_at_price":null,"inventory_quantity":204,"inventory_management":"shopify","inventory_policy":"deny","barcode":"","featured_media":{"alt":null,"id":7182753431642,"position":2,"preview_image":{"aspect_ratio":1.0,"height":833,"width":833,"src":"\/\/shop.bootcampaign.org\/cdn\/shop\/products\/333001_1.jpg?v=1586962444"}},"requires_selling_plan":false,"selling_plan_allocations":[]},{"id":32109772701786,"title":"8 \/ Olive Drab","option1":"8","option2":"Olive Drab","option3":null,"sku":"333006-8","requires_shipping":true,"taxable":true,"featured_image":{"id":15027568967770,"product_id":4637083598938,"position":5,"created_at":"2020-04-14T16:37:42-05:00","updated_at":"2020-04-14T16:37:44-05:00","alt":null,"width":833,"height":833,"src":"\/\/shop.bootcampaign.org\/cdn\/shop\/products\/333006_1.jpg?v=1586900264","variant_ids":[32109771915354,32109772046426,32109772177498,32109772308570,32109772439642,32109772570714,32109772701786,32109772832858,32109772963930,32109773095002,32109773226074,32109773357146,32109773488218,32109773619290,32109773750362,32109774045274,32109774209114,32109774340186,32109774471258,32109774602330,32109774733402,32109774864474,32109774995546,32109775126618,32109775257690]},"available":true,"name":"Altama Maritime Assault Mid (Solid) - 8 \/ Olive Drab","public_title":"8 \/ Olive Drab","options":["8","Olive Drab"],"price":10999,"weight":0,"compare_at_price":null,"inventory_quantity":58,"inventory_management":"shopify","inventory_policy":"deny","barcode":"","featured_media":{"alt":null,"id":7182753562714,"position":5,"preview_image":{"aspect_ratio":1.0,"height":833,"width":833,"src":"\/\/shop.bootcampaign.org\/cdn\/shop\/products\/333006_1.jpg?v=1586900264"}},"requires_selling_plan":false,"selling_plan_allocations":[]},{"id":32109772734554,"title":"8 \/ Wolf Grey","option1":"8","option2":"Wolf Grey","option3":null,"sku":"333007-8","requires_shipping":true,"taxable":true,"featured_image":{"id":15027569033306,"product_id":4637083598938,"position":4,"created_at":"2020-04-14T16:37:42-05:00","updated_at":"2020-04-14T16:37:44-05:00","alt":null,"width":833,"height":833,"src":"\/\/shop.bootcampaign.org\/cdn\/shop\/products\/333007_1.jpg?v=1586900264","variant_ids":[32109771948122,32109772079194,32109772210266,32109772341338,32109772472410,32109772603482,32109772734554,32109772865626,32109772996698,32109773127770,32109773258842,32109773389914,32109773520986,32109773652058,32109773815898,32109774110810,32109774241882,32109774372954,32109774504026,32109774635098,32109774766170,32109774897242,32109775028314,32109775290458]},"available":true,"name":"Altama Maritime Assault Mid (Solid) - 8 \/ Wolf Grey","public_title":"8 \/ Wolf Grey","options":["8","Wolf Grey"],"price":10999,"weight":0,"compare_at_price":null,"inventory_quantity":34,"inventory_management":"shopify","inventory_policy":"deny","barcode":"","featured_media":{"alt":null,"id":7182753529946,"position":4,"preview_image":{"aspect_ratio":1.0,"height":833,"width":833,"src":"\/\/shop.bootcampaign.org\/cdn\/shop\/products\/333007_1.jpg?v=1586900264"}},"requires_selling_plan":false,"selling_plan_allocations":[]},{"id":32109772767322,"title":"8.5 \/ Coyote","option1":"8.5","option2":"Coyote","option3":null,"sku":"333003-8.5","requires_shipping":true,"taxable":true,"featured_image":{"id":15027568935002,"product_id":4637083598938,"position":1,"created_at":"2020-04-14T16:37:41-05:00","updated_at":"2020-04-15T09:54:04-05:00","alt":null,"width":833,"height":833,"src":"\/\/shop.bootcampaign.org\/cdn\/shop\/products\/333003_1.jpg?v=1586962444","variant_ids":[32109771849818,32109771980890,32109772111962,32109772243034,32109772374106,32109772505178,32109772636250,32109772767322,32109772898394,32109773029466,32109773160538,32109773291610,32109773422682,32109773553754,32109773684826,32109773914202,32109774143578,32109774274650,32109774405722,32109774536794,32109774667866,32109774798938,32109774930010,32109775061082,32109775192154,43766832759012]},"available":false,"name":"Altama Maritime Assault Mid (Solid) - 8.5 \/ Coyote","public_title":"8.5 \/ Coyote","options":["8.5","Coyote"],"price":10999,"weight":0,"compare_at_price":null,"inventory_quantity":0,"inventory_management":"shopify","inventory_policy":"deny","barcode":"","featured_media":{"alt":null,"id":7182753497178,"position":1,"preview_image":{"aspect_ratio":1.0,"height":833,"width":833,"src":"\/\/shop.bootcampaign.org\/cdn\/shop\/products\/333003_1.jpg?v=1586962444"}},"requires_selling_plan":false,"selling_plan_allocations":[]},{"id":32109772800090,"title":"8.5 \/ Black","option1":"8.5","option2":"Black","option3":null,"sku":"333001-8.5","requires_shipping":true,"taxable":true,"featured_image":{"id":15027568902234,"product_id":4637083598938,"position":2,"created_at":"2020-04-14T16:37:41-05:00","updated_at":"2020-04-15T09:54:04-05:00","alt":null,"width":833,"height":833,"src":"\/\/shop.bootcampaign.org\/cdn\/shop\/products\/333001_1.jpg?v=1586962444","variant_ids":[32109771882586,32109772013658,32109772144730,32109772275802,32109772406874,32109772537946,32109772669018,32109772800090,32109772931162,32109773062234,32109773193306,32109773324378,32109773455450,32109773586522,32109773717594,32109773979738,32109774176346,32109774307418,32109774438490,32109774569562,32109774700634,32109774831706,32109774962778,32109775093850,32109775224922]},"available":false,"name":"Altama Maritime Assault Mid (Solid) - 8.5 \/ Black","public_title":"8.5 \/ Black","options":["8.5","Black"],"price":10999,"weight":0,"compare_at_price":null,"inventory_quantity":0,"inventory_management":"shopify","inventory_policy":"deny","barcode":"","featured_media":{"alt":null,"id":7182753431642,"position":2,"preview_image":{"aspect_ratio":1.0,"height":833,"width":833,"src":"\/\/shop.bootcampaign.org\/cdn\/shop\/products\/333001_1.jpg?v=1586962444"}},"requires_selling_plan":false,"selling_plan_allocations":[]},{"id":32109772832858,"title":"8.5 \/ Olive Drab","option1":"8.5","option2":"Olive Drab","option3":null,"sku":"333006-8.5","requires_shipping":true,"taxable":true,"featured_image":{"id":15027568967770,"product_id":4637083598938,"position":5,"created_at":"2020-04-14T16:37:42-05:00","updated_at":"2020-04-14T16:37:44-05:00","alt":null,"width":833,"height":833,"src":"\/\/shop.bootcampaign.org\/cdn\/shop\/products\/333006_1.jpg?v=1586900264","variant_ids":[32109771915354,32109772046426,32109772177498,32109772308570,32109772439642,32109772570714,32109772701786,32109772832858,32109772963930,32109773095002,32109773226074,32109773357146,32109773488218,32109773619290,32109773750362,32109774045274,32109774209114,32109774340186,32109774471258,32109774602330,32109774733402,32109774864474,32109774995546,32109775126618,32109775257690]},"available":false,"name":"Altama Maritime Assault Mid (Solid) - 8.5 \/ Olive Drab","public_title":"8.5 \/ Olive Drab","options":["8.5","Olive Drab"],"price":10999,"weight":0,"compare_at_price":null,"inventory_quantity":0,"inventory_management":"shopify","inventory_policy":"deny","barcode":"","featured_media":{"alt":null,"id":7182753562714,"position":5,"preview_image":{"aspect_ratio":1.0,"height":833,"width":833,"src":"\/\/shop.bootcampaign.org\/cdn\/shop\/products\/333006_1.jpg?v=1586900264"}},"requires_selling_plan":false,"selling_plan_allocations":[]},{"id":32109772865626,"title":"8.5 \/ Wolf Grey","option1":"8.5","option2":"Wolf Grey","option3":null,"sku":"333007-8.5","requires_shipping":true,"taxable":true,"featured_image":{"id":15027569033306,"product_id":4637083598938,"position":4,"created_at":"2020-04-14T16:37:42-05:00","updated_at":"2020-04-14T16:37:44-05:00","alt":null,"width":833,"height":833,"src":"\/\/shop.bootcampaign.org\/cdn\/shop\/products\/333007_1.jpg?v=1586900264","variant_ids":[32109771948122,32109772079194,32109772210266,32109772341338,32109772472410,32109772603482,32109772734554,32109772865626,32109772996698,32109773127770,32109773258842,32109773389914,32109773520986,32109773652058,32109773815898,32109774110810,32109774241882,32109774372954,32109774504026,32109774635098,32109774766170,32109774897242,32109775028314,32109775290458]},"available":true,"name":"Altama Maritime Assault Mid (Solid) - 8.5 \/ Wolf Grey","public_title":"8.5 \/ Wolf Grey","options":["8.5","Wolf Grey"],"price":10999,"weight":0,"compare_at_price":null,"inventory_quantity":45,"inventory_management":"shopify","inventory_policy":"deny","barcode":"","featured_media":{"alt":null,"id":7182753529946,"position":4,"preview_image":{"aspect_ratio":1.0,"height":833,"width":833,"src":"\/\/shop.bootcampaign.org\/cdn\/shop\/products\/333007_1.jpg?v=1586900264"}},"requires_selling_plan":false,"selling_plan_allocations":[]},{"id":32109772898394,"title":"8Wide \/ Coyote","option1":"8Wide","option2":"Coyote","option3":null,"sku":"333003-8Wide","requires_shipping":true,"taxable":true,"featured_image":{"id":15027568935002,"product_id":4637083598938,"position":1,"created_at":"2020-04-14T16:37:41-05:00","updated_at":"2020-04-15T09:54:04-05:00","alt":null,"width":833,"height":833,"src":"\/\/shop.bootcampaign.org\/cdn\/shop\/products\/333003_1.jpg?v=1586962444","variant_ids":[32109771849818,32109771980890,32109772111962,32109772243034,32109772374106,32109772505178,32109772636250,32109772767322,32109772898394,32109773029466,32109773160538,32109773291610,32109773422682,32109773553754,32109773684826,32109773914202,32109774143578,32109774274650,32109774405722,32109774536794,32109774667866,32109774798938,32109774930010,32109775061082,32109775192154,43766832759012]},"available":true,"name":"Altama Maritime Assault Mid (Solid) - 8Wide \/ Coyote","public_title":"8Wide \/ Coyote","options":["8Wide","Coyote"],"price":10999,"weight":0,"compare_at_price":null,"inventory_quantity":103,"inventory_management":"shopify","inventory_policy":"deny","barcode":"","featured_media":{"alt":null,"id":7182753497178,"position":1,"preview_image":{"aspect_ratio":1.0,"height":833,"width":833,"src":"\/\/shop.bootcampaign.org\/cdn\/shop\/products\/333003_1.jpg?v=1586962444"}},"requires_selling_plan":false,"selling_plan_allocations":[]},{"id":32109772931162,"title":"8Wide \/ Black","option1":"8Wide","option2":"Black","option3":null,"sku":"333001-8Wide","requires_shipping":true,"taxable":true,"featured_image":{"id":15027568902234,"product_id":4637083598938,"position":2,"created_at":"2020-04-14T16:37:41-05:00","updated_at":"2020-04-15T09:54:04-05:00","alt":null,"width":833,"height":833,"src":"\/\/shop.bootcampaign.org\/cdn\/shop\/products\/333001_1.jpg?v=1586962444","variant_ids":[32109771882586,32109772013658,32109772144730,32109772275802,32109772406874,32109772537946,32109772669018,32109772800090,32109772931162,32109773062234,32109773193306,32109773324378,32109773455450,32109773586522,32109773717594,32109773979738,32109774176346,32109774307418,32109774438490,32109774569562,32109774700634,32109774831706,32109774962778,32109775093850,32109775224922]},"available":true,"name":"Altama Maritime Assault Mid (Solid) - 8Wide \/ Black","public_title":"8Wide \/ Black","options":["8Wide","Black"],"price":10999,"weight":0,"compare_at_price":null,"inventory_quantity":108,"inventory_management":"shopify","inventory_policy":"deny","barcode":"","featured_media":{"alt":null,"id":7182753431642,"position":2,"preview_image":{"aspect_ratio":1.0,"height":833,"width":833,"src":"\/\/shop.bootcampaign.org\/cdn\/shop\/products\/333001_1.jpg?v=1586962444"}},"requires_selling_plan":false,"selling_plan_allocations":[]},{"id":32109772963930,"title":"8Wide \/ Olive Drab","option1":"8Wide","option2":"Olive Drab","option3":null,"sku":"333006-8Wide","requires_shipping":true,"taxable":true,"featured_image":{"id":15027568967770,"product_id":4637083598938,"position":5,"created_at":"2020-04-14T16:37:42-05:00","updated_at":"2020-04-14T16:37:44-05:00","alt":null,"width":833,"height":833,"src":"\/\/shop.bootcampaign.org\/cdn\/shop\/products\/333006_1.jpg?v=1586900264","variant_ids":[32109771915354,32109772046426,32109772177498,32109772308570,32109772439642,32109772570714,32109772701786,32109772832858,32109772963930,32109773095002,32109773226074,32109773357146,32109773488218,32109773619290,32109773750362,32109774045274,32109774209114,32109774340186,32109774471258,32109774602330,32109774733402,32109774864474,32109774995546,32109775126618,32109775257690]},"available":true,"name":"Altama Maritime Assault Mid (Solid) - 8Wide \/ Olive Drab","public_title":"8Wide \/ Olive Drab","options":["8Wide","Olive Drab"],"price":10999,"weight":0,"compare_at_price":null,"inventory_quantity":13,"inventory_management":"shopify","inventory_policy":"deny","barcode":"","featured_media":{"alt":null,"id":7182753562714,"position":5,"preview_image":{"aspect_ratio":1.0,"height":833,"width":833,"src":"\/\/shop.bootcampaign.org\/cdn\/shop\/products\/333006_1.jpg?v=1586900264"}},"requires_selling_plan":false,"selling_plan_allocations":[]},{"id":32109772996698,"title":"8Wide \/ Wolf Grey","option1":"8Wide","option2":"Wolf Grey","option3":null,"sku":"333007-8Wide","requires_shipping":true,"taxable":true,"featured_image":{"id":15027569033306,"product_id":4637083598938,"position":4,"created_at":"2020-04-14T16:37:42-05:00","updated_at":"2020-04-14T16:37:44-05:00","alt":null,"width":833,"height":833,"src":"\/\/shop.bootcampaign.org\/cdn\/shop\/products\/333007_1.jpg?v=1586900264","variant_ids":[32109771948122,32109772079194,32109772210266,32109772341338,32109772472410,32109772603482,32109772734554,32109772865626,32109772996698,32109773127770,32109773258842,32109773389914,32109773520986,32109773652058,32109773815898,32109774110810,32109774241882,32109774372954,32109774504026,32109774635098,32109774766170,32109774897242,32109775028314,32109775290458]},"available":true,"name":"Altama Maritime Assault Mid (Solid) - 8Wide \/ Wolf Grey","public_title":"8Wide \/ Wolf Grey","options":["8Wide","Wolf Grey"],"price":10999,"weight":0,"compare_at_price":null,"inventory_quantity":6,"inventory_management":"shopify","inventory_policy":"deny","barcode":"","featured_media":{"alt":null,"id":7182753529946,"position":4,"preview_image":{"aspect_ratio":1.0,"height":833,"width":833,"src":"\/\/shop.bootcampaign.org\/cdn\/shop\/products\/333007_1.jpg?v=1586900264"}},"requires_selling_plan":false,"selling_plan_allocations":[]},{"id":32109773029466,"title":"9 \/ Coyote","option1":"9","option2":"Coyote","option3":null,"sku":"333003-9","requires_shipping":true,"taxable":true,"featured_image":{"id":15027568935002,"product_id":4637083598938,"position":1,"created_at":"2020-04-14T16:37:41-05:00","updated_at":"2020-04-15T09:54:04-05:00","alt":null,"width":833,"height":833,"src":"\/\/shop.bootcampaign.org\/cdn\/shop\/products\/333003_1.jpg?v=1586962444","variant_ids":[32109771849818,32109771980890,32109772111962,32109772243034,32109772374106,32109772505178,32109772636250,32109772767322,32109772898394,32109773029466,32109773160538,32109773291610,32109773422682,32109773553754,32109773684826,32109773914202,32109774143578,32109774274650,32109774405722,32109774536794,32109774667866,32109774798938,32109774930010,32109775061082,32109775192154,43766832759012]},"available":true,"name":"Altama Maritime Assault Mid (Solid) - 9 \/ Coyote","public_title":"9 \/ Coyote","options":["9","Coyote"],"price":10999,"weight":0,"compare_at_price":null,"inventory_quantity":124,"inventory_management":"shopify","inventory_policy":"deny","barcode":"","featured_media":{"alt":null,"id":7182753497178,"position":1,"preview_image":{"aspect_ratio":1.0,"height":833,"width":833,"src":"\/\/shop.bootcampaign.org\/cdn\/shop\/products\/333003_1.jpg?v=1586962444"}},"requires_selling_plan":false,"selling_plan_allocations":[]},{"id":32109773062234,"title":"9 \/ Black","option1":"9","option2":"Black","option3":null,"sku":"333001-9","requires_shipping":true,"taxable":true,"featured_image":{"id":15027568902234,"product_id":4637083598938,"position":2,"created_at":"2020-04-14T16:37:41-05:00","updated_at":"2020-04-15T09:54:04-05:00","alt":null,"width":833,"height":833,"src":"\/\/shop.bootcampaign.org\/cdn\/shop\/products\/333001_1.jpg?v=1586962444","variant_ids":[32109771882586,32109772013658,32109772144730,32109772275802,32109772406874,32109772537946,32109772669018,32109772800090,32109772931162,32109773062234,32109773193306,32109773324378,32109773455450,32109773586522,32109773717594,32109773979738,32109774176346,32109774307418,32109774438490,32109774569562,32109774700634,32109774831706,32109774962778,32109775093850,32109775224922]},"available":true,"name":"Altama Maritime Assault Mid (Solid) - 9 \/ Black","public_title":"9 \/ Black","options":["9","Black"],"price":10999,"weight":0,"compare_at_price":null,"inventory_quantity":529,"inventory_management":"shopify","inventory_policy":"deny","barcode":"","featured_media":{"alt":null,"id":7182753431642,"position":2,"preview_image":{"aspect_ratio":1.0,"height":833,"width":833,"src":"\/\/shop.bootcampaign.org\/cdn\/shop\/products\/333001_1.jpg?v=1586962444"}},"requires_selling_plan":false,"selling_plan_allocations":[]},{"id":32109773095002,"title":"9 \/ Olive Drab","option1":"9","option2":"Olive Drab","option3":null,"sku":"333006-9","requires_shipping":true,"taxable":true,"featured_image":{"id":15027568967770,"product_id":4637083598938,"position":5,"created_at":"2020-04-14T16:37:42-05:00","updated_at":"2020-04-14T16:37:44-05:00","alt":null,"width":833,"height":833,"src":"\/\/shop.bootcampaign.org\/cdn\/shop\/products\/333006_1.jpg?v=1586900264","variant_ids":[32109771915354,32109772046426,32109772177498,32109772308570,32109772439642,32109772570714,32109772701786,32109772832858,32109772963930,32109773095002,32109773226074,32109773357146,32109773488218,32109773619290,32109773750362,32109774045274,32109774209114,32109774340186,32109774471258,32109774602330,32109774733402,32109774864474,32109774995546,32109775126618,32109775257690]},"available":true,"name":"Altama Maritime Assault Mid (Solid) - 9 \/ Olive Drab","public_title":"9 \/ Olive Drab","options":["9","Olive Drab"],"price":10999,"weight":0,"compare_at_price":null,"inventory_quantity":203,"inventory_management":"shopify","inventory_policy":"deny","barcode":"","featured_media":{"alt":null,"id":7182753562714,"position":5,"preview_image":{"aspect_ratio":1.0,"height":833,"width":833,"src":"\/\/shop.bootcampaign.org\/cdn\/shop\/products\/333006_1.jpg?v=1586900264"}},"requires_selling_plan":false,"selling_plan_allocations":[]},{"id":32109773127770,"title":"9 \/ Wolf Grey","option1":"9","option2":"Wolf Grey","option3":null,"sku":"333007-9","requires_shipping":true,"taxable":true,"featured_image":{"id":15027569033306,"product_id":4637083598938,"position":4,"created_at":"2020-04-14T16:37:42-05:00","updated_at":"2020-04-14T16:37:44-05:00","alt":null,"width":833,"height":833,"src":"\/\/shop.bootcampaign.org\/cdn\/shop\/products\/333007_1.jpg?v=1586900264","variant_ids":[32109771948122,32109772079194,32109772210266,32109772341338,32109772472410,32109772603482,32109772734554,32109772865626,32109772996698,32109773127770,32109773258842,32109773389914,32109773520986,32109773652058,32109773815898,32109774110810,32109774241882,32109774372954,32109774504026,32109774635098,32109774766170,32109774897242,32109775028314,32109775290458]},"available":true,"name":"Altama Maritime Assault Mid (Solid) - 9 \/ Wolf Grey","public_title":"9 \/ Wolf Grey","options":["9","Wolf Grey"],"price":10999,"weight":0,"compare_at_price":null,"inventory_quantity":53,"inventory_management":"shopify","inventory_policy":"deny","barcode":"","featured_media":{"alt":null,"id":7182753529946,"position":4,"preview_image":{"aspect_ratio":1.0,"height":833,"width":833,"src":"\/\/shop.bootcampaign.org\/cdn\/shop\/products\/333007_1.jpg?v=1586900264"}},"requires_selling_plan":false,"selling_plan_allocations":[]},{"id":32109773160538,"title":"9.5 \/ Coyote","option1":"9.5","option2":"Coyote","option3":null,"sku":"333003-9.5","requires_shipping":true,"taxable":true,"featured_image":{"id":15027568935002,"product_id":4637083598938,"position":1,"created_at":"2020-04-14T16:37:41-05:00","updated_at":"2020-04-15T09:54:04-05:00","alt":null,"width":833,"height":833,"src":"\/\/shop.bootcampaign.org\/cdn\/shop\/products\/333003_1.jpg?v=1586962444","variant_ids":[32109771849818,32109771980890,32109772111962,32109772243034,32109772374106,32109772505178,32109772636250,32109772767322,32109772898394,32109773029466,32109773160538,32109773291610,32109773422682,32109773553754,32109773684826,32109773914202,32109774143578,32109774274650,32109774405722,32109774536794,32109774667866,32109774798938,32109774930010,32109775061082,32109775192154,43766832759012]},"available":false,"name":"Altama Maritime Assault Mid (Solid) - 9.5 \/ Coyote","public_title":"9.5 \/ Coyote","options":["9.5","Coyote"],"price":10999,"weight":0,"compare_at_price":null,"inventory_quantity":0,"inventory_management":"shopify","inventory_policy":"deny","barcode":"","featured_media":{"alt":null,"id":7182753497178,"position":1,"preview_image":{"aspect_ratio":1.0,"height":833,"width":833,"src":"\/\/shop.bootcampaign.org\/cdn\/shop\/products\/333003_1.jpg?v=1586962444"}},"requires_selling_plan":false,"selling_plan_allocations":[]},{"id":32109773193306,"title":"9.5 \/ Black","option1":"9.5","option2":"Black","option3":null,"sku":"333001-9.5","requires_shipping":true,"taxable":true,"featured_image":{"id":15027568902234,"product_id":4637083598938,"position":2,"created_at":"2020-04-14T16:37:41-05:00","updated_at":"2020-04-15T09:54:04-05:00","alt":null,"width":833,"height":833,"src":"\/\/shop.bootcampaign.org\/cdn\/shop\/products\/333001_1.jpg?v=1586962444","variant_ids":[32109771882586,32109772013658,32109772144730,32109772275802,32109772406874,32109772537946,32109772669018,32109772800090,32109772931162,32109773062234,32109773193306,32109773324378,32109773455450,32109773586522,32109773717594,32109773979738,32109774176346,32109774307418,32109774438490,32109774569562,32109774700634,32109774831706,32109774962778,32109775093850,32109775224922]},"available":false,"name":"Altama Maritime Assault Mid (Solid) - 9.5 \/ Black","public_title":"9.5 \/ Black","options":["9.5","Black"],"price":10999,"weight":0,"compare_at_price":null,"inventory_quantity":0,"inventory_management":"shopify","inventory_policy":"deny","barcode":"","featured_media":{"alt":null,"id":7182753431642,"position":2,"preview_image":{"aspect_ratio":1.0,"height":833,"width":833,"src":"\/\/shop.bootcampaign.org\/cdn\/shop\/products\/333001_1.jpg?v=1586962444"}},"requires_selling_plan":false,"selling_plan_allocations":[]},{"id":32109773226074,"title":"9.5 \/ Olive Drab","option1":"9.5","option2":"Olive Drab","option3":null,"sku":"333006-9.5","requires_shipping":true,"taxable":true,"featured_image":{"id":15027568967770,"product_id":4637083598938,"position":5,"created_at":"2020-04-14T16:37:42-05:00","updated_at":"2020-04-14T16:37:44-05:00","alt":null,"width":833,"height":833,"src":"\/\/shop.bootcampaign.org\/cdn\/shop\/products\/333006_1.jpg?v=1586900264","variant_ids":[32109771915354,32109772046426,32109772177498,32109772308570,32109772439642,32109772570714,32109772701786,32109772832858,32109772963930,32109773095002,32109773226074,32109773357146,32109773488218,32109773619290,32109773750362,32109774045274,32109774209114,32109774340186,32109774471258,32109774602330,32109774733402,32109774864474,32109774995546,32109775126618,32109775257690]},"available":false,"name":"Altama Maritime Assault Mid (Solid) - 9.5 \/ Olive Drab","public_title":"9.5 \/ Olive Drab","options":["9.5","Olive Drab"],"price":10999,"weight":0,"compare_at_price":null,"inventory_quantity":0,"inventory_management":"shopify","inventory_policy":"deny","barcode":"","featured_media":{"alt":null,"id":7182753562714,"position":5,"preview_image":{"aspect_ratio":1.0,"height":833,"width":833,"src":"\/\/shop.bootcampaign.org\/cdn\/shop\/products\/333006_1.jpg?v=1586900264"}},"requires_selling_plan":false,"selling_plan_allocations":[]},{"id":32109773258842,"title":"9.5 \/ Wolf Grey","option1":"9.5","option2":"Wolf Grey","option3":null,"sku":"333007-9.5","requires_shipping":true,"taxable":true,"featured_image":{"id":15027569033306,"product_id":4637083598938,"position":4,"created_at":"2020-04-14T16:37:42-05:00","updated_at":"2020-04-14T16:37:44-05:00","alt":null,"width":833,"height":833,"src":"\/\/shop.bootcampaign.org\/cdn\/shop\/products\/333007_1.jpg?v=1586900264","variant_ids":[32109771948122,32109772079194,32109772210266,32109772341338,32109772472410,32109772603482,32109772734554,32109772865626,32109772996698,32109773127770,32109773258842,32109773389914,32109773520986,32109773652058,32109773815898,32109774110810,32109774241882,32109774372954,32109774504026,32109774635098,32109774766170,32109774897242,32109775028314,32109775290458]},"available":true,"name":"Altama Maritime Assault Mid (Solid) - 9.5 \/ Wolf Grey","public_title":"9.5 \/ Wolf Grey","options":["9.5","Wolf Grey"],"price":10999,"weight":0,"compare_at_price":null,"inventory_quantity":61,"inventory_management":"shopify","inventory_policy":"deny","barcode":"","featured_media":{"alt":null,"id":7182753529946,"position":4,"preview_image":{"aspect_ratio":1.0,"height":833,"width":833,"src":"\/\/shop.bootcampaign.org\/cdn\/shop\/products\/333007_1.jpg?v=1586900264"}},"requires_selling_plan":false,"selling_plan_allocations":[]},{"id":32109773291610,"title":"9Wide \/ Coyote","option1":"9Wide","option2":"Coyote","option3":null,"sku":"333003-9Wide","requires_shipping":true,"taxable":true,"featured_image":{"id":15027568935002,"product_id":4637083598938,"position":1,"created_at":"2020-04-14T16:37:41-05:00","updated_at":"2020-04-15T09:54:04-05:00","alt":null,"width":833,"height":833,"src":"\/\/shop.bootcampaign.org\/cdn\/shop\/products\/333003_1.jpg?v=1586962444","variant_ids":[32109771849818,32109771980890,32109772111962,32109772243034,32109772374106,32109772505178,32109772636250,32109772767322,32109772898394,32109773029466,32109773160538,32109773291610,32109773422682,32109773553754,32109773684826,32109773914202,32109774143578,32109774274650,32109774405722,32109774536794,32109774667866,32109774798938,32109774930010,32109775061082,32109775192154,43766832759012]},"available":true,"name":"Altama Maritime Assault Mid (Solid) - 9Wide \/ Coyote","public_title":"9Wide \/ Coyote","options":["9Wide","Coyote"],"price":10999,"weight":0,"compare_at_price":null,"inventory_quantity":153,"inventory_management":"shopify","inventory_policy":"deny","barcode":"","featured_media":{"alt":null,"id":7182753497178,"position":1,"preview_image":{"aspect_ratio":1.0,"height":833,"width":833,"src":"\/\/shop.bootcampaign.org\/cdn\/shop\/products\/333003_1.jpg?v=1586962444"}},"requires_selling_plan":false,"selling_plan_allocations":[]},{"id":32109773324378,"title":"9Wide \/ Black","option1":"9Wide","option2":"Black","option3":null,"sku":"333001-9Wide","requires_shipping":true,"taxable":true,"featured_image":{"id":15027568902234,"product_id":4637083598938,"position":2,"created_at":"2020-04-14T16:37:41-05:00","updated_at":"2020-04-15T09:54:04-05:00","alt":null,"width":833,"height":833,"src":"\/\/shop.bootcampaign.org\/cdn\/shop\/products\/333001_1.jpg?v=1586962444","variant_ids":[32109771882586,32109772013658,32109772144730,32109772275802,32109772406874,32109772537946,32109772669018,32109772800090,32109772931162,32109773062234,32109773193306,32109773324378,32109773455450,32109773586522,32109773717594,32109773979738,32109774176346,32109774307418,32109774438490,32109774569562,32109774700634,32109774831706,32109774962778,32109775093850,32109775224922]},"available":true,"name":"Altama Maritime Assault Mid (Solid) - 9Wide \/ Black","public_title":"9Wide \/ Black","options":["9Wide","Black"],"price":10999,"weight":0,"compare_at_price":null,"inventory_quantity":159,"inventory_management":"shopify","inventory_policy":"deny","barcode":"","featured_media":{"alt":null,"id":7182753431642,"position":2,"preview_image":{"aspect_ratio":1.0,"height":833,"width":833,"src":"\/\/shop.bootcampaign.org\/cdn\/shop\/products\/333001_1.jpg?v=1586962444"}},"requires_selling_plan":false,"selling_plan_allocations":[]},{"id":32109773357146,"title":"9Wide \/ Olive Drab","option1":"9Wide","option2":"Olive Drab","option3":null,"sku":"333006-9Wide","requires_shipping":true,"taxable":true,"featured_image":{"id":15027568967770,"product_id":4637083598938,"position":5,"created_at":"2020-04-14T16:37:42-05:00","updated_at":"2020-04-14T16:37:44-05:00","alt":null,"width":833,"height":833,"src":"\/\/shop.bootcampaign.org\/cdn\/shop\/products\/333006_1.jpg?v=1586900264","variant_ids":[32109771915354,32109772046426,32109772177498,32109772308570,32109772439642,32109772570714,32109772701786,32109772832858,32109772963930,32109773095002,32109773226074,32109773357146,32109773488218,32109773619290,32109773750362,32109774045274,32109774209114,32109774340186,32109774471258,32109774602330,32109774733402,32109774864474,32109774995546,32109775126618,32109775257690]},"available":true,"name":"Altama Maritime Assault Mid (Solid) - 9Wide \/ Olive Drab","public_title":"9Wide \/ Olive Drab","options":["9Wide","Olive Drab"],"price":10999,"weight":0,"compare_at_price":null,"inventory_quantity":62,"inventory_management":"shopify","inventory_policy":"deny","barcode":"","featured_media":{"alt":null,"id":7182753562714,"position":5,"preview_image":{"aspect_ratio":1.0,"height":833,"width":833,"src":"\/\/shop.bootcampaign.org\/cdn\/shop\/products\/333006_1.jpg?v=1586900264"}},"requires_selling_plan":false,"selling_plan_allocations":[]},{"id":32109773389914,"title":"9Wide \/ Wolf Grey","option1":"9Wide","option2":"Wolf Grey","option3":null,"sku":"333007-9Wide","requires_shipping":true,"taxable":true,"featured_image":{"id":15027569033306,"product_id":4637083598938,"position":4,"created_at":"2020-04-14T16:37:42-05:00","updated_at":"2020-04-14T16:37:44-05:00","alt":null,"width":833,"height":833,"src":"\/\/shop.bootcampaign.org\/cdn\/shop\/products\/333007_1.jpg?v=1586900264","variant_ids":[32109771948122,32109772079194,32109772210266,32109772341338,32109772472410,32109772603482,32109772734554,32109772865626,32109772996698,32109773127770,32109773258842,32109773389914,32109773520986,32109773652058,32109773815898,32109774110810,32109774241882,32109774372954,32109774504026,32109774635098,32109774766170,32109774897242,32109775028314,32109775290458]},"available":true,"name":"Altama Maritime Assault Mid (Solid) - 9Wide \/ Wolf Grey","public_title":"9Wide \/ Wolf Grey","options":["9Wide","Wolf Grey"],"price":10999,"weight":0,"compare_at_price":null,"inventory_quantity":33,"inventory_management":"shopify","inventory_policy":"deny","barcode":"","featured_media":{"alt":null,"id":7182753529946,"position":4,"preview_image":{"aspect_ratio":1.0,"height":833,"width":833,"src":"\/\/shop.bootcampaign.org\/cdn\/shop\/products\/333007_1.jpg?v=1586900264"}},"requires_selling_plan":false,"selling_plan_allocations":[]},{"id":32109773422682,"title":"10 \/ Coyote","option1":"10","option2":"Coyote","option3":null,"sku":"333003-10","requires_shipping":true,"taxable":true,"featured_image":{"id":15027568935002,"product_id":4637083598938,"position":1,"created_at":"2020-04-14T16:37:41-05:00","updated_at":"2020-04-15T09:54:04-05:00","alt":null,"width":833,"height":833,"src":"\/\/shop.bootcampaign.org\/cdn\/shop\/products\/333003_1.jpg?v=1586962444","variant_ids":[32109771849818,32109771980890,32109772111962,32109772243034,32109772374106,32109772505178,32109772636250,32109772767322,32109772898394,32109773029466,32109773160538,32109773291610,32109773422682,32109773553754,32109773684826,32109773914202,32109774143578,32109774274650,32109774405722,32109774536794,32109774667866,32109774798938,32109774930010,32109775061082,32109775192154,43766832759012]},"available":true,"name":"Altama Maritime Assault Mid (Solid) - 10 \/ Coyote","public_title":"10 \/ Coyote","options":["10","Coyote"],"price":10999,"weight":0,"compare_at_price":null,"inventory_quantity":505,"inventory_management":"shopify","inventory_policy":"deny","barcode":"","featured_media":{"alt":null,"id":7182753497178,"position":1,"preview_image":{"aspect_ratio":1.0,"height":833,"width":833,"src":"\/\/shop.bootcampaign.org\/cdn\/shop\/products\/333003_1.jpg?v=1586962444"}},"requires_selling_plan":false,"selling_plan_allocations":[]},{"id":32109773455450,"title":"10 \/ Black","option1":"10","option2":"Black","option3":null,"sku":"333001-10","requires_shipping":true,"taxable":true,"featured_image":{"id":15027568902234,"product_id":4637083598938,"position":2,"created_at":"2020-04-14T16:37:41-05:00","updated_at":"2020-04-15T09:54:04-05:00","alt":null,"width":833,"height":833,"src":"\/\/shop.bootcampaign.org\/cdn\/shop\/products\/333001_1.jpg?v=1586962444","variant_ids":[32109771882586,32109772013658,32109772144730,32109772275802,32109772406874,32109772537946,32109772669018,32109772800090,32109772931162,32109773062234,32109773193306,32109773324378,32109773455450,32109773586522,32109773717594,32109773979738,32109774176346,32109774307418,32109774438490,32109774569562,32109774700634,32109774831706,32109774962778,32109775093850,32109775224922]},"available":true,"name":"Altama Maritime Assault Mid (Solid) - 10 \/ Black","public_title":"10 \/ Black","options":["10","Black"],"price":10999,"weight":0,"compare_at_price":null,"inventory_quantity":582,"inventory_management":"shopify","inventory_policy":"deny","barcode":"","featured_media":{"alt":null,"id":7182753431642,"position":2,"preview_image":{"aspect_ratio":1.0,"height":833,"width":833,"src":"\/\/shop.bootcampaign.org\/cdn\/shop\/products\/333001_1.jpg?v=1586962444"}},"requires_selling_plan":false,"selling_plan_allocations":[]},{"id":32109773488218,"title":"10 \/ Olive Drab","option1":"10","option2":"Olive Drab","option3":null,"sku":"333006-10","requires_shipping":true,"taxable":true,"featured_image":{"id":15027568967770,"product_id":4637083598938,"position":5,"created_at":"2020-04-14T16:37:42-05:00","updated_at":"2020-04-14T16:37:44-05:00","alt":null,"width":833,"height":833,"src":"\/\/shop.bootcampaign.org\/cdn\/shop\/products\/333006_1.jpg?v=1586900264","variant_ids":[32109771915354,32109772046426,32109772177498,32109772308570,32109772439642,32109772570714,32109772701786,32109772832858,32109772963930,32109773095002,32109773226074,32109773357146,32109773488218,32109773619290,32109773750362,32109774045274,32109774209114,32109774340186,32109774471258,32109774602330,32109774733402,32109774864474,32109774995546,32109775126618,32109775257690]},"available":true,"name":"Altama Maritime Assault Mid (Solid) - 10 \/ Olive Drab","public_title":"10 \/ Olive Drab","options":["10","Olive Drab"],"price":10999,"weight":0,"compare_at_price":null,"inventory_quantity":295,"inventory_management":"shopify","inventory_policy":"deny","barcode":"","featured_media":{"alt":null,"id":7182753562714,"position":5,"preview_image":{"aspect_ratio":1.0,"height":833,"width":833,"src":"\/\/shop.bootcampaign.org\/cdn\/shop\/products\/333006_1.jpg?v=1586900264"}},"requires_selling_plan":false,"selling_plan_allocations":[]},{"id":32109773520986,"title":"10 \/ Wolf Grey","option1":"10","option2":"Wolf Grey","option3":null,"sku":"333007-10","requires_shipping":true,"taxable":true,"featured_image":{"id":15027569033306,"product_id":4637083598938,"position":4,"created_at":"2020-04-14T16:37:42-05:00","updated_at":"2020-04-14T16:37:44-05:00","alt":null,"width":833,"height":833,"src":"\/\/shop.bootcampaign.org\/cdn\/shop\/products\/333007_1.jpg?v=1586900264","variant_ids":[32109771948122,32109772079194,32109772210266,32109772341338,32109772472410,32109772603482,32109772734554,32109772865626,32109772996698,32109773127770,32109773258842,32109773389914,32109773520986,32109773652058,32109773815898,32109774110810,32109774241882,32109774372954,32109774504026,32109774635098,32109774766170,32109774897242,32109775028314,32109775290458]},"available":true,"name":"Altama Maritime Assault Mid (Solid) - 10 \/ Wolf Grey","public_title":"10 \/ Wolf Grey","options":["10","Wolf Grey"],"price":10999,"weight":0,"compare_at_price":null,"inventory_quantity":49,"inventory_management":"shopify","inventory_policy":"deny","barcode":"","featured_media":{"alt":null,"id":7182753529946,"position":4,"preview_image":{"aspect_ratio":1.0,"height":833,"width":833,"src":"\/\/shop.bootcampaign.org\/cdn\/shop\/products\/333007_1.jpg?v=1586900264"}},"requires_selling_plan":false,"selling_plan_allocations":[]},{"id":32109773553754,"title":"10.5 \/ Coyote","option1":"10.5","option2":"Coyote","option3":null,"sku":"333003-10.5","requires_shipping":true,"taxable":true,"featured_image":{"id":15027568935002,"product_id":4637083598938,"position":1,"created_at":"2020-04-14T16:37:41-05:00","updated_at":"2020-04-15T09:54:04-05:00","alt":null,"width":833,"height":833,"src":"\/\/shop.bootcampaign.org\/cdn\/shop\/products\/333003_1.jpg?v=1586962444","variant_ids":[32109771849818,32109771980890,32109772111962,32109772243034,32109772374106,32109772505178,32109772636250,32109772767322,32109772898394,32109773029466,32109773160538,32109773291610,32109773422682,32109773553754,32109773684826,32109773914202,32109774143578,32109774274650,32109774405722,32109774536794,32109774667866,32109774798938,32109774930010,32109775061082,32109775192154,43766832759012]},"available":false,"name":"Altama Maritime Assault Mid (Solid) - 10.5 \/ Coyote","public_title":"10.5 \/ Coyote","options":["10.5","Coyote"],"price":10999,"weight":0,"compare_at_price":null,"inventory_quantity":-1,"inventory_management":"shopify","inventory_policy":"deny","barcode":"","featured_media":{"alt":null,"id":7182753497178,"position":1,"preview_image":{"aspect_ratio":1.0,"height":833,"width":833,"src":"\/\/shop.bootcampaign.org\/cdn\/shop\/products\/333003_1.jpg?v=1586962444"}},"requires_selling_plan":false,"selling_plan_allocations":[]},{"id":32109773586522,"title":"10.5 \/ Black","option1":"10.5","option2":"Black","option3":null,"sku":"333001-10.5","requires_shipping":true,"taxable":true,"featured_image":{"id":15027568902234,"product_id":4637083598938,"position":2,"created_at":"2020-04-14T16:37:41-05:00","updated_at":"2020-04-15T09:54:04-05:00","alt":null,"width":833,"height":833,"src":"\/\/shop.bootcampaign.org\/cdn\/shop\/products\/333001_1.jpg?v=1586962444","variant_ids":[32109771882586,32109772013658,32109772144730,32109772275802,32109772406874,32109772537946,32109772669018,32109772800090,32109772931162,32109773062234,32109773193306,32109773324378,32109773455450,32109773586522,32109773717594,32109773979738,32109774176346,32109774307418,32109774438490,32109774569562,32109774700634,32109774831706,32109774962778,32109775093850,32109775224922]},"available":false,"name":"Altama Maritime Assault Mid (Solid) - 10.5 \/ Black","public_title":"10.5 \/ Black","options":["10.5","Black"],"price":10999,"weight":0,"compare_at_price":null,"inventory_quantity":0,"inventory_management":"shopify","inventory_policy":"deny","barcode":"","featured_media":{"alt":null,"id":7182753431642,"position":2,"preview_image":{"aspect_ratio":1.0,"height":833,"width":833,"src":"\/\/shop.bootcampaign.org\/cdn\/shop\/products\/333001_1.jpg?v=1586962444"}},"requires_selling_plan":false,"selling_plan_allocations":[]},{"id":32109773619290,"title":"10.5 \/ Olive Drab","option1":"10.5","option2":"Olive Drab","option3":null,"sku":"333006-10.5","requires_shipping":true,"taxable":true,"featured_image":{"id":15027568967770,"product_id":4637083598938,"position":5,"created_at":"2020-04-14T16:37:42-05:00","updated_at":"2020-04-14T16:37:44-05:00","alt":null,"width":833,"height":833,"src":"\/\/shop.bootcampaign.org\/cdn\/shop\/products\/333006_1.jpg?v=1586900264","variant_ids":[32109771915354,32109772046426,32109772177498,32109772308570,32109772439642,32109772570714,32109772701786,32109772832858,32109772963930,32109773095002,32109773226074,32109773357146,32109773488218,32109773619290,32109773750362,32109774045274,32109774209114,32109774340186,32109774471258,32109774602330,32109774733402,32109774864474,32109774995546,32109775126618,32109775257690]},"available":false,"name":"Altama Maritime Assault Mid (Solid) - 10.5 \/ Olive Drab","public_title":"10.5 \/ Olive Drab","options":["10.5","Olive Drab"],"price":10999,"weight":0,"compare_at_price":null,"inventory_quantity":0,"inventory_management":"shopify","inventory_policy":"deny","barcode":"","featured_media":{"alt":null,"id":7182753562714,"position":5,"preview_image":{"aspect_ratio":1.0,"height":833,"width":833,"src":"\/\/shop.bootcampaign.org\/cdn\/shop\/products\/333006_1.jpg?v=1586900264"}},"requires_selling_plan":false,"selling_plan_allocations":[]},{"id":32109773652058,"title":"10.5 \/ Wolf Grey","option1":"10.5","option2":"Wolf Grey","option3":null,"sku":"333007-10.5","requires_shipping":true,"taxable":true,"featured_image":{"id":15027569033306,"product_id":4637083598938,"position":4,"created_at":"2020-04-14T16:37:42-05:00","updated_at":"2020-04-14T16:37:44-05:00","alt":null,"width":833,"height":833,"src":"\/\/shop.bootcampaign.org\/cdn\/shop\/products\/333007_1.jpg?v=1586900264","variant_ids":[32109771948122,32109772079194,32109772210266,32109772341338,32109772472410,32109772603482,32109772734554,32109772865626,32109772996698,32109773127770,32109773258842,32109773389914,32109773520986,32109773652058,32109773815898,32109774110810,32109774241882,32109774372954,32109774504026,32109774635098,32109774766170,32109774897242,32109775028314,32109775290458]},"available":true,"name":"Altama Maritime Assault Mid (Solid) - 10.5 \/ Wolf Grey","public_title":"10.5 \/ Wolf Grey","options":["10.5","Wolf Grey"],"price":10999,"weight":0,"compare_at_price":null,"inventory_quantity":72,"inventory_management":"shopify","inventory_policy":"deny","barcode":"","featured_media":{"alt":null,"id":7182753529946,"position":4,"preview_image":{"aspect_ratio":1.0,"height":833,"width":833,"src":"\/\/shop.bootcampaign.org\/cdn\/shop\/products\/333007_1.jpg?v=1586900264"}},"requires_selling_plan":false,"selling_plan_allocations":[]},{"id":32109773684826,"title":"11 \/ Coyote","option1":"11","option2":"Coyote","option3":null,"sku":"333003-11","requires_shipping":true,"taxable":true,"featured_image":{"id":15027568935002,"product_id":4637083598938,"position":1,"created_at":"2020-04-14T16:37:41-05:00","updated_at":"2020-04-15T09:54:04-05:00","alt":null,"width":833,"height":833,"src":"\/\/shop.bootcampaign.org\/cdn\/shop\/products\/333003_1.jpg?v=1586962444","variant_ids":[32109771849818,32109771980890,32109772111962,32109772243034,32109772374106,32109772505178,32109772636250,32109772767322,32109772898394,32109773029466,32109773160538,32109773291610,32109773422682,32109773553754,32109773684826,32109773914202,32109774143578,32109774274650,32109774405722,32109774536794,32109774667866,32109774798938,32109774930010,32109775061082,32109775192154,43766832759012]},"available":true,"name":"Altama Maritime Assault Mid (Solid) - 11 \/ Coyote","public_title":"11 \/ Coyote","options":["11","Coyote"],"price":10999,"weight":0,"compare_at_price":null,"inventory_quantity":190,"inventory_management":"shopify","inventory_policy":"deny","barcode":"","featured_media":{"alt":null,"id":7182753497178,"position":1,"preview_image":{"aspect_ratio":1.0,"height":833,"width":833,"src":"\/\/shop.bootcampaign.org\/cdn\/shop\/products\/333003_1.jpg?v=1586962444"}},"requires_selling_plan":false,"selling_plan_allocations":[]},{"id":32109773717594,"title":"10Wide \/ Black","option1":"10Wide","option2":"Black","option3":null,"sku":"333001-10Wide","requires_shipping":true,"taxable":true,"featured_image":{"id":15027568902234,"product_id":4637083598938,"position":2,"created_at":"2020-04-14T16:37:41-05:00","updated_at":"2020-04-15T09:54:04-05:00","alt":null,"width":833,"height":833,"src":"\/\/shop.bootcampaign.org\/cdn\/shop\/products\/333001_1.jpg?v=1586962444","variant_ids":[32109771882586,32109772013658,32109772144730,32109772275802,32109772406874,32109772537946,32109772669018,32109772800090,32109772931162,32109773062234,32109773193306,32109773324378,32109773455450,32109773586522,32109773717594,32109773979738,32109774176346,32109774307418,32109774438490,32109774569562,32109774700634,32109774831706,32109774962778,32109775093850,32109775224922]},"available":true,"name":"Altama Maritime Assault Mid (Solid) - 10Wide \/ Black","public_title":"10Wide \/ Black","options":["10Wide","Black"],"price":10999,"weight":0,"compare_at_price":null,"inventory_quantity":239,"inventory_management":"shopify","inventory_policy":"deny","barcode":"","featured_media":{"alt":null,"id":7182753431642,"position":2,"preview_image":{"aspect_ratio":1.0,"height":833,"width":833,"src":"\/\/shop.bootcampaign.org\/cdn\/shop\/products\/333001_1.jpg?v=1586962444"}},"requires_selling_plan":false,"selling_plan_allocations":[]},{"id":32109773750362,"title":"10Wide \/ Olive Drab","option1":"10Wide","option2":"Olive Drab","option3":null,"sku":"333006-10Wide","requires_shipping":true,"taxable":true,"featured_image":{"id":15027568967770,"product_id":4637083598938,"position":5,"created_at":"2020-04-14T16:37:42-05:00","updated_at":"2020-04-14T16:37:44-05:00","alt":null,"width":833,"height":833,"src":"\/\/shop.bootcampaign.org\/cdn\/shop\/products\/333006_1.jpg?v=1586900264","variant_ids":[32109771915354,32109772046426,32109772177498,32109772308570,32109772439642,32109772570714,32109772701786,32109772832858,32109772963930,32109773095002,32109773226074,32109773357146,32109773488218,32109773619290,32109773750362,32109774045274,32109774209114,32109774340186,32109774471258,32109774602330,32109774733402,32109774864474,32109774995546,32109775126618,32109775257690]},"available":true,"name":"Altama Maritime Assault Mid (Solid) - 10Wide \/ Olive Drab","public_title":"10Wide \/ Olive Drab","options":["10Wide","Olive Drab"],"price":10999,"weight":0,"compare_at_price":null,"inventory_quantity":75,"inventory_management":"shopify","inventory_policy":"deny","barcode":"","featured_media":{"alt":null,"id":7182753562714,"position":5,"preview_image":{"aspect_ratio":1.0,"height":833,"width":833,"src":"\/\/shop.bootcampaign.org\/cdn\/shop\/products\/333006_1.jpg?v=1586900264"}},"requires_selling_plan":false,"selling_plan_allocations":[]},{"id":32109773815898,"title":"10Wide \/ Wolf Grey","option1":"10Wide","option2":"Wolf Grey","option3":null,"sku":"333007-10Wide","requires_shipping":true,"taxable":true,"featured_image":{"id":15027569033306,"product_id":4637083598938,"position":4,"created_at":"2020-04-14T16:37:42-05:00","updated_at":"2020-04-14T16:37:44-05:00","alt":null,"width":833,"height":833,"src":"\/\/shop.bootcampaign.org\/cdn\/shop\/products\/333007_1.jpg?v=1586900264","variant_ids":[32109771948122,32109772079194,32109772210266,32109772341338,32109772472410,32109772603482,32109772734554,32109772865626,32109772996698,32109773127770,32109773258842,32109773389914,32109773520986,32109773652058,32109773815898,32109774110810,32109774241882,32109774372954,32109774504026,32109774635098,32109774766170,32109774897242,32109775028314,32109775290458]},"available":true,"name":"Altama Maritime Assault Mid (Solid) - 10Wide \/ Wolf Grey","public_title":"10Wide \/ Wolf Grey","options":["10Wide","Wolf Grey"],"price":10999,"weight":0,"compare_at_price":null,"inventory_quantity":25,"inventory_management":"shopify","inventory_policy":"deny","barcode":"","featured_media":{"alt":null,"id":7182753529946,"position":4,"preview_image":{"aspect_ratio":1.0,"height":833,"width":833,"src":"\/\/shop.bootcampaign.org\/cdn\/shop\/products\/333007_1.jpg?v=1586900264"}},"requires_selling_plan":false,"selling_plan_allocations":[]},{"id":32109773914202,"title":"10.5wide \/ Coyote","option1":"10.5wide","option2":"Coyote","option3":null,"sku":"333003-10.5wide","requires_shipping":true,"taxable":true,"featured_image":{"id":15027568935002,"product_id":4637083598938,"position":1,"created_at":"2020-04-14T16:37:41-05:00","updated_at":"2020-04-15T09:54:04-05:00","alt":null,"width":833,"height":833,"src":"\/\/shop.bootcampaign.org\/cdn\/shop\/products\/333003_1.jpg?v=1586962444","variant_ids":[32109771849818,32109771980890,32109772111962,32109772243034,32109772374106,32109772505178,32109772636250,32109772767322,32109772898394,32109773029466,32109773160538,32109773291610,32109773422682,32109773553754,32109773684826,32109773914202,32109774143578,32109774274650,32109774405722,32109774536794,32109774667866,32109774798938,32109774930010,32109775061082,32109775192154,43766832759012]},"available":true,"name":"Altama Maritime Assault Mid (Solid) - 10.5wide \/ Coyote","public_title":"10.5wide \/ Coyote","options":["10.5wide","Coyote"],"price":10999,"weight":0,"compare_at_price":null,"inventory_quantity":463,"inventory_management":"shopify","inventory_policy":"deny","barcode":"","featured_media":{"alt":null,"id":7182753497178,"position":1,"preview_image":{"aspect_ratio":1.0,"height":833,"width":833,"src":"\/\/shop.bootcampaign.org\/cdn\/shop\/products\/333003_1.jpg?v=1586962444"}},"requires_selling_plan":false,"selling_plan_allocations":[]},{"id":32109773979738,"title":"11 \/ Black","option1":"11","option2":"Black","option3":null,"sku":"333001-11","requires_shipping":true,"taxable":true,"featured_image":{"id":15027568902234,"product_id":4637083598938,"position":2,"created_at":"2020-04-14T16:37:41-05:00","updated_at":"2020-04-15T09:54:04-05:00","alt":null,"width":833,"height":833,"src":"\/\/shop.bootcampaign.org\/cdn\/shop\/products\/333001_1.jpg?v=1586962444","variant_ids":[32109771882586,32109772013658,32109772144730,32109772275802,32109772406874,32109772537946,32109772669018,32109772800090,32109772931162,32109773062234,32109773193306,32109773324378,32109773455450,32109773586522,32109773717594,32109773979738,32109774176346,32109774307418,32109774438490,32109774569562,32109774700634,32109774831706,32109774962778,32109775093850,32109775224922]},"available":true,"name":"Altama Maritime Assault Mid (Solid) - 11 \/ Black","public_title":"11 \/ Black","options":["11","Black"],"price":10999,"weight":0,"compare_at_price":null,"inventory_quantity":584,"inventory_management":"shopify","inventory_policy":"deny","barcode":"","featured_media":{"alt":null,"id":7182753431642,"position":2,"preview_image":{"aspect_ratio":1.0,"height":833,"width":833,"src":"\/\/shop.bootcampaign.org\/cdn\/shop\/products\/333001_1.jpg?v=1586962444"}},"requires_selling_plan":false,"selling_plan_allocations":[]},{"id":32109774045274,"title":"11 \/ Olive Drab","option1":"11","option2":"Olive Drab","option3":null,"sku":"333006-11","requires_shipping":true,"taxable":true,"featured_image":{"id":15027568967770,"product_id":4637083598938,"position":5,"created_at":"2020-04-14T16:37:42-05:00","updated_at":"2020-04-14T16:37:44-05:00","alt":null,"width":833,"height":833,"src":"\/\/shop.bootcampaign.org\/cdn\/shop\/products\/333006_1.jpg?v=1586900264","variant_ids":[32109771915354,32109772046426,32109772177498,32109772308570,32109772439642,32109772570714,32109772701786,32109772832858,32109772963930,32109773095002,32109773226074,32109773357146,32109773488218,32109773619290,32109773750362,32109774045274,32109774209114,32109774340186,32109774471258,32109774602330,32109774733402,32109774864474,32109774995546,32109775126618,32109775257690]},"available":false,"name":"Altama Maritime Assault Mid (Solid) - 11 \/ Olive Drab","public_title":"11 \/ Olive Drab","options":["11","Olive Drab"],"price":10999,"weight":0,"compare_at_price":null,"inventory_quantity":0,"inventory_management":"shopify","inventory_policy":"deny","barcode":"","featured_media":{"alt":null,"id":7182753562714,"position":5,"preview_image":{"aspect_ratio":1.0,"height":833,"width":833,"src":"\/\/shop.bootcampaign.org\/cdn\/shop\/products\/333006_1.jpg?v=1586900264"}},"requires_selling_plan":false,"selling_plan_allocations":[]},{"id":32109774110810,"title":"11 \/ Wolf Grey","option1":"11","option2":"Wolf Grey","option3":null,"sku":"333007-11","requires_shipping":true,"taxable":true,"featured_image":{"id":15027569033306,"product_id":4637083598938,"position":4,"created_at":"2020-04-14T16:37:42-05:00","updated_at":"2020-04-14T16:37:44-05:00","alt":null,"width":833,"height":833,"src":"\/\/shop.bootcampaign.org\/cdn\/shop\/products\/333007_1.jpg?v=1586900264","variant_ids":[32109771948122,32109772079194,32109772210266,32109772341338,32109772472410,32109772603482,32109772734554,32109772865626,32109772996698,32109773127770,32109773258842,32109773389914,32109773520986,32109773652058,32109773815898,32109774110810,32109774241882,32109774372954,32109774504026,32109774635098,32109774766170,32109774897242,32109775028314,32109775290458]},"available":true,"name":"Altama Maritime Assault Mid (Solid) - 11 \/ Wolf Grey","public_title":"11 \/ Wolf Grey","options":["11","Wolf Grey"],"price":10999,"weight":0,"compare_at_price":null,"inventory_quantity":39,"inventory_management":"shopify","inventory_policy":"deny","barcode":"","featured_media":{"alt":null,"id":7182753529946,"position":4,"preview_image":{"aspect_ratio":1.0,"height":833,"width":833,"src":"\/\/shop.bootcampaign.org\/cdn\/shop\/products\/333007_1.jpg?v=1586900264"}},"requires_selling_plan":false,"selling_plan_allocations":[]},{"id":32109774143578,"title":"11.5 \/ Coyote","option1":"11.5","option2":"Coyote","option3":null,"sku":"333003-11.5","requires_shipping":true,"taxable":true,"featured_image":{"id":15027568935002,"product_id":4637083598938,"position":1,"created_at":"2020-04-14T16:37:41-05:00","updated_at":"2020-04-15T09:54:04-05:00","alt":null,"width":833,"height":833,"src":"\/\/shop.bootcampaign.org\/cdn\/shop\/products\/333003_1.jpg?v=1586962444","variant_ids":[32109771849818,32109771980890,32109772111962,32109772243034,32109772374106,32109772505178,32109772636250,32109772767322,32109772898394,32109773029466,32109773160538,32109773291610,32109773422682,32109773553754,32109773684826,32109773914202,32109774143578,32109774274650,32109774405722,32109774536794,32109774667866,32109774798938,32109774930010,32109775061082,32109775192154,43766832759012]},"available":false,"name":"Altama Maritime Assault Mid (Solid) - 11.5 \/ Coyote","public_title":"11.5 \/ Coyote","options":["11.5","Coyote"],"price":10999,"weight":0,"compare_at_price":null,"inventory_quantity":-1,"inventory_management":"shopify","inventory_policy":"deny","barcode":"","featured_media":{"alt":null,"id":7182753497178,"position":1,"preview_image":{"aspect_ratio":1.0,"height":833,"width":833,"src":"\/\/shop.bootcampaign.org\/cdn\/shop\/products\/333003_1.jpg?v=1586962444"}},"requires_selling_plan":false,"selling_plan_allocations":[]},{"id":32109774176346,"title":"11.5 \/ Black","option1":"11.5","option2":"Black","option3":null,"sku":"333001-11.5","requires_shipping":true,"taxable":true,"featured_image":{"id":15027568902234,"product_id":4637083598938,"position":2,"created_at":"2020-04-14T16:37:41-05:00","updated_at":"2020-04-15T09:54:04-05:00","alt":null,"width":833,"height":833,"src":"\/\/shop.bootcampaign.org\/cdn\/shop\/products\/333001_1.jpg?v=1586962444","variant_ids":[32109771882586,32109772013658,32109772144730,32109772275802,32109772406874,32109772537946,32109772669018,32109772800090,32109772931162,32109773062234,32109773193306,32109773324378,32109773455450,32109773586522,32109773717594,32109773979738,32109774176346,32109774307418,32109774438490,32109774569562,32109774700634,32109774831706,32109774962778,32109775093850,32109775224922]},"available":false,"name":"Altama Maritime Assault Mid (Solid) - 11.5 \/ Black","public_title":"11.5 \/ Black","options":["11.5","Black"],"price":10999,"weight":0,"compare_at_price":null,"inventory_quantity":0,"inventory_management":"shopify","inventory_policy":"deny","barcode":"","featured_media":{"alt":null,"id":7182753431642,"position":2,"preview_image":{"aspect_ratio":1.0,"height":833,"width":833,"src":"\/\/shop.bootcampaign.org\/cdn\/shop\/products\/333001_1.jpg?v=1586962444"}},"requires_selling_plan":false,"selling_plan_allocations":[]},{"id":32109774209114,"title":"11.5 \/ Olive Drab","option1":"11.5","option2":"Olive Drab","option3":null,"sku":"333006-11.5","requires_shipping":true,"taxable":true,"featured_image":{"id":15027568967770,"product_id":4637083598938,"position":5,"created_at":"2020-04-14T16:37:42-05:00","updated_at":"2020-04-14T16:37:44-05:00","alt":null,"width":833,"height":833,"src":"\/\/shop.bootcampaign.org\/cdn\/shop\/products\/333006_1.jpg?v=1586900264","variant_ids":[32109771915354,32109772046426,32109772177498,32109772308570,32109772439642,32109772570714,32109772701786,32109772832858,32109772963930,32109773095002,32109773226074,32109773357146,32109773488218,32109773619290,32109773750362,32109774045274,32109774209114,32109774340186,32109774471258,32109774602330,32109774733402,32109774864474,32109774995546,32109775126618,32109775257690]},"available":false,"name":"Altama Maritime Assault Mid (Solid) - 11.5 \/ Olive Drab","public_title":"11.5 \/ Olive Drab","options":["11.5","Olive Drab"],"price":10999,"weight":0,"compare_at_price":null,"inventory_quantity":0,"inventory_management":"shopify","inventory_policy":"deny","barcode":"","featured_media":{"alt":null,"id":7182753562714,"position":5,"preview_image":{"aspect_ratio":1.0,"height":833,"width":833,"src":"\/\/shop.bootcampaign.org\/cdn\/shop\/products\/333006_1.jpg?v=1586900264"}},"requires_selling_plan":false,"selling_plan_allocations":[]},{"id":32109774241882,"title":"11.5 \/ Wolf Grey","option1":"11.5","option2":"Wolf Grey","option3":null,"sku":"333007-11.5","requires_shipping":true,"taxable":true,"featured_image":{"id":15027569033306,"product_id":4637083598938,"position":4,"created_at":"2020-04-14T16:37:42-05:00","updated_at":"2020-04-14T16:37:44-05:00","alt":null,"width":833,"height":833,"src":"\/\/shop.bootcampaign.org\/cdn\/shop\/products\/333007_1.jpg?v=1586900264","variant_ids":[32109771948122,32109772079194,32109772210266,32109772341338,32109772472410,32109772603482,32109772734554,32109772865626,32109772996698,32109773127770,32109773258842,32109773389914,32109773520986,32109773652058,32109773815898,32109774110810,32109774241882,32109774372954,32109774504026,32109774635098,32109774766170,32109774897242,32109775028314,32109775290458]},"available":true,"name":"Altama Maritime Assault Mid (Solid) - 11.5 \/ Wolf Grey","public_title":"11.5 \/ Wolf Grey","options":["11.5","Wolf Grey"],"price":10999,"weight":0,"compare_at_price":null,"inventory_quantity":55,"inventory_management":"shopify","inventory_policy":"deny","barcode":"","featured_media":{"alt":null,"id":7182753529946,"position":4,"preview_image":{"aspect_ratio":1.0,"height":833,"width":833,"src":"\/\/shop.bootcampaign.org\/cdn\/shop\/products\/333007_1.jpg?v=1586900264"}},"requires_selling_plan":false,"selling_plan_allocations":[]},{"id":32109774274650,"title":"11Wide \/ Coyote","option1":"11Wide","option2":"Coyote","option3":null,"sku":"333003-11Wide","requires_shipping":true,"taxable":true,"featured_image":{"id":15027568935002,"product_id":4637083598938,"position":1,"created_at":"2020-04-14T16:37:41-05:00","updated_at":"2020-04-15T09:54:04-05:00","alt":null,"width":833,"height":833,"src":"\/\/shop.bootcampaign.org\/cdn\/shop\/products\/333003_1.jpg?v=1586962444","variant_ids":[32109771849818,32109771980890,32109772111962,32109772243034,32109772374106,32109772505178,32109772636250,32109772767322,32109772898394,32109773029466,32109773160538,32109773291610,32109773422682,32109773553754,32109773684826,32109773914202,32109774143578,32109774274650,32109774405722,32109774536794,32109774667866,32109774798938,32109774930010,32109775061082,32109775192154,43766832759012]},"available":true,"name":"Altama Maritime Assault Mid (Solid) - 11Wide \/ Coyote","public_title":"11Wide \/ Coyote","options":["11Wide","Coyote"],"price":10999,"weight":0,"compare_at_price":null,"inventory_quantity":270,"inventory_management":"shopify","inventory_policy":"deny","barcode":"","featured_media":{"alt":null,"id":7182753497178,"position":1,"preview_image":{"aspect_ratio":1.0,"height":833,"width":833,"src":"\/\/shop.bootcampaign.org\/cdn\/shop\/products\/333003_1.jpg?v=1586962444"}},"requires_selling_plan":false,"selling_plan_allocations":[]},{"id":32109774307418,"title":"11Wide \/ Black","option1":"11Wide","option2":"Black","option3":null,"sku":"333001-11Wide","requires_shipping":true,"taxable":true,"featured_image":{"id":15027568902234,"product_id":4637083598938,"position":2,"created_at":"2020-04-14T16:37:41-05:00","updated_at":"2020-04-15T09:54:04-05:00","alt":null,"width":833,"height":833,"src":"\/\/shop.bootcampaign.org\/cdn\/shop\/products\/333001_1.jpg?v=1586962444","variant_ids":[32109771882586,32109772013658,32109772144730,32109772275802,32109772406874,32109772537946,32109772669018,32109772800090,32109772931162,32109773062234,32109773193306,32109773324378,32109773455450,32109773586522,32109773717594,32109773979738,32109774176346,32109774307418,32109774438490,32109774569562,32109774700634,32109774831706,32109774962778,32109775093850,32109775224922]},"available":false,"name":"Altama Maritime Assault Mid (Solid) - 11Wide \/ Black","public_title":"11Wide \/ Black","options":["11Wide","Black"],"price":10999,"weight":0,"compare_at_price":null,"inventory_quantity":0,"inventory_management":"shopify","inventory_policy":"deny","barcode":"","featured_media":{"alt":null,"id":7182753431642,"position":2,"preview_image":{"aspect_ratio":1.0,"height":833,"width":833,"src":"\/\/shop.bootcampaign.org\/cdn\/shop\/products\/333001_1.jpg?v=1586962444"}},"requires_selling_plan":false,"selling_plan_allocations":[]},{"id":32109774340186,"title":"11Wide \/ Olive Drab","option1":"11Wide","option2":"Olive Drab","option3":null,"sku":"333006-11Wide","requires_shipping":true,"taxable":true,"featured_image":{"id":15027568967770,"product_id":4637083598938,"position":5,"created_at":"2020-04-14T16:37:42-05:00","updated_at":"2020-04-14T16:37:44-05:00","alt":null,"width":833,"height":833,"src":"\/\/shop.bootcampaign.org\/cdn\/shop\/products\/333006_1.jpg?v=1586900264","variant_ids":[32109771915354,32109772046426,32109772177498,32109772308570,32109772439642,32109772570714,32109772701786,32109772832858,32109772963930,32109773095002,32109773226074,32109773357146,32109773488218,32109773619290,32109773750362,32109774045274,32109774209114,32109774340186,32109774471258,32109774602330,32109774733402,32109774864474,32109774995546,32109775126618,32109775257690]},"available":true,"name":"Altama Maritime Assault Mid (Solid) - 11Wide \/ Olive Drab","public_title":"11Wide \/ Olive Drab","options":["11Wide","Olive Drab"],"price":10999,"weight":0,"compare_at_price":null,"inventory_quantity":22,"inventory_management":"shopify","inventory_policy":"deny","barcode":"","featured_media":{"alt":null,"id":7182753562714,"position":5,"preview_image":{"aspect_ratio":1.0,"height":833,"width":833,"src":"\/\/shop.bootcampaign.org\/cdn\/shop\/products\/333006_1.jpg?v=1586900264"}},"requires_selling_plan":false,"selling_plan_allocations":[]},{"id":32109774372954,"title":"11Wide \/ Wolf Grey","option1":"11Wide","option2":"Wolf Grey","option3":null,"sku":"333007-11Wide","requires_shipping":true,"taxable":true,"featured_image":{"id":15027569033306,"product_id":4637083598938,"position":4,"created_at":"2020-04-14T16:37:42-05:00","updated_at":"2020-04-14T16:37:44-05:00","alt":null,"width":833,"height":833,"src":"\/\/shop.bootcampaign.org\/cdn\/shop\/products\/333007_1.jpg?v=1586900264","variant_ids":[32109771948122,32109772079194,32109772210266,32109772341338,32109772472410,32109772603482,32109772734554,32109772865626,32109772996698,32109773127770,32109773258842,32109773389914,32109773520986,32109773652058,32109773815898,32109774110810,32109774241882,32109774372954,32109774504026,32109774635098,32109774766170,32109774897242,32109775028314,32109775290458]},"available":true,"name":"Altama Maritime Assault Mid (Solid) - 11Wide \/ Wolf Grey","public_title":"11Wide \/ Wolf Grey","options":["11Wide","Wolf Grey"],"price":10999,"weight":0,"compare_at_price":null,"inventory_quantity":20,"inventory_management":"shopify","inventory_policy":"deny","barcode":"","featured_media":{"alt":null,"id":7182753529946,"position":4,"preview_image":{"aspect_ratio":1.0,"height":833,"width":833,"src":"\/\/shop.bootcampaign.org\/cdn\/shop\/products\/333007_1.jpg?v=1586900264"}},"requires_selling_plan":false,"selling_plan_allocations":[]},{"id":32109774405722,"title":"12 \/ Coyote","option1":"12","option2":"Coyote","option3":null,"sku":"333003-12","requires_shipping":true,"taxable":true,"featured_image":{"id":15027568935002,"product_id":4637083598938,"position":1,"created_at":"2020-04-14T16:37:41-05:00","updated_at":"2020-04-15T09:54:04-05:00","alt":null,"width":833,"height":833,"src":"\/\/shop.bootcampaign.org\/cdn\/shop\/products\/333003_1.jpg?v=1586962444","variant_ids":[32109771849818,32109771980890,32109772111962,32109772243034,32109772374106,32109772505178,32109772636250,32109772767322,32109772898394,32109773029466,32109773160538,32109773291610,32109773422682,32109773553754,32109773684826,32109773914202,32109774143578,32109774274650,32109774405722,32109774536794,32109774667866,32109774798938,32109774930010,32109775061082,32109775192154,43766832759012]},"available":true,"name":"Altama Maritime Assault Mid (Solid) - 12 \/ Coyote","public_title":"12 \/ Coyote","options":["12","Coyote"],"price":10999,"weight":0,"compare_at_price":null,"inventory_quantity":364,"inventory_management":"shopify","inventory_policy":"deny","barcode":"","featured_media":{"alt":null,"id":7182753497178,"position":1,"preview_image":{"aspect_ratio":1.0,"height":833,"width":833,"src":"\/\/shop.bootcampaign.org\/cdn\/shop\/products\/333003_1.jpg?v=1586962444"}},"requires_selling_plan":false,"selling_plan_allocations":[]},{"id":32109774438490,"title":"12 \/ Black","option1":"12","option2":"Black","option3":null,"sku":"333001-12","requires_shipping":true,"taxable":true,"featured_image":{"id":15027568902234,"product_id":4637083598938,"position":2,"created_at":"2020-04-14T16:37:41-05:00","updated_at":"2020-04-15T09:54:04-05:00","alt":null,"width":833,"height":833,"src":"\/\/shop.bootcampaign.org\/cdn\/shop\/products\/333001_1.jpg?v=1586962444","variant_ids":[32109771882586,32109772013658,32109772144730,32109772275802,32109772406874,32109772537946,32109772669018,32109772800090,32109772931162,32109773062234,32109773193306,32109773324378,32109773455450,32109773586522,32109773717594,32109773979738,32109774176346,32109774307418,32109774438490,32109774569562,32109774700634,32109774831706,32109774962778,32109775093850,32109775224922]},"available":true,"name":"Altama Maritime Assault Mid (Solid) - 12 \/ Black","public_title":"12 \/ Black","options":["12","Black"],"price":10999,"weight":0,"compare_at_price":null,"inventory_quantity":299,"inventory_management":"shopify","inventory_policy":"deny","barcode":"","featured_media":{"alt":null,"id":7182753431642,"position":2,"preview_image":{"aspect_ratio":1.0,"height":833,"width":833,"src":"\/\/shop.bootcampaign.org\/cdn\/shop\/products\/333001_1.jpg?v=1586962444"}},"requires_selling_plan":false,"selling_plan_allocations":[]},{"id":32109774471258,"title":"12 \/ Olive Drab","option1":"12","option2":"Olive Drab","option3":null,"sku":"333006-12","requires_shipping":true,"taxable":true,"featured_image":{"id":15027568967770,"product_id":4637083598938,"position":5,"created_at":"2020-04-14T16:37:42-05:00","updated_at":"2020-04-14T16:37:44-05:00","alt":null,"width":833,"height":833,"src":"\/\/shop.bootcampaign.org\/cdn\/shop\/products\/333006_1.jpg?v=1586900264","variant_ids":[32109771915354,32109772046426,32109772177498,32109772308570,32109772439642,32109772570714,32109772701786,32109772832858,32109772963930,32109773095002,32109773226074,32109773357146,32109773488218,32109773619290,32109773750362,32109774045274,32109774209114,32109774340186,32109774471258,32109774602330,32109774733402,32109774864474,32109774995546,32109775126618,32109775257690]},"available":false,"name":"Altama Maritime Assault Mid (Solid) - 12 \/ Olive Drab","public_title":"12 \/ Olive Drab","options":["12","Olive Drab"],"price":10999,"weight":0,"compare_at_price":null,"inventory_quantity":0,"inventory_management":"shopify","inventory_policy":"deny","barcode":"","featured_media":{"alt":null,"id":7182753562714,"position":5,"preview_image":{"aspect_ratio":1.0,"height":833,"width":833,"src":"\/\/shop.bootcampaign.org\/cdn\/shop\/products\/333006_1.jpg?v=1586900264"}},"requires_selling_plan":false,"selling_plan_allocations":[]},{"id":32109774504026,"title":"12 \/ Wolf Grey","option1":"12","option2":"Wolf Grey","option3":null,"sku":"333007-12","requires_shipping":true,"taxable":true,"featured_image":{"id":15027569033306,"product_id":4637083598938,"position":4,"created_at":"2020-04-14T16:37:42-05:00","updated_at":"2020-04-14T16:37:44-05:00","alt":null,"width":833,"height":833,"src":"\/\/shop.bootcampaign.org\/cdn\/shop\/products\/333007_1.jpg?v=1586900264","variant_ids":[32109771948122,32109772079194,32109772210266,32109772341338,32109772472410,32109772603482,32109772734554,32109772865626,32109772996698,32109773127770,32109773258842,32109773389914,32109773520986,32109773652058,32109773815898,32109774110810,32109774241882,32109774372954,32109774504026,32109774635098,32109774766170,32109774897242,32109775028314,32109775290458]},"available":true,"name":"Altama Maritime Assault Mid (Solid) - 12 \/ Wolf Grey","public_title":"12 \/ Wolf Grey","options":["12","Wolf Grey"],"price":10999,"weight":0,"compare_at_price":null,"inventory_quantity":57,"inventory_management":"shopify","inventory_policy":"deny","barcode":"","featured_media":{"alt":null,"id":7182753529946,"position":4,"preview_image":{"aspect_ratio":1.0,"height":833,"width":833,"src":"\/\/shop.bootcampaign.org\/cdn\/shop\/products\/333007_1.jpg?v=1586900264"}},"requires_selling_plan":false,"selling_plan_allocations":[]},{"id":32109774536794,"title":"12Wide \/ Coyote","option1":"12Wide","option2":"Coyote","option3":null,"sku":"333003-12Wide","requires_shipping":true,"taxable":true,"featured_image":{"id":15027568935002,"product_id":4637083598938,"position":1,"created_at":"2020-04-14T16:37:41-05:00","updated_at":"2020-04-15T09:54:04-05:00","alt":null,"width":833,"height":833,"src":"\/\/shop.bootcampaign.org\/cdn\/shop\/products\/333003_1.jpg?v=1586962444","variant_ids":[32109771849818,32109771980890,32109772111962,32109772243034,32109772374106,32109772505178,32109772636250,32109772767322,32109772898394,32109773029466,32109773160538,32109773291610,32109773422682,32109773553754,32109773684826,32109773914202,32109774143578,32109774274650,32109774405722,32109774536794,32109774667866,32109774798938,32109774930010,32109775061082,32109775192154,43766832759012]},"available":true,"name":"Altama Maritime Assault Mid (Solid) - 12Wide \/ Coyote","public_title":"12Wide \/ Coyote","options":["12Wide","Coyote"],"price":10999,"weight":0,"compare_at_price":null,"inventory_quantity":118,"inventory_management":"shopify","inventory_policy":"deny","barcode":"","featured_media":{"alt":null,"id":7182753497178,"position":1,"preview_image":{"aspect_ratio":1.0,"height":833,"width":833,"src":"\/\/shop.bootcampaign.org\/cdn\/shop\/products\/333003_1.jpg?v=1586962444"}},"requires_selling_plan":false,"selling_plan_allocations":[]},{"id":32109774569562,"title":"12Wide \/ Black","option1":"12Wide","option2":"Black","option3":null,"sku":"333001-12Wide","requires_shipping":true,"taxable":true,"featured_image":{"id":15027568902234,"product_id":4637083598938,"position":2,"created_at":"2020-04-14T16:37:41-05:00","updated_at":"2020-04-15T09:54:04-05:00","alt":null,"width":833,"height":833,"src":"\/\/shop.bootcampaign.org\/cdn\/shop\/products\/333001_1.jpg?v=1586962444","variant_ids":[32109771882586,32109772013658,32109772144730,32109772275802,32109772406874,32109772537946,32109772669018,32109772800090,32109772931162,32109773062234,32109773193306,32109773324378,32109773455450,32109773586522,32109773717594,32109773979738,32109774176346,32109774307418,32109774438490,32109774569562,32109774700634,32109774831706,32109774962778,32109775093850,32109775224922]},"available":false,"name":"Altama Maritime Assault Mid (Solid) - 12Wide \/ Black","public_title":"12Wide \/ Black","options":["12Wide","Black"],"price":10999,"weight":0,"compare_at_price":null,"inventory_quantity":0,"inventory_management":"shopify","inventory_policy":"deny","barcode":"","featured_media":{"alt":null,"id":7182753431642,"position":2,"preview_image":{"aspect_ratio":1.0,"height":833,"width":833,"src":"\/\/shop.bootcampaign.org\/cdn\/shop\/products\/333001_1.jpg?v=1586962444"}},"requires_selling_plan":false,"selling_plan_allocations":[]},{"id":32109774602330,"title":"12Wide \/ Olive Drab","option1":"12Wide","option2":"Olive Drab","option3":null,"sku":"333006-12Wide","requires_shipping":true,"taxable":true,"featured_image":{"id":15027568967770,"product_id":4637083598938,"position":5,"created_at":"2020-04-14T16:37:42-05:00","updated_at":"2020-04-14T16:37:44-05:00","alt":null,"width":833,"height":833,"src":"\/\/shop.bootcampaign.org\/cdn\/shop\/products\/333006_1.jpg?v=1586900264","variant_ids":[32109771915354,32109772046426,32109772177498,32109772308570,32109772439642,32109772570714,32109772701786,32109772832858,32109772963930,32109773095002,32109773226074,32109773357146,32109773488218,32109773619290,32109773750362,32109774045274,32109774209114,32109774340186,32109774471258,32109774602330,32109774733402,32109774864474,32109774995546,32109775126618,32109775257690]},"available":true,"name":"Altama Maritime Assault Mid (Solid) - 12Wide \/ Olive Drab","public_title":"12Wide \/ Olive Drab","options":["12Wide","Olive Drab"],"price":10999,"weight":0,"compare_at_price":null,"inventory_quantity":14,"inventory_management":"shopify","inventory_policy":"deny","barcode":"","featured_media":{"alt":null,"id":7182753562714,"position":5,"preview_image":{"aspect_ratio":1.0,"height":833,"width":833,"src":"\/\/shop.bootcampaign.org\/cdn\/shop\/products\/333006_1.jpg?v=1586900264"}},"requires_selling_plan":false,"selling_plan_allocations":[]},{"id":32109774635098,"title":"12Wide \/ Wolf Grey","option1":"12Wide","option2":"Wolf Grey","option3":null,"sku":"333007-12Wide","requires_shipping":true,"taxable":true,"featured_image":{"id":15027569033306,"product_id":4637083598938,"position":4,"created_at":"2020-04-14T16:37:42-05:00","updated_at":"2020-04-14T16:37:44-05:00","alt":null,"width":833,"height":833,"src":"\/\/shop.bootcampaign.org\/cdn\/shop\/products\/333007_1.jpg?v=1586900264","variant_ids":[32109771948122,32109772079194,32109772210266,32109772341338,32109772472410,32109772603482,32109772734554,32109772865626,32109772996698,32109773127770,32109773258842,32109773389914,32109773520986,32109773652058,32109773815898,32109774110810,32109774241882,32109774372954,32109774504026,32109774635098,32109774766170,32109774897242,32109775028314,32109775290458]},"available":true,"name":"Altama Maritime Assault Mid (Solid) - 12Wide \/ Wolf Grey","public_title":"12Wide \/ Wolf Grey","options":["12Wide","Wolf Grey"],"price":10999,"weight":0,"compare_at_price":null,"inventory_quantity":23,"inventory_management":"shopify","inventory_policy":"deny","barcode":"","featured_media":{"alt":null,"id":7182753529946,"position":4,"preview_image":{"aspect_ratio":1.0,"height":833,"width":833,"src":"\/\/shop.bootcampaign.org\/cdn\/shop\/products\/333007_1.jpg?v=1586900264"}},"requires_selling_plan":false,"selling_plan_allocations":[]},{"id":32109774667866,"title":"13 \/ Coyote","option1":"13","option2":"Coyote","option3":null,"sku":"333003-13","requires_shipping":true,"taxable":true,"featured_image":{"id":15027568935002,"product_id":4637083598938,"position":1,"created_at":"2020-04-14T16:37:41-05:00","updated_at":"2020-04-15T09:54:04-05:00","alt":null,"width":833,"height":833,"src":"\/\/shop.bootcampaign.org\/cdn\/shop\/products\/333003_1.jpg?v=1586962444","variant_ids":[32109771849818,32109771980890,32109772111962,32109772243034,32109772374106,32109772505178,32109772636250,32109772767322,32109772898394,32109773029466,32109773160538,32109773291610,32109773422682,32109773553754,32109773684826,32109773914202,32109774143578,32109774274650,32109774405722,32109774536794,32109774667866,32109774798938,32109774930010,32109775061082,32109775192154,43766832759012]},"available":true,"name":"Altama Maritime Assault Mid (Solid) - 13 \/ Coyote","public_title":"13 \/ Coyote","options":["13","Coyote"],"price":10999,"weight":0,"compare_at_price":null,"inventory_quantity":173,"inventory_management":"shopify","inventory_policy":"deny","barcode":"","featured_media":{"alt":null,"id":7182753497178,"position":1,"preview_image":{"aspect_ratio":1.0,"height":833,"width":833,"src":"\/\/shop.bootcampaign.org\/cdn\/shop\/products\/333003_1.jpg?v=1586962444"}},"requires_selling_plan":false,"selling_plan_allocations":[]},{"id":32109774700634,"title":"13 \/ Black","option1":"13","option2":"Black","option3":null,"sku":"333001-13","requires_shipping":true,"taxable":true,"featured_image":{"id":15027568902234,"product_id":4637083598938,"position":2,"created_at":"2020-04-14T16:37:41-05:00","updated_at":"2020-04-15T09:54:04-05:00","alt":null,"width":833,"height":833,"src":"\/\/shop.bootcampaign.org\/cdn\/shop\/products\/333001_1.jpg?v=1586962444","variant_ids":[32109771882586,32109772013658,32109772144730,32109772275802,32109772406874,32109772537946,32109772669018,32109772800090,32109772931162,32109773062234,32109773193306,32109773324378,32109773455450,32109773586522,32109773717594,32109773979738,32109774176346,32109774307418,32109774438490,32109774569562,32109774700634,32109774831706,32109774962778,32109775093850,32109775224922]},"available":true,"name":"Altama Maritime Assault Mid (Solid) - 13 \/ Black","public_title":"13 \/ Black","options":["13","Black"],"price":10999,"weight":0,"compare_at_price":null,"inventory_quantity":78,"inventory_management":"shopify","inventory_policy":"deny","barcode":"","featured_media":{"alt":null,"id":7182753431642,"position":2,"preview_image":{"aspect_ratio":1.0,"height":833,"width":833,"src":"\/\/shop.bootcampaign.org\/cdn\/shop\/products\/333001_1.jpg?v=1586962444"}},"requires_selling_plan":false,"selling_plan_allocations":[]},{"id":32109774733402,"title":"13 \/ Olive Drab","option1":"13","option2":"Olive Drab","option3":null,"sku":"333006-13","requires_shipping":true,"taxable":true,"featured_image":{"id":15027568967770,"product_id":4637083598938,"position":5,"created_at":"2020-04-14T16:37:42-05:00","updated_at":"2020-04-14T16:37:44-05:00","alt":null,"width":833,"height":833,"src":"\/\/shop.bootcampaign.org\/cdn\/shop\/products\/333006_1.jpg?v=1586900264","variant_ids":[32109771915354,32109772046426,32109772177498,32109772308570,32109772439642,32109772570714,32109772701786,32109772832858,32109772963930,32109773095002,32109773226074,32109773357146,32109773488218,32109773619290,32109773750362,32109774045274,32109774209114,32109774340186,32109774471258,32109774602330,32109774733402,32109774864474,32109774995546,32109775126618,32109775257690]},"available":false,"name":"Altama Maritime Assault Mid (Solid) - 13 \/ Olive Drab","public_title":"13 \/ Olive Drab","options":["13","Olive Drab"],"price":10999,"weight":0,"compare_at_price":null,"inventory_quantity":0,"inventory_management":"shopify","inventory_policy":"deny","barcode":"","featured_media":{"alt":null,"id":7182753562714,"position":5,"preview_image":{"aspect_ratio":1.0,"height":833,"width":833,"src":"\/\/shop.bootcampaign.org\/cdn\/shop\/products\/333006_1.jpg?v=1586900264"}},"requires_selling_plan":false,"selling_plan_allocations":[]},{"id":32109774766170,"title":"13 \/ Wolf Grey","option1":"13","option2":"Wolf Grey","option3":null,"sku":"333007-13","requires_shipping":true,"taxable":true,"featured_image":{"id":15027569033306,"product_id":4637083598938,"position":4,"created_at":"2020-04-14T16:37:42-05:00","updated_at":"2020-04-14T16:37:44-05:00","alt":null,"width":833,"height":833,"src":"\/\/shop.bootcampaign.org\/cdn\/shop\/products\/333007_1.jpg?v=1586900264","variant_ids":[32109771948122,32109772079194,32109772210266,32109772341338,32109772472410,32109772603482,32109772734554,32109772865626,32109772996698,32109773127770,32109773258842,32109773389914,32109773520986,32109773652058,32109773815898,32109774110810,32109774241882,32109774372954,32109774504026,32109774635098,32109774766170,32109774897242,32109775028314,32109775290458]},"available":true,"name":"Altama Maritime Assault Mid (Solid) - 13 \/ Wolf Grey","public_title":"13 \/ Wolf Grey","options":["13","Wolf Grey"],"price":10999,"weight":0,"compare_at_price":null,"inventory_quantity":24,"inventory_management":"shopify","inventory_policy":"deny","barcode":"","featured_media":{"alt":null,"id":7182753529946,"position":4,"preview_image":{"aspect_ratio":1.0,"height":833,"width":833,"src":"\/\/shop.bootcampaign.org\/cdn\/shop\/products\/333007_1.jpg?v=1586900264"}},"requires_selling_plan":false,"selling_plan_allocations":[]},{"id":32109774798938,"title":"13Wide \/ Coyote","option1":"13Wide","option2":"Coyote","option3":null,"sku":"333003-13Wide","requires_shipping":true,"taxable":true,"featured_image":{"id":15027568935002,"product_id":4637083598938,"position":1,"created_at":"2020-04-14T16:37:41-05:00","updated_at":"2020-04-15T09:54:04-05:00","alt":null,"width":833,"height":833,"src":"\/\/shop.bootcampaign.org\/cdn\/shop\/products\/333003_1.jpg?v=1586962444","variant_ids":[32109771849818,32109771980890,32109772111962,32109772243034,32109772374106,32109772505178,32109772636250,32109772767322,32109772898394,32109773029466,32109773160538,32109773291610,32109773422682,32109773553754,32109773684826,32109773914202,32109774143578,32109774274650,32109774405722,32109774536794,32109774667866,32109774798938,32109774930010,32109775061082,32109775192154,43766832759012]},"available":true,"name":"Altama Maritime Assault Mid (Solid) - 13Wide \/ Coyote","public_title":"13Wide \/ Coyote","options":["13Wide","Coyote"],"price":10999,"weight":0,"compare_at_price":null,"inventory_quantity":38,"inventory_management":"shopify","inventory_policy":"deny","barcode":"","featured_media":{"alt":null,"id":7182753497178,"position":1,"preview_image":{"aspect_ratio":1.0,"height":833,"width":833,"src":"\/\/shop.bootcampaign.org\/cdn\/shop\/products\/333003_1.jpg?v=1586962444"}},"requires_selling_plan":false,"selling_plan_allocations":[]},{"id":32109774831706,"title":"13Wide \/ Black","option1":"13Wide","option2":"Black","option3":null,"sku":"333001-13Wide","requires_shipping":true,"taxable":true,"featured_image":{"id":15027568902234,"product_id":4637083598938,"position":2,"created_at":"2020-04-14T16:37:41-05:00","updated_at":"2020-04-15T09:54:04-05:00","alt":null,"width":833,"height":833,"src":"\/\/shop.bootcampaign.org\/cdn\/shop\/products\/333001_1.jpg?v=1586962444","variant_ids":[32109771882586,32109772013658,32109772144730,32109772275802,32109772406874,32109772537946,32109772669018,32109772800090,32109772931162,32109773062234,32109773193306,32109773324378,32109773455450,32109773586522,32109773717594,32109773979738,32109774176346,32109774307418,32109774438490,32109774569562,32109774700634,32109774831706,32109774962778,32109775093850,32109775224922]},"available":false,"name":"Altama Maritime Assault Mid (Solid) - 13Wide \/ Black","public_title":"13Wide \/ Black","options":["13Wide","Black"],"price":10999,"weight":0,"compare_at_price":null,"inventory_quantity":0,"inventory_management":"shopify","inventory_policy":"deny","barcode":"","featured_media":{"alt":null,"id":7182753431642,"position":2,"preview_image":{"aspect_ratio":1.0,"height":833,"width":833,"src":"\/\/shop.bootcampaign.org\/cdn\/shop\/products\/333001_1.jpg?v=1586962444"}},"requires_selling_plan":false,"selling_plan_allocations":[]},{"id":32109774864474,"title":"13Wide \/ Olive Drab","option1":"13Wide","option2":"Olive Drab","option3":null,"sku":"333006-13Wide","requires_shipping":true,"taxable":true,"featured_image":{"id":15027568967770,"product_id":4637083598938,"position":5,"created_at":"2020-04-14T16:37:42-05:00","updated_at":"2020-04-14T16:37:44-05:00","alt":null,"width":833,"height":833,"src":"\/\/shop.bootcampaign.org\/cdn\/shop\/products\/333006_1.jpg?v=1586900264","variant_ids":[32109771915354,32109772046426,32109772177498,32109772308570,32109772439642,32109772570714,32109772701786,32109772832858,32109772963930,32109773095002,32109773226074,32109773357146,32109773488218,32109773619290,32109773750362,32109774045274,32109774209114,32109774340186,32109774471258,32109774602330,32109774733402,32109774864474,32109774995546,32109775126618,32109775257690]},"available":true,"name":"Altama Maritime Assault Mid (Solid) - 13Wide \/ Olive Drab","public_title":"13Wide \/ Olive Drab","options":["13Wide","Olive Drab"],"price":10999,"weight":0,"compare_at_price":null,"inventory_quantity":2,"inventory_management":"shopify","inventory_policy":"deny","barcode":"","featured_media":{"alt":null,"id":7182753562714,"position":5,"preview_image":{"aspect_ratio":1.0,"height":833,"width":833,"src":"\/\/shop.bootcampaign.org\/cdn\/shop\/products\/333006_1.jpg?v=1586900264"}},"requires_selling_plan":false,"selling_plan_allocations":[]},{"id":32109774897242,"title":"13Wide \/ Wolf Grey","option1":"13Wide","option2":"Wolf Grey","option3":null,"sku":"333007-13Wide","requires_shipping":true,"taxable":true,"featured_image":{"id":15027569033306,"product_id":4637083598938,"position":4,"created_at":"2020-04-14T16:37:42-05:00","updated_at":"2020-04-14T16:37:44-05:00","alt":null,"width":833,"height":833,"src":"\/\/shop.bootcampaign.org\/cdn\/shop\/products\/333007_1.jpg?v=1586900264","variant_ids":[32109771948122,32109772079194,32109772210266,32109772341338,32109772472410,32109772603482,32109772734554,32109772865626,32109772996698,32109773127770,32109773258842,32109773389914,32109773520986,32109773652058,32109773815898,32109774110810,32109774241882,32109774372954,32109774504026,32109774635098,32109774766170,32109774897242,32109775028314,32109775290458]},"available":true,"name":"Altama Maritime Assault Mid (Solid) - 13Wide \/ Wolf Grey","public_title":"13Wide \/ Wolf Grey","options":["13Wide","Wolf Grey"],"price":10999,"weight":0,"compare_at_price":null,"inventory_quantity":9,"inventory_management":"shopify","inventory_policy":"deny","barcode":"","featured_media":{"alt":null,"id":7182753529946,"position":4,"preview_image":{"aspect_ratio":1.0,"height":833,"width":833,"src":"\/\/shop.bootcampaign.org\/cdn\/shop\/products\/333007_1.jpg?v=1586900264"}},"requires_selling_plan":false,"selling_plan_allocations":[]},{"id":32109774930010,"title":"14 \/ Coyote","option1":"14","option2":"Coyote","option3":null,"sku":"333003-14","requires_shipping":true,"taxable":true,"featured_image":{"id":15027568935002,"product_id":4637083598938,"position":1,"created_at":"2020-04-14T16:37:41-05:00","updated_at":"2020-04-15T09:54:04-05:00","alt":null,"width":833,"height":833,"src":"\/\/shop.bootcampaign.org\/cdn\/shop\/products\/333003_1.jpg?v=1586962444","variant_ids":[32109771849818,32109771980890,32109772111962,32109772243034,32109772374106,32109772505178,32109772636250,32109772767322,32109772898394,32109773029466,32109773160538,32109773291610,32109773422682,32109773553754,32109773684826,32109773914202,32109774143578,32109774274650,32109774405722,32109774536794,32109774667866,32109774798938,32109774930010,32109775061082,32109775192154,43766832759012]},"available":true,"name":"Altama Maritime Assault Mid (Solid) - 14 \/ Coyote","public_title":"14 \/ Coyote","options":["14","Coyote"],"price":10999,"weight":0,"compare_at_price":null,"inventory_quantity":80,"inventory_management":"shopify","inventory_policy":"deny","barcode":"","featured_media":{"alt":null,"id":7182753497178,"position":1,"preview_image":{"aspect_ratio":1.0,"height":833,"width":833,"src":"\/\/shop.bootcampaign.org\/cdn\/shop\/products\/333003_1.jpg?v=1586962444"}},"requires_selling_plan":false,"selling_plan_allocations":[]},{"id":32109774962778,"title":"14 \/ Black","option1":"14","option2":"Black","option3":null,"sku":"333001-14","requires_shipping":true,"taxable":true,"featured_image":{"id":15027568902234,"product_id":4637083598938,"position":2,"created_at":"2020-04-14T16:37:41-05:00","updated_at":"2020-04-15T09:54:04-05:00","alt":null,"width":833,"height":833,"src":"\/\/shop.bootcampaign.org\/cdn\/shop\/products\/333001_1.jpg?v=1586962444","variant_ids":[32109771882586,32109772013658,32109772144730,32109772275802,32109772406874,32109772537946,32109772669018,32109772800090,32109772931162,32109773062234,32109773193306,32109773324378,32109773455450,32109773586522,32109773717594,32109773979738,32109774176346,32109774307418,32109774438490,32109774569562,32109774700634,32109774831706,32109774962778,32109775093850,32109775224922]},"available":true,"name":"Altama Maritime Assault Mid (Solid) - 14 \/ Black","public_title":"14 \/ Black","options":["14","Black"],"price":10999,"weight":0,"compare_at_price":null,"inventory_quantity":74,"inventory_management":"shopify","inventory_policy":"deny","barcode":"","featured_media":{"alt":null,"id":7182753431642,"position":2,"preview_image":{"aspect_ratio":1.0,"height":833,"width":833,"src":"\/\/shop.bootcampaign.org\/cdn\/shop\/products\/333001_1.jpg?v=1586962444"}},"requires_selling_plan":false,"selling_plan_allocations":[]},{"id":32109774995546,"title":"14 \/ Olive Drab","option1":"14","option2":"Olive Drab","option3":null,"sku":"333006-14","requires_shipping":true,"taxable":true,"featured_image":{"id":15027568967770,"product_id":4637083598938,"position":5,"created_at":"2020-04-14T16:37:42-05:00","updated_at":"2020-04-14T16:37:44-05:00","alt":null,"width":833,"height":833,"src":"\/\/shop.bootcampaign.org\/cdn\/shop\/products\/333006_1.jpg?v=1586900264","variant_ids":[32109771915354,32109772046426,32109772177498,32109772308570,32109772439642,32109772570714,32109772701786,32109772832858,32109772963930,32109773095002,32109773226074,32109773357146,32109773488218,32109773619290,32109773750362,32109774045274,32109774209114,32109774340186,32109774471258,32109774602330,32109774733402,32109774864474,32109774995546,32109775126618,32109775257690]},"available":true,"name":"Altama Maritime Assault Mid (Solid) - 14 \/ Olive Drab","public_title":"14 \/ Olive Drab","options":["14","Olive Drab"],"price":10999,"weight":0,"compare_at_price":null,"inventory_quantity":6,"inventory_management":"shopify","inventory_policy":"deny","barcode":"","featured_media":{"alt":null,"id":7182753562714,"position":5,"preview_image":{"aspect_ratio":1.0,"height":833,"width":833,"src":"\/\/shop.bootcampaign.org\/cdn\/shop\/products\/333006_1.jpg?v=1586900264"}},"requires_selling_plan":false,"selling_plan_allocations":[]},{"id":32109775028314,"title":"14 \/ Wolf Grey","option1":"14","option2":"Wolf Grey","option3":null,"sku":"333007-14","requires_shipping":true,"taxable":true,"featured_image":{"id":15027569033306,"product_id":4637083598938,"position":4,"created_at":"2020-04-14T16:37:42-05:00","updated_at":"2020-04-14T16:37:44-05:00","alt":null,"width":833,"height":833,"src":"\/\/shop.bootcampaign.org\/cdn\/shop\/products\/333007_1.jpg?v=1586900264","variant_ids":[32109771948122,32109772079194,32109772210266,32109772341338,32109772472410,32109772603482,32109772734554,32109772865626,32109772996698,32109773127770,32109773258842,32109773389914,32109773520986,32109773652058,32109773815898,32109774110810,32109774241882,32109774372954,32109774504026,32109774635098,32109774766170,32109774897242,32109775028314,32109775290458]},"available":true,"name":"Altama Maritime Assault Mid (Solid) - 14 \/ Wolf Grey","public_title":"14 \/ Wolf Grey","options":["14","Wolf Grey"],"price":10999,"weight":0,"compare_at_price":null,"inventory_quantity":4,"inventory_management":"shopify","inventory_policy":"deny","barcode":"","featured_media":{"alt":null,"id":7182753529946,"position":4,"preview_image":{"aspect_ratio":1.0,"height":833,"width":833,"src":"\/\/shop.bootcampaign.org\/cdn\/shop\/products\/333007_1.jpg?v=1586900264"}},"requires_selling_plan":false,"selling_plan_allocations":[]},{"id":32109775061082,"title":"14Wide \/ Coyote","option1":"14Wide","option2":"Coyote","option3":null,"sku":"333003-14Wide","requires_shipping":true,"taxable":true,"featured_image":{"id":15027568935002,"product_id":4637083598938,"position":1,"created_at":"2020-04-14T16:37:41-05:00","updated_at":"2020-04-15T09:54:04-05:00","alt":null,"width":833,"height":833,"src":"\/\/shop.bootcampaign.org\/cdn\/shop\/products\/333003_1.jpg?v=1586962444","variant_ids":[32109771849818,32109771980890,32109772111962,32109772243034,32109772374106,32109772505178,32109772636250,32109772767322,32109772898394,32109773029466,32109773160538,32109773291610,32109773422682,32109773553754,32109773684826,32109773914202,32109774143578,32109774274650,32109774405722,32109774536794,32109774667866,32109774798938,32109774930010,32109775061082,32109775192154,43766832759012]},"available":true,"name":"Altama Maritime Assault Mid (Solid) - 14Wide \/ Coyote","public_title":"14Wide \/ Coyote","options":["14Wide","Coyote"],"price":10999,"weight":0,"compare_at_price":null,"inventory_quantity":19,"inventory_management":"shopify","inventory_policy":"deny","barcode":"","featured_media":{"alt":null,"id":7182753497178,"position":1,"preview_image":{"aspect_ratio":1.0,"height":833,"width":833,"src":"\/\/shop.bootcampaign.org\/cdn\/shop\/products\/333003_1.jpg?v=1586962444"}},"requires_selling_plan":false,"selling_plan_allocations":[]},{"id":32109775093850,"title":"14Wide \/ Black","option1":"14Wide","option2":"Black","option3":null,"sku":"333001-14Wide","requires_shipping":true,"taxable":true,"featured_image":{"id":15027568902234,"product_id":4637083598938,"position":2,"created_at":"2020-04-14T16:37:41-05:00","updated_at":"2020-04-15T09:54:04-05:00","alt":null,"width":833,"height":833,"src":"\/\/shop.bootcampaign.org\/cdn\/shop\/products\/333001_1.jpg?v=1586962444","variant_ids":[32109771882586,32109772013658,32109772144730,32109772275802,32109772406874,32109772537946,32109772669018,32109772800090,32109772931162,32109773062234,32109773193306,32109773324378,32109773455450,32109773586522,32109773717594,32109773979738,32109774176346,32109774307418,32109774438490,32109774569562,32109774700634,32109774831706,32109774962778,32109775093850,32109775224922]},"available":false,"name":"Altama Maritime Assault Mid (Solid) - 14Wide \/ Black","public_title":"14Wide \/ Black","options":["14Wide","Black"],"price":10999,"weight":0,"compare_at_price":null,"inventory_quantity":0,"inventory_management":"shopify","inventory_policy":"deny","barcode":"","featured_media":{"alt":null,"id":7182753431642,"position":2,"preview_image":{"aspect_ratio":1.0,"height":833,"width":833,"src":"\/\/shop.bootcampaign.org\/cdn\/shop\/products\/333001_1.jpg?v=1586962444"}},"requires_selling_plan":false,"selling_plan_allocations":[]},{"id":32109775126618,"title":"14Wide \/ Olive Drab","option1":"14Wide","option2":"Olive Drab","option3":null,"sku":"333006-14Wide","requires_shipping":true,"taxable":true,"featured_image":{"id":15027568967770,"product_id":4637083598938,"position":5,"created_at":"2020-04-14T16:37:42-05:00","updated_at":"2020-04-14T16:37:44-05:00","alt":null,"width":833,"height":833,"src":"\/\/shop.bootcampaign.org\/cdn\/shop\/products\/333006_1.jpg?v=1586900264","variant_ids":[32109771915354,32109772046426,32109772177498,32109772308570,32109772439642,32109772570714,32109772701786,32109772832858,32109772963930,32109773095002,32109773226074,32109773357146,32109773488218,32109773619290,32109773750362,32109774045274,32109774209114,32109774340186,32109774471258,32109774602330,32109774733402,32109774864474,32109774995546,32109775126618,32109775257690]},"available":true,"name":"Altama Maritime Assault Mid (Solid) - 14Wide \/ Olive Drab","public_title":"14Wide \/ Olive Drab","options":["14Wide","Olive Drab"],"price":10999,"weight":0,"compare_at_price":null,"inventory_quantity":10,"inventory_management":"shopify","inventory_policy":"deny","barcode":"","featured_media":{"alt":null,"id":7182753562714,"position":5,"preview_image":{"aspect_ratio":1.0,"height":833,"width":833,"src":"\/\/shop.bootcampaign.org\/cdn\/shop\/products\/333006_1.jpg?v=1586900264"}},"requires_selling_plan":false,"selling_plan_allocations":[]},{"id":32109775192154,"title":"15 \/ Coyote","option1":"15","option2":"Coyote","option3":null,"sku":"333003-15","requires_shipping":true,"taxable":true,"featured_image":{"id":15027568935002,"product_id":4637083598938,"position":1,"created_at":"2020-04-14T16:37:41-05:00","updated_at":"2020-04-15T09:54:04-05:00","alt":null,"width":833,"height":833,"src":"\/\/shop.bootcampaign.org\/cdn\/shop\/products\/333003_1.jpg?v=1586962444","variant_ids":[32109771849818,32109771980890,32109772111962,32109772243034,32109772374106,32109772505178,32109772636250,32109772767322,32109772898394,32109773029466,32109773160538,32109773291610,32109773422682,32109773553754,32109773684826,32109773914202,32109774143578,32109774274650,32109774405722,32109774536794,32109774667866,32109774798938,32109774930010,32109775061082,32109775192154,43766832759012]},"available":false,"name":"Altama Maritime Assault Mid (Solid) - 15 \/ Coyote","public_title":"15 \/ Coyote","options":["15","Coyote"],"price":10999,"weight":0,"compare_at_price":null,"inventory_quantity":0,"inventory_management":"shopify","inventory_policy":"deny","barcode":"","featured_media":{"alt":null,"id":7182753497178,"position":1,"preview_image":{"aspect_ratio":1.0,"height":833,"width":833,"src":"\/\/shop.bootcampaign.org\/cdn\/shop\/products\/333003_1.jpg?v=1586962444"}},"requires_selling_plan":false,"selling_plan_allocations":[]},{"id":32109775224922,"title":"15 \/ Black","option1":"15","option2":"Black","option3":null,"sku":"333001-15","requires_shipping":true,"taxable":true,"featured_image":{"id":15027568902234,"product_id":4637083598938,"position":2,"created_at":"2020-04-14T16:37:41-05:00","updated_at":"2020-04-15T09:54:04-05:00","alt":null,"width":833,"height":833,"src":"\/\/shop.bootcampaign.org\/cdn\/shop\/products\/333001_1.jpg?v=1586962444","variant_ids":[32109771882586,32109772013658,32109772144730,32109772275802,32109772406874,32109772537946,32109772669018,32109772800090,32109772931162,32109773062234,32109773193306,32109773324378,32109773455450,32109773586522,32109773717594,32109773979738,32109774176346,32109774307418,32109774438490,32109774569562,32109774700634,32109774831706,32109774962778,32109775093850,32109775224922]},"available":false,"name":"Altama Maritime Assault Mid (Solid) - 15 \/ Black","public_title":"15 \/ Black","options":["15","Black"],"price":10999,"weight":0,"compare_at_price":null,"inventory_quantity":0,"inventory_management":"shopify","inventory_policy":"deny","barcode":"","featured_media":{"alt":null,"id":7182753431642,"position":2,"preview_image":{"aspect_ratio":1.0,"height":833,"width":833,"src":"\/\/shop.bootcampaign.org\/cdn\/shop\/products\/333001_1.jpg?v=1586962444"}},"requires_selling_plan":false,"selling_plan_allocations":[]},{"id":32109775257690,"title":"15 \/ Olive Drab","option1":"15","option2":"Olive Drab","option3":null,"sku":"333006-15","requires_shipping":true,"taxable":true,"featured_image":{"id":15027568967770,"product_id":4637083598938,"position":5,"created_at":"2020-04-14T16:37:42-05:00","updated_at":"2020-04-14T16:37:44-05:00","alt":null,"width":833,"height":833,"src":"\/\/shop.bootcampaign.org\/cdn\/shop\/products\/333006_1.jpg?v=1586900264","variant_ids":[32109771915354,32109772046426,32109772177498,32109772308570,32109772439642,32109772570714,32109772701786,32109772832858,32109772963930,32109773095002,32109773226074,32109773357146,32109773488218,32109773619290,32109773750362,32109774045274,32109774209114,32109774340186,32109774471258,32109774602330,32109774733402,32109774864474,32109774995546,32109775126618,32109775257690]},"available":false,"name":"Altama Maritime Assault Mid (Solid) - 15 \/ Olive Drab","public_title":"15 \/ Olive Drab","options":["15","Olive Drab"],"price":10999,"weight":0,"compare_at_price":null,"inventory_quantity":0,"inventory_management":"shopify","inventory_policy":"deny","barcode":"","featured_media":{"alt":null,"id":7182753562714,"position":5,"preview_image":{"aspect_ratio":1.0,"height":833,"width":833,"src":"\/\/shop.bootcampaign.org\/cdn\/shop\/products\/333006_1.jpg?v=1586900264"}},"requires_selling_plan":false,"selling_plan_allocations":[]},{"id":32109775290458,"title":"15 \/ Wolf Grey","option1":"15","option2":"Wolf Grey","option3":null,"sku":"333007-15","requires_shipping":true,"taxable":true,"featured_image":{"id":15027569033306,"product_id":4637083598938,"position":4,"created_at":"2020-04-14T16:37:42-05:00","updated_at":"2020-04-14T16:37:44-05:00","alt":null,"width":833,"height":833,"src":"\/\/shop.bootcampaign.org\/cdn\/shop\/products\/333007_1.jpg?v=1586900264","variant_ids":[32109771948122,32109772079194,32109772210266,32109772341338,32109772472410,32109772603482,32109772734554,32109772865626,32109772996698,32109773127770,32109773258842,32109773389914,32109773520986,32109773652058,32109773815898,32109774110810,32109774241882,32109774372954,32109774504026,32109774635098,32109774766170,32109774897242,32109775028314,32109775290458]},"available":false,"name":"Altama Maritime Assault Mid (Solid) - 15 \/ Wolf Grey","public_title":"15 \/ Wolf Grey","options":["15","Wolf Grey"],"price":10999,"weight":0,"compare_at_price":null,"inventory_quantity":0,"inventory_management":"shopify","inventory_policy":"deny","barcode":"","featured_media":{"alt":null,"id":7182753529946,"position":4,"preview_image":{"aspect_ratio":1.0,"height":833,"width":833,"src":"\/\/shop.bootcampaign.org\/cdn\/shop\/products\/333007_1.jpg?v=1586900264"}},"requires_selling_plan":false,"selling_plan_allocations":[]},{"id":43766832759012,"title":"10Wide \/ Coyote","option1":"10Wide","option2":"Coyote","option3":null,"sku":"333003GSA-W-100","requires_shipping":true,"taxable":true,"featured_image":{"id":15027568935002,"product_id":4637083598938,"position":1,"created_at":"2020-04-14T16:37:41-05:00","updated_at":"2020-04-15T09:54:04-05:00","alt":null,"width":833,"height":833,"src":"\/\/shop.bootcampaign.org\/cdn\/shop\/products\/333003_1.jpg?v=1586962444","variant_ids":[32109771849818,32109771980890,32109772111962,32109772243034,32109772374106,32109772505178,32109772636250,32109772767322,32109772898394,32109773029466,32109773160538,32109773291610,32109773422682,32109773553754,32109773684826,32109773914202,32109774143578,32109774274650,32109774405722,32109774536794,32109774667866,32109774798938,32109774930010,32109775061082,32109775192154,43766832759012]},"available":true,"name":"Altama Maritime Assault Mid (Solid) - 10Wide \/ Coyote","public_title":"10Wide \/ Coyote","options":["10Wide","Coyote"],"price":10999,"weight":0,"compare_at_price":null,"inventory_quantity":19,"inventory_management":"shopify","inventory_policy":"deny","barcode":"","featured_media":{"alt":null,"id":7182753497178,"position":1,"preview_image":{"aspect_ratio":1.0,"height":833,"width":833,"src":"\/\/shop.bootcampaign.org\/cdn\/shop\/products\/333003_1.jpg?v=1586962444"}},"requires_selling_plan":false,"selling_plan_allocations":[]}],"images":["\/\/shop.bootcampaign.org\/cdn\/shop\/products\/333003_1.jpg?v=1586962444","\/\/shop.bootcampaign.org\/cdn\/shop\/products\/333001_1.jpg?v=1586962444","\/\/shop.bootcampaign.org\/cdn\/shop\/products\/DSC06783.jpg?v=1586962444","\/\/shop.bootcampaign.org\/cdn\/shop\/products\/333007_1.jpg?v=1586900264","\/\/shop.bootcampaign.org\/cdn\/shop\/products\/333006_1.jpg?v=1586900264"],"featured_image":"\/\/shop.bootcampaign.org\/cdn\/shop\/products\/333003_1.jpg?v=1586962444","options":["Size","Color"],"media":[{"alt":null,"id":7182753497178,"position":1,"preview_image":{"aspect_ratio":1.0,"height":833,"width":833,"src":"\/\/shop.bootcampaign.org\/cdn\/shop\/products\/333003_1.jpg?v=1586962444"},"aspect_ratio":1.0,"height":833,"media_type":"image","src":"\/\/shop.bootcampaign.org\/cdn\/shop\/products\/333003_1.jpg?v=1586962444","width":833},{"alt":null,"id":7182753431642,"position":2,"preview_image":{"aspect_ratio":1.0,"height":833,"width":833,"src":"\/\/shop.bootcampaign.org\/cdn\/shop\/products\/333001_1.jpg?v=1586962444"},"aspect_ratio":1.0,"height":833,"media_type":"image","src":"\/\/shop.bootcampaign.org\/cdn\/shop\/products\/333001_1.jpg?v=1586962444","width":833},{"alt":null,"id":7182753464410,"position":3,"preview_image":{"aspect_ratio":1.5,"height":3333,"width":5000,"src":"\/\/shop.bootcampaign.org\/cdn\/shop\/products\/DSC06783.jpg?v=1586962444"},"aspect_ratio":1.5,"height":3333,"media_type":"image","src":"\/\/shop.bootcampaign.org\/cdn\/shop\/products\/DSC06783.jpg?v=1586962444","width":5000},{"alt":null,"id":7182753529946,"position":4,"preview_image":{"aspect_ratio":1.0,"height":833,"width":833,"src":"\/\/shop.bootcampaign.org\/cdn\/shop\/products\/333007_1.jpg?v=1586900264"},"aspect_ratio":1.0,"height":833,"media_type":"image","src":"\/\/shop.bootcampaign.org\/cdn\/shop\/products\/333007_1.jpg?v=1586900264","width":833},{"alt":null,"id":7182753562714,"position":5,"preview_image":{"aspect_ratio":1.0,"height":833,"width":833,"src":"\/\/shop.bootcampaign.org\/cdn\/shop\/products\/333006_1.jpg?v=1586900264"},"aspect_ratio":1.0,"height":833,"media_type":"image","src":"\/\/shop.bootcampaign.org\/cdn\/shop\/products\/333006_1.jpg?v=1586900264","width":833}],"requires_selling_plan":false,"selling_plan_groups":[],"content":"\u003cdiv class=\"product-pop-description-container info-block\"\u003e\n\u003cdiv class=\"product-pop-info-body\"\u003e\n\u003cdiv\u003e\n\u003cp\u003eOur Altama Maritime Assault Boot is made for all tactical water operations. With a fin friendly fit, this boot will fit just about any dive fin used by Militaries worldwide.\u003c\/p\u003e\n\u003c\/div\u003e\n\u003c\/div\u003e\n\u003c\/div\u003e\n\u003cp\u003e\u003cstrong style=\"color: #ff2a00; font-family: -apple-system, BlinkMacSystemFont, 'San Francisco', 'Segoe UI', Roboto, 'Helvetica Neue', sans-serif; font-size: 0.875rem;\"\u003e\u003cb data-stringify-type=\"bold\" data-mce-fragment=\"1\"\u003eOur boot partner is experiencing extended shipping delays. Please expect this boot to take a few weeks to ship out. \u003c\/b\u003e\u003c\/strong\u003e\u003cbr\u003e\u003c\/p\u003e\n\u003cp\u003e\u003cb\u003eWhile we do offer shipping to APOs, international shipping is not available.\u003c\/b\u003e\u003c\/p\u003e\n\u003ch5\u003e\n\u003cspan style=\"font-size: 1.4em;\"\u003e \u003cspan style=\"font-family: -apple-system, BlinkMacSystemFont, 'San Francisco', 'Segoe UI', Roboto, 'Helvetica Neue', sans-serif;\"\u003ePRODUCT DETAILS:\u003c\/span\u003e\u003c\/span\u003e\u003cbr\u003e\n\u003c\/h5\u003e\n\u003cul\u003e\n\u003cli style=\"font-weight: 400;\"\u003e\u003cspan style=\"font-weight: 400;\"\u003eSizing Info: Men's sizes are listed. Women, we recommend ordering 1.5 size smaller than your normal shoe size. \u003c\/span\u003e\u003c\/li\u003e\n\u003cli style=\"font-weight: 400;\"\u003e\n\u003cspan style=\"font-weight: 400;\"\u003eWith your purchase of this item, a percentage of the sale supports the Boot \u003c\/span\u003e\u003cspan style=\"font-weight: 400;\"\u003eCampaign mission.\u003c\/span\u003e\n\u003c\/li\u003e\n\u003cli style=\"font-weight: 400;\"\u003e\u003cspan style=\"font-weight: 400;\"\u003eEvery pair of boots comes with a complimentary pair of Boot Campaign Boot Tags\u003c\/span\u003e\u003c\/li\u003e\n\u003cli style=\"font-weight: 400;\"\u003e\u003cspan style=\"font-weight: 400;\"\u003e\u003ca href=\"https:\/\/bootcampaign.org\/wp-content\/uploads\/2020\/04\/Altama-Maritime-Assault-Mid-Product-Description.pdf\"\u003eMore Details\u003c\/a\u003e\u003c\/span\u003e\u003c\/li\u003e\n\u003c\/ul\u003e"}