SELECTED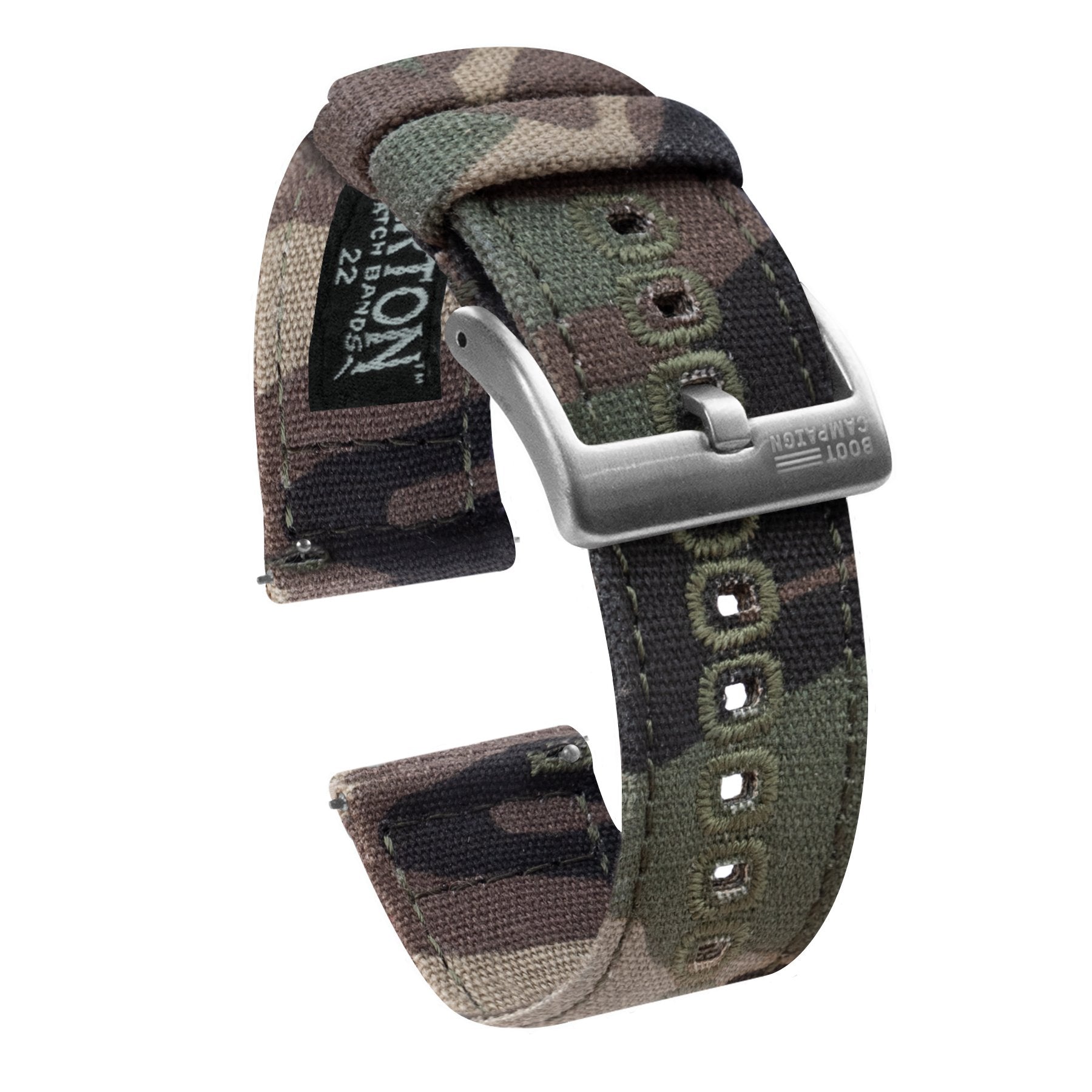 SELECTED
SELECTED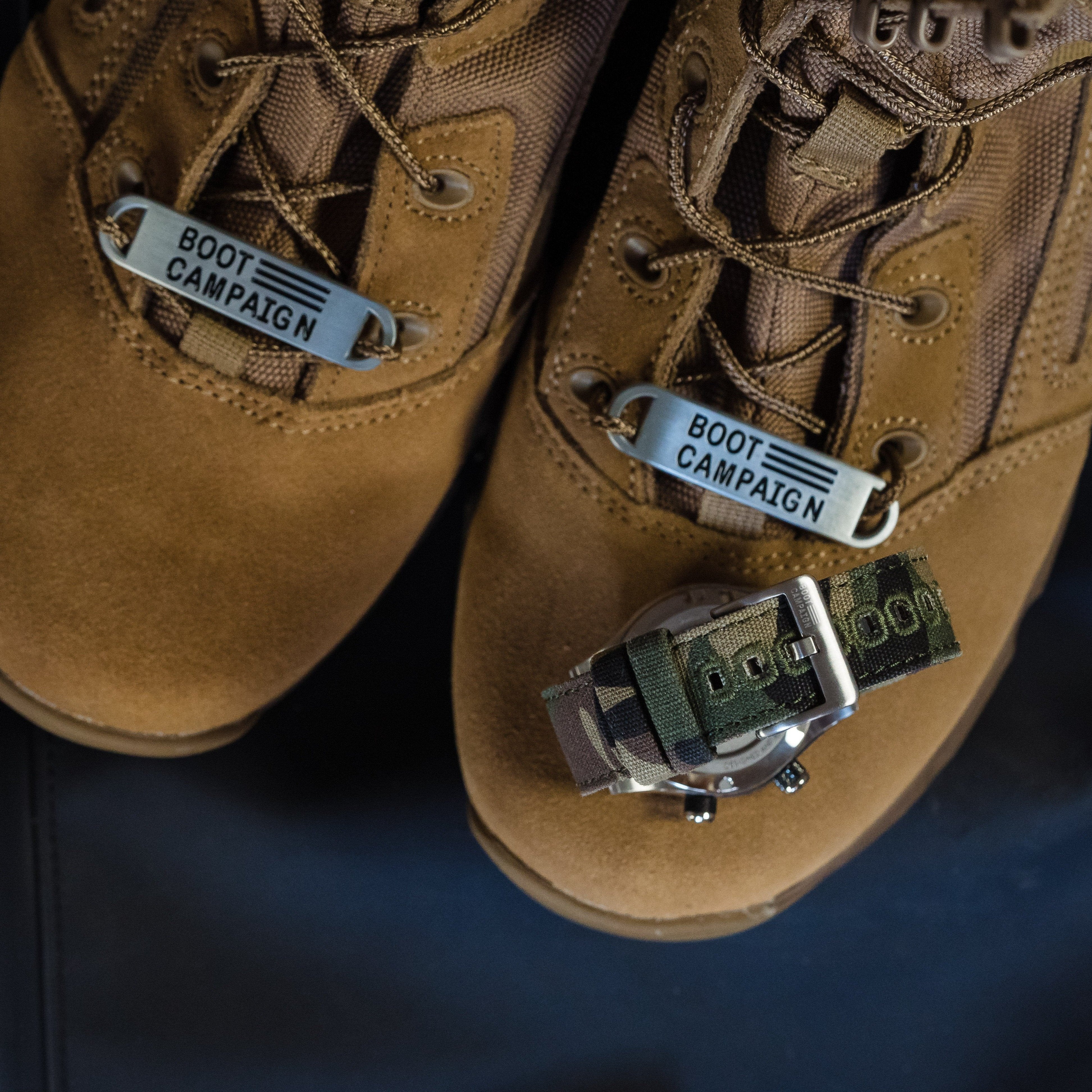 SELECTED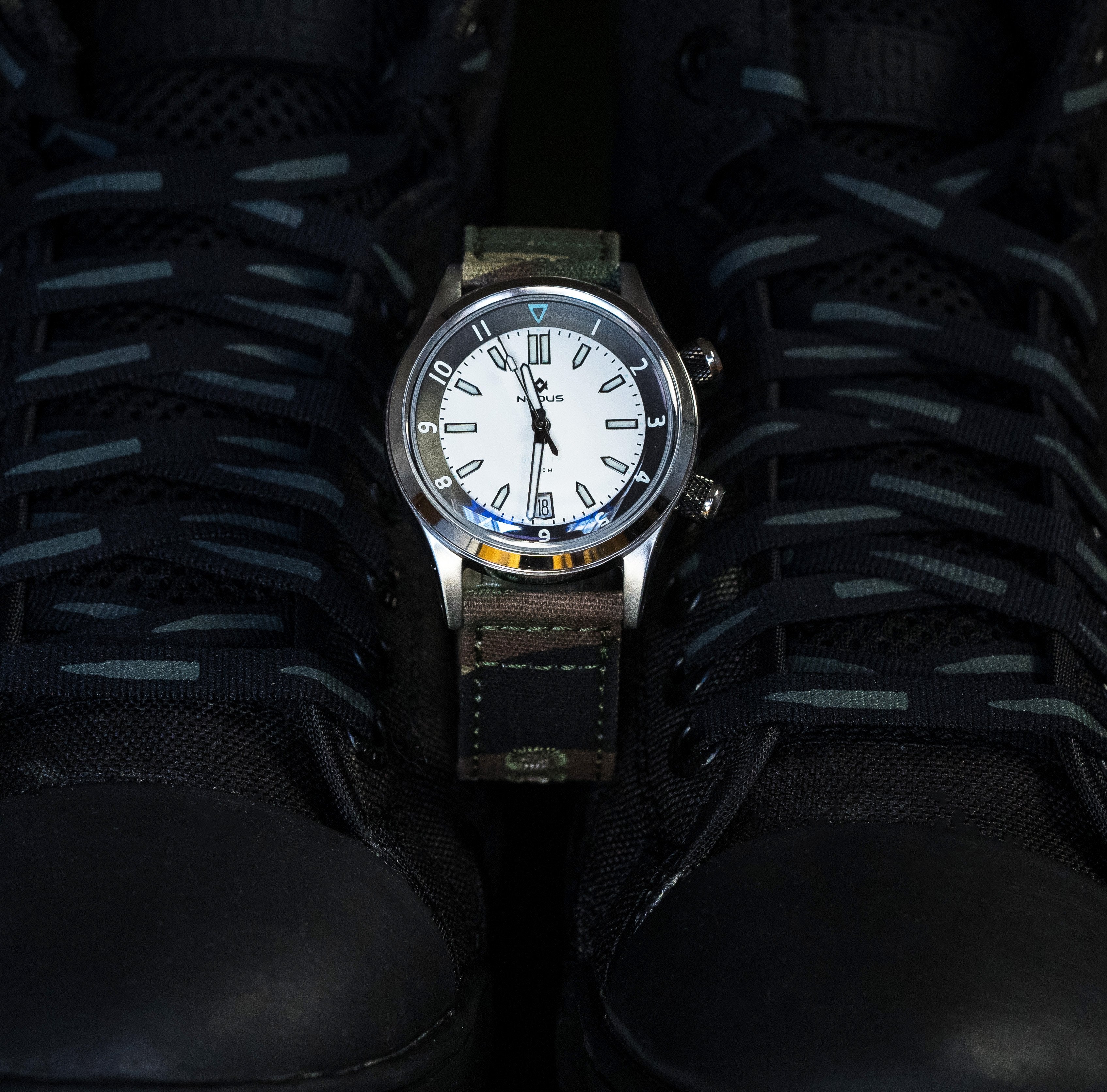 SELECTED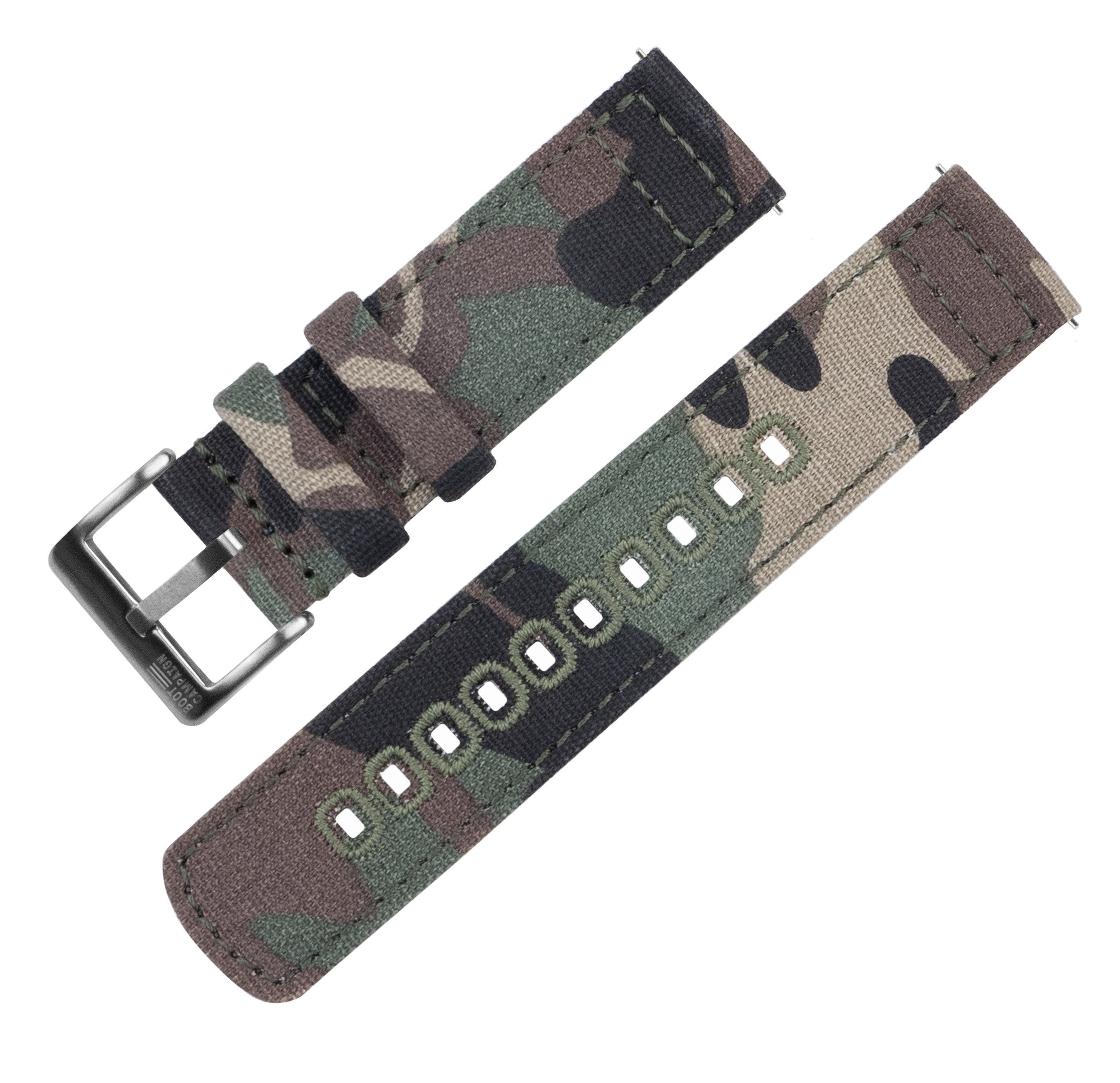 SELECTED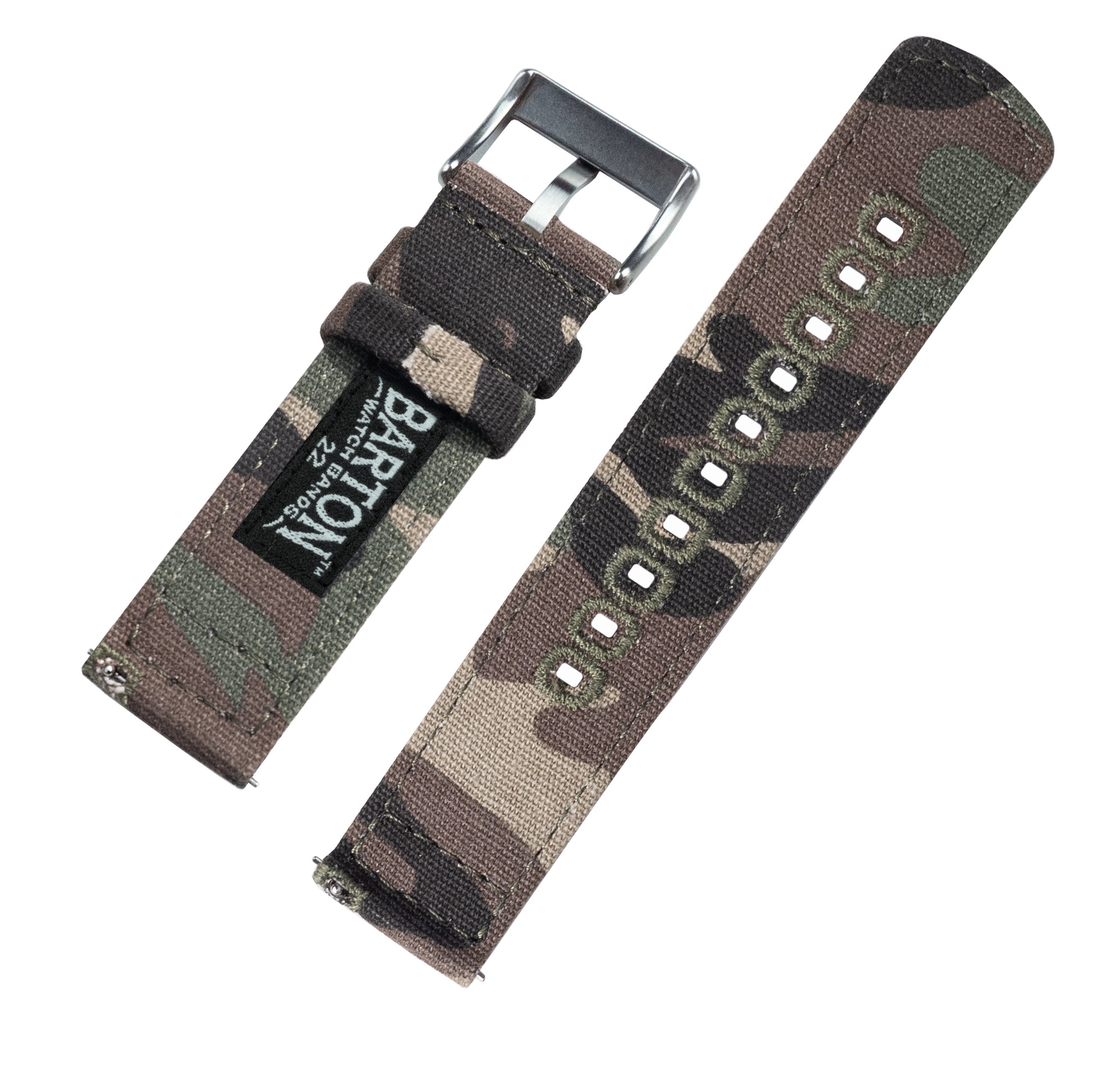 SELECTED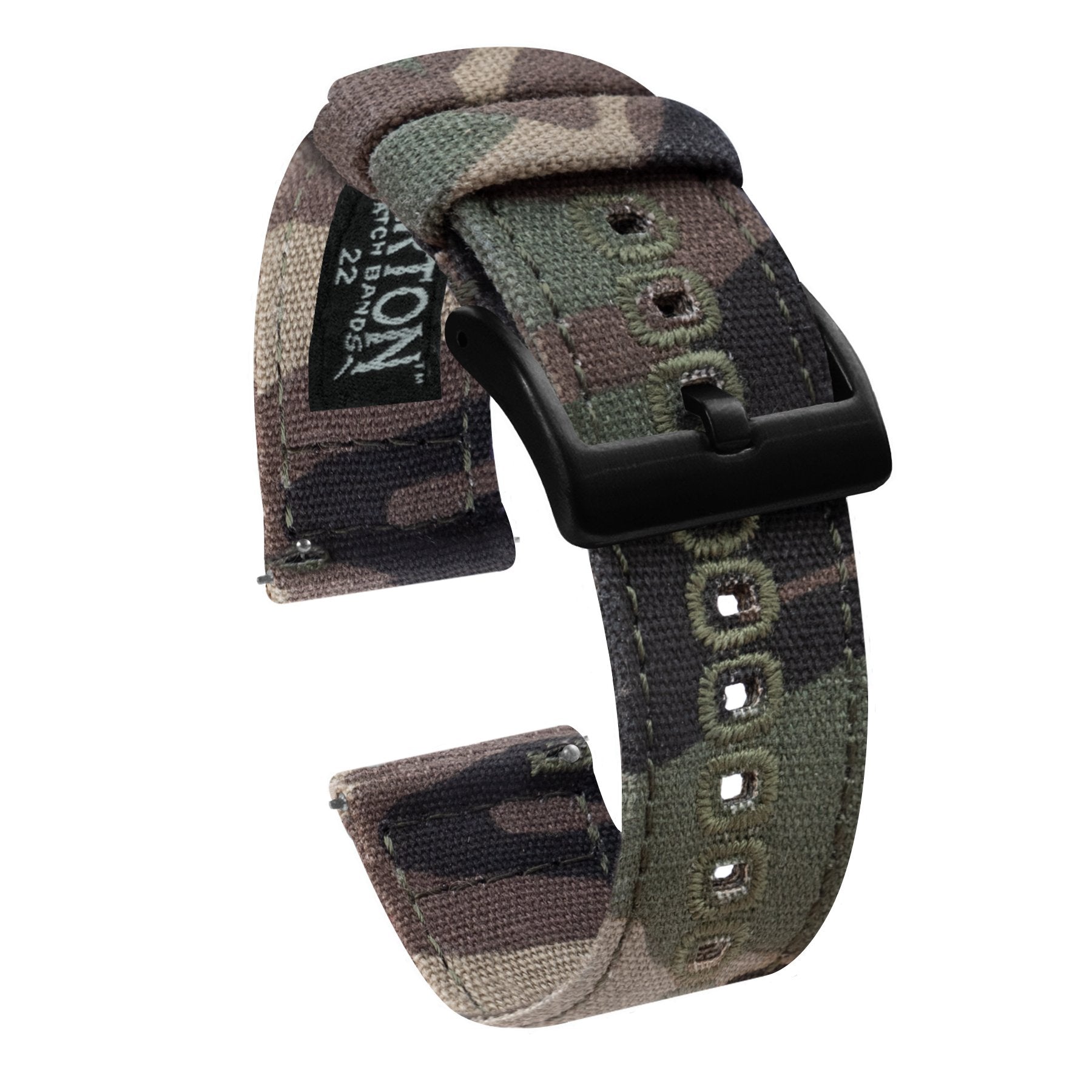 SELECTED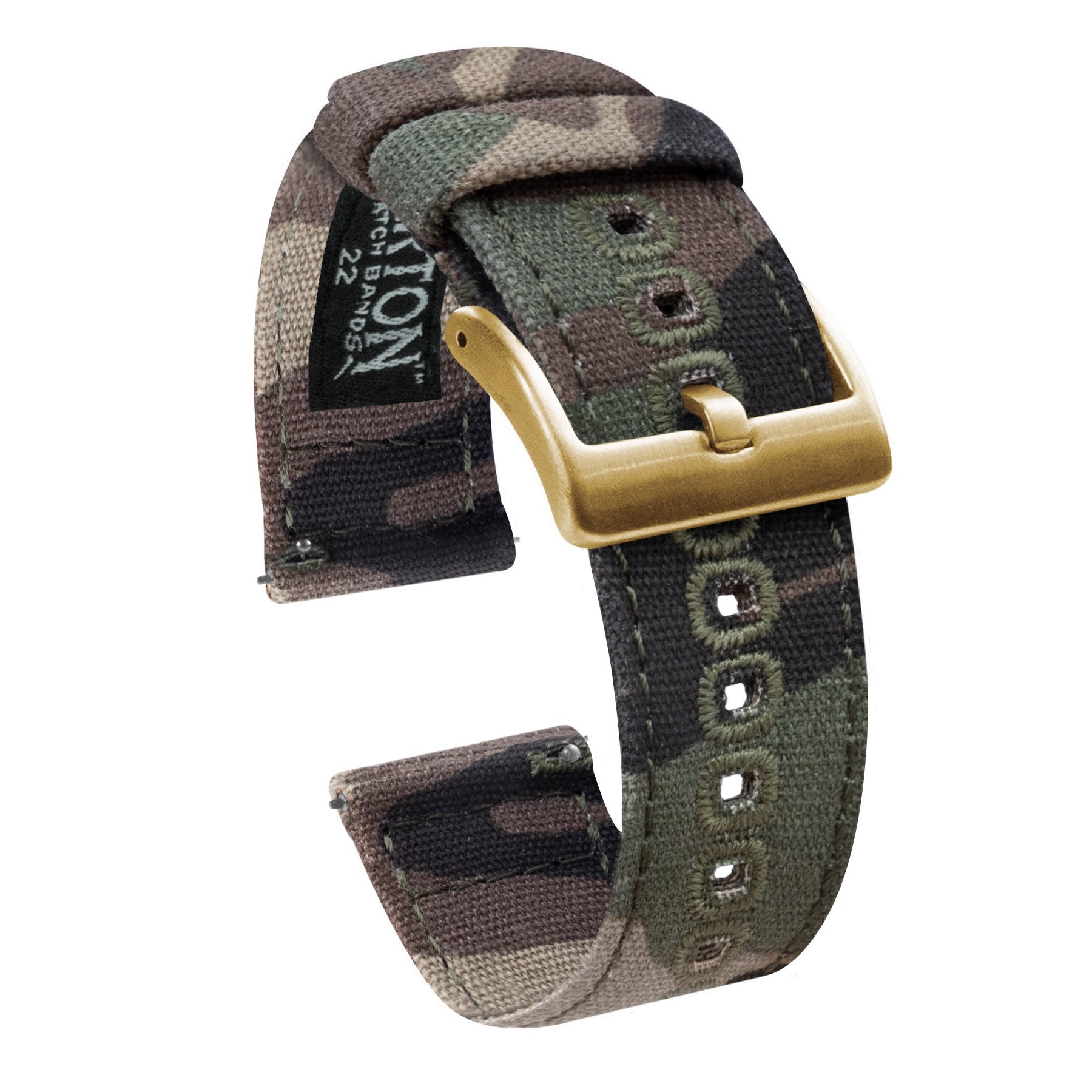 SELECTED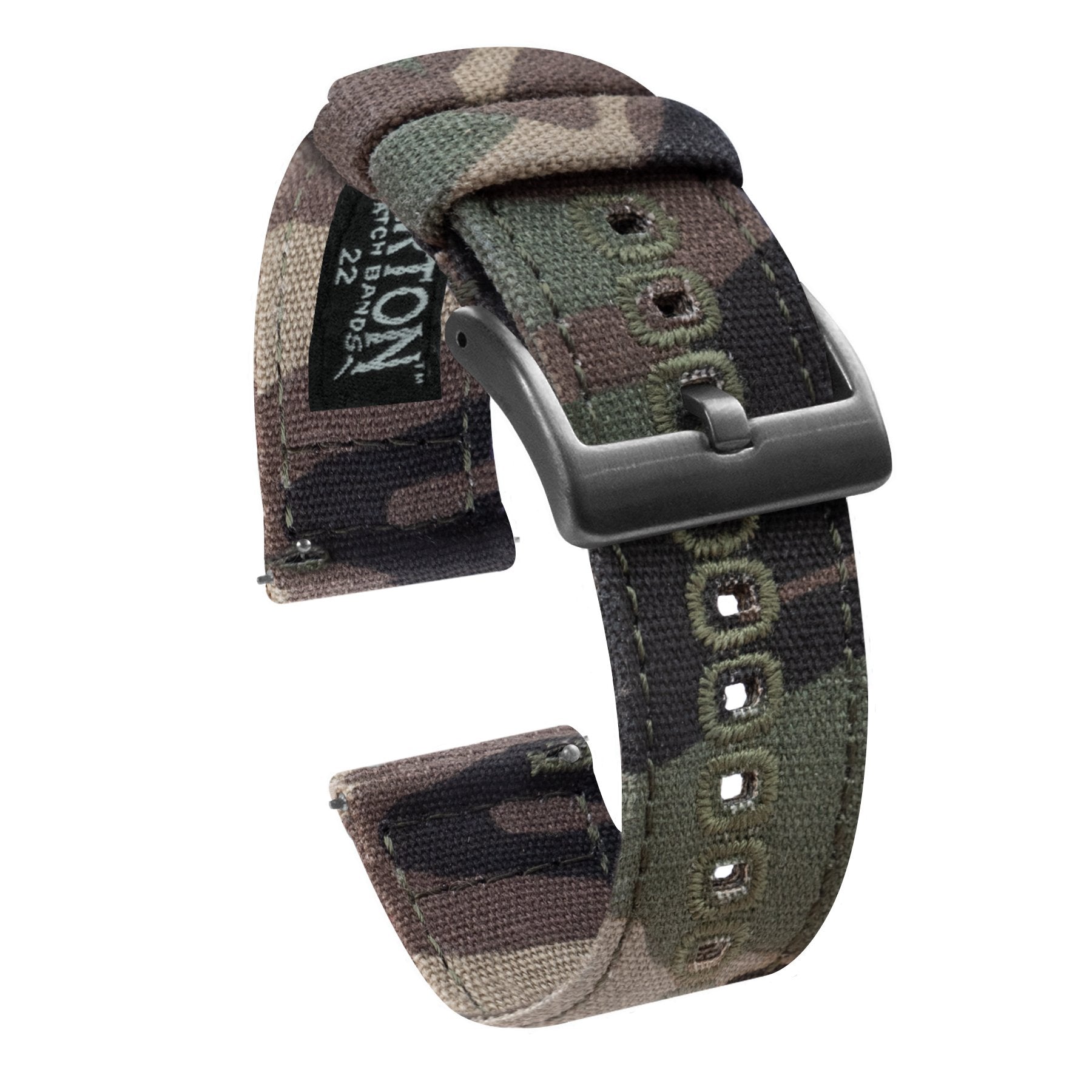 SELECTED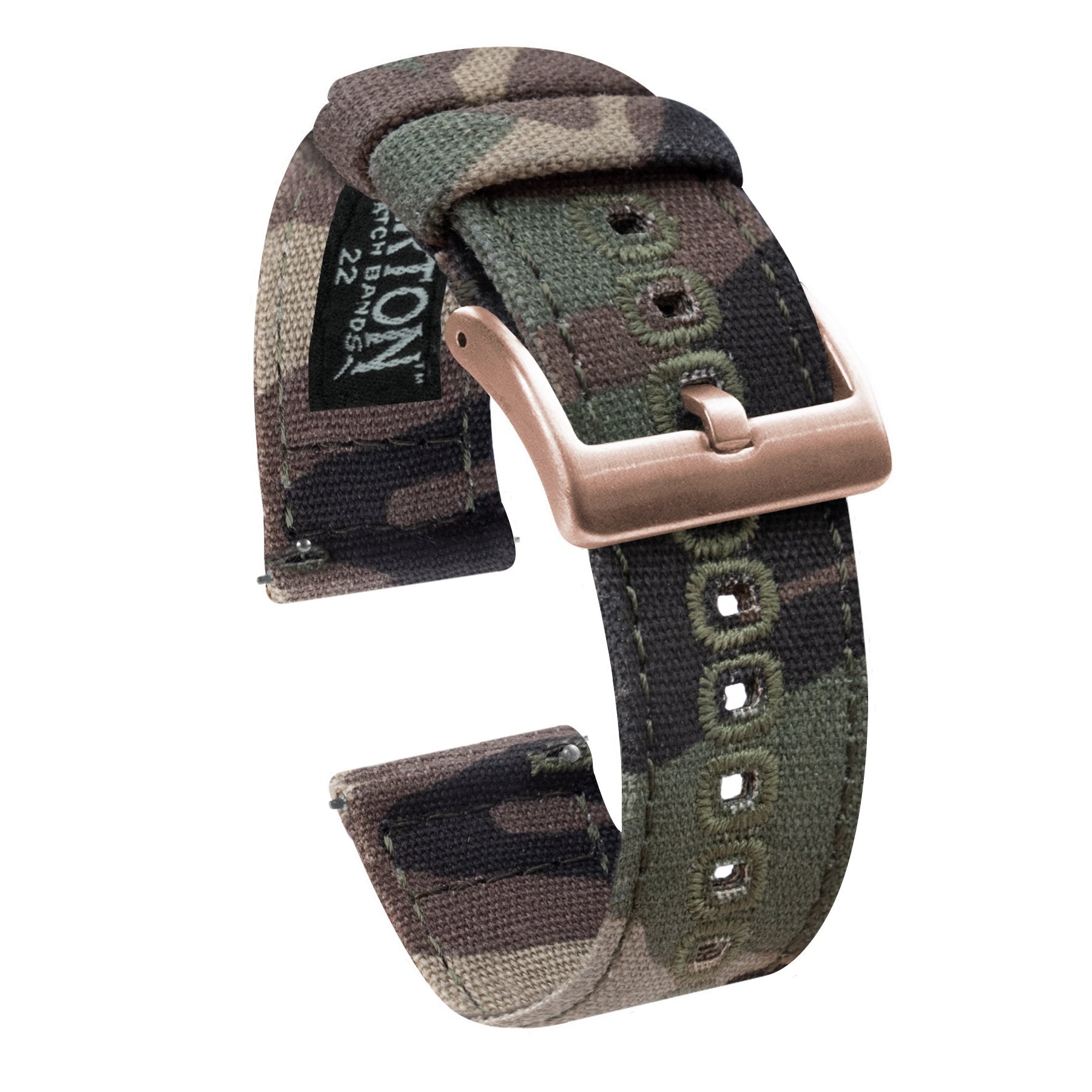 SELECTED
Camouflage Crafted Canvas Watch Band
Barton Watch Bands Canvas' Quick Release watch' bands' are meticulously crafted from highly durable canvas and' embroidered for style and strength. This camouflage-print canvas watchband adds character to any timepiece and can be swapped in and out without any tools! 
Proceeds from this band benefit Boot Campaign.

Swap in Seconds: Integrated quick release spring bars
Color:' Camouflage
Material:' High Durability Canvas
Hardware:' Brushed 316L stainless steel with Boot Campaign logo on sizes 18mm, 20mm, and 22mm, Black PVD, Gunmetal Grey, Rose Gold, or Gold.
Two Sizes Available: Standard length fits wrists 5" to 8". Long length fits wrists 7" to 9".
Width: 18mm, 19mm, 20mm, 21mm, 22mm, 23mm 24mm
Additional resources
Canvas Collection' |' Fitting Guide | FAQ | Design | Guarantee
Common smartwatch widths are listed' here.
DISCLAIMER: Barton Watch Bands are not compatible with the Suunto 9, the Suunto Traverse, or any Garmin smartwatches.

{"id":6844007645337,"title":"Camouflage Crafted Canvas Watch Band","handle":"camouflage-crafted-canvas","description":"\u003cp\u003eBarton Watch Bands \u003cstrong\u003eCanvas' \u003c\/strong\u003e\u003cstrong\u003eQuick Release \u003c\/strong\u003ewatch' bands' are meticulously crafted from highly durable canvas and' embroidered for style and strength. This camouflage-print canvas watchband adds character to any timepiece and can be swapped in and out without any tools! \u003c\/p\u003e\n\u003cp\u003e\u003cstrong\u003eProceeds from this band benefit \u003ca href=\"https:\/\/bootcampaign.org\/\" title=\"Boot Campaign\"\u003eBoot Campaign\u003c\/a\u003e.\u003c\/strong\u003e\u003cbr\u003e\u003c\/p\u003e\n\u003cp\u003e\u003cstrong\u003eSwap in Seconds:\u003c\/strong\u003e Integrated quick release spring bars\u003cbr\u003e\u003cstrong\u003eColor:\u003c\/strong\u003e' Camouflage\u003cbr\u003e\u003cstrong\u003eMaterial:' \u003c\/strong\u003eHigh Durability Canvas\u003cbr\u003e\u003cstrong\u003eHardware:' \u003c\/strong\u003eBrushed 316L stainless steel with \u003ca href=\"https:\/\/bootcampaign.org\/\" title=\"Boot Campaign\" target=\"_blank\"\u003eBoot Campaign\u003c\/a\u003e logo on sizes 18mm, 20mm, and 22mm, Black PVD, Gunmetal Grey, Rose Gold, or Gold.\u003cbr\u003e\u003cstrong\u003eTwo Sizes Available: \u003c\/strong\u003eStandard length fits wrists 5\" to 8\". Long length fits wrists 7\" to 9\". \u003c!--EndFragment--\u003e \u003cbr\u003e\u003cstrong\u003eWidth: \u003c\/strong\u003e18mm, 19mm, 20mm, 21mm, 22mm, 23mm 24mm\u003c\/p\u003e\n\u003cp\u003e\u003cstrong\u003eAdditional resources\u003c\/strong\u003e\u003cbr\u003e\u003ca href=\"https:\/\/www.bartonwatchbands.com\/collections\/canvas-quick-release-watch-bands\"\u003eCanvas Collection\u003c\/a\u003e' |' \u003ca href=\"https:\/\/www.bartonwatchbands.com\/pages\/fitting-your-watch-band\"\u003eFitting Guide\u003c\/a\u003e | \u003ca href=\"https:\/\/www.bartonwatchbands.com\/pages\/faq\"\u003eFAQ\u003c\/a\u003e | \u003ca href=\"https:\/\/www.bartonwatchbands.com\/pages\/design-features-canvas-quick-release\"\u003eDesign\u003c\/a\u003e | \u003ca href=\"https:\/\/www.bartonwatchbands.com\/pages\/guarantee\"\u003eGuarantee\u003c\/a\u003e\u003c\/p\u003e\n\u003cp\u003e\u003cstrong\u003eCommon smartwatch widths are listed' \u003ca href=\"https:\/\/cdn.shopify.com\/s\/files\/1\/0835\/8495\/files\/smart-watch-graphic-070517.png?12855058943058468325\"\u003ehere\u003c\/a\u003e.\u003c\/strong\u003e\u003c\/p\u003e\n\u003cp\u003e\u003cstrong\u003eDISCLAIMER: Barton Watch Bands are not compatible with the Suunto 9, the Suunto Traverse, or any Garmin smartwatches.\u003cbr\u003e\u003c\/strong\u003e\u003c\/p\u003e","published_at":"2021-06-16T17:07:29-05:00","created_at":"2021-06-16T13:08:51-05:00","vendor":"Barton Watch Bands","type":"Accessories","tags":["Staff Discount"],"price":2200,"price_min":2200,"price_max":2200,"available":true,"price_varies":false,"compare_at_price":null,"compare_at_price_min":0,"compare_at_price_max":0,"compare_at_price_varies":false,"variants":[{"id":40346106167449,"title":"18mm \/ Stainless Steel \/ Standard","option1":"18mm","option2":"Stainless Steel","option3":"Standard","sku":"CANQR-CAMO-18","requires_shipping":true,"taxable":true,"featured_image":{"id":30674321670297,"product_id":6844007645337,"position":1,"created_at":"2021-06-16T13:09:41-05:00","updated_at":"2021-06-16T13:09:41-05:00","alt":null,"width":1800,"height":1800,"src":"\/\/shop.bootcampaign.org\/cdn\/shop\/products\/6088477_CamoMainLoop_SS_-LOGO.jpg?v=1623866981","variant_ids":[40346106167449,40346106364057,40346106560665]},"available":true,"name":"Camouflage Crafted Canvas Watch Band - 18mm \/ Stainless Steel \/ Standard","public_title":"18mm \/ Stainless Steel \/ Standard","options":["18mm","Stainless Steel","Standard"],"price":2200,"weight":20,"compare_at_price":null,"inventory_quantity":73,"inventory_management":"barton-watch-bands-mothership","inventory_policy":"deny","barcode":"194448210241","featured_media":{"alt":null,"id":22966572548249,"position":1,"preview_image":{"aspect_ratio":1.0,"height":1800,"width":1800,"src":"\/\/shop.bootcampaign.org\/cdn\/shop\/products\/6088477_CamoMainLoop_SS_-LOGO.jpg?v=1623866981"}},"requires_selling_plan":false,"selling_plan_allocations":[]},{"id":40346106200217,"title":"18mm \/ Black PVD \/ Standard","option1":"18mm","option2":"Black PVD","option3":"Standard","sku":"CANQR-CAMO-18-BLK","requires_shipping":true,"taxable":true,"featured_image":{"id":30674326651033,"product_id":6844007645337,"position":7,"created_at":"2021-06-16T13:10:05-05:00","updated_at":"2021-06-16T13:10:05-05:00","alt":null,"width":1800,"height":1800,"src":"\/\/shop.bootcampaign.org\/cdn\/shop\/products\/6088483_CamoMainLoop_Black.jpg?v=1623867005","variant_ids":[40346106200217,40346106495129,40346106593433]},"available":true,"name":"Camouflage Crafted Canvas Watch Band - 18mm \/ Black PVD \/ Standard","public_title":"18mm \/ Black PVD \/ Standard","options":["18mm","Black PVD","Standard"],"price":2200,"weight":20,"compare_at_price":null,"inventory_quantity":216,"inventory_management":"barton-watch-bands-mothership","inventory_policy":"deny","barcode":"194448210364","featured_media":{"alt":null,"id":22966577692825,"position":7,"preview_image":{"aspect_ratio":1.0,"height":1800,"width":1800,"src":"\/\/shop.bootcampaign.org\/cdn\/shop\/products\/6088483_CamoMainLoop_Black.jpg?v=1623867005"}},"requires_selling_plan":false,"selling_plan_allocations":[]},{"id":40346106232985,"title":"18mm \/ Gunmetal Grey \/ Standard","option1":"18mm","option2":"Gunmetal Grey","option3":"Standard","sku":"CANQR-CAMO-18-GMTL","requires_shipping":true,"taxable":true,"featured_image":{"id":30674329960601,"product_id":6844007645337,"position":9,"created_at":"2021-06-16T13:10:12-05:00","updated_at":"2021-06-16T13:10:12-05:00","alt":null,"width":1800,"height":1800,"src":"\/\/shop.bootcampaign.org\/cdn\/shop\/products\/6088485_CamoMainLoop_Gunmetal.jpg?v=1623867012","variant_ids":[40346106232985,40346106396825,40346106626201]},"available":true,"name":"Camouflage Crafted Canvas Watch Band - 18mm \/ Gunmetal Grey \/ Standard","public_title":"18mm \/ Gunmetal Grey \/ Standard","options":["18mm","Gunmetal Grey","Standard"],"price":2200,"weight":20,"compare_at_price":null,"inventory_quantity":73,"inventory_management":"barton-watch-bands-mothership","inventory_policy":"deny","barcode":"194448303974","featured_media":{"alt":null,"id":22966581035161,"position":9,"preview_image":{"aspect_ratio":1.0,"height":1800,"width":1800,"src":"\/\/shop.bootcampaign.org\/cdn\/shop\/products\/6088485_CamoMainLoop_Gunmetal.jpg?v=1623867012"}},"requires_selling_plan":false,"selling_plan_allocations":[]},{"id":40346106265753,"title":"18mm \/ Rose Gold \/ Standard","option1":"18mm","option2":"Rose Gold","option3":"Standard","sku":"CANQR-CAMO-18-ROSE","requires_shipping":true,"taxable":true,"featured_image":{"id":30674330878105,"product_id":6844007645337,"position":10,"created_at":"2021-06-16T13:10:16-05:00","updated_at":"2021-06-16T13:10:16-05:00","alt":null,"width":1800,"height":1800,"src":"\/\/shop.bootcampaign.org\/cdn\/shop\/products\/6088486_CamoMainLoop_RoseGold.jpg?v=1623867016","variant_ids":[40346106265753,40346106429593,40346106658969]},"available":true,"name":"Camouflage Crafted Canvas Watch Band - 18mm \/ Rose Gold \/ Standard","public_title":"18mm \/ Rose Gold \/ Standard","options":["18mm","Rose Gold","Standard"],"price":2200,"weight":20,"compare_at_price":null,"inventory_quantity":73,"inventory_management":"barton-watch-bands-mothership","inventory_policy":"deny","barcode":"194448303981","featured_media":{"alt":null,"id":22966581854361,"position":10,"preview_image":{"aspect_ratio":1.0,"height":1800,"width":1800,"src":"\/\/shop.bootcampaign.org\/cdn\/shop\/products\/6088486_CamoMainLoop_RoseGold.jpg?v=1623867016"}},"requires_selling_plan":false,"selling_plan_allocations":[]},{"id":40346106298521,"title":"18mm \/ Gold \/ Standard","option1":"18mm","option2":"Gold","option3":"Standard","sku":"CANQR-CAMO-18-GLD","requires_shipping":true,"taxable":true,"featured_image":{"id":30674327371929,"product_id":6844007645337,"position":8,"created_at":"2021-06-16T13:10:08-05:00","updated_at":"2021-06-16T13:10:08-05:00","alt":null,"width":1800,"height":1800,"src":"\/\/shop.bootcampaign.org\/cdn\/shop\/products\/6088484_CamoMainLoop_Gold.jpg?v=1623867008","variant_ids":[40346106298521,40346106462361,40346106691737]},"available":true,"name":"Camouflage Crafted Canvas Watch Band - 18mm \/ Gold \/ Standard","public_title":"18mm \/ Gold \/ Standard","options":["18mm","Gold","Standard"],"price":2200,"weight":20,"compare_at_price":null,"inventory_quantity":71,"inventory_management":"barton-watch-bands-mothership","inventory_policy":"deny","barcode":"194448303998","featured_media":{"alt":null,"id":22966578413721,"position":8,"preview_image":{"aspect_ratio":1.0,"height":1800,"width":1800,"src":"\/\/shop.bootcampaign.org\/cdn\/shop\/products\/6088484_CamoMainLoop_Gold.jpg?v=1623867008"}},"requires_selling_plan":false,"selling_plan_allocations":[]},{"id":40346106331289,"title":"19mm \/ Stainless Steel \/ Standard","option1":"19mm","option2":"Stainless Steel","option3":"Standard","sku":"CANQR-CAMO-19","requires_shipping":true,"taxable":true,"featured_image":{"id":30674331926681,"product_id":6844007645337,"position":11,"created_at":"2021-06-16T13:10:20-05:00","updated_at":"2021-06-16T13:10:20-05:00","alt":null,"width":1800,"height":1800,"src":"\/\/shop.bootcampaign.org\/cdn\/shop\/products\/6088487_CamoMainLoop_SS.jpg?v=1623867020","variant_ids":[40346106331289,40346106527897,40346106724505,40346106757273]},"available":true,"name":"Camouflage Crafted Canvas Watch Band - 19mm \/ Stainless Steel \/ Standard","public_title":"19mm \/ Stainless Steel \/ Standard","options":["19mm","Stainless Steel","Standard"],"price":2200,"weight":20,"compare_at_price":null,"inventory_quantity":23,"inventory_management":"barton-watch-bands-mothership","inventory_policy":"deny","barcode":"194448210258","featured_media":{"alt":null,"id":22966582968473,"position":11,"preview_image":{"aspect_ratio":1.0,"height":1800,"width":1800,"src":"\/\/shop.bootcampaign.org\/cdn\/shop\/products\/6088487_CamoMainLoop_SS.jpg?v=1623867020"}},"requires_selling_plan":false,"selling_plan_allocations":[]},{"id":40346106364057,"title":"20mm \/ Stainless Steel \/ Standard","option1":"20mm","option2":"Stainless Steel","option3":"Standard","sku":"CANQR-CAMO-20","requires_shipping":true,"taxable":true,"featured_image":{"id":30674321670297,"product_id":6844007645337,"position":1,"created_at":"2021-06-16T13:09:41-05:00","updated_at":"2021-06-16T13:09:41-05:00","alt":null,"width":1800,"height":1800,"src":"\/\/shop.bootcampaign.org\/cdn\/shop\/products\/6088477_CamoMainLoop_SS_-LOGO.jpg?v=1623866981","variant_ids":[40346106167449,40346106364057,40346106560665]},"available":true,"name":"Camouflage Crafted Canvas Watch Band - 20mm \/ Stainless Steel \/ Standard","public_title":"20mm \/ Stainless Steel \/ Standard","options":["20mm","Stainless Steel","Standard"],"price":2200,"weight":20,"compare_at_price":null,"inventory_quantity":14,"inventory_management":"barton-watch-bands-mothership","inventory_policy":"deny","barcode":"194448210265","featured_media":{"alt":null,"id":22966572548249,"position":1,"preview_image":{"aspect_ratio":1.0,"height":1800,"width":1800,"src":"\/\/shop.bootcampaign.org\/cdn\/shop\/products\/6088477_CamoMainLoop_SS_-LOGO.jpg?v=1623866981"}},"requires_selling_plan":false,"selling_plan_allocations":[]},{"id":40346106396825,"title":"20mm \/ Gunmetal Grey \/ Standard","option1":"20mm","option2":"Gunmetal Grey","option3":"Standard","sku":"CANQR-CAMO-20-GMTL","requires_shipping":true,"taxable":true,"featured_image":{"id":30674329960601,"product_id":6844007645337,"position":9,"created_at":"2021-06-16T13:10:12-05:00","updated_at":"2021-06-16T13:10:12-05:00","alt":null,"width":1800,"height":1800,"src":"\/\/shop.bootcampaign.org\/cdn\/shop\/products\/6088485_CamoMainLoop_Gunmetal.jpg?v=1623867012","variant_ids":[40346106232985,40346106396825,40346106626201]},"available":false,"name":"Camouflage Crafted Canvas Watch Band - 20mm \/ Gunmetal Grey \/ Standard","public_title":"20mm \/ Gunmetal Grey \/ Standard","options":["20mm","Gunmetal Grey","Standard"],"price":2200,"weight":20,"compare_at_price":null,"inventory_quantity":0,"inventory_management":"barton-watch-bands-mothership","inventory_policy":"deny","barcode":"194448304001","featured_media":{"alt":null,"id":22966581035161,"position":9,"preview_image":{"aspect_ratio":1.0,"height":1800,"width":1800,"src":"\/\/shop.bootcampaign.org\/cdn\/shop\/products\/6088485_CamoMainLoop_Gunmetal.jpg?v=1623867012"}},"requires_selling_plan":false,"selling_plan_allocations":[]},{"id":40346106429593,"title":"20mm \/ Rose Gold \/ Standard","option1":"20mm","option2":"Rose Gold","option3":"Standard","sku":"CANQR-CAMO-20-ROSE","requires_shipping":true,"taxable":true,"featured_image":{"id":30674330878105,"product_id":6844007645337,"position":10,"created_at":"2021-06-16T13:10:16-05:00","updated_at":"2021-06-16T13:10:16-05:00","alt":null,"width":1800,"height":1800,"src":"\/\/shop.bootcampaign.org\/cdn\/shop\/products\/6088486_CamoMainLoop_RoseGold.jpg?v=1623867016","variant_ids":[40346106265753,40346106429593,40346106658969]},"available":true,"name":"Camouflage Crafted Canvas Watch Band - 20mm \/ Rose Gold \/ Standard","public_title":"20mm \/ Rose Gold \/ Standard","options":["20mm","Rose Gold","Standard"],"price":2200,"weight":20,"compare_at_price":null,"inventory_quantity":14,"inventory_management":"barton-watch-bands-mothership","inventory_policy":"deny","barcode":"194448304018","featured_media":{"alt":null,"id":22966581854361,"position":10,"preview_image":{"aspect_ratio":1.0,"height":1800,"width":1800,"src":"\/\/shop.bootcampaign.org\/cdn\/shop\/products\/6088486_CamoMainLoop_RoseGold.jpg?v=1623867016"}},"requires_selling_plan":false,"selling_plan_allocations":[]},{"id":40346106462361,"title":"20mm \/ Gold \/ Standard","option1":"20mm","option2":"Gold","option3":"Standard","sku":"CANQR-CAMO-20-GLD","requires_shipping":true,"taxable":true,"featured_image":{"id":30674327371929,"product_id":6844007645337,"position":8,"created_at":"2021-06-16T13:10:08-05:00","updated_at":"2021-06-16T13:10:08-05:00","alt":null,"width":1800,"height":1800,"src":"\/\/shop.bootcampaign.org\/cdn\/shop\/products\/6088484_CamoMainLoop_Gold.jpg?v=1623867008","variant_ids":[40346106298521,40346106462361,40346106691737]},"available":false,"name":"Camouflage Crafted Canvas Watch Band - 20mm \/ Gold \/ Standard","public_title":"20mm \/ Gold \/ Standard","options":["20mm","Gold","Standard"],"price":2200,"weight":20,"compare_at_price":null,"inventory_quantity":0,"inventory_management":"barton-watch-bands-mothership","inventory_policy":"deny","barcode":"194448304025","featured_media":{"alt":null,"id":22966578413721,"position":8,"preview_image":{"aspect_ratio":1.0,"height":1800,"width":1800,"src":"\/\/shop.bootcampaign.org\/cdn\/shop\/products\/6088484_CamoMainLoop_Gold.jpg?v=1623867008"}},"requires_selling_plan":false,"selling_plan_allocations":[]},{"id":40346106495129,"title":"20mm \/ Black PVD \/ Standard","option1":"20mm","option2":"Black PVD","option3":"Standard","sku":"CANQR-CAMO-20-BLK","requires_shipping":true,"taxable":true,"featured_image":{"id":30674326651033,"product_id":6844007645337,"position":7,"created_at":"2021-06-16T13:10:05-05:00","updated_at":"2021-06-16T13:10:05-05:00","alt":null,"width":1800,"height":1800,"src":"\/\/shop.bootcampaign.org\/cdn\/shop\/products\/6088483_CamoMainLoop_Black.jpg?v=1623867005","variant_ids":[40346106200217,40346106495129,40346106593433]},"available":true,"name":"Camouflage Crafted Canvas Watch Band - 20mm \/ Black PVD \/ Standard","public_title":"20mm \/ Black PVD \/ Standard","options":["20mm","Black PVD","Standard"],"price":2200,"weight":20,"compare_at_price":null,"inventory_quantity":14,"inventory_management":"barton-watch-bands-mothership","inventory_policy":"deny","barcode":"194448210340","featured_media":{"alt":null,"id":22966577692825,"position":7,"preview_image":{"aspect_ratio":1.0,"height":1800,"width":1800,"src":"\/\/shop.bootcampaign.org\/cdn\/shop\/products\/6088483_CamoMainLoop_Black.jpg?v=1623867005"}},"requires_selling_plan":false,"selling_plan_allocations":[]},{"id":40346106527897,"title":"21mm \/ Stainless Steel \/ Standard","option1":"21mm","option2":"Stainless Steel","option3":"Standard","sku":"CANQR-CAMO-21","requires_shipping":true,"taxable":true,"featured_image":{"id":30674331926681,"product_id":6844007645337,"position":11,"created_at":"2021-06-16T13:10:20-05:00","updated_at":"2021-06-16T13:10:20-05:00","alt":null,"width":1800,"height":1800,"src":"\/\/shop.bootcampaign.org\/cdn\/shop\/products\/6088487_CamoMainLoop_SS.jpg?v=1623867020","variant_ids":[40346106331289,40346106527897,40346106724505,40346106757273]},"available":true,"name":"Camouflage Crafted Canvas Watch Band - 21mm \/ Stainless Steel \/ Standard","public_title":"21mm \/ Stainless Steel \/ Standard","options":["21mm","Stainless Steel","Standard"],"price":2200,"weight":20,"compare_at_price":null,"inventory_quantity":11,"inventory_management":"barton-watch-bands-mothership","inventory_policy":"deny","barcode":"194448210272","featured_media":{"alt":null,"id":22966582968473,"position":11,"preview_image":{"aspect_ratio":1.0,"height":1800,"width":1800,"src":"\/\/shop.bootcampaign.org\/cdn\/shop\/products\/6088487_CamoMainLoop_SS.jpg?v=1623867020"}},"requires_selling_plan":false,"selling_plan_allocations":[]},{"id":40346106560665,"title":"22mm \/ Stainless Steel \/ Standard","option1":"22mm","option2":"Stainless Steel","option3":"Standard","sku":"CANQR-CAMO-22","requires_shipping":true,"taxable":true,"featured_image":{"id":30674321670297,"product_id":6844007645337,"position":1,"created_at":"2021-06-16T13:09:41-05:00","updated_at":"2021-06-16T13:09:41-05:00","alt":null,"width":1800,"height":1800,"src":"\/\/shop.bootcampaign.org\/cdn\/shop\/products\/6088477_CamoMainLoop_SS_-LOGO.jpg?v=1623866981","variant_ids":[40346106167449,40346106364057,40346106560665]},"available":false,"name":"Camouflage Crafted Canvas Watch Band - 22mm \/ Stainless Steel \/ Standard","public_title":"22mm \/ Stainless Steel \/ Standard","options":["22mm","Stainless Steel","Standard"],"price":2200,"weight":20,"compare_at_price":null,"inventory_quantity":0,"inventory_management":"barton-watch-bands-mothership","inventory_policy":"deny","barcode":"194448210289","featured_media":{"alt":null,"id":22966572548249,"position":1,"preview_image":{"aspect_ratio":1.0,"height":1800,"width":1800,"src":"\/\/shop.bootcampaign.org\/cdn\/shop\/products\/6088477_CamoMainLoop_SS_-LOGO.jpg?v=1623866981"}},"requires_selling_plan":false,"selling_plan_allocations":[]},{"id":40346106593433,"title":"22mm \/ Black PVD \/ Standard","option1":"22mm","option2":"Black PVD","option3":"Standard","sku":"CANQR-CAMO-22-BLK","requires_shipping":true,"taxable":true,"featured_image":{"id":30674326651033,"product_id":6844007645337,"position":7,"created_at":"2021-06-16T13:10:05-05:00","updated_at":"2021-06-16T13:10:05-05:00","alt":null,"width":1800,"height":1800,"src":"\/\/shop.bootcampaign.org\/cdn\/shop\/products\/6088483_CamoMainLoop_Black.jpg?v=1623867005","variant_ids":[40346106200217,40346106495129,40346106593433]},"available":false,"name":"Camouflage Crafted Canvas Watch Band - 22mm \/ Black PVD \/ Standard","public_title":"22mm \/ Black PVD \/ Standard","options":["22mm","Black PVD","Standard"],"price":2200,"weight":20,"compare_at_price":null,"inventory_quantity":0,"inventory_management":"barton-watch-bands-mothership","inventory_policy":"deny","barcode":"194448210357","featured_media":{"alt":null,"id":22966577692825,"position":7,"preview_image":{"aspect_ratio":1.0,"height":1800,"width":1800,"src":"\/\/shop.bootcampaign.org\/cdn\/shop\/products\/6088483_CamoMainLoop_Black.jpg?v=1623867005"}},"requires_selling_plan":false,"selling_plan_allocations":[]},{"id":40346106626201,"title":"22mm \/ Gunmetal Grey \/ Standard","option1":"22mm","option2":"Gunmetal Grey","option3":"Standard","sku":"CANQR-CAMO-22-GMTL","requires_shipping":true,"taxable":true,"featured_image":{"id":30674329960601,"product_id":6844007645337,"position":9,"created_at":"2021-06-16T13:10:12-05:00","updated_at":"2021-06-16T13:10:12-05:00","alt":null,"width":1800,"height":1800,"src":"\/\/shop.bootcampaign.org\/cdn\/shop\/products\/6088485_CamoMainLoop_Gunmetal.jpg?v=1623867012","variant_ids":[40346106232985,40346106396825,40346106626201]},"available":false,"name":"Camouflage Crafted Canvas Watch Band - 22mm \/ Gunmetal Grey \/ Standard","public_title":"22mm \/ Gunmetal Grey \/ Standard","options":["22mm","Gunmetal Grey","Standard"],"price":2200,"weight":20,"compare_at_price":null,"inventory_quantity":0,"inventory_management":"barton-watch-bands-mothership","inventory_policy":"deny","barcode":"194448304056","featured_media":{"alt":null,"id":22966581035161,"position":9,"preview_image":{"aspect_ratio":1.0,"height":1800,"width":1800,"src":"\/\/shop.bootcampaign.org\/cdn\/shop\/products\/6088485_CamoMainLoop_Gunmetal.jpg?v=1623867012"}},"requires_selling_plan":false,"selling_plan_allocations":[]},{"id":40346106658969,"title":"22mm \/ Rose Gold \/ Standard","option1":"22mm","option2":"Rose Gold","option3":"Standard","sku":"CANQR-CAMO-22-ROSE","requires_shipping":true,"taxable":true,"featured_image":{"id":30674330878105,"product_id":6844007645337,"position":10,"created_at":"2021-06-16T13:10:16-05:00","updated_at":"2021-06-16T13:10:16-05:00","alt":null,"width":1800,"height":1800,"src":"\/\/shop.bootcampaign.org\/cdn\/shop\/products\/6088486_CamoMainLoop_RoseGold.jpg?v=1623867016","variant_ids":[40346106265753,40346106429593,40346106658969]},"available":false,"name":"Camouflage Crafted Canvas Watch Band - 22mm \/ Rose Gold \/ Standard","public_title":"22mm \/ Rose Gold \/ Standard","options":["22mm","Rose Gold","Standard"],"price":2200,"weight":20,"compare_at_price":null,"inventory_quantity":0,"inventory_management":"barton-watch-bands-mothership","inventory_policy":"deny","barcode":"194448304063","featured_media":{"alt":null,"id":22966581854361,"position":10,"preview_image":{"aspect_ratio":1.0,"height":1800,"width":1800,"src":"\/\/shop.bootcampaign.org\/cdn\/shop\/products\/6088486_CamoMainLoop_RoseGold.jpg?v=1623867016"}},"requires_selling_plan":false,"selling_plan_allocations":[]},{"id":40346106691737,"title":"22mm \/ Gold \/ Standard","option1":"22mm","option2":"Gold","option3":"Standard","sku":"CANQR-CAMO-22-GLD","requires_shipping":true,"taxable":true,"featured_image":{"id":30674327371929,"product_id":6844007645337,"position":8,"created_at":"2021-06-16T13:10:08-05:00","updated_at":"2021-06-16T13:10:08-05:00","alt":null,"width":1800,"height":1800,"src":"\/\/shop.bootcampaign.org\/cdn\/shop\/products\/6088484_CamoMainLoop_Gold.jpg?v=1623867008","variant_ids":[40346106298521,40346106462361,40346106691737]},"available":false,"name":"Camouflage Crafted Canvas Watch Band - 22mm \/ Gold \/ Standard","public_title":"22mm \/ Gold \/ Standard","options":["22mm","Gold","Standard"],"price":2200,"weight":20,"compare_at_price":null,"inventory_quantity":0,"inventory_management":"barton-watch-bands-mothership","inventory_policy":"deny","barcode":"194448304070","featured_media":{"alt":null,"id":22966578413721,"position":8,"preview_image":{"aspect_ratio":1.0,"height":1800,"width":1800,"src":"\/\/shop.bootcampaign.org\/cdn\/shop\/products\/6088484_CamoMainLoop_Gold.jpg?v=1623867008"}},"requires_selling_plan":false,"selling_plan_allocations":[]},{"id":40346106724505,"title":"23mm \/ Stainless Steel \/ Standard","option1":"23mm","option2":"Stainless Steel","option3":"Standard","sku":"CANQR-CAMO-23","requires_shipping":true,"taxable":true,"featured_image":{"id":30674331926681,"product_id":6844007645337,"position":11,"created_at":"2021-06-16T13:10:20-05:00","updated_at":"2021-06-16T13:10:20-05:00","alt":null,"width":1800,"height":1800,"src":"\/\/shop.bootcampaign.org\/cdn\/shop\/products\/6088487_CamoMainLoop_SS.jpg?v=1623867020","variant_ids":[40346106331289,40346106527897,40346106724505,40346106757273]},"available":true,"name":"Camouflage Crafted Canvas Watch Band - 23mm \/ Stainless Steel \/ Standard","public_title":"23mm \/ Stainless Steel \/ Standard","options":["23mm","Stainless Steel","Standard"],"price":2200,"weight":20,"compare_at_price":null,"inventory_quantity":13,"inventory_management":"barton-watch-bands-mothership","inventory_policy":"deny","barcode":"194448210296","featured_media":{"alt":null,"id":22966582968473,"position":11,"preview_image":{"aspect_ratio":1.0,"height":1800,"width":1800,"src":"\/\/shop.bootcampaign.org\/cdn\/shop\/products\/6088487_CamoMainLoop_SS.jpg?v=1623867020"}},"requires_selling_plan":false,"selling_plan_allocations":[]},{"id":40346106757273,"title":"24mm \/ Stainless Steel \/ Standard","option1":"24mm","option2":"Stainless Steel","option3":"Standard","sku":"CANQR-CAMO-24","requires_shipping":true,"taxable":true,"featured_image":{"id":30674331926681,"product_id":6844007645337,"position":11,"created_at":"2021-06-16T13:10:20-05:00","updated_at":"2021-06-16T13:10:20-05:00","alt":null,"width":1800,"height":1800,"src":"\/\/shop.bootcampaign.org\/cdn\/shop\/products\/6088487_CamoMainLoop_SS.jpg?v=1623867020","variant_ids":[40346106331289,40346106527897,40346106724505,40346106757273]},"available":true,"name":"Camouflage Crafted Canvas Watch Band - 24mm \/ Stainless Steel \/ Standard","public_title":"24mm \/ Stainless Steel \/ Standard","options":["24mm","Stainless Steel","Standard"],"price":2200,"weight":20,"compare_at_price":null,"inventory_quantity":20,"inventory_management":"barton-watch-bands-mothership","inventory_policy":"deny","barcode":"194448210302","featured_media":{"alt":null,"id":22966582968473,"position":11,"preview_image":{"aspect_ratio":1.0,"height":1800,"width":1800,"src":"\/\/shop.bootcampaign.org\/cdn\/shop\/products\/6088487_CamoMainLoop_SS.jpg?v=1623867020"}},"requires_selling_plan":false,"selling_plan_allocations":[]}],"images":["\/\/shop.bootcampaign.org\/cdn\/shop\/products\/6088477_CamoMainLoop_SS_-LOGO.jpg?v=1623866981","\/\/shop.bootcampaign.org\/cdn\/shop\/products\/6088478_CANQR-CAMO-SS-16.jpg?v=1623866985","\/\/shop.bootcampaign.org\/cdn\/shop\/products\/6088479_CANQR-CAMO-SS-28-LOGO.jpg?v=1623866989","\/\/shop.bootcampaign.org\/cdn\/shop\/products\/6088480_CANQR-CAMO-SS-19.jpg?v=1623866993","\/\/shop.bootcampaign.org\/cdn\/shop\/products\/6088481_CamoCanvasTopView_SS_-LOGO.jpg?v=1623866997","\/\/shop.bootcampaign.org\/cdn\/shop\/products\/6088482_CamoCanvasBackView_SS.jpg?v=1623867001","\/\/shop.bootcampaign.org\/cdn\/shop\/products\/6088483_CamoMainLoop_Black.jpg?v=1623867005","\/\/shop.bootcampaign.org\/cdn\/shop\/products\/6088484_CamoMainLoop_Gold.jpg?v=1623867008","\/\/shop.bootcampaign.org\/cdn\/shop\/products\/6088485_CamoMainLoop_Gunmetal.jpg?v=1623867012","\/\/shop.bootcampaign.org\/cdn\/shop\/products\/6088486_CamoMainLoop_RoseGold.jpg?v=1623867016","\/\/shop.bootcampaign.org\/cdn\/shop\/products\/6088487_CamoMainLoop_SS.jpg?v=1623867020"],"featured_image":"\/\/shop.bootcampaign.org\/cdn\/shop\/products\/6088477_CamoMainLoop_SS_-LOGO.jpg?v=1623866981","options":["Width","Buckle Color","Length"],"media":[{"alt":null,"id":22966572548249,"position":1,"preview_image":{"aspect_ratio":1.0,"height":1800,"width":1800,"src":"\/\/shop.bootcampaign.org\/cdn\/shop\/products\/6088477_CamoMainLoop_SS_-LOGO.jpg?v=1623866981"},"aspect_ratio":1.0,"height":1800,"media_type":"image","src":"\/\/shop.bootcampaign.org\/cdn\/shop\/products\/6088477_CamoMainLoop_SS_-LOGO.jpg?v=1623866981","width":1800},{"alt":null,"id":22966573269145,"position":2,"preview_image":{"aspect_ratio":1.0,"height":4000,"width":4000,"src":"\/\/shop.bootcampaign.org\/cdn\/shop\/products\/6088478_CANQR-CAMO-SS-16.jpg?v=1623866985"},"aspect_ratio":1.0,"height":4000,"media_type":"image","src":"\/\/shop.bootcampaign.org\/cdn\/shop\/products\/6088478_CANQR-CAMO-SS-16.jpg?v=1623866985","width":4000},{"alt":null,"id":22966574842009,"position":3,"preview_image":{"aspect_ratio":1.0,"height":3890,"width":3890,"src":"\/\/shop.bootcampaign.org\/cdn\/shop\/products\/6088479_CANQR-CAMO-SS-28-LOGO.jpg?v=1623866989"},"aspect_ratio":1.0,"height":3890,"media_type":"image","src":"\/\/shop.bootcampaign.org\/cdn\/shop\/products\/6088479_CANQR-CAMO-SS-28-LOGO.jpg?v=1623866989","width":3890},{"alt":null,"id":22966575661209,"position":4,"preview_image":{"aspect_ratio":1.013,"height":3345,"width":3390,"src":"\/\/shop.bootcampaign.org\/cdn\/shop\/products\/6088480_CANQR-CAMO-SS-19.jpg?v=1623866993"},"aspect_ratio":1.013,"height":3345,"media_type":"image","src":"\/\/shop.bootcampaign.org\/cdn\/shop\/products\/6088480_CANQR-CAMO-SS-19.jpg?v=1623866993","width":3390},{"alt":null,"id":22966576644249,"position":5,"preview_image":{"aspect_ratio":1.034,"height":2592,"width":2680,"src":"\/\/shop.bootcampaign.org\/cdn\/shop\/products\/6088481_CamoCanvasTopView_SS_-LOGO.jpg?v=1623866997"},"aspect_ratio":1.034,"height":2592,"media_type":"image","src":"\/\/shop.bootcampaign.org\/cdn\/shop\/products\/6088481_CamoCanvasTopView_SS_-LOGO.jpg?v=1623866997","width":2680},{"alt":null,"id":22966577135769,"position":6,"preview_image":{"aspect_ratio":1.028,"height":2592,"width":2664,"src":"\/\/shop.bootcampaign.org\/cdn\/shop\/products\/6088482_CamoCanvasBackView_SS.jpg?v=1623867001"},"aspect_ratio":1.028,"height":2592,"media_type":"image","src":"\/\/shop.bootcampaign.org\/cdn\/shop\/products\/6088482_CamoCanvasBackView_SS.jpg?v=1623867001","width":2664},{"alt":null,"id":22966577692825,"position":7,"preview_image":{"aspect_ratio":1.0,"height":1800,"width":1800,"src":"\/\/shop.bootcampaign.org\/cdn\/shop\/products\/6088483_CamoMainLoop_Black.jpg?v=1623867005"},"aspect_ratio":1.0,"height":1800,"media_type":"image","src":"\/\/shop.bootcampaign.org\/cdn\/shop\/products\/6088483_CamoMainLoop_Black.jpg?v=1623867005","width":1800},{"alt":null,"id":22966578413721,"position":8,"preview_image":{"aspect_ratio":1.0,"height":1800,"width":1800,"src":"\/\/shop.bootcampaign.org\/cdn\/shop\/products\/6088484_CamoMainLoop_Gold.jpg?v=1623867008"},"aspect_ratio":1.0,"height":1800,"media_type":"image","src":"\/\/shop.bootcampaign.org\/cdn\/shop\/products\/6088484_CamoMainLoop_Gold.jpg?v=1623867008","width":1800},{"alt":null,"id":22966581035161,"position":9,"preview_image":{"aspect_ratio":1.0,"height":1800,"width":1800,"src":"\/\/shop.bootcampaign.org\/cdn\/shop\/products\/6088485_CamoMainLoop_Gunmetal.jpg?v=1623867012"},"aspect_ratio":1.0,"height":1800,"media_type":"image","src":"\/\/shop.bootcampaign.org\/cdn\/shop\/products\/6088485_CamoMainLoop_Gunmetal.jpg?v=1623867012","width":1800},{"alt":null,"id":22966581854361,"position":10,"preview_image":{"aspect_ratio":1.0,"height":1800,"width":1800,"src":"\/\/shop.bootcampaign.org\/cdn\/shop\/products\/6088486_CamoMainLoop_RoseGold.jpg?v=1623867016"},"aspect_ratio":1.0,"height":1800,"media_type":"image","src":"\/\/shop.bootcampaign.org\/cdn\/shop\/products\/6088486_CamoMainLoop_RoseGold.jpg?v=1623867016","width":1800},{"alt":null,"id":22966582968473,"position":11,"preview_image":{"aspect_ratio":1.0,"height":1800,"width":1800,"src":"\/\/shop.bootcampaign.org\/cdn\/shop\/products\/6088487_CamoMainLoop_SS.jpg?v=1623867020"},"aspect_ratio":1.0,"height":1800,"media_type":"image","src":"\/\/shop.bootcampaign.org\/cdn\/shop\/products\/6088487_CamoMainLoop_SS.jpg?v=1623867020","width":1800}],"requires_selling_plan":false,"selling_plan_groups":[],"content":"\u003cp\u003eBarton Watch Bands \u003cstrong\u003eCanvas' \u003c\/strong\u003e\u003cstrong\u003eQuick Release \u003c\/strong\u003ewatch' bands' are meticulously crafted from highly durable canvas and' embroidered for style and strength. This camouflage-print canvas watchband adds character to any timepiece and can be swapped in and out without any tools! \u003c\/p\u003e\n\u003cp\u003e\u003cstrong\u003eProceeds from this band benefit \u003ca href=\"https:\/\/bootcampaign.org\/\" title=\"Boot Campaign\"\u003eBoot Campaign\u003c\/a\u003e.\u003c\/strong\u003e\u003cbr\u003e\u003c\/p\u003e\n\u003cp\u003e\u003cstrong\u003eSwap in Seconds:\u003c\/strong\u003e Integrated quick release spring bars\u003cbr\u003e\u003cstrong\u003eColor:\u003c\/strong\u003e' Camouflage\u003cbr\u003e\u003cstrong\u003eMaterial:' \u003c\/strong\u003eHigh Durability Canvas\u003cbr\u003e\u003cstrong\u003eHardware:' \u003c\/strong\u003eBrushed 316L stainless steel with \u003ca href=\"https:\/\/bootcampaign.org\/\" title=\"Boot Campaign\" target=\"_blank\"\u003eBoot Campaign\u003c\/a\u003e logo on sizes 18mm, 20mm, and 22mm, Black PVD, Gunmetal Grey, Rose Gold, or Gold.\u003cbr\u003e\u003cstrong\u003eTwo Sizes Available: \u003c\/strong\u003eStandard length fits wrists 5\" to 8\". Long length fits wrists 7\" to 9\". \u003c!--EndFragment--\u003e \u003cbr\u003e\u003cstrong\u003eWidth: \u003c\/strong\u003e18mm, 19mm, 20mm, 21mm, 22mm, 23mm 24mm\u003c\/p\u003e\n\u003cp\u003e\u003cstrong\u003eAdditional resources\u003c\/strong\u003e\u003cbr\u003e\u003ca href=\"https:\/\/www.bartonwatchbands.com\/collections\/canvas-quick-release-watch-bands\"\u003eCanvas Collection\u003c\/a\u003e' |' \u003ca href=\"https:\/\/www.bartonwatchbands.com\/pages\/fitting-your-watch-band\"\u003eFitting Guide\u003c\/a\u003e | \u003ca href=\"https:\/\/www.bartonwatchbands.com\/pages\/faq\"\u003eFAQ\u003c\/a\u003e | \u003ca href=\"https:\/\/www.bartonwatchbands.com\/pages\/design-features-canvas-quick-release\"\u003eDesign\u003c\/a\u003e | \u003ca href=\"https:\/\/www.bartonwatchbands.com\/pages\/guarantee\"\u003eGuarantee\u003c\/a\u003e\u003c\/p\u003e\n\u003cp\u003e\u003cstrong\u003eCommon smartwatch widths are listed' \u003ca href=\"https:\/\/cdn.shopify.com\/s\/files\/1\/0835\/8495\/files\/smart-watch-graphic-070517.png?12855058943058468325\"\u003ehere\u003c\/a\u003e.\u003c\/strong\u003e\u003c\/p\u003e\n\u003cp\u003e\u003cstrong\u003eDISCLAIMER: Barton Watch Bands are not compatible with the Suunto 9, the Suunto Traverse, or any Garmin smartwatches.\u003cbr\u003e\u003c\/strong\u003e\u003c\/p\u003e"}